Azema is a Kyrgyz friend who loves to share the folklore and traditions of her country. Since the creation of the World Nomadic Games in 2014, she has seen a lot of interest in the traditions of her country. She understands that many travellers would like to attend this event but cannot.
Therefore, herself and her father have created in their home village the perfect programme to discover the traditional games and folklore of Kyrgyzstan.
Major advantage: this excursion was created in July 2019, it takes place in an area where there are few tourists. The game of Kok Boru is organised by the locals whether there are tourists or not. It is therefore an authentic event that was not made especially for tourism:
For this reason, it only occurs twice a week.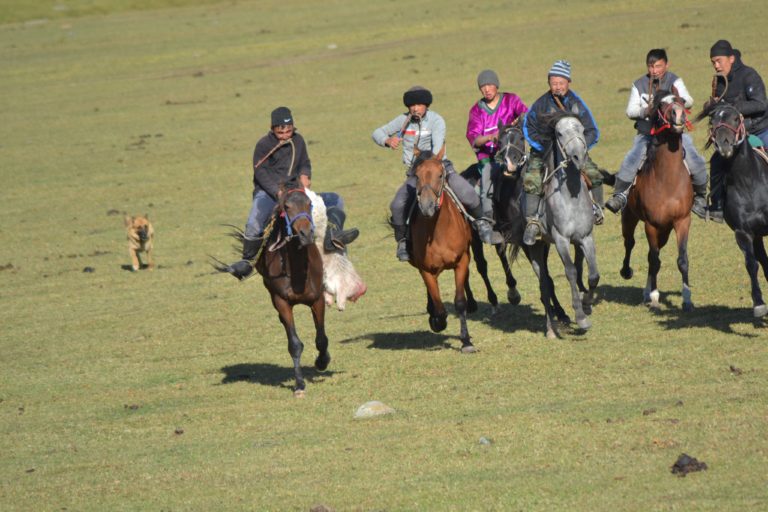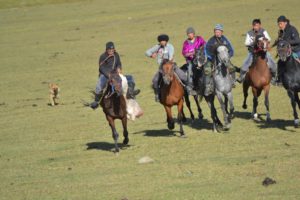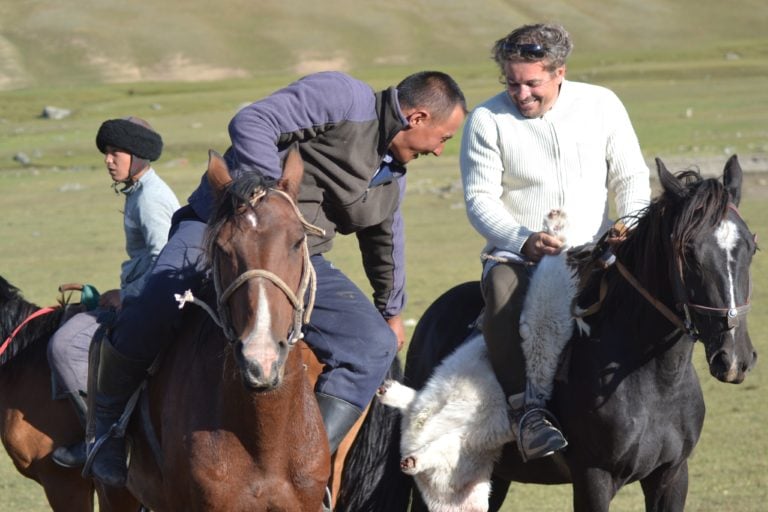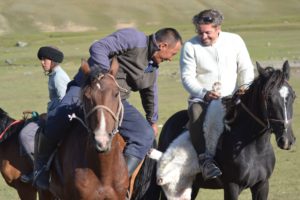 Simply enter your contact details, the number of participants and the date you would like to go on the tour. She will contact you to confirm your booking.
Nomadic games in Suusamyr:
Programme
Every Tuesday and Wednesday and Saturday-Sunday
Day 1:
Bishkek - Suusamyr
Horseback riding to Ala Bel gorge.
Return and games (volleyball, football, local games) in the fresh mountain air with the locals.
Archery initiation.
Dinner and overnight stay in the yurt.
Day 2:
Breakfast
Horseback riding to Lake Muztor, located at 3,250 m above sea level. A spacious gorge allows good riders to gallop. While resting, you can admire the natural beauty of the area.
Climb to the panoramic summit at 3700 m and lunch at altitude.
Return to the ethno-game area "Tunduk Suusamyr" and folklore show (songs, legend of the Manas epic, national musical instrument komuz, etc.).
Suusamyr - Bishkek
Every Tuesday and Saturday it is possible to make a 3-day excursion and attend a game of Ulak Tartish.
The programme for day 3 is as follows:
Evening of the 2nd day, A game of Ulak tartysh between the locals
. Dinner and night in the yurt.
Day 3
Breakfast.
Archery.
Ordo Atysh (Alchiki) and Kan Talamay game.
Lunch in the yurt.
Departure to Bishkek.
Everything is included except transfer (500 soms for the bus trip).
Rate for the 2 day tour :
1 person: 22 740 soms / person
2 persons: 13 780 soms / person
3 persons: 10 660 soms / person
4 persons: 9 060 soms / person
Rate for the 3 day tour :

2 persons: 18 400 soms / person
3 persons: 15 240 soms / person
4 persons: 12 900 soms / person
5 persons: 10 500 soms / person
Book your departure with Azema, by writing to her at azematunduk@gmail.com