My stay in Perhentians is 10 days in a land and sea paradise.
You too would like to live on a sandy beach, in the middle of coconut trees and go and observe multitudes of fish, sea turtles and sharks.
You wonder which visa to take, how to get around, where to stay, and how much it will cost you?
You can find all this information in this article:
Do I need a visa?
No, if your stay is less than or equal to 3 months.
Please note: Your passport must be valid for 6 months after the date of your return and you must be in possession of a plane ticket proving your intention to leave the country within 3 months.
How much does the airfare cost?
From Paris, several gulf companies offer very interesting fares to Kuala Lumpur.
For my stay, I paid 550€ for a return ticket with Air France. Companies such as Oman Air or Emirates offer tickets at 450€.
For more information on the subject, I advise you to read my article on how to find a cheap plane ticket, in less than 40 minutes.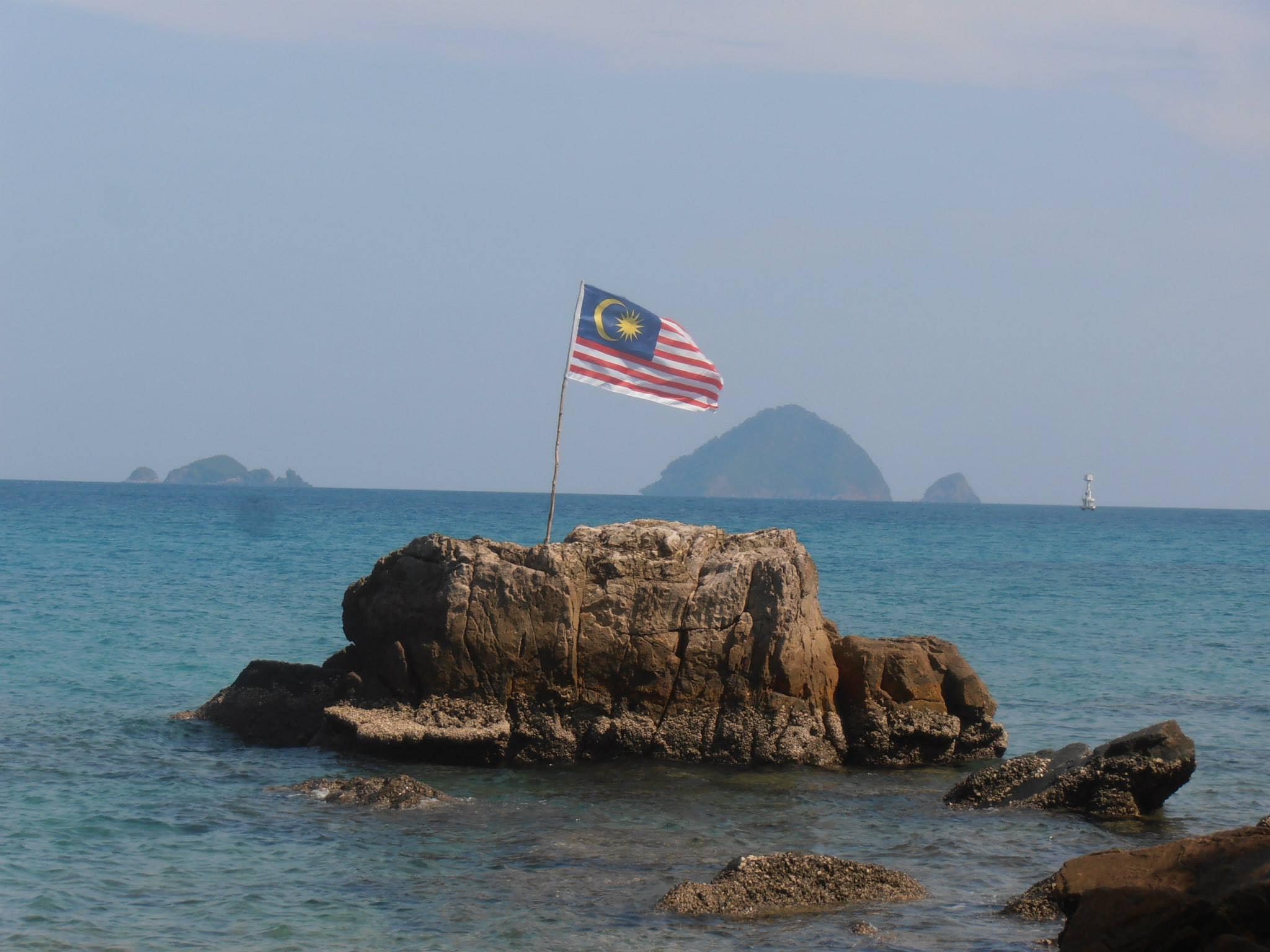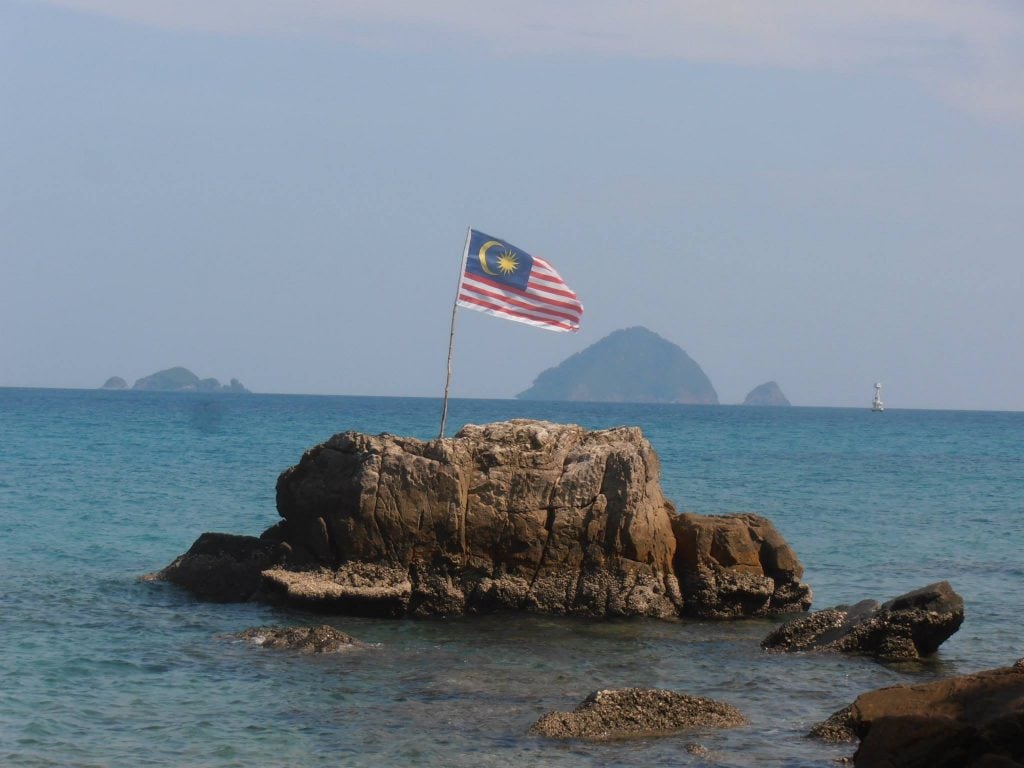 What currency is used?
The official currency is the Malaysian Ringitt. 1€= RM 4.22.
ATMs will offer you to withdraw in RM. There are no ATMs on the Perhentian islands, the money changers charge a 12% commission. Withdraw enough money to cover expenses during your stay.
At the end of my stay on the island I made arrangements with some French diving instructors. They gave me Ringitts and I sent them a cheque with the equivalent in €, once I got back.
How to get from the airport to the city?
From Kuala Lumpur airport, you have several options for getting to the city centre:
By public transport:
You can get to KL SENTRAL (Kuala Lumpur Railway Station) via:
KLIA Express (30 Minutes / RM 35 ).
Bus (Duration: 60 Minutes / Price: 10 Ringgit per person).
By taxi:
Count between 70 and 90 Ringgit during the day and 100-130 Ringgit between 0:00 and 6:00.

How to get to the Perhentian Islands?
By plane:
There is no airport on the Perhentians, you have to go to Kota Bharu airport.
With air asia, I paid my ticket to go from Kuala Lumpur to Kota Bharu, 12€. The flight lasts 1 hour.
At Kota Bharu airport, you have to take a taxi to Kuala Besut. The fare is RM84 but taxis offer to share the ride with other travellers. The journey takes 1 hour and the taxi drops you off at the pier.
By bus:
Buses to Kuala Besut, RM40, depart from Kuala Lumpur bus station at around 9pm. The journey takes 8 hours. You arrive directly at the pier.
From the Kuala Besut pier:
On site, you have to buy your return ticket by boat, RM 70, there are frequent departures, from 7am to 5pm. The crossing takes 45 minutes.
You must indicate in advance which island you wish to visit, Kecil or Besar and where you wish to stay.
Good to know:
For the return journey, 'there are only 3 departure times: 8.00, 12.00 and 16.00.
How to get around?
The Perhentians are located in a nature reserve. On the islands there are no roads, only sand and jungle.
The options for getting around are simple:
On foot.
By taxi boat :
To get around between the beaches, here is an idea of the rates from Coral Bay: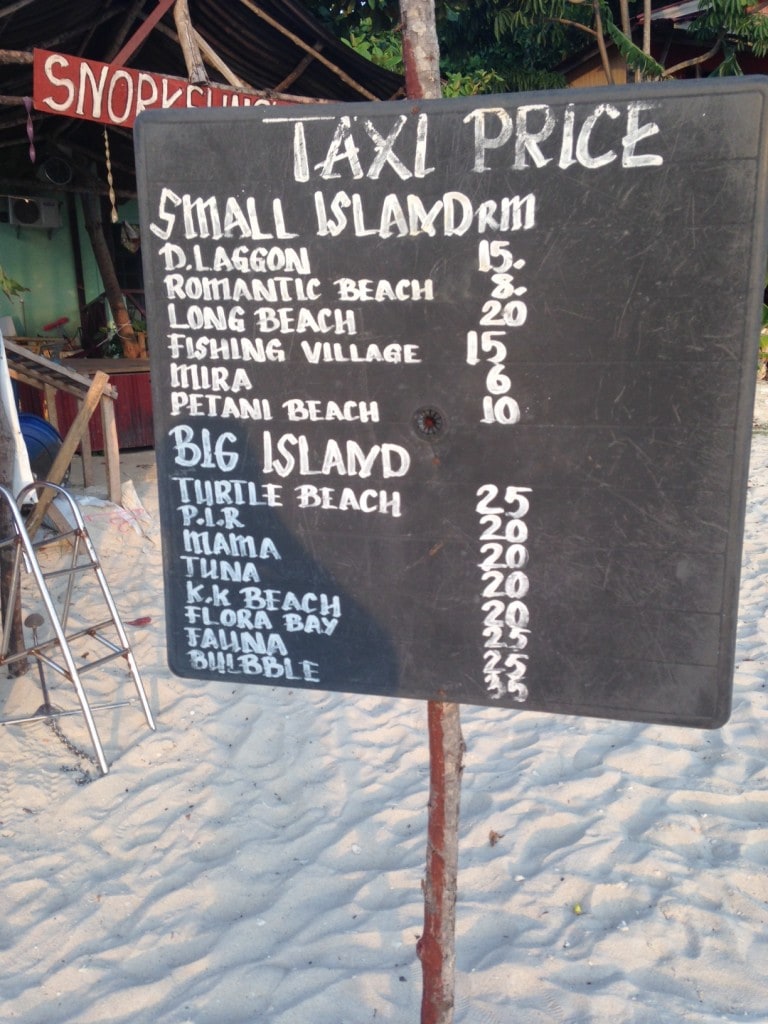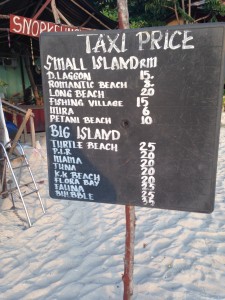 Where to eat?
On the beaches, you will find plenty of small restaurants offering simple dishes from RM8 or barbecues for RM25.
The best value restaurant is Ewan Café.
During my stay, the diving instructors with whom I had made friends provided me with meals (rice + meat) that the fishermen sold for RM 3.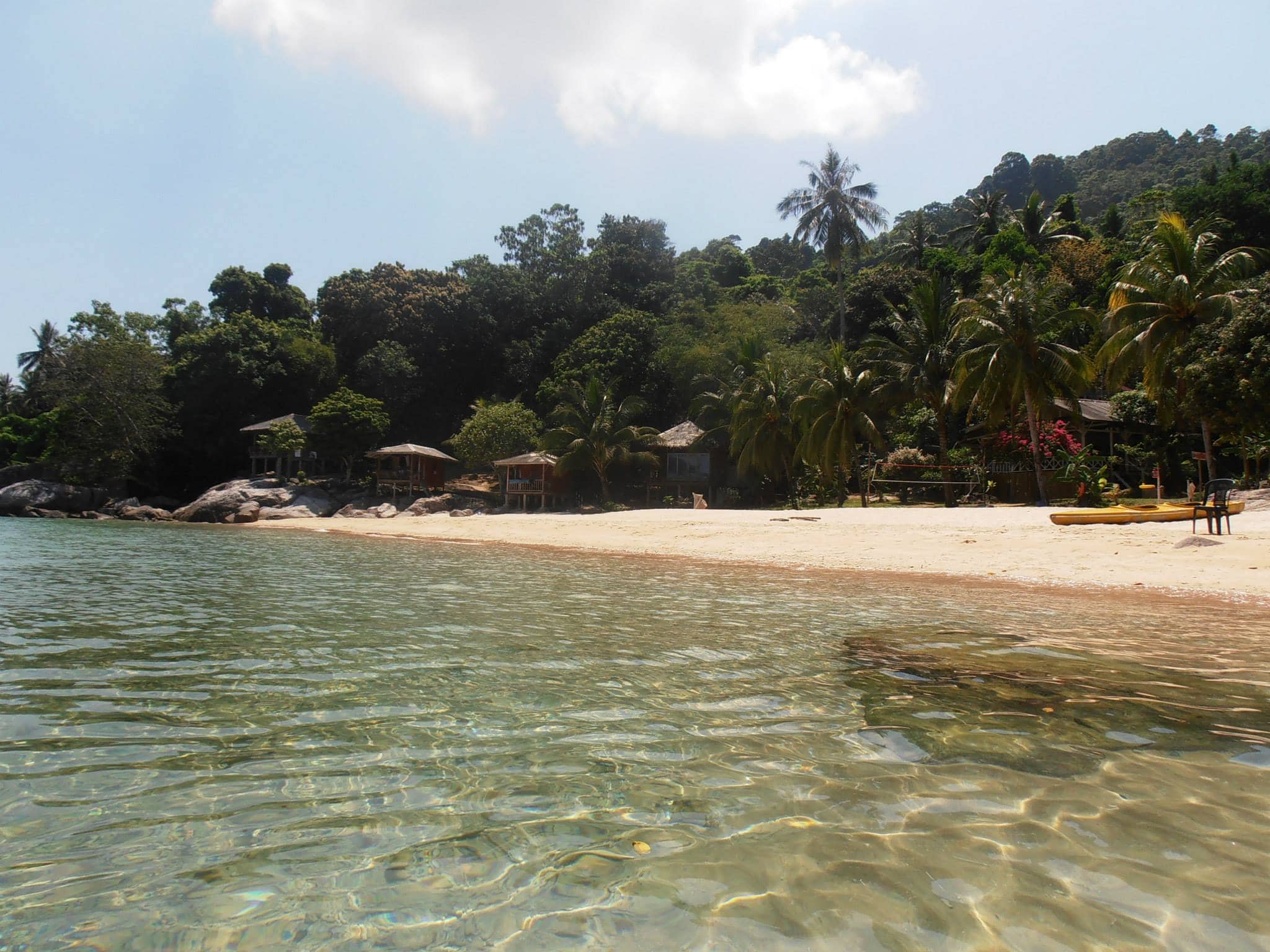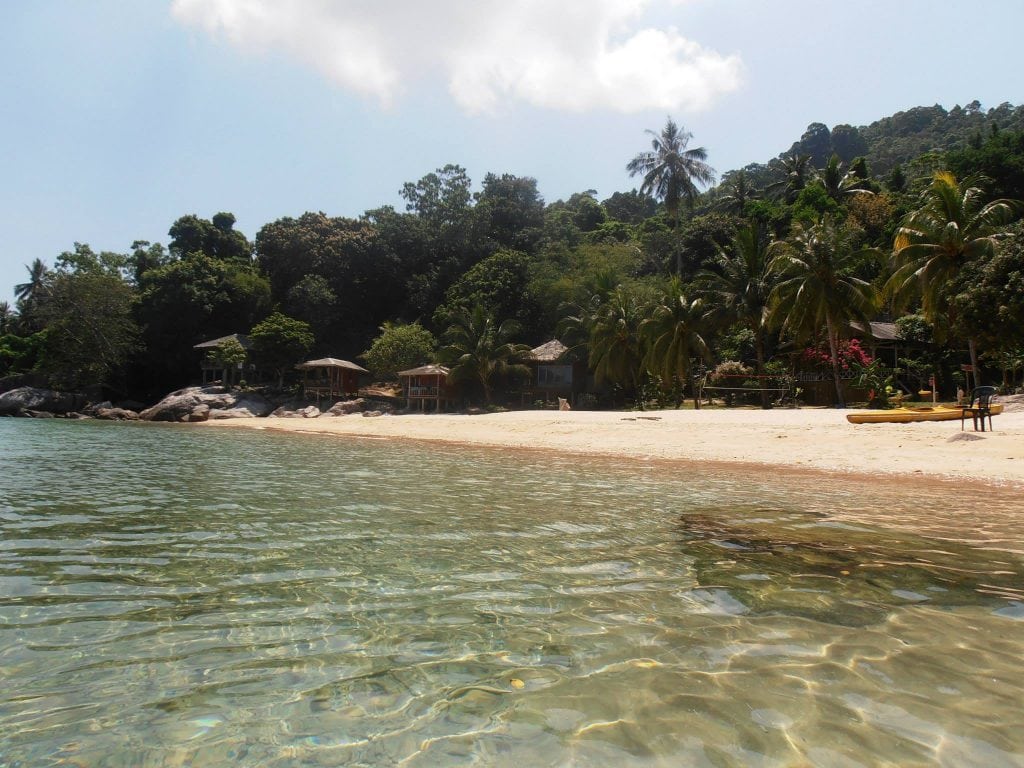 Where to stay?
If you are looking for a backpacker feel and affordable rates, go to Kecil.
If you are looking for a more luxurious service and your budget is bigger, go to Besar.
The official website of the Perhentians offers you a list of accommodation: click here.
If you are on a budget I recommend sleeping at Rainforest.
Ombak offers dormitories. The night costs RM 42.
You can find nights in a bungalow from RM 60.
Check the price of the nights at Perhentians
What to do?
There is no shortage of activities to keep you busy with
free of charge:
You can hike, swim and sunbathe.
Or paying:
You can:
Rent a Canoe Kayak: 1h 10RM or 1 day 30 RM.
Snorkelling day for RM 30, you will leave on a fisherman's boat which will drop you off at different snorkelling spots
Do a Scuba Diving Baptism for RM 200
Diving for 70RM
Pass your Padi for 900RM
Can you get by on a backpacker budget?
During my stay in Perhentians I spent 1102,2 €.
| Line labels | Amount of Amount in € |
| --- | --- |
| Airline ticket | 550 € |
| Meals | 170 € |
| Transport | 91 € |
| Expenditure not listed | 90 € |
| Dives | 87,5 € |
| Hotel | 80 € |
| Withdrawal fees | 18,27 € |
| Excursions | 15 € |
| Grand total | 1102,2 € |

What to pack in your backpack?
Decathlon Forclaz 60 bag :
backpack (for the day)
flat fanny pack (for my passport, payment card)
jean shorts (personal choice)
2 swimming shorts
4 pairs of shorts
4 pairs of socks
2 t-shirts
2 tank tops
padlock
headlamp
hoodie
waterproof bag
Toothbrush
toothpaste
camera
camcorder
Go Pro
current USB adapter
hat
sunglasses
shoes
flip-flops
spare glasses
microfiber towel
survival blanket (not used)
What to bring?
Schnorkeling is the main activity on the Perenthians. Guides and agencies rent masks but they are worn out and of poor quality. With this mask you can breathe normally, enjoy the underwater life and it has an attachment for the Go PRO. It is comfortable and has a panoramic view. This is the one I've been using for 6 months.
See on amazon.
At the beach it's always convenient to keep your phone, keys and money with you. These pouches allow you to store your belongings and/or your phone. They are waterproof and transparent so you can use your smartphone camera underwater.
See on amazon.
 If you have any other questions, or advice, don't hesitate to leave a comment.