Portugal was one of the countries close to France that I had not yet visited. So, when my friend Aziz proposed me to go to Lisbon, I answered "let's go". When he told me that the ticket was worth 46 €, I answered "it's not expensive". And when we got there I said to myself "I managed to spend 5 days in Oslo for less than 200 €, let's do the same here".
The idea this time was to achieve this goal with a higher level of comfort.
And now I can tell you:
Have fun for 5 days in Lisbon for less than 200€, it's possible!
How do I do it? You'll find my tips below!
Do I need a visa?
No. Portugal is a member of the European Union. No visa is needed, you can go there with a simple identity card.
How much does the airfare cost?
Inexpensive. From Paris, Ryanair offers very interesting rates, from Beauvais airport.
For my stay, I paid 46€ for my return trip. Youonly need to book a few weeks in advance to get this price.
For more information on the subject, I advise you to read my article on how to find a cheap plane ticket, in less than 40 minutes.

How to leave the airport?
It's quick and easy. Ryanair lands at Lisbon International Airport which is 5 km from the city centre. To leave the airport you have 3 options:
-The aerobus : It runs from 7am to 11pm and gives you access to the whole city for €3.5. http://www.yellowbustours.com
-The metro: It runs from 6.30am to 1am and gives you access to the whole city for €1.8.
-Taxi: It will get you to the city centre in 15 minutes for a fare of between €10 and €15.
As 4 of us arrived at the airport, we opted for the easy way out. We took a taxi which cost us 12 €, or 3 € per person.
How to get around?
You have a lot of different solutions. To start with, here are the unit ticket prices for each type of transport.
-Metro: €1.40
- Tram: €2.85
- Bus: €1.80
- Funicular (Lavra, Gloria, Bica): €3.80 return
- Elevador Santa Justa: 5 € return ticket
The "24-hour pass - CARRIS/METRO 1-day ticket", which costs 6 €, gives you unlimited access to public transport for 24 hours: metros, buses, trams, the Elevador de Santa Justa, funiculars (Bica, Lavra, Gloria) and even the tram to Belém
I advise you to take this pass for one day to enjoy the tramway, one or more funiculars and the Elevador Santa Justa for less. For the rest of your stay, take the time to walk and enjoy the city at your own pace.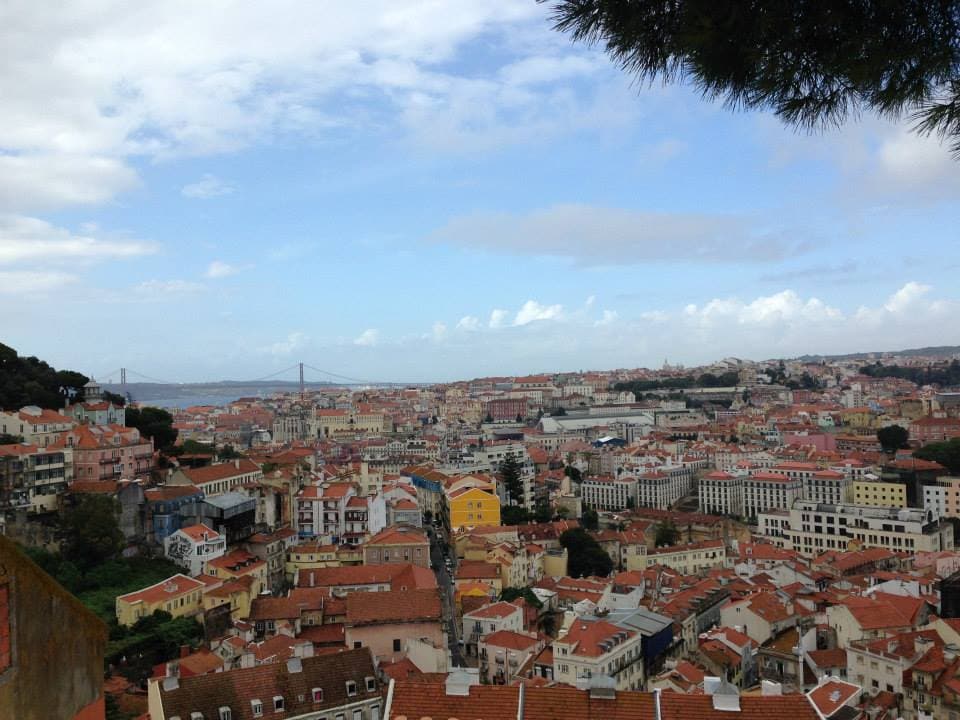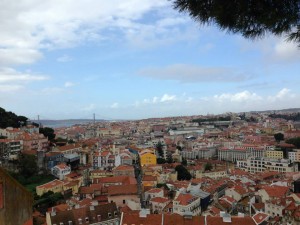 Where to eat?
Food is not a big budget item in Lisbon.
If, like us, you rent a private flat with a fully equipped kitchen, you can go shopping with your friends. You can eat for 3€ or 4€ per meal.
If you prefer to eat out, go to a churrasqueira(grill) or a local restaurant, where you can have a good meal for between 5€ and 8€.
Please note: the snacks that are brought to you before the meal, such as cheese, olives and cold cuts, are charged.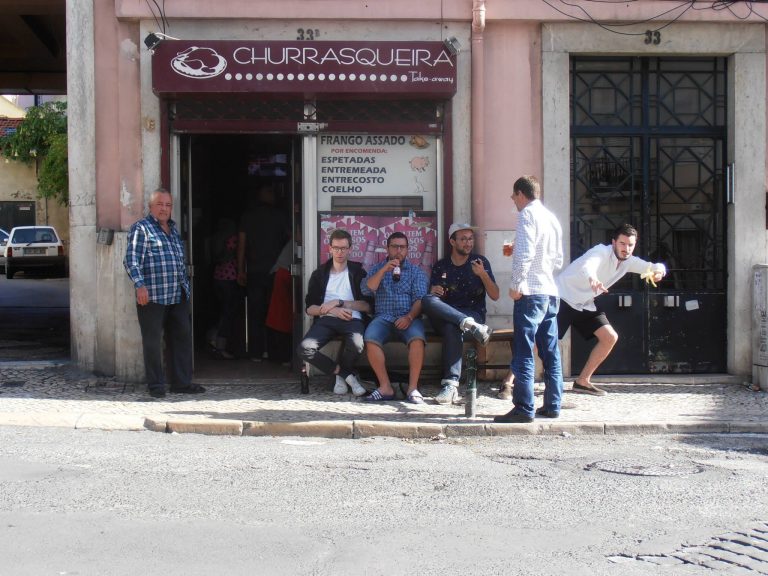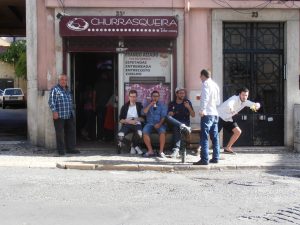 If you really want to experience the local cuisine and life, I recommend Antonio's Churrasqueira. You won't find it on tripadvisor or any other website, just on google map. The address is: 33 travessa de santo antonio in Lisboa. You'll eat the best grilled food in Lisbon among friendly Lisbon people.
Where to stay?
Accommodation in Lisbon is very cheap. You can easily find a bed in a dormitory, in a youth hostel, between 10€ and 15€.
As there were 5 of us, we opted for a flat via www.airbnb.fr. We had a very nice flat with 2 bedrooms and 2 bathrooms, which cost us 12€ per night/person. That's a total of 60€ per head.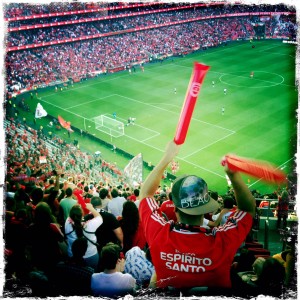 What to do?
Take a walk through the different areas of the city and enjoy the atmosphere of a Benfica match.
The Alfama: Lisbon's oldest district. Stroll through these narrow streets, either on foot or by taking the tram no. 28, which runs through the most beautiful streets of Lisbon. This is also where you will find the famous "thieves market".
Baixa: One of the most touristic areas of Lisbon. Admire the most beautiful squares and statues of the city rebuilt after the earthquake of 1755.
Bairro Alto: The most lively neighbourhood at night. Take a quiet walk by day in this typical and cute place. At night you can enjoy the many bars, discotheques and fados that attract partygoers.
Chiado: Lisbon's most fashionable district. Stroll through the shopping streets and take the Elevador de Santa Justa.
Belem: The place where Vasco de Gama left for the Indies. Don't miss the most famous monument, the Belem Tower.
Estadio da Luz: Benfica Lisbon's stadium. Attending a match, I'm not a big football fan but the fervent atmosphere gave me an unforgettable moment.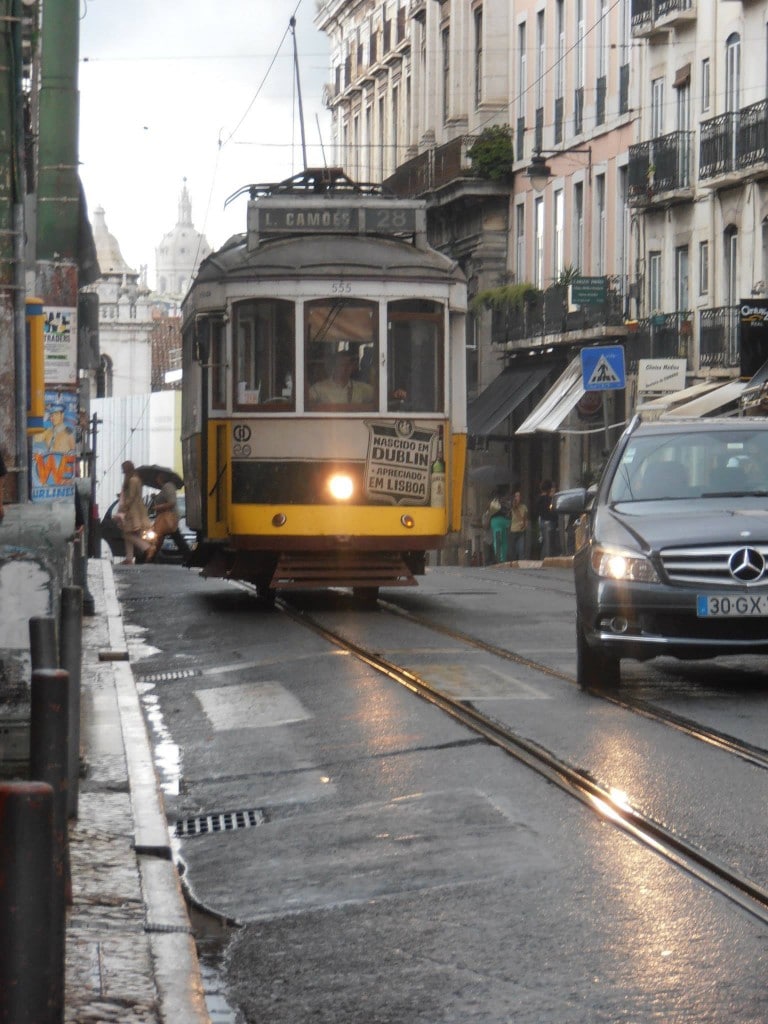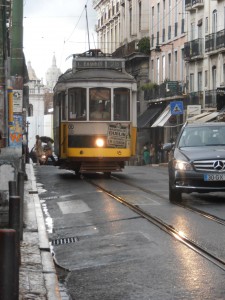 How do you arrive at a backpacker budget of 200€?
| Expenditure | Cost |
| --- | --- |
| Flight | 46 € |
| Taxi to and from the airport | 6 € |
| Housing | 60 € |
| Transport | 20 € |
| Food | 48 € |
| Football match | 13,5 € |
| Total | 193,5 € |
Lisbon is a pleasant tourist destination, which you can enjoy in comfort without spending too much.
If you go with friends, take a flat in Airbnb and enjoy the city like a local. If you are going alone you can achieve the same budget by staying in a hostel and getting around on foot or by public transport.
Don't hesitate to leave me a comment if you have any other advice. Thanks in advance.
Enjoy your stay!