..
Since the creation of the Kyrgyzstan travel group, I have met and discussed with many different people. Marie is one of them. Adding to the fact that she travelled to a country I particularly like, she actually did it by bike.
Those who know me know that I am passionate about cycling. A bicycle race brings together the emotions of a lifetime, pain, happiness, suspense, disappointment, surprise and joy. I have a huge admiration for travellers on bikes.
It is quite naturally that I followed Marie's trip with great interest. When she came back, I asked her to write an article about a cycling trip in Kyrgyzstan. She did me the honour of accepting and we had fun doing this Q&A (an interview 🙂 )
Hi Marie, thank you for agreeing to share your cycling experience in Kyrgyzstan. First of all, can you introduce yourself?
Marie, 52 years old, ex-triathlete (a shoulder injury-falling off my bike now prevents me from swimming) and musician. I love cycling (I ride my bike all year round by road and mountain bike, and also I ride a bike to work) I love to travel, and I love cycling. I usually go 4 times a year, I make the most of the holidays  (except for Christmas) to ride my bike. In the summer, I ususally leave for  7 to 8 weeks in a row. 3200 km last year in  Iceland, 2700 km this summer between Dushambé and Bishkeck.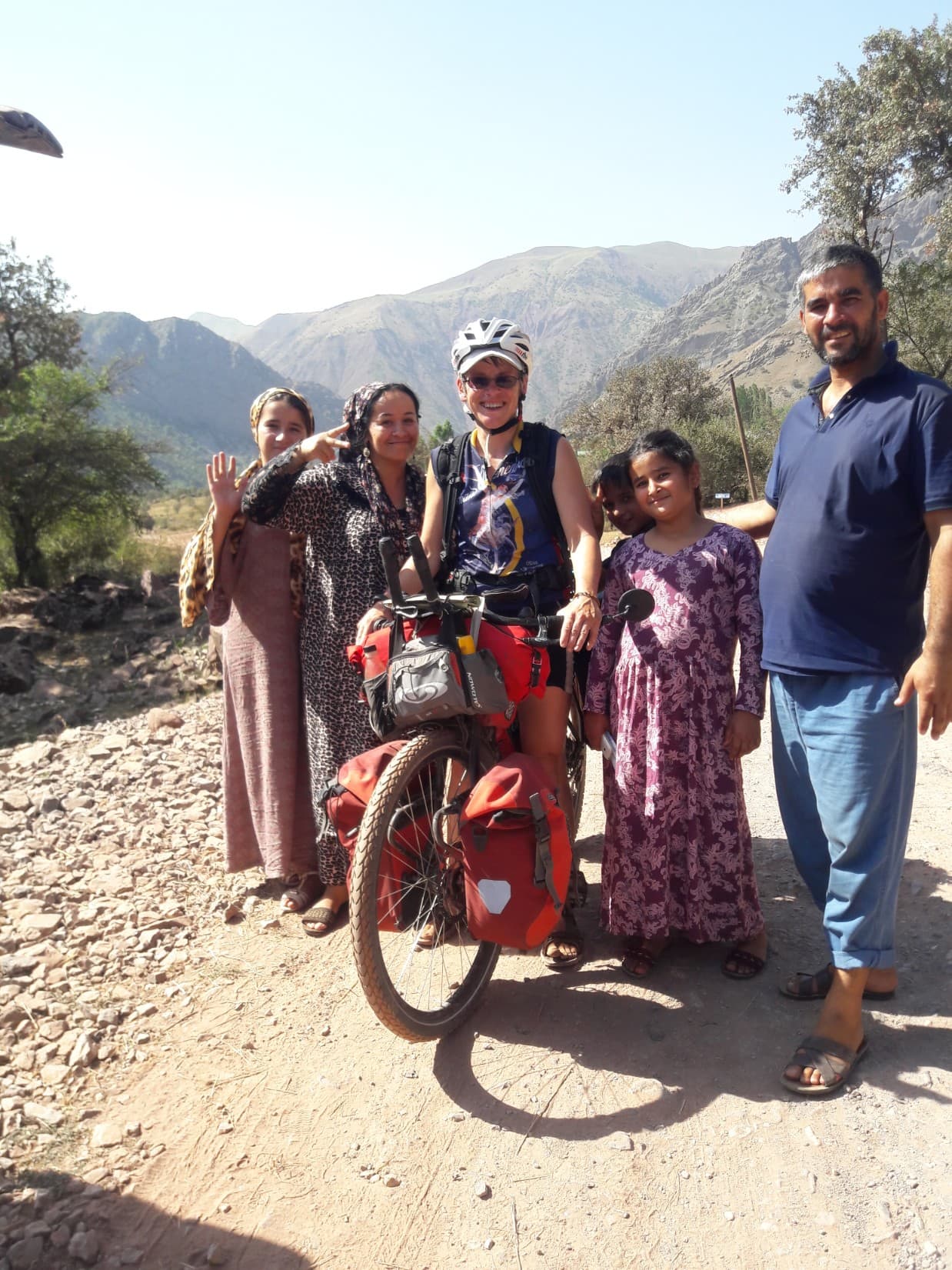 Why do you travel by bike?
For me, this is the ideal mode of transportation. The perfect pace to discover: the possibility to talk, to meet people (much more than by car) , the pleasure added, less pollution than by car (even though the carbon footprint of a return trip by plane is far from negligible 🙁 )
Who do you think cycling is for?
For everyone! You can ride 100 km a day (often it can be complicated with a loaded bike on the bad and uneven tracks of Central Asia 😉 ) and camp in the middle of nowhere. You can also ride 20 km a day and sleep in homestays or with the locals. Everyone travels according to his desires and capabilities.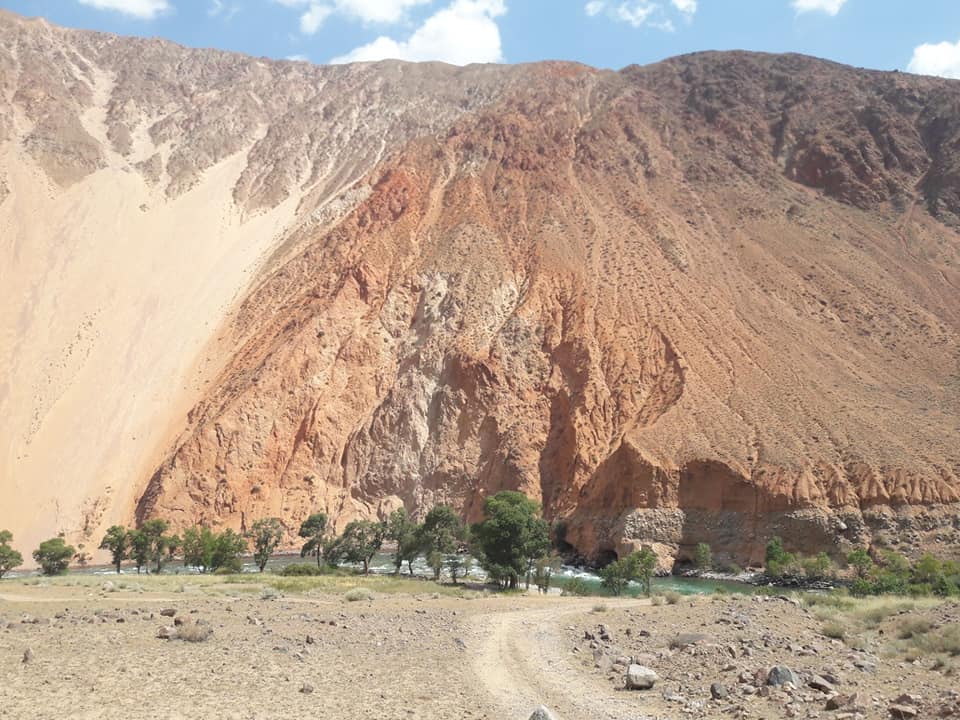 Why do you travel alone?
I like to travel alone. For me, it's absolute freedom, you go where you want, you stop when you want, you eat what you want. I'm happy to exchange a few words or even a few kilometres with cyclists when I meet them, but that's as far as it goes. I like camping alone in nature, I like riding alone, I never suffer from loneliness.
Maybe one day I'll be able to get my husband to join me, but I know it will be a different journey. And that I will still be continuing on my own.
Why did you choose Kyrgyzstan to travel by bike?
For many reasons, but above all because the Silk Road and the Pamir Highway are classics for cycling travellers . After having suffered quite a bit from the cold last year in Iceland I was looking for a less icy destination (I brought back some very nice blue frostbites from there 😀 )
Where have you travelled before?
Especially Scotland, Iceland, England, France and, of course, Italy.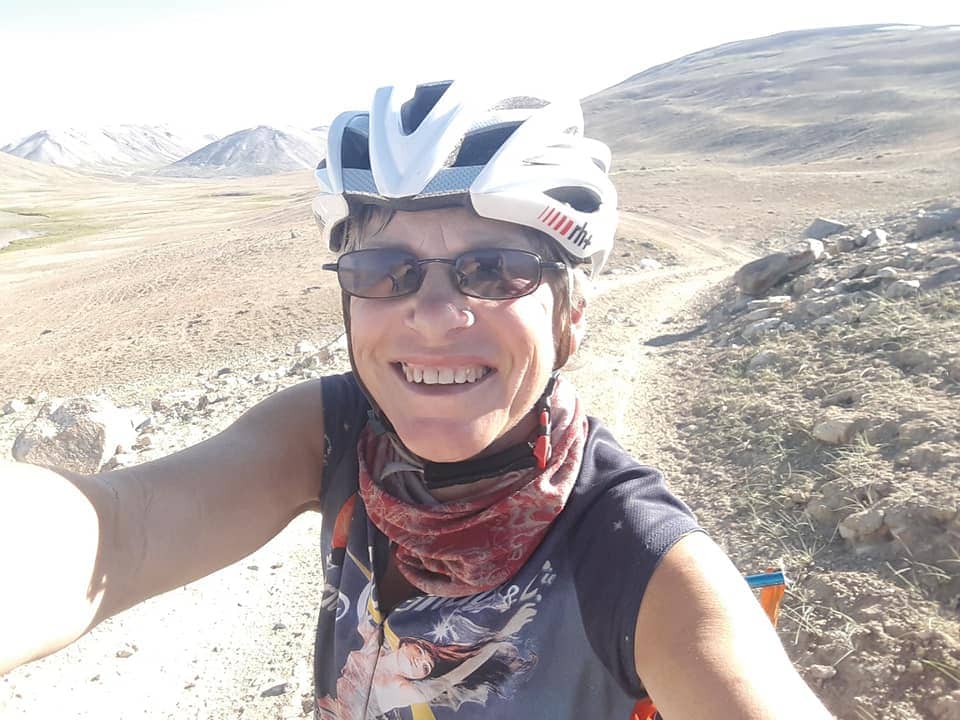 How is Kyrgyzstan different?
I had never really left Europe on a bike (even though I had done triathlons in the USA). , Central Asia is really another world. There is a lot of difference in altitude (even if in Iceland and Scotland you also climb a lot), you have to deal with the altitude, the change of food, the language.
Have you had any specific training?
Not at all. I cycle a lot all year round (9500 km on my bike last year, during trips, but also for daily commuting as well as for pleasure) , I am undertaking specific training all year round 😀
What insurance?
I had asked my agency, thinking that they would arrange a special policy for me to take out. But in fact I was covered by the family car insurance (Mondial Assistance ) for stays of less than 3 months. That said, when I think about it, I was only covered for myself and not for transport. With hindsight, this was perhaps a little risky. If I had to repatriate the bike, it wasn't covered.
One day, suffering from a strong dose of tourista, I accepted to take a lift with a truck. So I travelled 90 km with a calf on the plateau of a cattle truck... without been covered by insurance.
I recommend this article, by Georges-Michel, which explains the coverage offered by bank card insurance.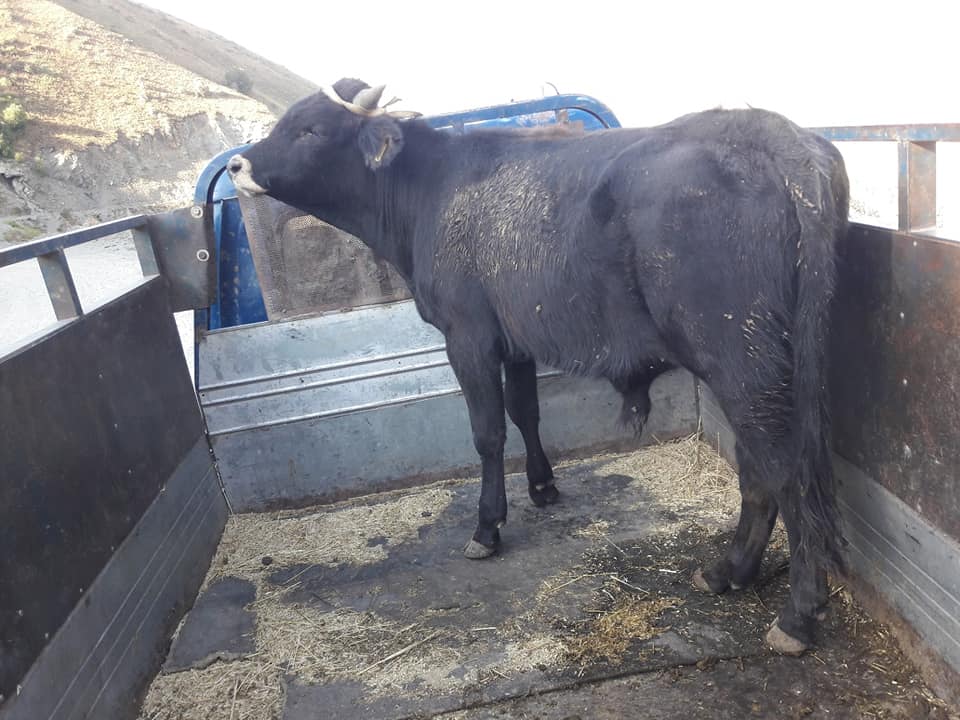 Did you have any vaccinations before you left?
I had done all the recommended vaccines except hepatitis B (I hadn't time in the vaccination calendar, I'll do it next time).
So the compulsory vaccines in France: MMR, DT polio (updated) plus rabies, typhoid, hepatitis A.
What documents did you have with you?
Passport, vaccination card, I had also taken passport photos in advance for the border permits (which finally, due to lack of time, I didn't ask for) and two copies of my passport (in Tajikistan I was asked for one which I had to leave with an officer at a police checkpoint).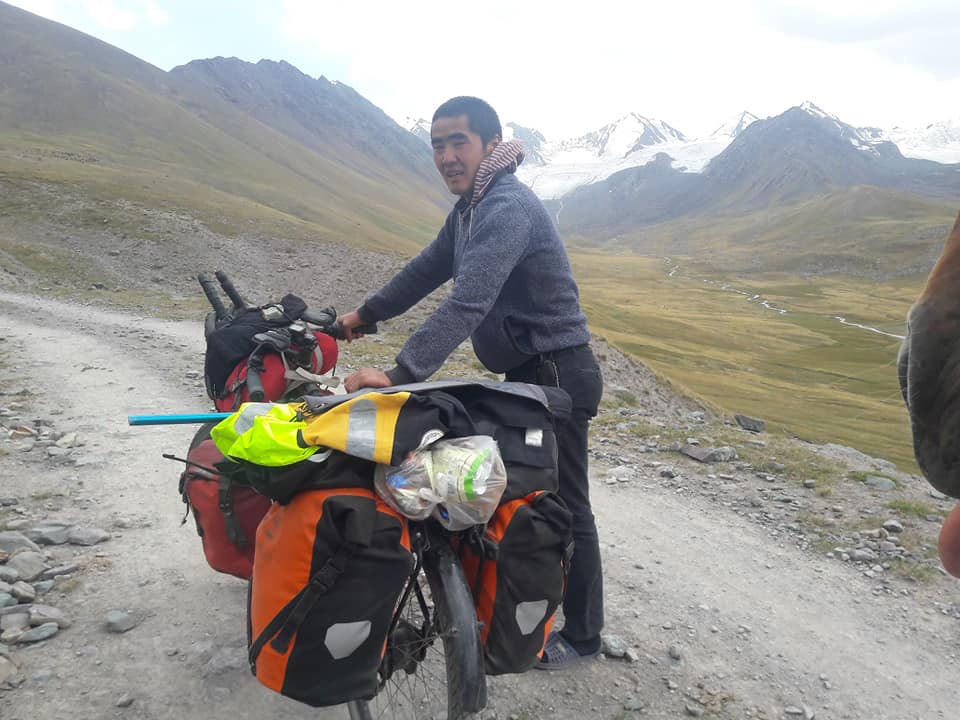 What maps do you use to find your way around Kyrgyzstan?
So that's a bit of a grey area. I had the Gizi map as a paper map but it was just useful as an overview and for the main routes. The scale is way too big, there is no precision, some tracks indicated cannot be found, others are not on the map...
Finally, OpenStreetMap (participatory digital mapping) was the most useful to me. I use the Locus Map app which allows me to make my tracks, to import them (very practical!) and which manages the difference in altitude (I can graphically visualize the routes, which is very useful when cycling!) Therefore it was mainly via my telephone that I travelled, even though I always took a look at the paper map to get an overall view.
What kind of equipment did you bring on this trip?
Multi-purpose clothing (it can be cold at high altitudes and very hot on the plains). I also had waterproof clothes, you can do without them... even if we are happy to have them when it starts to rain.
A good tent, a good sleeping bag, water filtering equipment (although I was only filtering river water, not the spring water, nor the water from wells, nor the water from the pumps in the villages), it's nothing special. except that you have to carry everything, you have to compromise between the bulky and the light equipment.
For the stove I had opted for a petrol stove (you can find them anywhere) but I also had a mini gas stove (70g) as a backup. The petrol smelling bottle of fuel does not necessarily pass easily at the airport. Cooking with gas during the last week allowed the smell to evaporate.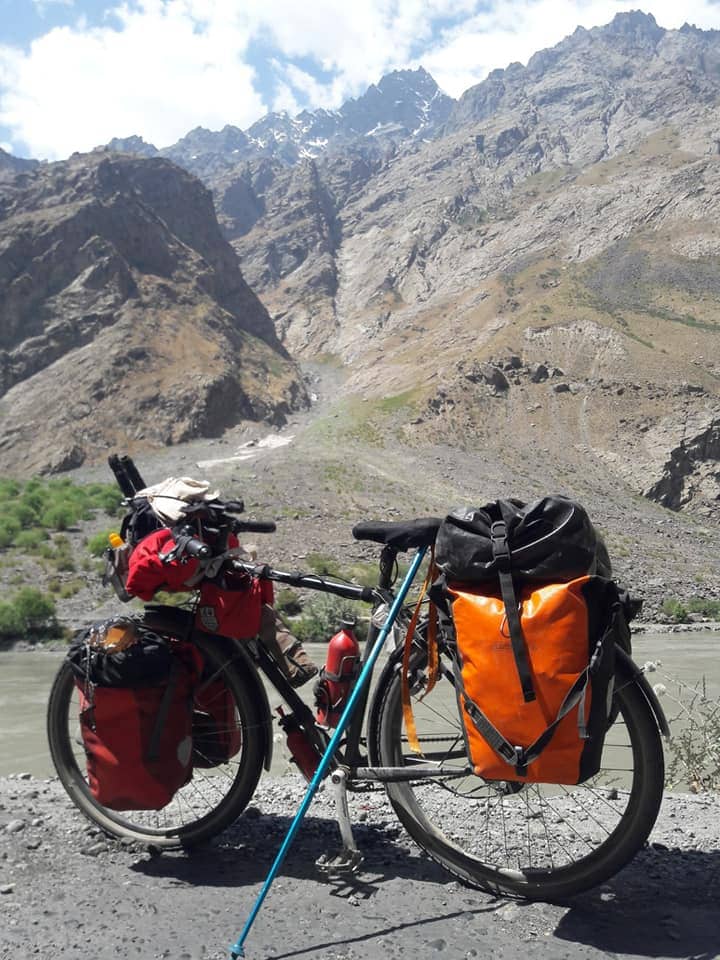 Which bike did you use for this trip (type of bike, development, wheels, tyres)? 
For the first time I had a real travel bike that I had just bought for myself (made by François Coponet of Cycles Itinérances (http://cycles-itinerances.fr/), a framer who lives in Mousson in the East of France) with 27.5 inch wheels.
Before I used to ride my old 26" mountain bike. With a loaded bike you should plan a mountain bike development. It's a lot of climbing anyways, and the roads are mostly rough tracks.
Choose reinforced tyres! The roadsides are littered with pieces of vodka bottles thrown from the cars 🙁 For my part, I chose Schwalbe world marathon. Only one puncture ( a piece of cable that managed to break through).
I had cable disc brakes and a rollhoff hub, very comfortable for this kind of trip (you can shift gears when you are standing still), but before that I used to ride hydraulic brakes and classical derailleurs.
I saw on your pictures that you don't have automatic pedals: why?
Because it's not versatile enough. With trail shoes I can ride and walk comfortably. Sometimes, it happens that you have to push the bike for a long time. You can also choose to put it down and go for a walk in the mountains. I had a pair of sandals to wade rivers (and to ventilate my feet when it was very hot) and a pair of trail shoes. that covered all situations.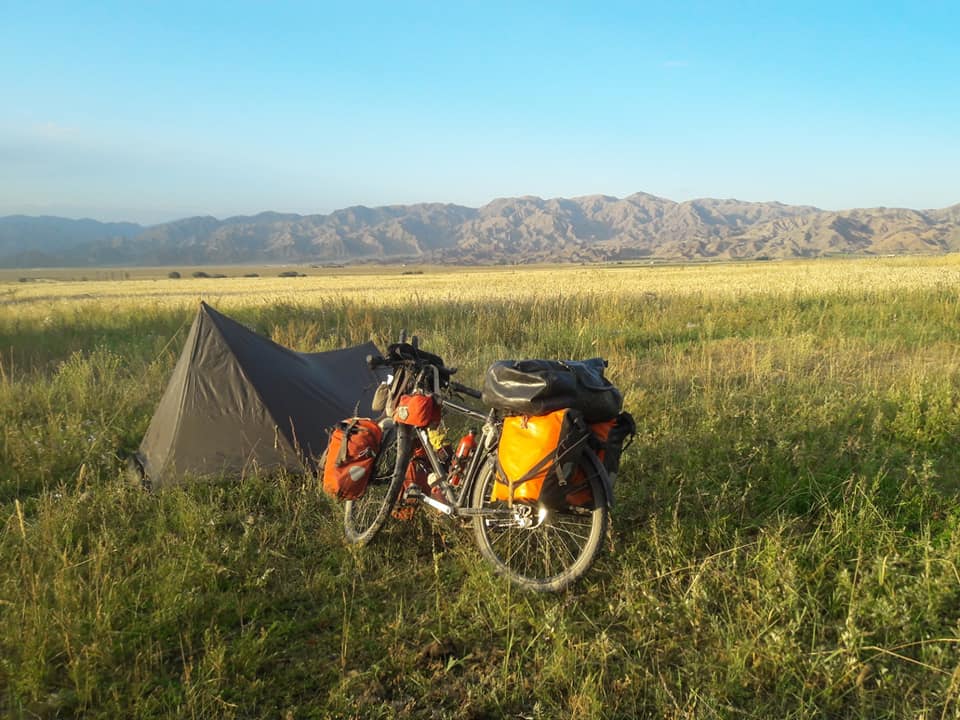 What accessories did you have on your bike? 
A hiking stick with a coloured ribbon stretched across the back panniers to keep cars out of the way! (I also use it as a kickstand by blocking the brakes with velcro).
Kyrgyz road driving is quite deplorable. They have no notion of safe distances for overtaking bicycles (they are much more comfortable overtaking horses). Keeping vehicles at a distance is also a matter of safety ...
A mirror is great too, unfortunately I had broken mine at the start of the trip. The bell was only ever used to amuse the kids.
I also had a hub dynamo so I could charge my phone, my booklamp , my UV virus filter and my electric lamps (I recharged thanks to the very reliable USB2BYK made by a small French company ( http://www.eurecart.fr/ )
That said, in Iceland the hub dynamo provided most of the electrical production (one phone charge per day) and the solar panel was anecdotal. Whereas in Kyrgyzstan the very present sun was almost entirely sufficient to recharge everything.
How did you maintain your bike? 
I didn't do anything in particular. 
Clean and oil the chain from time to time, adjust the brakes when the cables relax. Adapting tyre pressure to the track (deflate a bit when the track is really bad in order to cushion )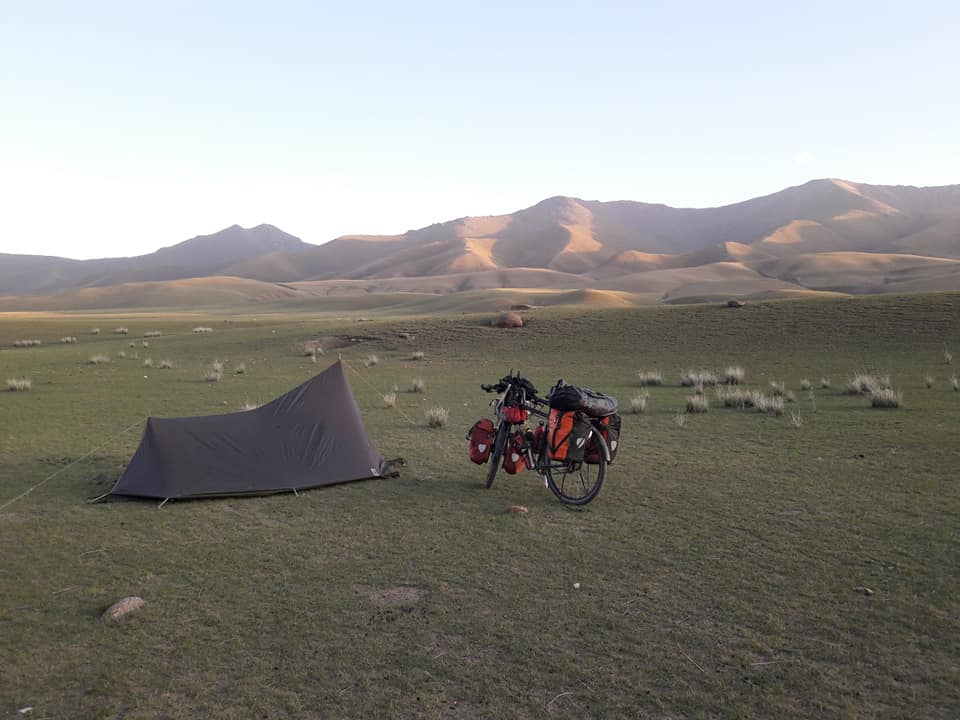 What equipment did you take with you to maintain and repair your bike during your trip?
I really like to be independent and to be able to repair as many things as possible myself. So I have quite a large tool kit.
Pump with pressure gauge

Puncture repair material (dissolve, patch, scraper)

Small clamp

Very complete multi-tool with chain drift, torx spanner, all spanners

Allen key, screwdriver, pedal lifter, various spanners, spoke wrench....

Spare spokes for two-wheelers

1 spare tyre (since Iceland where I blew 3 rear tyres

I'm a bit traumatized with tyres)

Brake cables x2

Derailleur cables x2

Spare pads x3 pairs (one spare + one spare)

Rilsans

Twine

Two small pieces of road tyres that can be used as a patch

if the tyre tears (some people sew the tyres back on, one day I'll have to try).

Spare meter battery

A few pieces of wire and heat-shrink tubing (in case I rip the wire off the dynamo hub)

Some chain links.

3 very strong tyre changers (one steel, two aluminium)

Replacement screws for luggage racks and panniers

Very strong black tape (useful for everything... repairing the tent, the bags, the saddle,

the bike...)

An inner tube

Vaseline oil (but cooking oil is fine)

(when I was riding a mountain bike I also had some brake fluid,

a derailleur hanger and a small tool to remove the cassette)
What do you recommend checking on a bike each day before setting off?
In Iceland, I checked several times a day that the tyres were not torn, but in Kyrgyzstan I was much cooler. The screws on the panniers like to take their independence... every 3 or 4 days, it's really useful to check that they haven't (I did lose two pannier screws though).
Remember to clean and grease the chain from time to time, as dust is omnipresent, it likes to stick to the links.
Any other accessories?
A basin for washing (be careful to dispose of the soapy water away from rivers, soap is perfectly biodegradable but not in the water! Discharged directly into rivers without being filtered by the soil, is deadly for aquatic organisms.
Olive oil for cooking (grocery shops don't offer much choice and you quickly get fed up of Chinese noodles. Olive oil helps in a great way to  properly cook peppers, onions, courgettes, apples lentils over the long term, it saves your appetite); mosquito repellent (in order to survive Lake Issik Kul!)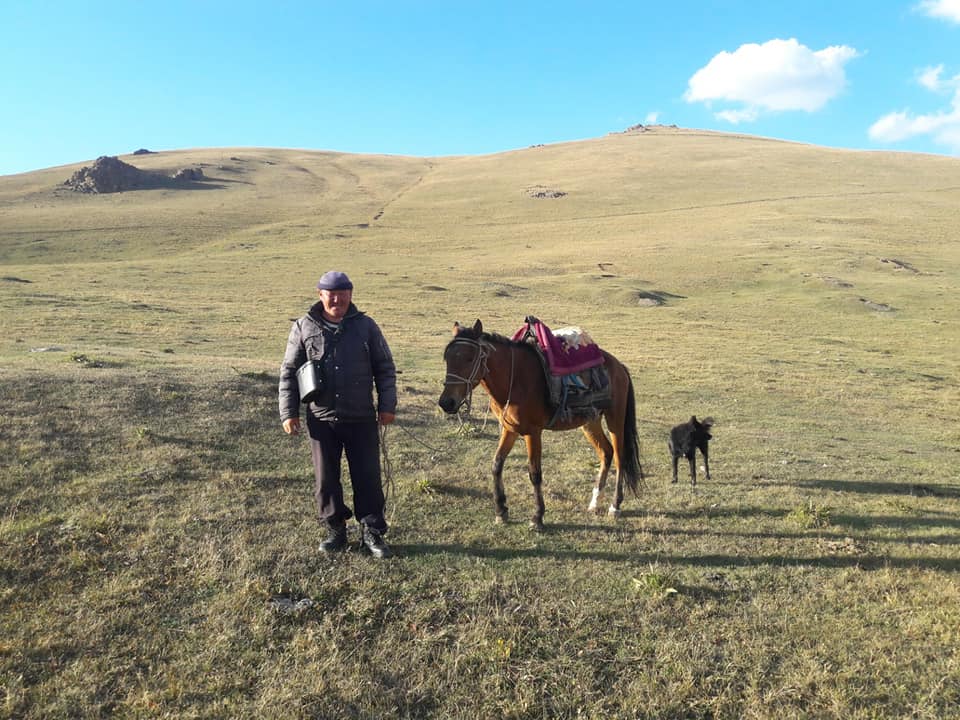 What was your itinerary in Kyrgyzstan?
Quite random. I arrived in Sary Tash (from the Pamir) with the idea of going to Sary Moghul and then to Osh to get a border permit to be able to go to the regions close to China and finally I ended up doing non of it.
I kind of travelled day by day looking at the map. The only real route I followed without being able to do otherwise was the one between Jalal Abad and Naryn. I left it to go up to Song Kul... then I had no idea where to go.
It's actually quite complicated to plan. Some of the tracks are so bad that you go up the passes pushing all the time, and no point in saying you'll make up for it on the way down: I've ridden down passes without ever exceeding 8 km/h. One day, I "travelled" all day only to do 30 km, and with mud all the way up to my hub.
I have also on some occasions followed the trail of the Silk Road Mountain race. It was beautiful, some trails are much faster than some roads (the Kazarman road is terrible in certain places for a bike - rocks, corrugated iron ... ) and I took routes to avoid "highways" as much as possible (the expressway between Balykchy and Bishkek) which I finally stayed on because there was not much traffic and it was quite pleasant to keep on moving forward.
I didn't want to do EVERYTHING over a given time, I hate bucket lists. I prefer to go where I want, to enjoy a place I like, to leave another one that I only half like without having finished visiting.
Of course I missed a lot of stuff, but I took the time to go to the remote places that I adored. When I left I saw some very beautiful and tempting mountains... no big deal, I'll be back 😀
What was your budget for this trip?
It depends a lot on each person, but everything there is very cheap for us. Except in Bishkek where I stayed at theTunduk Hotel (I recommend it: it was great!), I always slept in a tent for free. For food from time to time (when I could findit ) I ate in a restaurant at lunchtime (between 200 soms and 400 soms). Otherwise I shopped in grocery shops, in bazaars along the way.
Kyrgyz people are very nice. They offered me tea all along the road, gave me fruits and also nans. They also invited me to sleep over (I always refused, I prefer to sleep far away from everything in nature).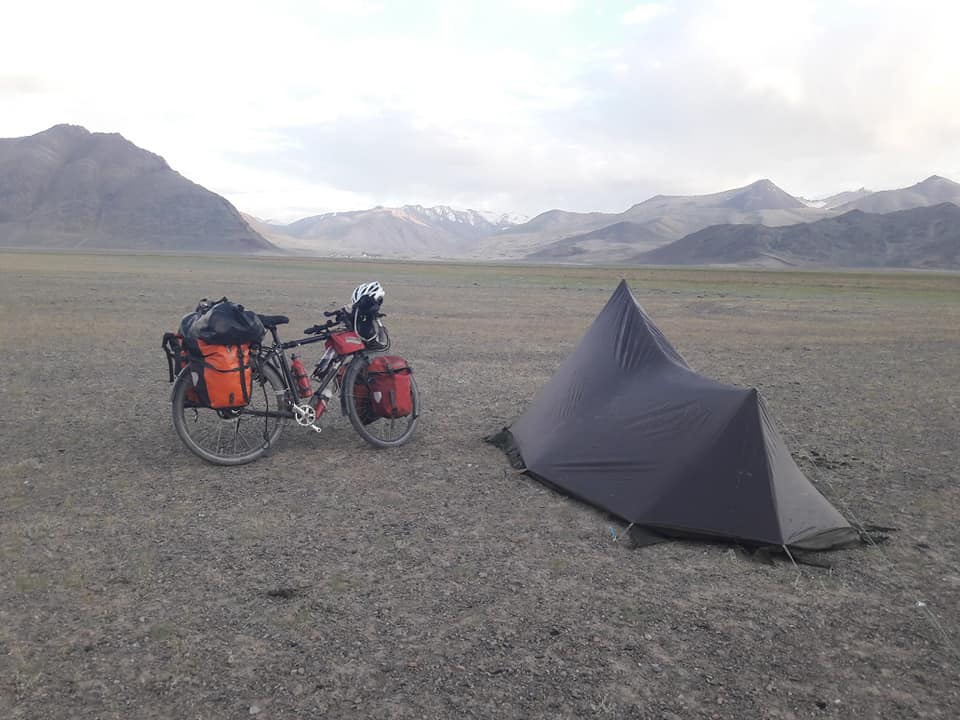 Do you think there are any particular risks associated with travelling in this part of the world?
I did not find that there were risks inherent to Central Asia. Well, it's true, I have suffered quite a bit from tourista and once from food poisoning but I didn't take many precautions. And apart from the food poisoning it didn't spoil the trip for me. I was happy to be vaccinated to avoid the most serious problems (I just read about a traveller who got typhoid).
Of course, you can use micropur pellets (if you can stand it, which I can't) or filter all the water (but you have to do it twice: once with a classic filter and then with a UV filter to eliminate the viruses that conventional filters let through). But it takes time and I was not at all sure that my discomforts came from the water. Honestly, next time I'll do the same thing and too bad for the turista.
Traffic when you're a cyclist can be complicated. I have to admit that in the South, the M41 gave me cold sweats. In Bishkek I ended up limiting myself because it was so unpleasant to ride.
Otherwise, the main problem for me was the dogs. They are not bad at all, but they are never tied up. They have an instinct to chase bikes. You ABSOLUTELY have to stop immediately and tell them to get out of the way VERY FIRMLY if they are aggressive (most of the time they are adorable).
Normally this is enough. I was once annoyed to cross a farm and the owner (whom they did not obey to) threw stones at them to keep them away. As a result I kept two pebbles handy to do the same (you don't aim at the dog, you aim in front of them). In the end I never used them.
I've only had big problems on the big roads, when you are going too fast to check things on the side road or to suddenly stop. Sometimes you drive slowly and they come out of nowhere. On the 4 lane road from Balkychy to Bishkek, in the middle of a descent, , I heard a huge bark behind me, a huge German shepherd was tailing me!
I yelled "GET OUT!!!!" and he stopped dead in his tracks. I couldn't picture myself stopping or aiming at him with my rocks at 50km/h.
Do you have any additional advice for readers? 
It is very easy to hitchhike even by bicycle. I never hitchhiked and at every pass, at every bad weather condition, trucks and even cars would stop to offer me a lift. Taxis take bikes and even mashrutkas would offer me a ride!. (where do they put the bike? I don't know, but ever since I saw a car driving by with two live sheep tied up to the roof I don't doubt their creativity anymore 😀 )
Various travel guides that I have read, strongly assert that women, should be veiled in the villages and not to wear shorts. I wonder if we have travelled through the same country... Many Kyrgyz women are not veiled, and I have seen young girls in shorts in some villages. For me it was short sleeves and legs on my bike all along the trip (as soon as it was hot) I never felt the slightest discomfort. It is rather in town, when I visited that I wore a skirt, because there I was a tourist and not a cyclist.
And I almost forgot, the most important thing to prepare the trip is to read the complete guide to travel in Kyrgyzstan by Georges-Michel.
Thanks Marie, for this great interview. It's really nice. I wish you many new cycling adventures and I can't wait to follow them! I invite you to follow Marie on her blog of tricks for your bike.
Feel free to share your questions or your own experience in the comments.