Vietnam is unique: if you are looking for incredible adventures, a feeling of total freedom, delicious food, friendly people and a fascinating history, this country is your next destination.
Today, Vietnam has become one of the most popular tourist destinations in Southeast Asia, but its vastness still offers plenty of opportunities to visit off the beaten track.
Many backpackers travel there by motorbike, which allows them to really get out of the tourist areas and travel at their own pace.
This is the mode of transport I used on my last 2 trips in 2013 and 2017. I spent a total of 6 weeks there and plan to return.
You want to discover Vietnam with a minimum of information. In this article you will find information and advice to help you prepare your backpacking trip to Vietnam.
Do I need a visa?
For a stay of less than 15 days with a single entry, no visa is required for French citizens.
After this period, you have 3 options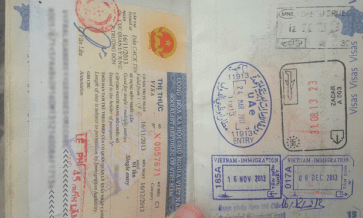 The visa obtained before the trip, at the French embassy,
the visa on arrival, obtained there via an invitation letter ordered on the internet
and the e-visa.
| Visa validity | At the Vietnamese Embassy in Paris | Online |
| --- | --- | --- |
| 1 month / 1 entry | 85 € | 12 $+25 $= 37 $ |
| 1 month / multiple entries | 115 € | 28 $+50 $= 78 $ |
| 3 months / 1 entry | 115 € | 15 $+25 $= 40 $ |
| 3 months / multiple entries | 165 € | 38 $+50 $= 88 $ |
The visa on arrival, option discouraged by the embassy, discouraged on the net... option that I adopted in 2013. I got it in 20 minutes and it cost me 37 $.
Make the request on the website: http://vietnamvisa.org/ . It will cost you $12 and you will receive an invitation letter by email. Once you arrive in Vietnam, you will hand this letter to the customs officer and the visa will be issued to you in 20 minutes for $25. The visa will cost you a total of $37.
If, like me, you have a stopover in Saigon on your way to Hanoi, the visa is done when you arrive in Saigon. Indeed, domestic flights leave from another terminal. It is necessary to pass through customs to take your connection.
It takes about 20 minutes to get the visa. If your luggage is in the hold, contrary to what is said in France, it must be recovered. Then, even if you don't have any luggage in the hold, you will have to check in at the counter, which takes another 20 minutes. Finally you will need another 20 minutes to go through security.
My stopover lasted 1.5 hours, I was able to get through everything without any problems, everything is well signposted and the staff are very helpful.
The Vietnamese e-visa exists since February 1st 2017 for French people. But it has several limitations:
You can get it on : https://www.xuatnhapcanh.gov.vn/
How much does the flight cost? 
Vietnam is not an expensive destination.
2013, I paid for my Paris-Hanoi/Ho Chi Minh-Paris flight, €650 with Air France.
2017, I paid for my Paris/Ho Chi Minh round trip, €591 with Qatar Airways.
If you book well in advance, you can find flights for less than €500.
Air China is the cheapest airline, but the stopovers are very long.
Qatar Airways and Emirates offer good value for money with short stopovers.
Air France and Vietnam Airlines (a member of Skyteam) offer cheap direct flights: sometimes the flights are even cheaper than flights with stopovers.
For more information on the subject, I advise you to read my article on how to find a cheap plane ticket, in less than 40 minutes.
What type of flight should I buy?
Vietnam is a large country with several international airports, the two main ones being in Hanoi and Ho Chi Minh.
This leaves you with two options:
The one-way trip: You arrive and leave from the same airport. Then you can make arrangements with regional flights if at the end of your trip you are far from your point of departure.
The multi-destination flight: You arrive and depart from two different airports. This allows you to make an itinerary without having to return to your point of departure.
The multi-destination flight is a good solution if you want to travel through Vietnam.
It's very easy to find and no more expensive than a regular flight.
Go to Skyscanner, check the Multi-destination box and indicate the desired airports.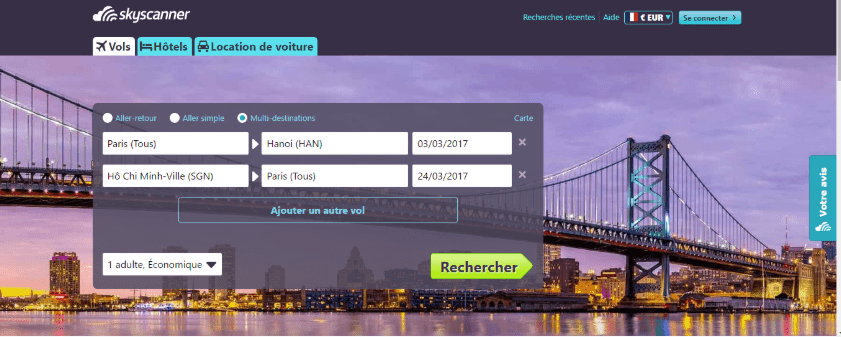 Once the results are in, you can use the filters to find the flight that matches your budget and comfort criteria.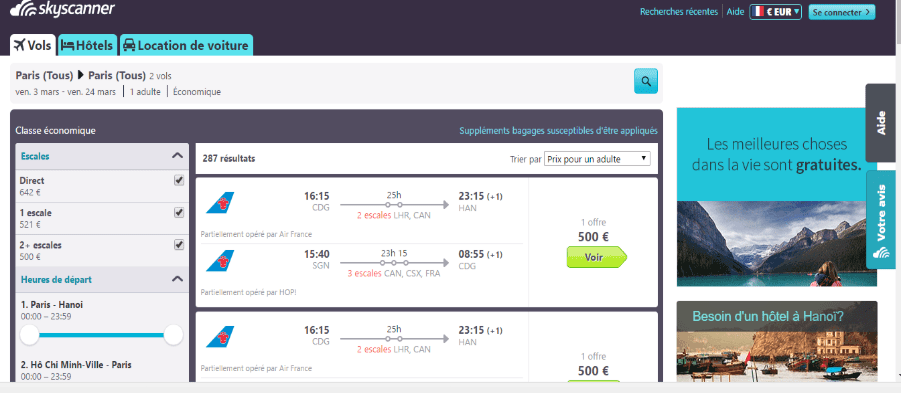 If you are unsure of your itinerary or want to leave and arrive from the same airport, internal flights are very cheap. You can fly across the country for less than €20 with http://www.vietjetair.com/.
If you can find cheap flights to Kuala Lumpur, this company can offer you promotions with flights from Kuala Lumpur to Ho Chi Minh for less than 10€.
How to get from the airport to the city?
In Saigon
Tan Son Nhat airport is located 8 km from the city centre, so you have several options for leaving.
By bus:
Since March 2016, there is a new bus line between the airport and the backpacker district of Pham Ngu Lao. This yellow bus, line 109, is available between 5.30am and 1am.
The price is 20,000 VND, without extra for luggage.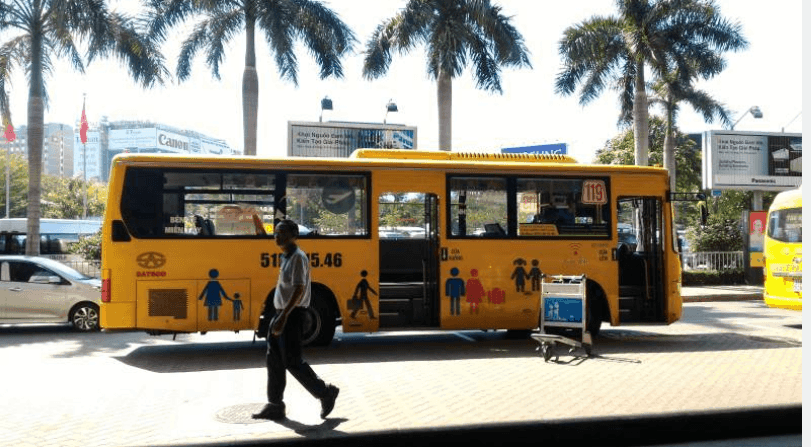 There is a bus every 30 minutes and it takes about 45 minutes to get to the city centre.
You will find this bus at the exit of the arrivals terminal.
By taxi:
If you prefer to take a taxi, the fare to Pham Ngu Lao is between 150,000VND and 200,000VND.
In Hanoi:
Noi Bai International Airport is 45 km from Hanoi, so there are several ways to leave.
The Bus:
Buses 07 and 17 are available from 5am to 10pm.
The trip will cost you VND 7, 000 and will take about an hour.
You will find this bus at the exit of the arrivals terminal.
The taxi:
If you prefer to take a taxi, it will cost you about VND 350,000 to go to the old quarter of Hanoi.
It will take you 40 minutes, use an official taxi or an uber.
What is the currency?
The currency in Vietnam is the Dong.
1 €= 28,000 Dongs. 
You can withdraw it anywhere. At ATMs, you can only withdraw 2 million Dongs at a time. However, you can withdraw as many times as you like from the same ATM.
For each withdrawal, the bank where you withdraw your money, as well as your bank in France, charges you a commission.
What language is spoken?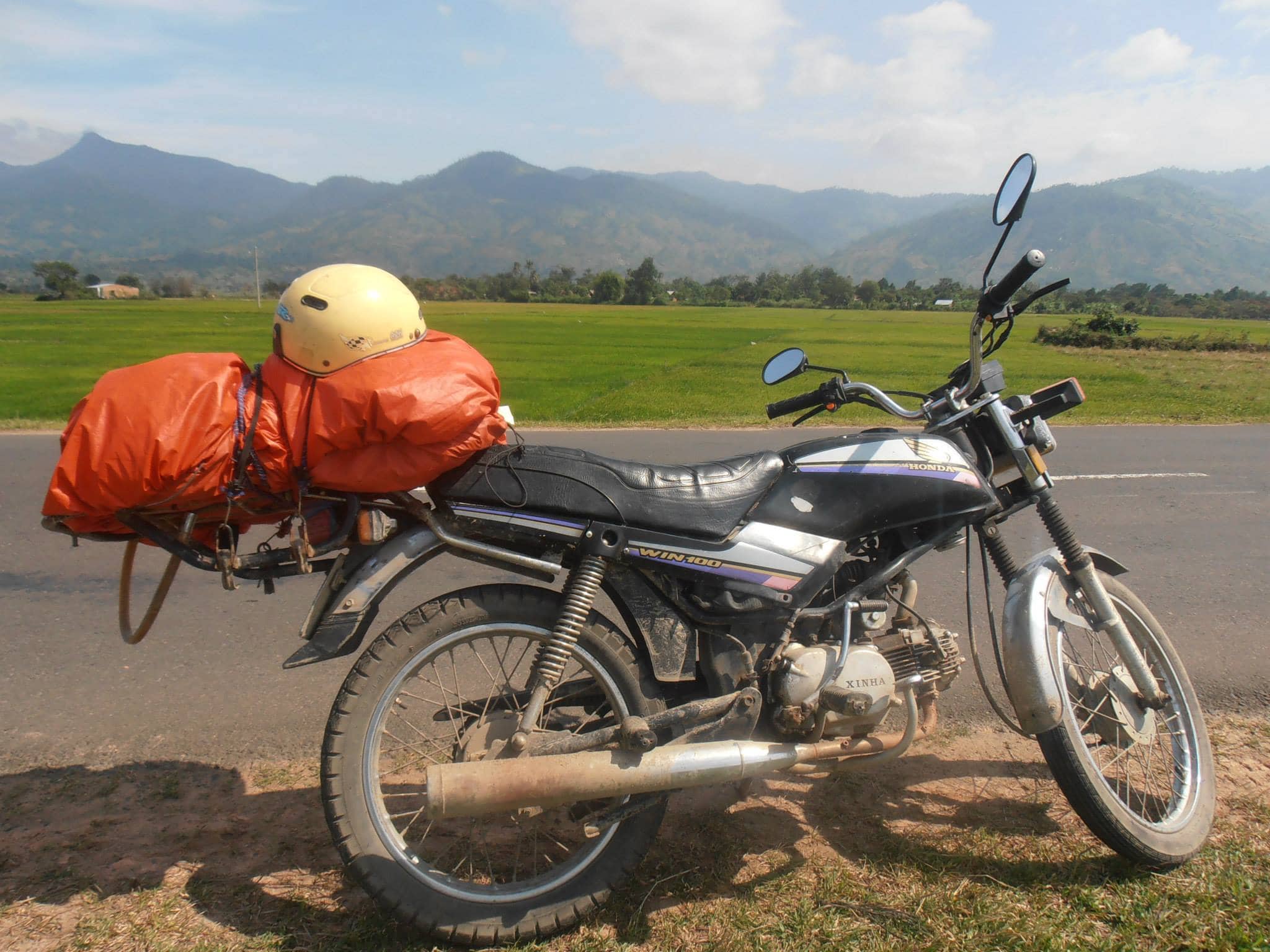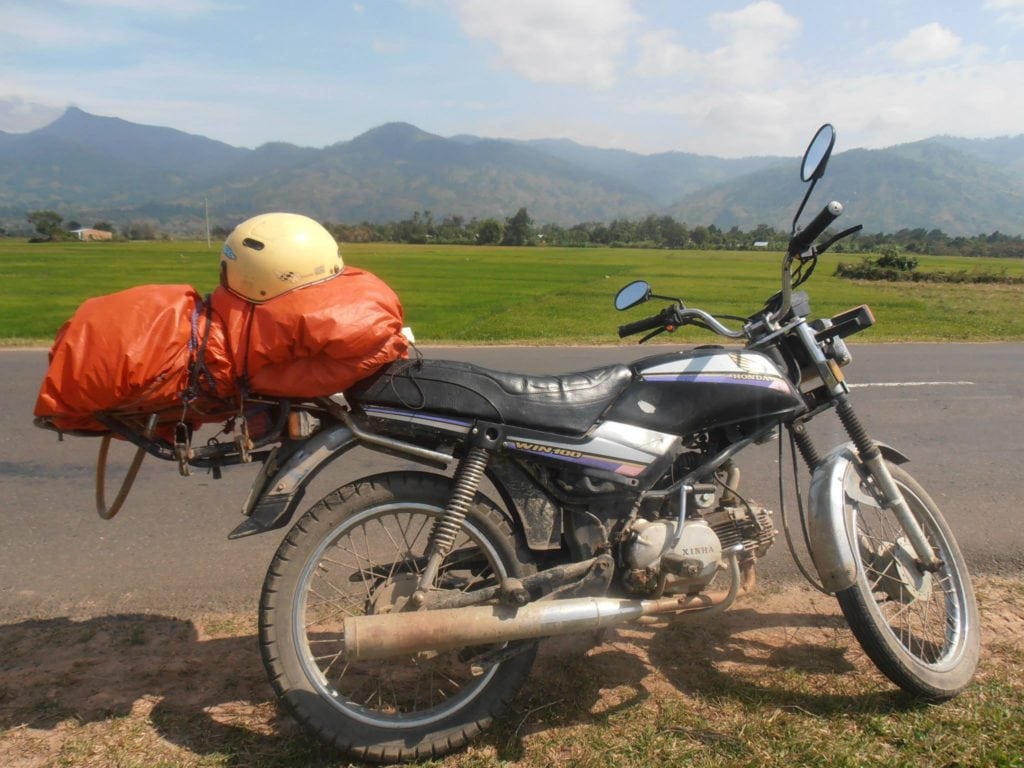 The official language is Vietnamese. English, even in the hostels, is not widely spoken. Contrary to the legend, the old Vietnamese do not speak French. I never met a Vietnamese speaking our language.
On the other hand, Vietnam is the only country in Southeast Asia that uses the Latin alphabet. This makes it easier to read signs and directions.
What vaccinations should I have?
Hygiene is sometimes questionable and it would not be surprising if you contracted diseases if you did not vaccinate yourself. Protect yourself against the main risks:
DTCP

Hepatitis A

Hepatitis B

Typhoid fever

Rabies vaccine




Have it confirmed by your doctor, because I don't want to mislead you, but when I was vaccinated, the doctor told me that these vaccines no longer require a booster. Once done, you will be safe for life.
As for Japanese encephalitis, which is very expensive and often comes up in questions. It is not systematically recommended. I have never done it. It's up to you.
Is it a safe country?

Yes, I have been to Vietnam 3 times, in 2012 (during a trip to Cambodia), 2013 and 2017.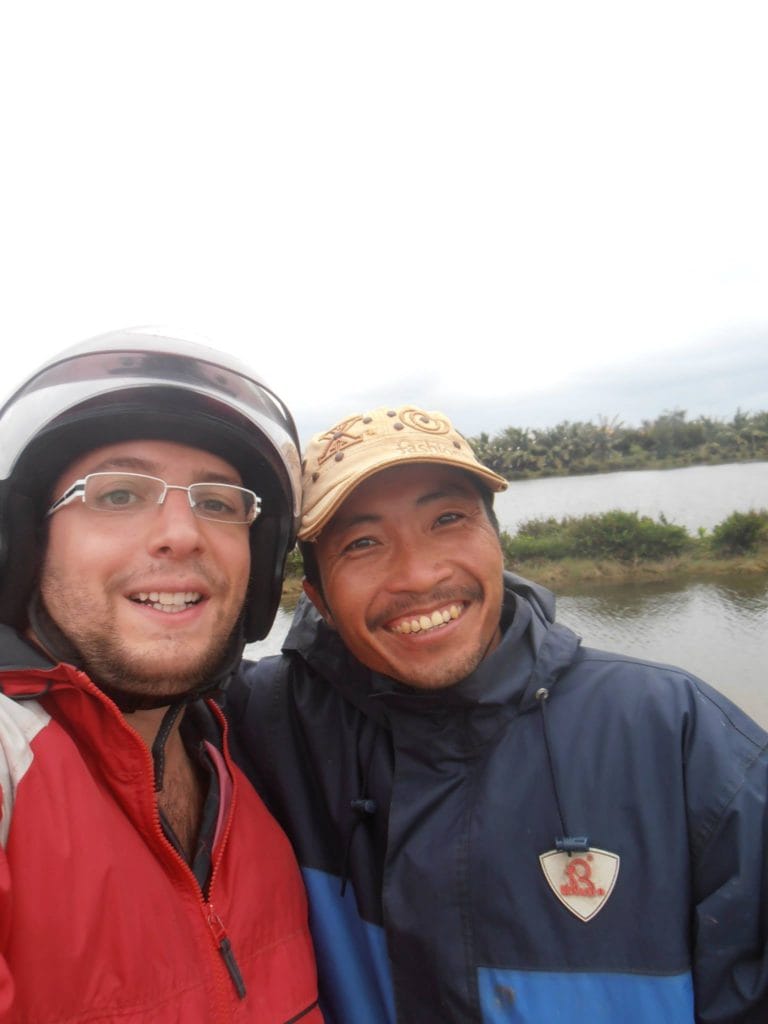 I have travelled most of the time on a motorbike, outside the tourist areas and I have never had any trouble with the locals or the police. It is a country where I feel completely safe.
I met a lot of travellers who did not share my feeling. By discussing with them, I understood better their feelings. Many of them travel through Vietnam in air-conditioned buses equipped with wifi, stopping in tourist towns to visit monuments.
As Vietnam is a long country, tourists stop at the same places. They only see the tourist sites and the people who make a living from them. It's like coming to France, visiting the Eiffel Tower, Disney, Mont Saint Michel and complaining that the country is a tourist factory... You really have to get off the beaten track.
Vietnam is a beautiful country, with an endearing people, it is really important to get out of the tourist places to see it. For this, the motorbike is the ideal means of transport.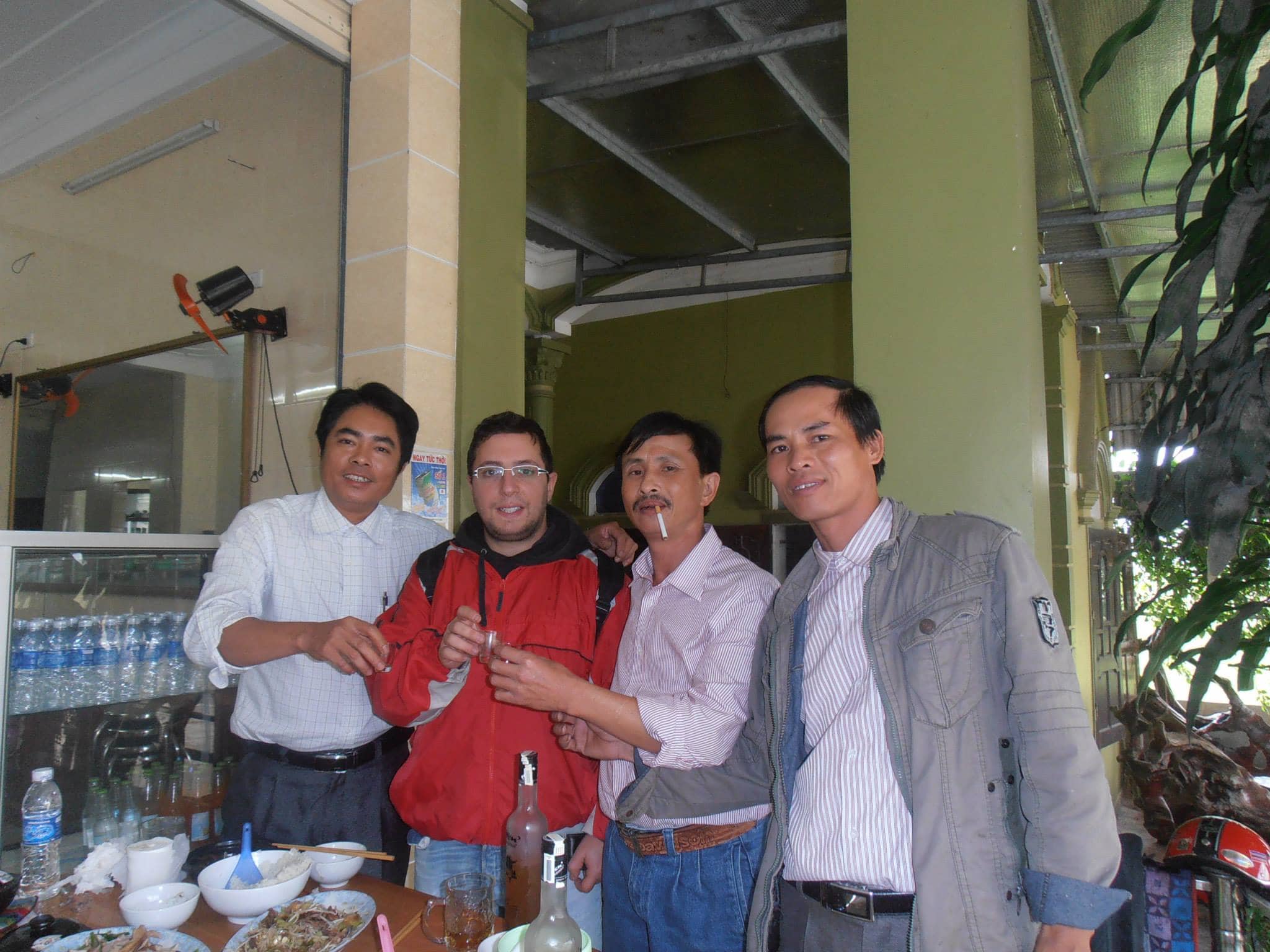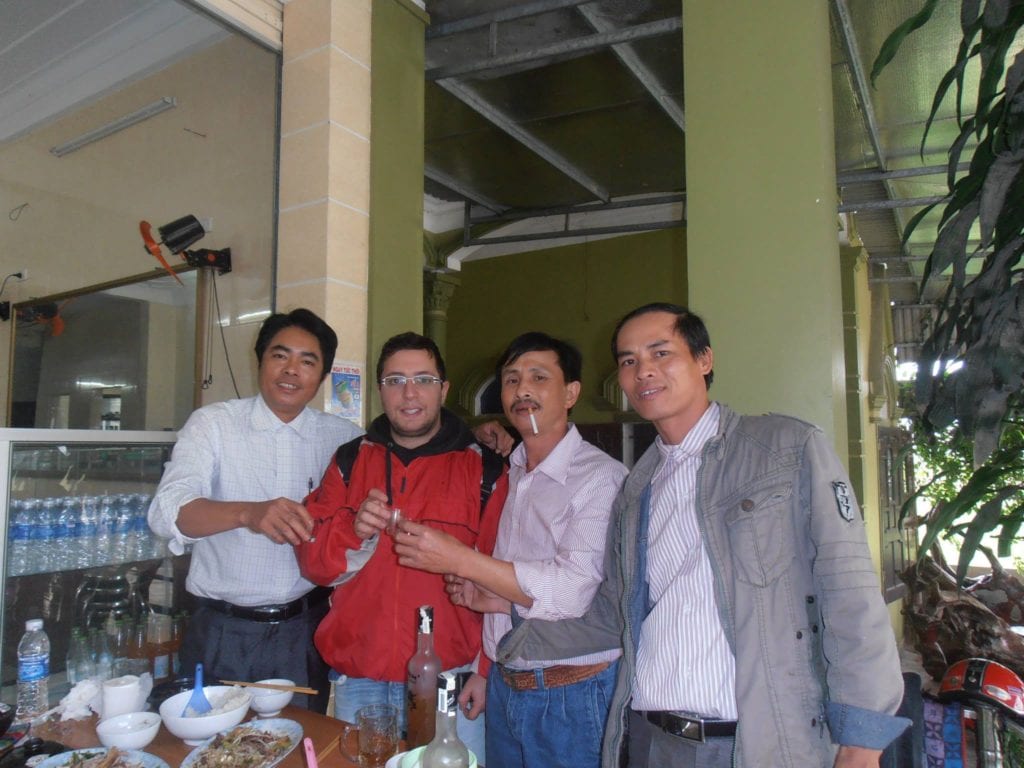 Where can I stay?
Accommodation is easy to find and very cheap. I paid between €3 and €12.5 for my rooms. In the big tourist cities there are youth hostels. In the rest of the country you will find hotels and guest houses in the cities and sometimes for no apparent reason in the middle of villages in the countryside.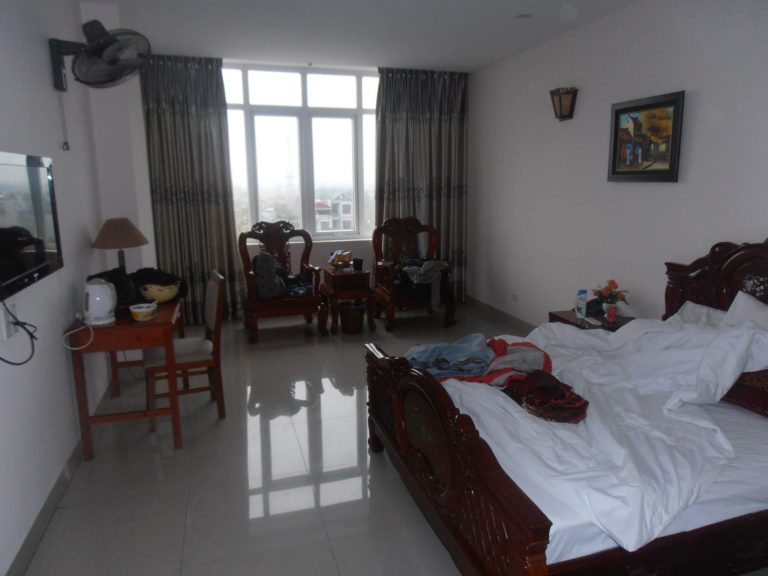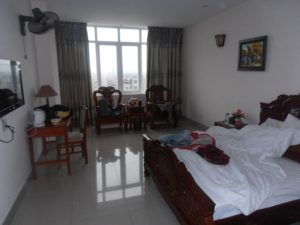 Don't hesitate to visit hotels, even if they look luxurious. On my first day on the motorbike, I went to a hotel that looked really upmarket.
Indeed, the services were of good quality, but the room cost only 280 000 VND. But considering the services and my tiredness, the price was more than correct.
Do you have any hotels to recommend?
Below you will find the list of hostels recommended by my fellow travellers and me:
| Cities | My favourite hostel | My opinion |
| --- | --- | --- |
| Hanoi | Vietnam Backpacker Hostel | The hostel is located in the traditional 36 street area. The beds are very comfortable, the hostel is very clean and the breakfast is included. Finally breakfast is included and they offer city tours and bar crawls. |
| Sapa | Ta Van Hostel | The hostel is located far from the city, in the middle of an ethnic minority village with a breathtaking view of the rice fields and the mountain. It is the perfect place to feel like you are really in Vietnam. |
| Cat Ba | Wood Stock Beacj Camp | It's a hippie camp, with dormitories, tents or hammocks located on the beach. If you stay 5 nights the 6th is free |
| Hue | Vietnam Backpacker Hostel | A friendly hostel with an ideal location in the middle of town. It has a bar and offers free beer every day. |
| Da Nang | 4 Sisters Hostel | The hostel is friendly, well placed near the beach and offers a free breakfast. |
| Hoi An | Sunflower Hostel | The hostel has a swimming pool and offers a huge free breakfast, as well as free beer, vodka and whisky. |
| Nha Trang | IHome | The hostel is located near the beach, has a bar and offers free breakfast and beer. |
| Mui Ne | Mui Ne Backpacker Village | The hostel has a swimming pool and a bar. It offers breakfast and free beer. The atmosphere is very friendly and the evenings are very lively. |
| Dalat | Mr Peace Backpacker's House | The hostel is family friendly and offers free breakfast and happy hours. You can dine with your family and have hugs 🙂 |
| Quy Nhon | Life's Beach Backpacker | The hostel is on the beach, far from the city, and has plenty of hammocks and other relaxing places. There is no wifi, so it's the perfect place to meet people. |
| Ho Chi Minh | Vietnam Backpacker Hostel | The hostel is cheap. There is a sky bar where you get a free breakfast and 2 free beers a day. They organise bar crawls every night. |
| Can Tho | Mekong Delta Inn | The hostel has 2 dormitories and a common room. It is very friendly, the breakfast is free and copious. |
| Phu Quoc | Anthinho Hostel | It's probably not the nicest hostel on the island, but it's where I spent 7 days in 2017. The location is easy to get to, the staff are very friendly and the beach is not far away. As a bonus, there is a nightclub, frequented exclusively by locals, right across the street. |
What are the means of transport?
The train:
More than just a means of transport, the train is a real place to live. There is a coastal line that runs from Ho Chi Minh to the Chinese border and takes just over 30 hours to cross the country. If you travel with a motorbike, you have the possibility to take it on the train.
Bus:
This is the most popular means of transport among travellers. Tourist buses are very well equipped: air-conditioning, wifi, sleeping berths for night trips. They allow you to travel very comfortably and are not expensive at all.
There is a very popular open bus ticket which allows you to cross the country in several stages for very little money. Below you will find some examples of prices.
| Route | Dong | Euro |
| --- | --- | --- |
| Saigon-Muine | 180 000,00 VND | 6,43 € |
| Saigon-Muine-Saigon | 340 000,00 VND | 12,14 € |
| Saigon-Muine-Nhatrang | 350 000,00 VND | 12,50 € |
| Saigon-Muine-Nhatrang-Hoian | 550 000,00 VND | 19,64 € |
| Saigon-Muine-Nhatrang-Hoian-Danang/Hue | 675 000,00 VND | 24,11 € |
| Saigon-Muine-Nhatrang-Hoian-Danang/Hue-Hanoi | 1 060 000,00 VND | 37,86 € |
| Saigon-Muine-Dalat | 320 000,00 VND | 11,43 € |
| Saigon-Muine-Dalat-Saigon | 590 000,00 VND | 21,07 € |
| Saigon-Muine-Dalat-Nhatrang | 460 000,00 VND | 16,43 € |
| Saigon-Muine-Dalat-Nhatrang-Hoian | 710 000,00 VND | 25,36 € |
| Saigon-Muine-Dalat-Nhatrang-Hoian-Danang/Hue | 840 000,00 VND | 30,00 € |
| Saigon-Muine-Dalat-Nhatrang-Hoian-Danang/Hue-Hanoi | 1 160 000,00 VND | 41,43 € |
| Saigon-Dalat | 275 000,00 VND | 9,82 € |
| Saigon-Dalat-Saigon | 540 000,00 VND | 19,29 € |
| Saigon-Dalat-Nhatrang | 420 000,00 VND | 15,00 € |
| Saigon-Dalat-Nhatrang-Hoian | 700 000,00 VND | 25,00 € |
| Saigon-Dalat-Nhatrang-Hoian-Danang/Hue | 810 000,00 VND | 28,93 € |
| Saigon-Dalat-Nhatrang-Hoian-Danang/Hue-Hanoi | 1 160 000,00 VND | 41,43 € |
| Saigon-Nhatrang | 250 000,00 VND | 8,93 € |
| Saigon-Nhatrang-Saigon | 480 000,00 VND | 17,14 € |
| Saigon-Nhatrang-Hoian | 500 000,00 VND | 17,86 € |
| Saigon-NhatrangHoian-Danang/Hue | 550 000,00 VND | 19,64 € |
| Saigon-NhatrangHoian-Danang/Hue-Hanoi | 1 010 000,00 VND | 36,07 € |
Flying:
This is the best solution if you are short of time. As explained at the beginning of this article, vietjetair offers very cheap domestic flights. You can cross the country in 2 hours for the same price as the bus, or less.

Motorbikes:
Many backpackers travel to Vietnam by motorbike. It is the best way to go off the beaten track and travel at your own pace.
Moreover, it's super cheap since you can easily buy a motorbike from another traveller for 200$ and sell it just as easily for the same price at the end of your trip. This is what I did on my 2 trips in 2013 and 2017.
Why travel by motorbike?
On my first trip to Asia, I travelled by bus. I travelled through Cambodia in air-conditioned vehicles, full of Australians in wifebeaters drinking beers and watching TV shows on their computers.
I didn't really feel like I was immersed in the country. The year after, I came back to Vietnam, I bought a motorbike for $200 from a backpackeeper in Hanoi to cross the country.
I had a completely different adventure.
Only by travelling like this will you be able to share your meal with 4 Vietnamese who will be looking for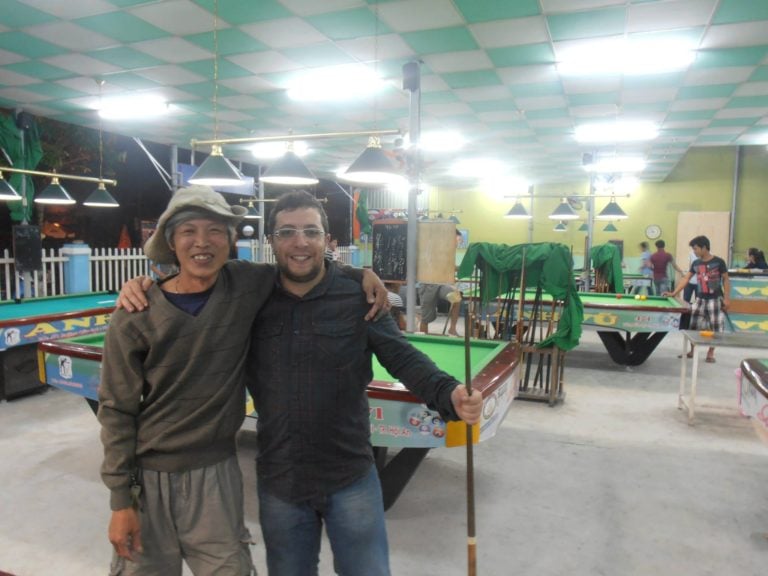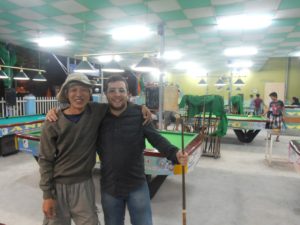 to understand why you are travelling on a motorbike, who will end up offering you rice alcohol and taking photos before you get back on the road.
Only if you want to go and see a field of roses and block your motorbike there will you meet a farmer who will invite you to visit his house and taste the fruits of his orchard.
And above all, this is the only way you'll end up playing a game of pool with a mechanic who refuses to let you pay him and prefers to play his favourite game against you.
Three weeks later I sold my motorbike for the same price to another traveller. Before coming to Vietnam, I had never driven a motorbike.
In 2017, I came back to live the same adventure and if you too are interested in the adventure, I wrote a complete guide about it: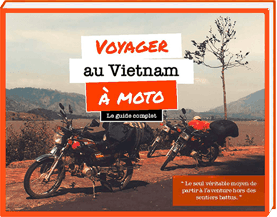 Where to feed myself?
Most hostels and hotels offer breakfast.
If not, you will find sandwich shops on the street. These are baguettes in which you can put all sorts of vegetables and cold cuts. They cost 10 000 VND (0,35€) each.
Food in Vietnam is cheap, especially street food, you can easily eat for 1 €. However, for a westerner, the Vietnamese portions are not very copious. Don't hesitate to take several dishes to keep in shape!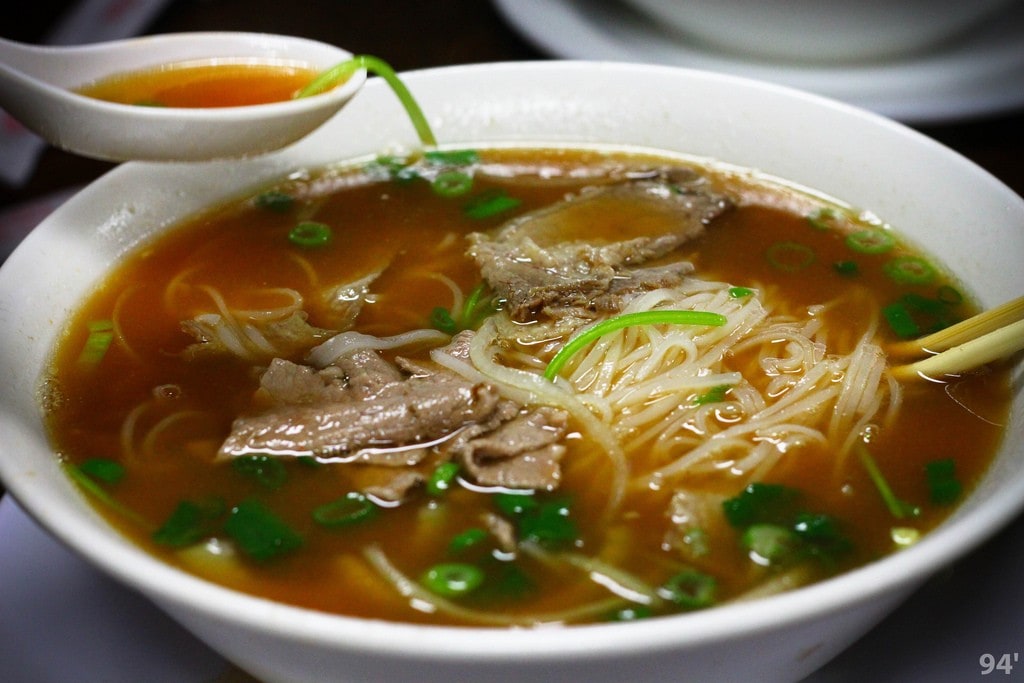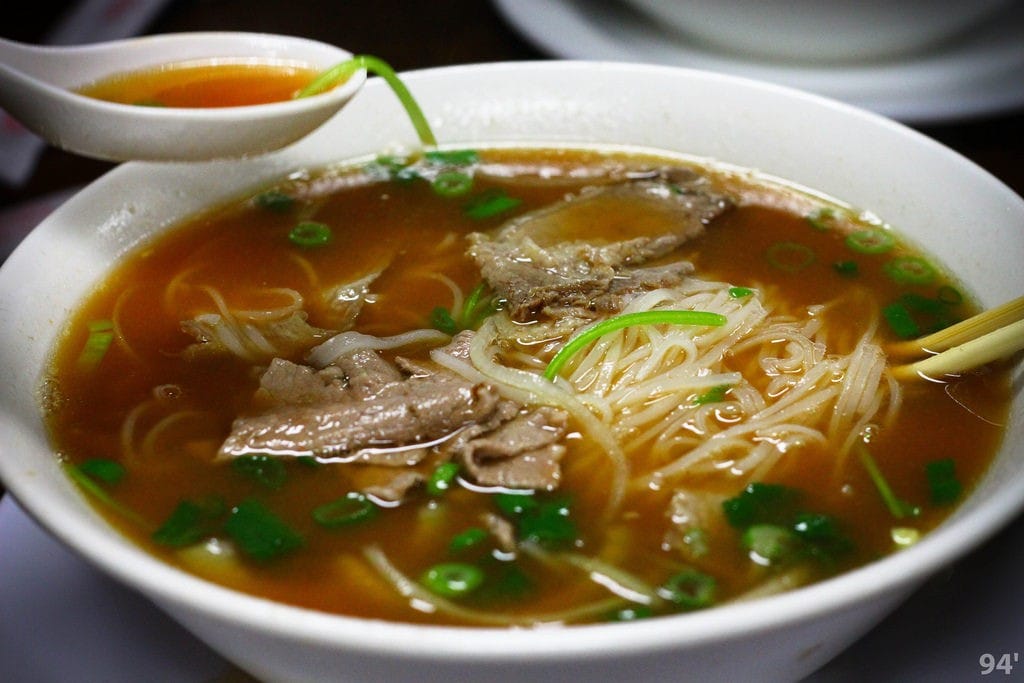 If you want to be polite and not eat the same thing over and over again, these vocabulary items will help you:
Hello: Chao ong
Please: Lam on
Thanks: Cam on
Rice: co'm
Noodles: mid
Soup: pho
Beef: bo
Pork: heo
Chicken: ga
Fish: ca
Fork: nia
Where to withdraw money?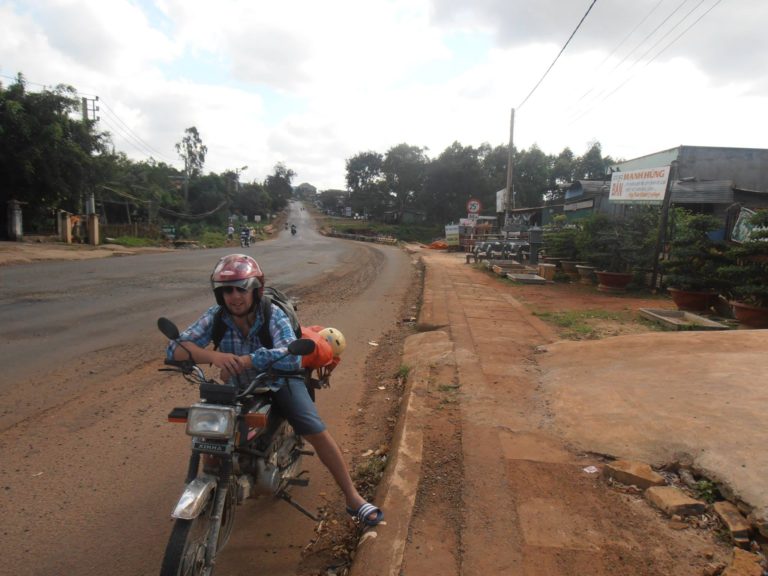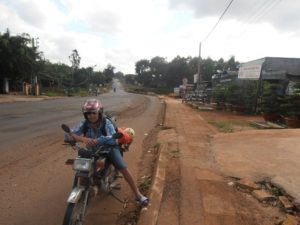 The currency in Vietnam is the Dong. In November 2017 1 €= 25 000 Dongs.
There is no need to take dollars, you will only be able to pay for your visa and some hostels. 
As for the Dongs, you can get them everywhere.
For each withdrawal, the bank where you withdraw your money, as well as your bank in France, takes a commission.
Do I need to buy a sim card?
Yes, a chip with 3g credit will cost you VND 100,000. You will be able to communicate with your friends and family, access 3g and use online applications.
When you arrive at the airport and all over the city, you can easily find sim cards. If you want to buy one, make sure your mobile is unlocked.
There are several operators to choose from: Viettel Mobile, MobiFone and Vinaphone.
A chip with a 3g credit will cost you 100,000 VND.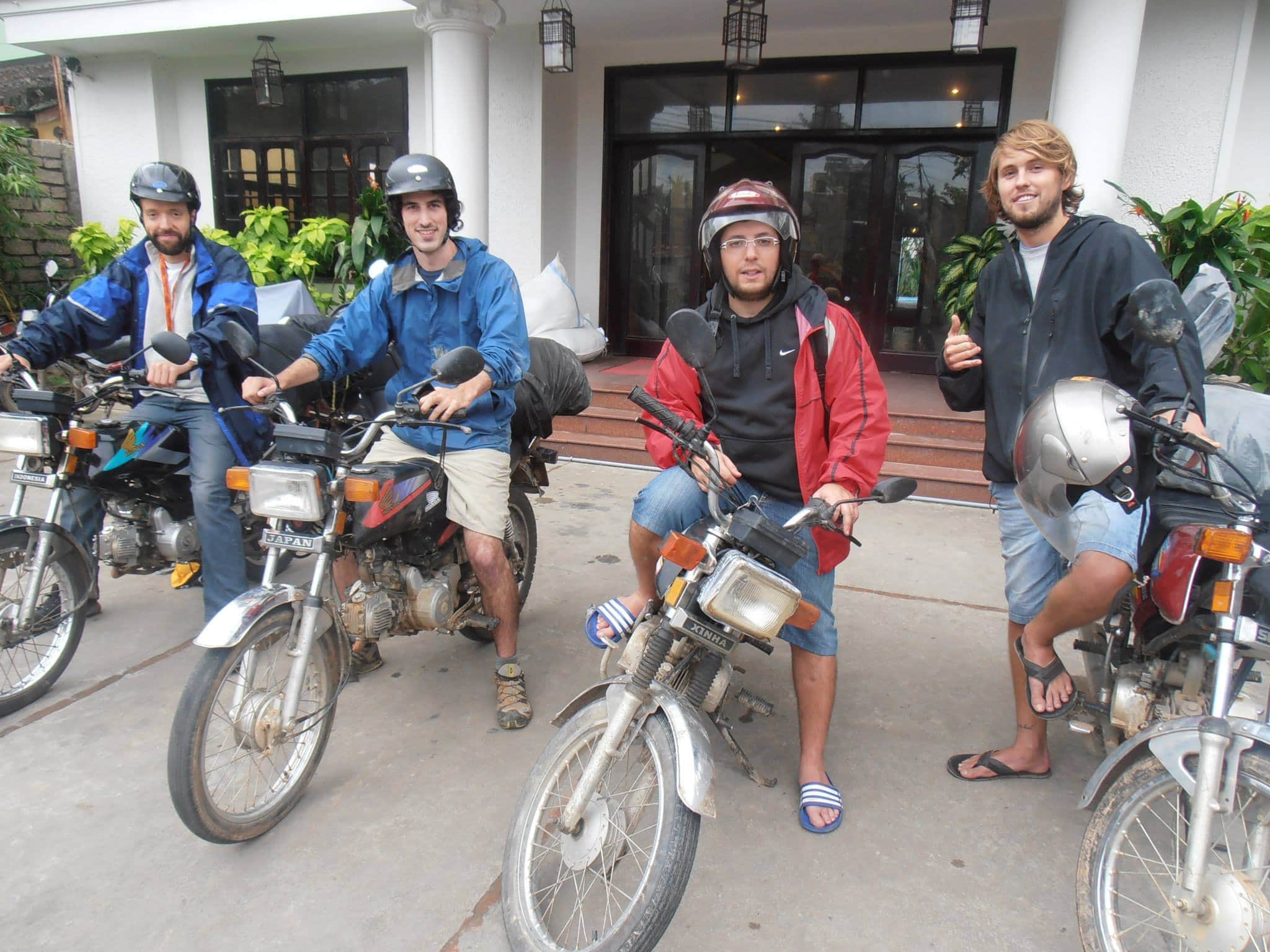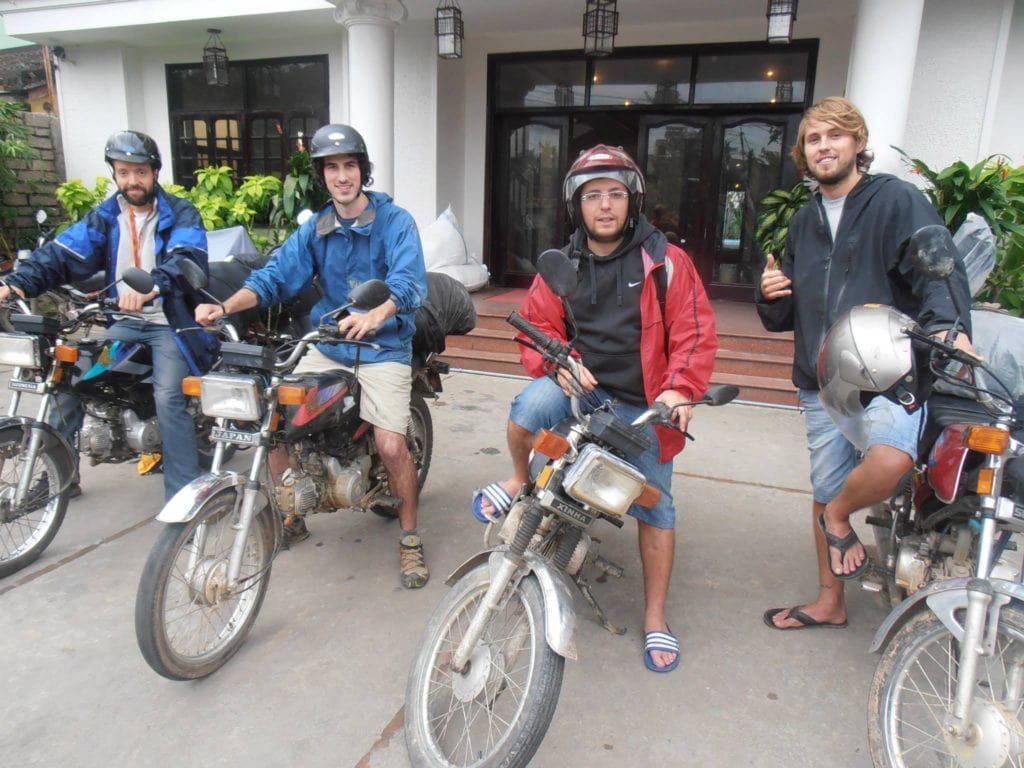 Which applications should I install on my smartphone?
Whether you are a local sim card or not, you can use these applications offline:
Maps.me: an offline map and gps. Remember to download the map of the country before you leave or when you have wifi. This application not only serves as a guide but also shows you the nearest hotels and restaurants.
Google photos: an application that allows you to store images and consult them offline. Upload photos of the main objects and places you are looking for during a trip.
In case of misunderstanding with a local, show them the picture to make them understand what you are looking for.
Xe currency: the currency converter, so you don't have to calculate everything in your head. Don't forget to update the currencies when you have a connection.
If you decide to buy a local sim card, you can also use it:
Google translation: and its voice option, which will allow you to make the Vietnamese listen to what you say in Vietnamese.
What to pack in your backpack?
As with any trip, my bag did not exceed 8kg.
I always manage to keep my backpack in the cabin. This forces me to make sure it is not too heavy and also avoids having to wait for it when I arrive at the airport.
I don't take clothes for more than 5 days, I think it's the ideal compromise to enjoy the trip while stopping and taking time for yourself.
In Vietnam, as everywhere, it is easy to find laundry facilities.
Here are the contents of my bag/
Decathlon Forclaz 60 bag :
backpack (for the day)
money belt
jeans (for motorbike riding)
short 
2 swimming shorts
6 pants
pairs of socks
3 decathlon shirts
4t shirts
stevedores
padlock
headlamp
hoodie
 windbreaker
waterproof bag
toothbrush
 toothpaste
 camera
camcorder
adapt USB current
Sun hat
sunglasses
pair of fabric shoes
leather shoes
flip-flop
microfiber towel
 sleeping bag
 hammock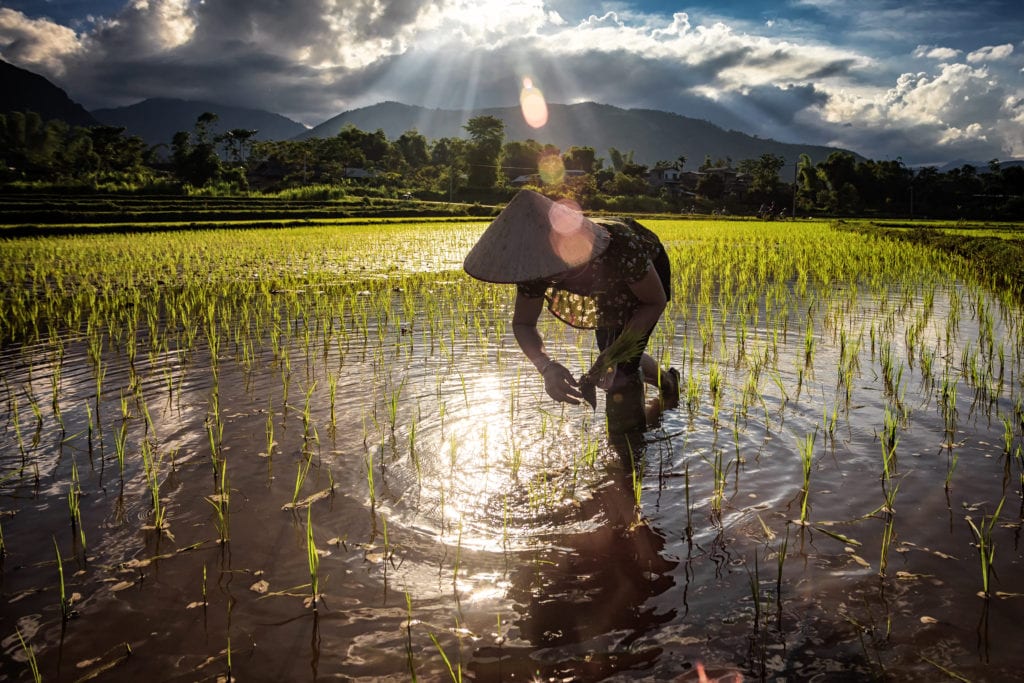 Image source
Can you travel on a backpacker budget?
Yes, Vietnam is a very cheap country. On my last 2 trips I spent: €1264 airfare included for 3 weeks in 2013 and €971 airfare included for 15 days in 2017.
That is, once the plane tickets have been paid for, about 200 € per week, travelling by motorbike.
A hotel room: between €3 and €10
A meal: between €1 and €3
A beer: between 0.03 € (yes 3 cent) and 1 €
An open bus ticket: 40 € to cross the country.
Petrol to cross the country by motorbike: 50 €.
A motorbike: 200 € that you can sell for the same price.
In Vietnam it is possible for Westerners to work as "Westerners".
In the big tourist cities, bars and restaurants with backapackers recruit "Westerners" in order to attract Western customers to their establishment.
So I met several travellers (including a Frenchman whose English was even more limited than his budget) who were provided with food and lodging, in exchange for which they had to attract backpackers to their establishment.
For a traveller with a limited budget, this is a good plan, quite easy to find.
What to bring to Vietnam?
The Vietnam Backpacker's Guide It is a comprehensive guide with lots of interesting information about the history and culture of the country. There are very good tips for finding accommodation in all parts of the country.
A money beltI always travel with it, it's a belt that looks normal but it hides 20 notes inside. This is the best way to hide your money.
A microfiber towel: Microfiber towels dry super fast, they are small, light and ultra-absorbent. They are much healthier for the skin than the towels lent in hostels.
A hammock: For some time now I have been travelling with my hammock. It's very practical, it's easy to carry around and it allows you to sleep or nap anywhere. Mine is equipped with a mosquito net to be really quiet.
What are the basic phrases to know?
If you want to communicate a little with the locals, you can easily learn these few phrases. You will be able to exchange courtesies and interact with everyone you meet.
Hello - Xin Chao
Goodbye - Tam biet
Thank you - Cám on Ban
No problem - Khong Van De Gi
I like to eat - Toi Muon An


What is it?

- cái si te nài?
I am sorry - You Sin Loi
I am hungry - Tôi Doi
What is your name?- Tên cua ban là si
I don't understand.- You khong hieu
I like to eat - You Muon An
When is the best time to visit Vietnam?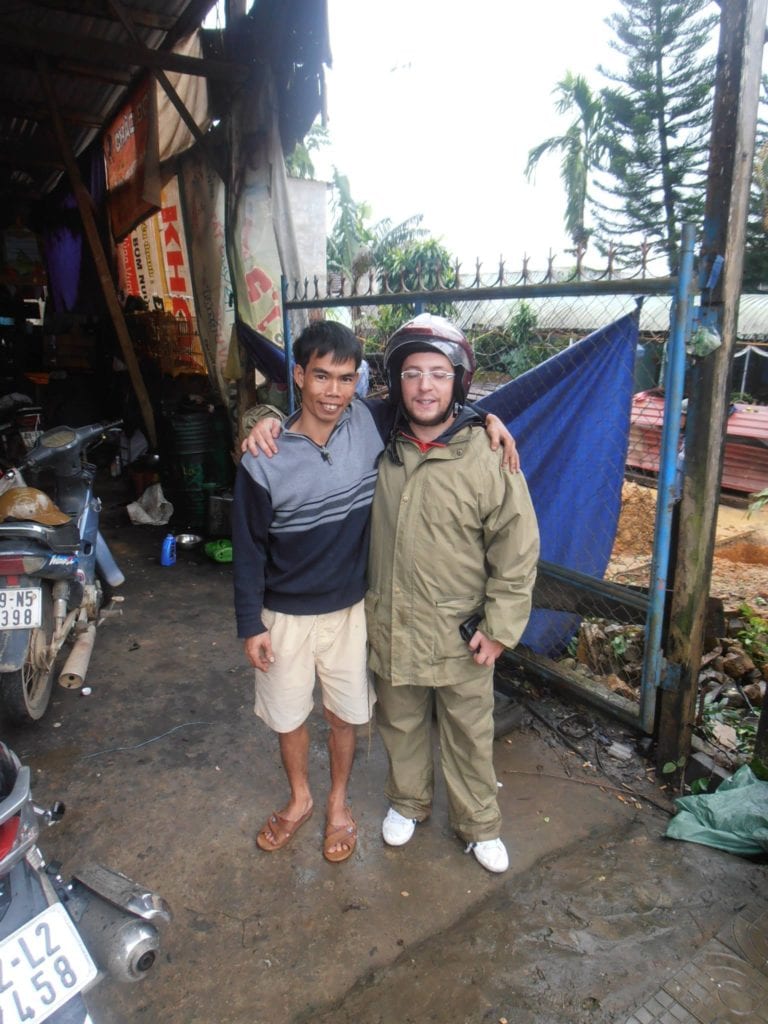 Vietnam is a big country, the weather conditions are never the same between the north and the south. There are monsoon periods, rainy periods and cold periods. If you want to cross the whole country, from north to south, the best months are September to December and March/April.
If you want to go to a specific region:
North of the country: October and May are the least rainy months.
Central part of the country: between February and July you should avoid heavy rains.
South of the country: December to April is the dry season.
Which travel insurance?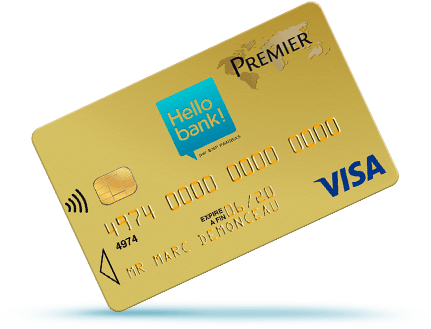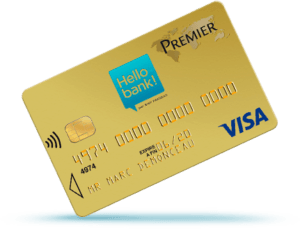 You should always go with insurance when you travel. If you need help, it's much easier to have a professional to turn to, rather than relying on your relatives who may not even know about your trip.
Especially without insurance, the slightest accident or health problem could cost you a fortune. Especially since if you are travelling for less than 3 months, you can get free insurance by getting a free Visa Premier card from an online bank.
This is the card that allowed me to be repatriated after my accident in Togo.
I invite you to read my complete article about travel insurance for bank cards.
How to travel responsibly in Vietnam?
In Asia, it's very easy to get caught up in doing anything, because nothing is expensive and everything seems easy. I'm not going to lecture you, I've been that idiot who drinks too much and the next day goes shirtless and without a helmet.
Just don't behave like a fool like I did and act smart. Drink and party, but always be respectful of the people and places you find yourself in.
Finally, always wear a helmet, shoes and clothes (it's more respectful of others) when riding a motorbike. I used to ride without a helmet and in flip-flops.
I was lucky enough, being less of an idiot when I crashed in Togo, to have a helmet and closed shoes, which saved me from much more serious injuries.
Don't try to be cool, try to stay healthy, it's cooler.
That's it, the article is finished. Did this article answer all the questions you had? Do you have any other information or advice to add?
Have a good trip.