Claire, my sister, recently went on a trip to Jordan. She is a great lover of archaeology and history and loves discovering new countries. She came back delighted with the trip and offered to share her tips for travelling in Jordan.
If you want to visit the historical sites, know how to get around, if it's all possible on a backpacker's budget and have an opinion on the Jordan Pass you will find it all in this article.
My name is Claire and I have already visited the region quite a lot, including Lebanon several times and Israel. Jordan can be scary for some people but as with all my visits to the region I have had no problems and have never felt unsafe. Jordan is a safe country.
Do you need a visa?
Yes, on arrival at the airport, it will be issued to you. It costs 40 JOD for a single entry and 120 JOD for multiple entries. You have to pay it in Jordanian dinar. There is a bureau de change and a cash dispenser at customs. Your passport must be valid for another 6 months from the date of entry .
If you purchased the Jordan pass before your departure, present it upon arrival at the airport as it includes the cost of your visa, if you are staying at least 3 nights in Jordan. If you are staying less than 3 nights in Jordan, you will be asked to pay the visa fee when you leave the country.
What is your opinion on the Jordan Pass?
The Jordan pass is a pass that gives you access to 40 tourist sites and waives the visa fee, if you spend 3 nights in Jordan.
Generally, tourist passes are only interesting if you visit all the sites includedin the offer. So I did not look to see if Jordan had such a ticket. I made a mistake and if I go back there, I will take it.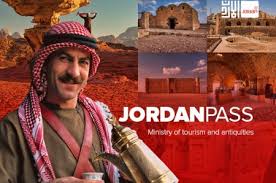 It saves money. For me, it would have paid for itself and I would have saved 20 JOD just with the price of my visa, the price of the entry for 2 days in Petra and the entry for Jerash. . .
The Jordan Pass is worthwhile if you spend at least 3 days in Jordan (the price of your visa will be included) and visit Petra:
Price without Jordan Pass:
1 day Petra 50 JD + visa 40 JD = 90 JD
2 days Petra 55 JD + visa 40 JD = 95 JD
3 days Petra 60 JD + visa 40 JD = 100JD
Price with Jordan Pass:
1 day = 70 JD= 20 JD saved
2 days = 75 JD= 20 JD saved
3 days = 80 JD= 20 JD saved
That is 20 JOD saved just by going to Petra. The other sites are free. This pass is a good plan, take it.
The reason the Jordan pass is so interesting is that it was set up to get tourists to spend more time in Jordan. Most simply come to Petra for a day from Israel or Egypt.
Please note that it is only valid for 2 weeks, starting from the first visit.
On the other hand, if you are a national of an Arab League member country, the rates applied at the entrance to the sites are not the same. Find out more!
How much does the flight cost?
A flight with a short stopover with Lufthansa or Aegean costs around 350€. A direct flight from Paris to Amman will cost around 500€.
There are several very good deals with Ryanair. Out of season, you can find return flights from Beauvaisfor around €100.
There are also even in season. They are very interesting if you find cheap flights to Rome or if you want to stop over in Rome.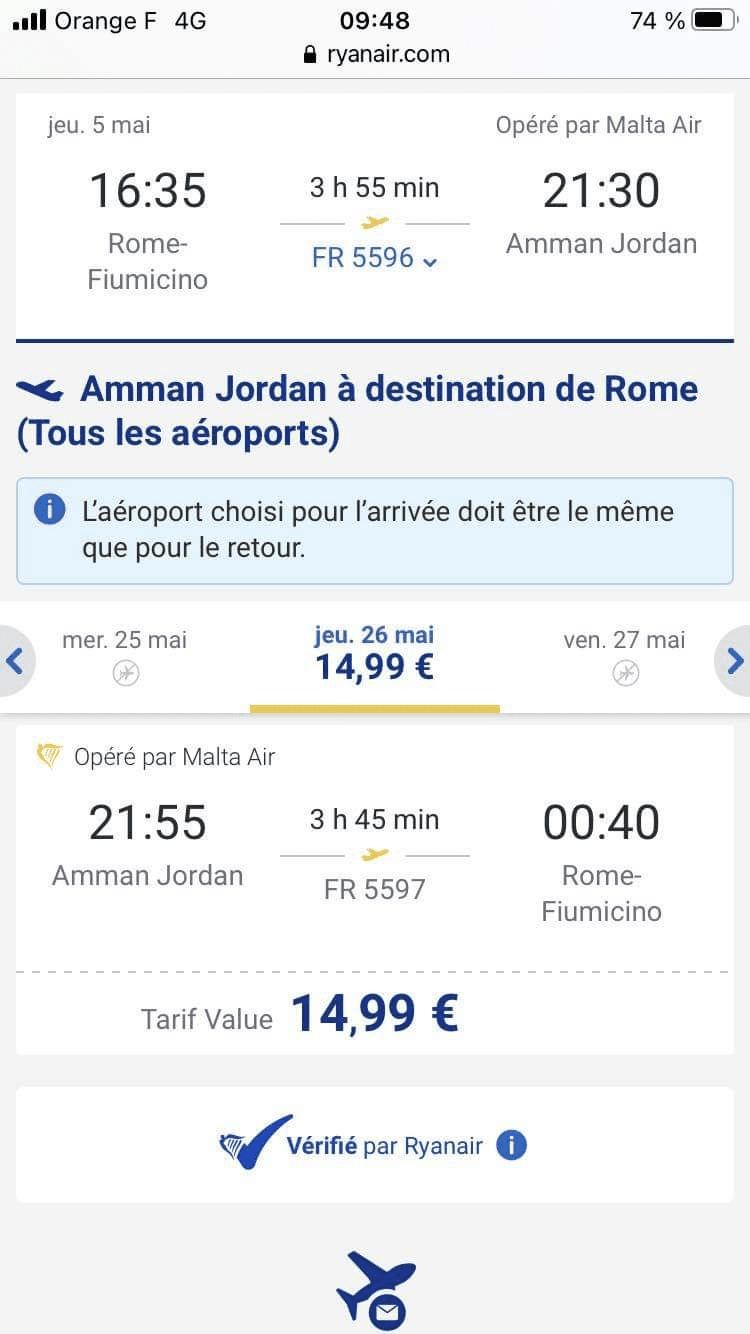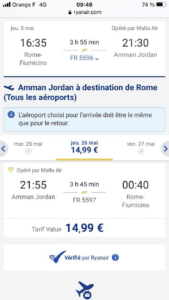 In July/August, flights are more expensive but I would not recommend going to Jordan at this time if you want to visit Petra or Wadi Rum. The heat will be stifling.
For my part, I went to Jordan during a stay in Lebanon. I took a flight from Beirut to Amman with the Middle East company. The ticket cost me 175€ return.
For more information on the subject, I advise you to read my article on how to find a cheap plane ticket, in less than 40 minutes.
How to get from the airport to the city?
During my stay, I rented a car that I picked up directly at Amman airport from europcar and went directly to Petra (3h30 drive).
Otherwise, depending on your budget you have :
The taxi:
Airport-Amman = 20 JOD (30cmin to Amman)
Airport Amman-Petra = 50 JOD
The bus :
Airport Express = 3.25 JOD (1h to Amman)
What currency is used?
The official currency is the Jordanian Dinar. 1 JOD = €1.15.
What language is spoken?
Arabic is the official language. English is quite widespread due to the country's history. Jordan was under British mandate until 1946.Many people are therefore bilingual in the tourist towns .
Where have you been in Jordan? Is it a dangerous country?
No, it is not a dangerous country, I have never felt unsafe. Even if the country borders Iraq and Syria, it remains one of the most politically stable countries in the region. Being a Hashemite kingdom with a Muslim culture, it is normal to respect the customs of dress. Wearing the veil is not compulsory. I didn't wear one and I didn't get any remarks. If you are a woman, don't dress too short so as not to shock the locals.
In terms of security, avoid going to the Syrian and Iraqi borders and find out about the local situation before you go.
My stay in Jordan was short: 5 days.
I spent 2 days in Petra and 3 days in Madaba. From Madaba, I went to Mount Nebo, Bethany-beyond-the-Jordan, the Dead Sea and Jerash.
Petra :
The entrance fee for one day is 50 JOD, for two days 55 JOD. If you bought the Jordan Pass, present it, the entrance to Petra is included in it (the number of days of access depends on what you chose as pass).
If you have the nationality of a member country of the Arab league, the entry will cost you 2 JOD if you present an identity document proving it (it was the case for one of the people travelling with me).
I advise you to spend at least a whole day to visit the site properly and take your time. Leave early in the morning (if you are there between May and September) so that you can enjoy the visit without suffering from the heat and avoid group visitors. The site opens at 06:00.
Bethany (site of Christ's baptism):
Site entrance 12 JOD. Not included in the Jordan pass.
Please enquire about the opening hours. It closes at 3pm during Ramadan. If you are not religious, you can skip it. If you are a believer this place will surely be moving for you. Personally, I did not find it exciting from a historical point of view, I think there are more interesting sites to see in Jordan.
Jerash:
Site entrance 8 JOD. Included in the Jordan Pass. I also advise you to go early to avoid the heat.
Madaba :
Mosaic of the Church of St George. 1 JOD. Other activities included in the Jordan pass: archaeological park, archaeological museum, the burnt palace, the church of the Apostles.
Mount Nebo :
Entrance to the site and museum 2 JOD not included in the Jordan pass. The view on a clear day is magnificent!
Where to stay?
In Petra: The House. Clean hotel, family rooms available, reasonable rate and a short walk from the entrance to Petra. Breakfast included. Perfect for enjoying your visit to Petra and resting afterwards. You'll be glad your hotel is so close to the site at the end of the day.
Petra Gate Hostel: A youth hostel within a short bus ride of the site. It is located in the city centre.
In Madaba: Pilgrim's Guest House. Located next to St George's Church, famous for its mosaics. Breakfast included but family rooms only.
Otherwise, the Moab Land Hotel has dormitories and is well located in the city centre, near St George's Church.
You can also book an airbnb at a good rate.
Where to eat?
You can easily find small local restaurants that sell cheap sandwiches and mezes. I really advise you to try the Mensaf, this dish was a real hit for me!
Inside Petra, there are several restaurants to eat and water vendors because even if you have your own bottle, buying fresh water is a must.
What are the means of transportion?           
I rented a car for the duration of my stay. I picked it up and returned it at the airport in Amman. For 5 days, I rented a 206 with an automatic gearbox 142€ from europcar. I had booked it in advance from France. My French driving licence was enough.
It is easy to drive in Jordan outside the cities and driving is on the right. Some of the roads are very scenic, such as the one between Madaba and the Dead Sea.
The road between the airport and Petra is very good, the traffic is light and the signs are translated and you will find gas stations regularly.
Between the cities, driving is also very easy.
However, in the city, for example in Madaba or Amman, driving will be a bit more sportive because the traffic rules are not necessarily respected and the traffic is heavy. The directions are less easy to follow. Don't hesitate to ask locals for directions to make your life easier.
On the roads near the borders, you may encounter army checkpoints. Don't worry, slow down, and wait for their instructions (if they want you to stop or not)
Bus: JETT connects Amman to Petra every day for 10 JOD. This company also serves other cities.
In the city, you will find public bus services to get around.
Minibuses: You will find them in every city. They leave only when full. A little cheaper than the bus.
Taxi: To get from Amman to Petra count 50 JOD per trip.
Shared taxi: Cheaper than a taxi because you share the cost of the journey with other people. He will only leave when there are 4 customers in his taxi. You can spot them easily because they are white.
Can you travel on a backpacker budget?
On my trip I didn't go for the cheapest price and spent €361 . I hadn't prepared much for my trip and I wasn't aware of the Jordan pass which would have saved me a lot of money.
accommodation: 92 €.
car rental: €48 
visa: €45
visits: 89 €.
food: €72
Petrol: 44 € (to be divided by 3)
Total: € 361
I hope you found Claire's article useful. Are you thinking of going to Jordan soon? 
Don't hesitate to leave your opinion, information or questions as a comment.
Have a good trip!