Jordan is full of wonders. Travelers dream of exploring Petra, the Dead Sea and Wadi Rum.
It is for this desert, the discovery of the Bedouin nomads and their Arabian thoroughbreds that I took my plane ticket.
My stays in Kyrgyzstan reinforced my passion for nomadic people and horseback riding.
I was easily convinced to go galloping in the desert to meet the Bedouins.
Thanks to some readers of the blog, I got in touch with some locals, who organize horseback riding in Wadi Rum.
I went to join a group, for an incredible week of horseback riding.
I took advantage of being there, to spend two more weeks discovering the country and its inhabitants.
You want to prepare your departure, have an opinion on the Jordan Pass, know how to get around, where to sleep and where to eat? You wonder if this is possible on a backpacker budget?
You are looking for good plans, good addresses and trustworthy contacts? You want to organize a horseback ride directly with the locals?
You will find all this information and the contacts of my friends in this article.
Before you start reading, download my French/Jordanian lexicon to facilitate your exchanges with the locals.
What do I need to know to prepare my trip to Jordan?
Do you need a visa?
Yes, if you have not purchased a Jordan Pass.
It costs 40 JOD for a single entry and 120 JOD for multiple entries. It is issued at the airport.
You have to pay it in Jordanian dinar. You will find a currency exchange office and an ATM at the customs.
Your passport must be valid for another 6 months from the date of entry .
If you have a Jordan Pass, present it upon arrival at the airport. It includes the cost of your visa, if you stay at least 3 nights in Jordan. If you stay less than 3 nights in the country, you will be asked to pay the visa fee when you leave the country.
Good plan: the visa is free, if you enter and leave Jordan through Aqaba. This free visa is valid for 1 month. Easyjet offers direct flights to Aqaba from Berlin, Geneva and Milan.
What is your opinion on the Jordan Pass?
Take it, it's a great plan.
The Jordan pass is a pass that gives you access to 40 tourist sites and waives the visa fee, if you spend 3 nights in Jordan. It is issued instantly, online, on the website of the ministry of tourism (don't go to the website of the travel agencies, I'll explain it to you below).
The reason it is so interesting is that it was set up so that tourists would spend more time in the Hashemite Kingdom. Most simply come to Petra for a day from Israel or Egypt.
Please note: it is only valid for 2 weeks, starting from the 1st visit.

How much does the Jordan Pass cost?
The Jordan Pass is profitable if you spend at least 3 days in Jordan (the price of your visa will be included in it) and if you visit Petra. Its price depends on the number of days you wish to spend in the Nabatean city:
Price without Jordan Pass:
1 day in Petra 50 JD + visa 40 JD = 90 JD
2 days in Petra 55 JD + visa 40 JD = 95 JD
3 days in Petra 60 JD + visa 40 JD = 100 JD
Price with Jordan Pass:
1 day in Petra = 70 JD = 20 JD saved
2 days in Petra = 75 JD = 20 JD saved
3 days in Petra = 80 JD = 20 JD saved
That is 20 JOD saved, just by going to Petra. The other sites are free.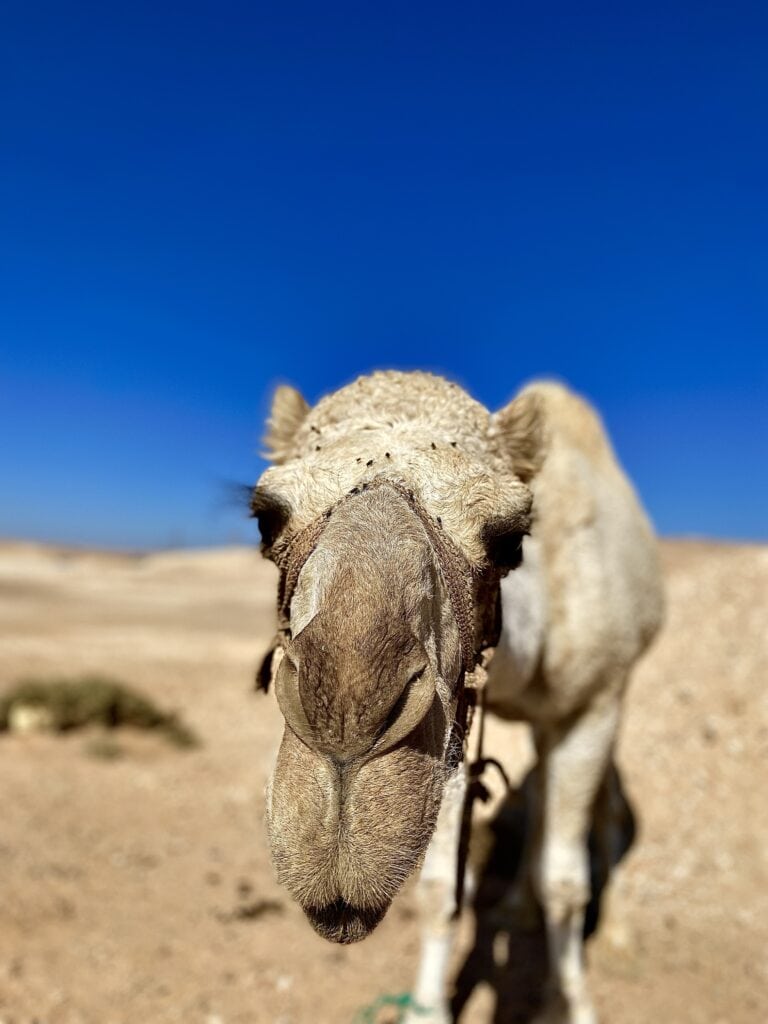 What sites are included in the Jordan Pass?
Access to 40 paying sites is included for free in the Jordan Pass. You can find the list on the official website and on the picture below.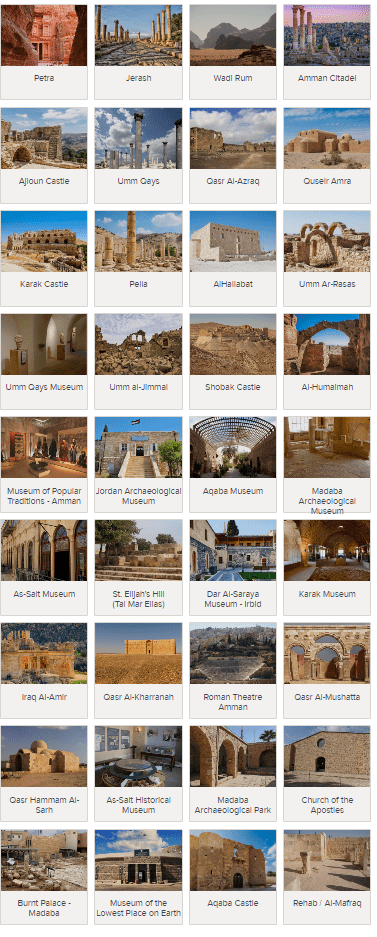 When is the Jordan Pass not interesting?
If you are a national of an Arab League country, the rates applied at the entrance to the sites are different.
If you are under 12 years old, the tourist sites are free.
In this case, the Jordan Pass is not interesting for you.
If you arrive and leave through Aqaba, your visa is free. Compare to see what is more interesting for you.
Are there any bad sites for the Jordan Pass?
Yes, make sure you go to the official website: https: //jordanpass.jo/Default.aspx
The others are travel agencies that offer you a higher rate, without any reason.


On Google, you can find this ad. It is a travel agency. This one and others don't ask you how many days you want to spend in Petra and offer you a unique price of 155$. Moreover, they do not deliver the pass immediately.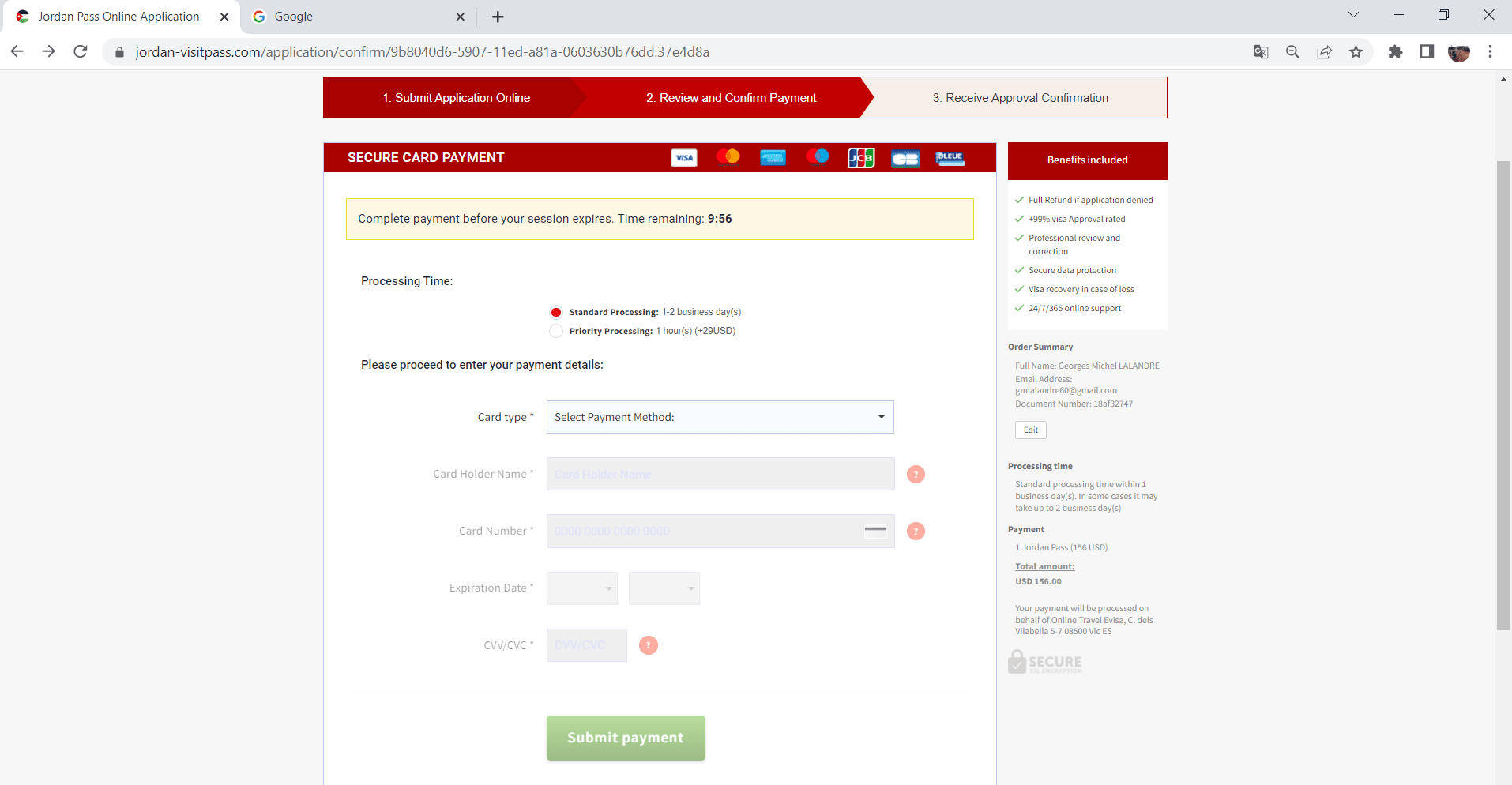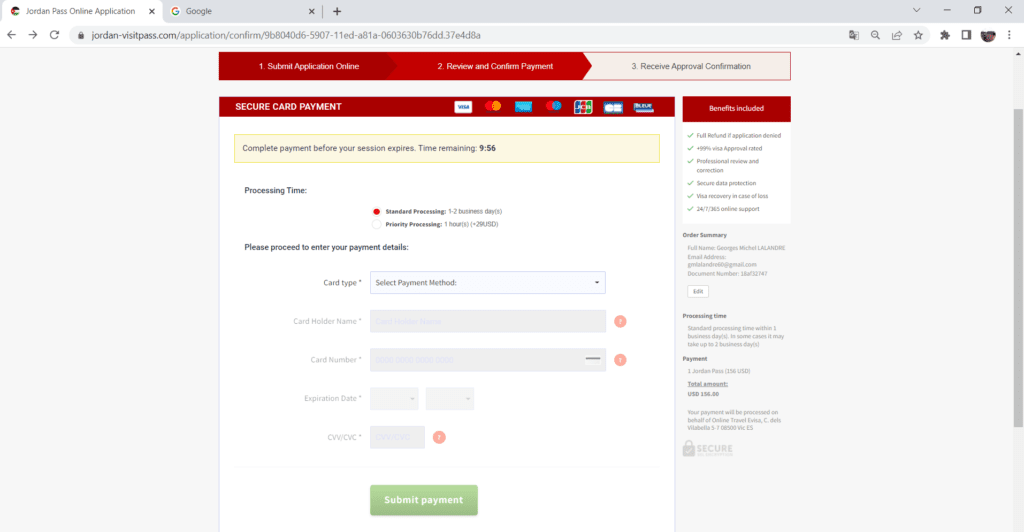 There is only the official website, which offers you a rate depending on the number of days you want to spend in the Nabatean city.
How much does the flight cost?
A flight with a short stopover on Lufthansa or Aegean costs about 350€. A direct flight from Paris to Amman will cost you about 500€ in season.
There are very good deals with Ryanair. During the off season, you can find direct round trips for around 100€ from Beauvais.
There are alsoeven in season, very cheap flights from Rome. It can be very interesting if you find a cheap flight to Rome or if you want to stop over in Rome.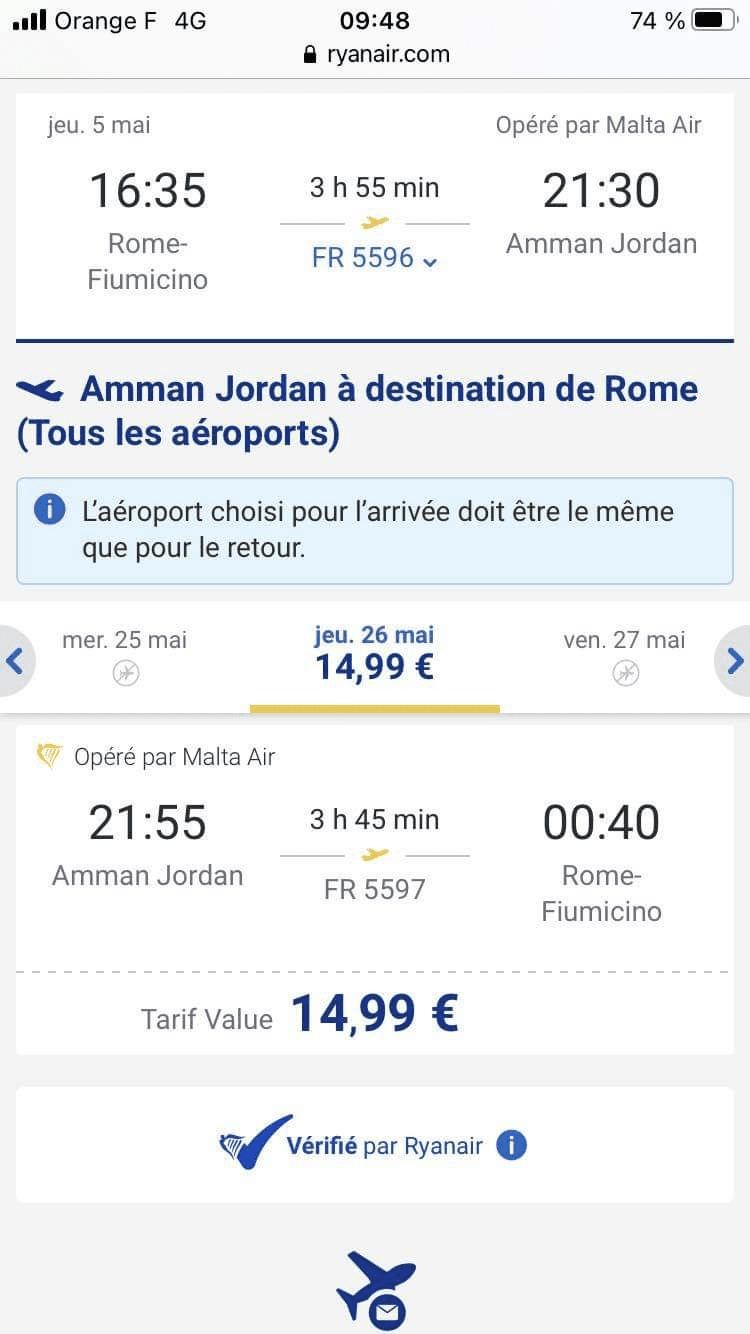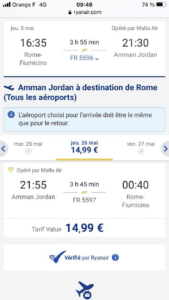 In July/August, flights are more expensive, and I don't recommend you to go to Jordan during this period. If you want to go to Petra or Wadi Rum, the heat will be stifling.
In November 2022, I paid 250 € for my round trip with Ryanair (I didn't go for the cheapest).
For more information on the subject, I advise you to read my article on how to find a cheap plane ticket, in less than 40 minutes.
How long is the flight?
The journey lasts 4 hours on the outward journey and 5 hours on the return journey. The difference of the durations is explained by the winds produced by the direction of rotation of our planet.
What is the time difference?
The country is in UTC/GMT+2.
What currency is used?
The official currency is the Jordanian Dinar. 1 JOD = 1,40€.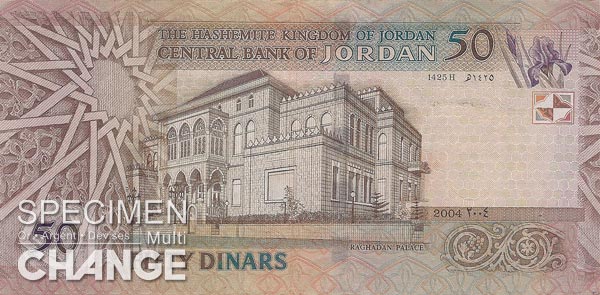 There are 5 different bills:
50 JD,
20 JD,
10 JD,
5 JD,
1D
Where to withdraw money?
Change your money at a money changer. This is the best solution. The money changers at the airport are not interesting, but the exchange agencies in town offer very attractive rates. This is the solution I chose for the beginning of my stay.
Then you can withdraw money from ATMs:
Commissions from traditional banks can be quite high. Before 2020, I made transactions with my CIC card. I was charged around 5% on my withdrawals and payments.
Since then I have been using my N26 card. It allows me to pay without fees and to make withdrawals with a maximum fee of 1.7%.
To find an ATM compatible with your card, it's very simple, there are 2 apps:
Visa: https: //www.visa.com/atmlocator/#(page:home)
Mastercard: https: //www.mastercard.fr/fr-fr/particuliers/support-conseil/dab-geolocalisateur.html
What language is spoken?
Arabic is the official language. English is fairly widespread because of the country's history. Jordan was under British mandate until 1946. Many people are bilingual in the tourist cities.
Before leaving, download my French/Jordanian lexicon to facilitate your exchanges with the locals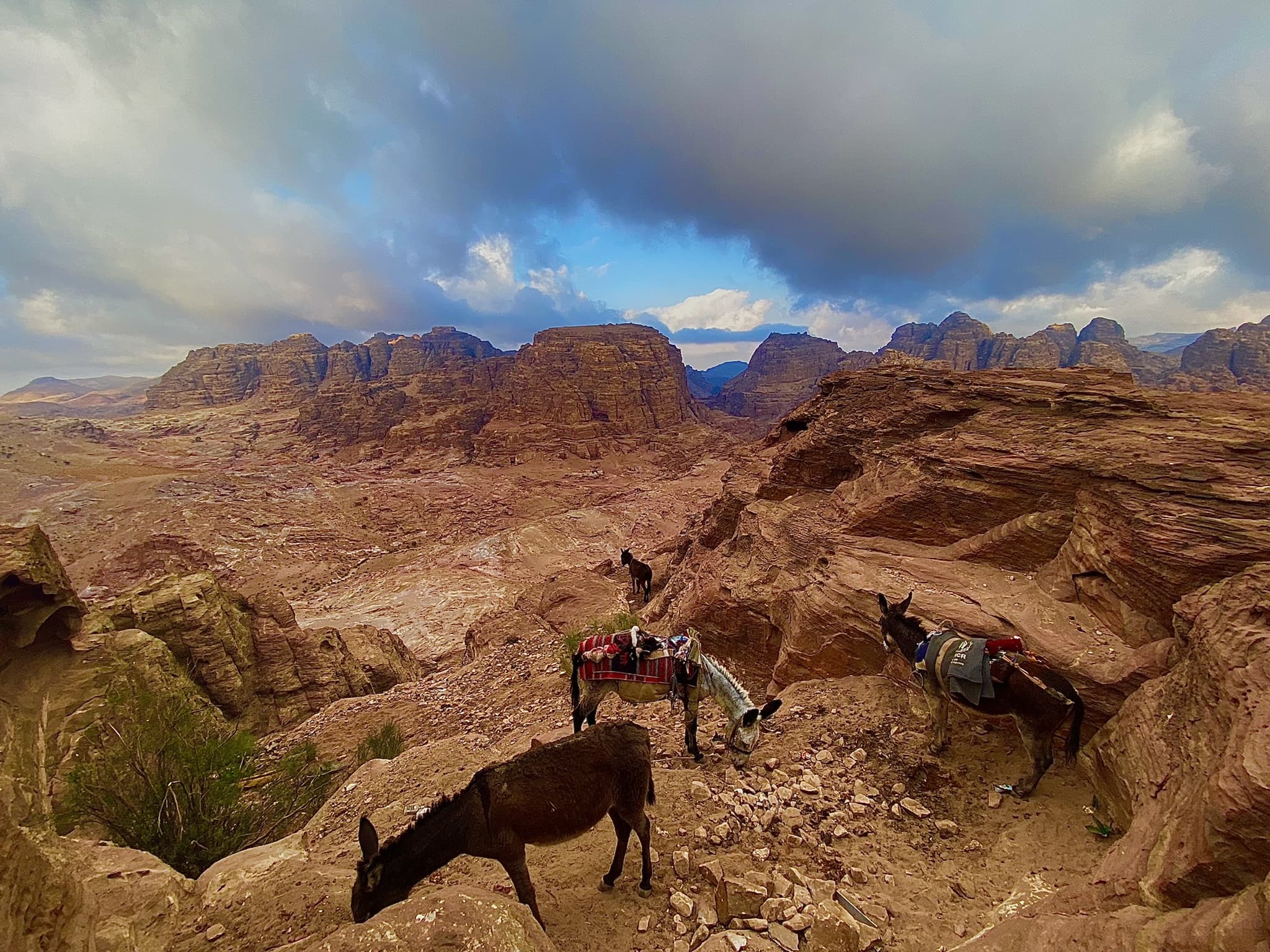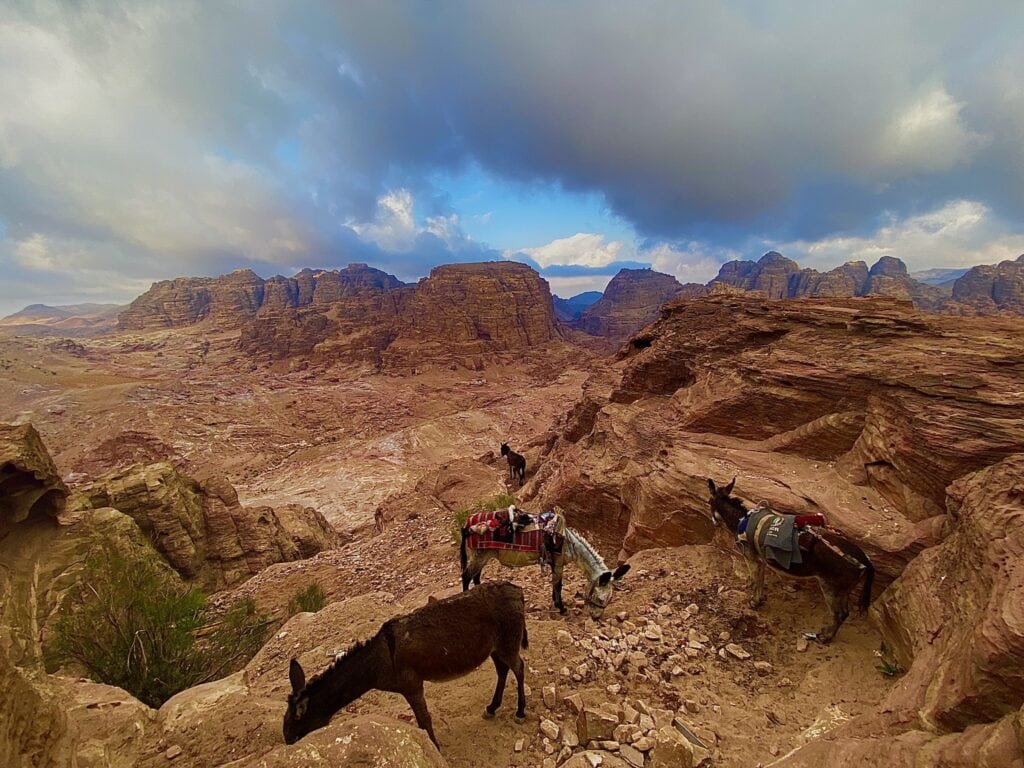 What is the religion?
The Hashemite Kingdom is 94% Sunni Muslim. The rest of the population is mainly Christian (Orthodox, Coptic, Greek-Catholic, Armenian...). There is also a small Druze community.
Do I have to wear the hijab?
No, except in mosques, it is not mandatory.
What is the police like?
The police are very present.
They are honest. On the roads near the borders, you will regularly encounter army or police checkpoints. If you drive, slow down and wait for their instructions (if they want you to stop or not). They never ask you for money.
Can I take my drone to Jordan?
No. To bring in a drone, you need an authorization from the authorities reserved for professionals. Jeremy explains this in more detail.
If you get this authorization, you have very strict rules to follow. You can only fly in the pre-approved locations, at the times you have been granted. Finally, you must be accompanied by an official agent, whose expenses you must cover.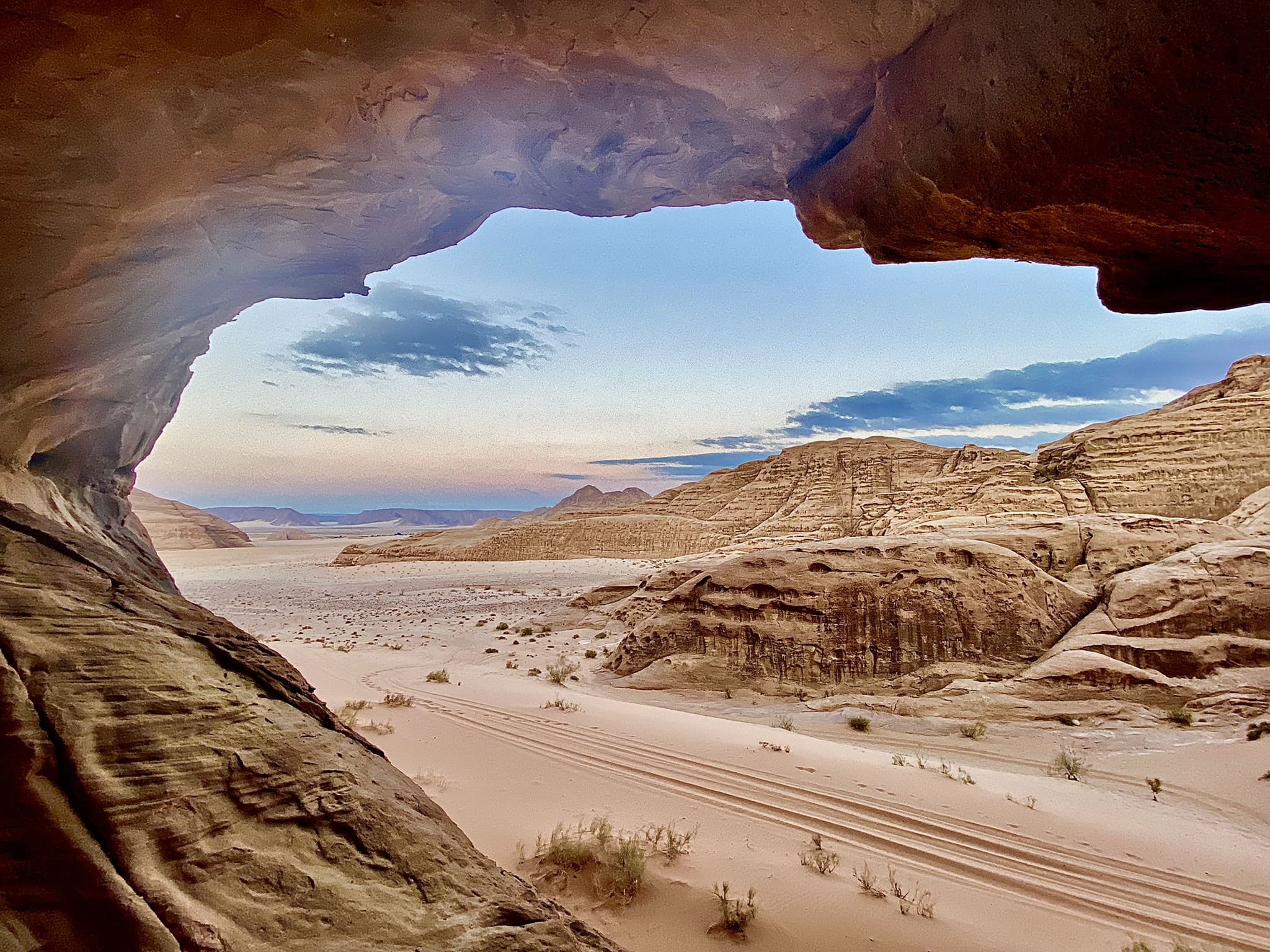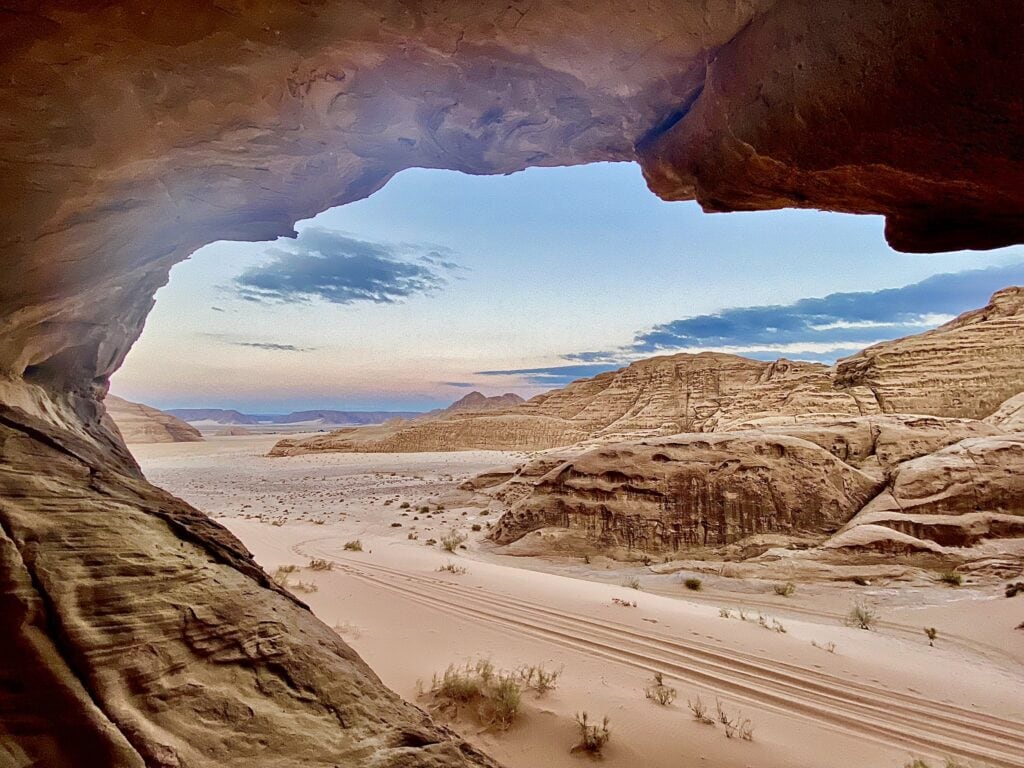 Is it a dangerous country?
No, it is not a risky country. It is a stable monarchy with a strong state and a tribal culture that enforces respect for rules and authority. It is also one of the only countries in the region that maintains diplomatic relations with all its neighbors.
My sister had traveled to the Hashemite Kingdom in 2018. She had written an article, which is the foundation of this one (thanks to her). We have already visited the region quite a bit, including Lebanon many, many times and Israel.
Jordan can be scary. As with all our visits to the region we had no problems. She and I never felt unsafe.
Concerning women, my sister says that being in a country with a Muslim culture, it is normal to respect the dress code. Wearing a veil is not mandatory. She didn't have one and didn't get any remarks. If you are a woman, don't dress too short so as not to shock the locals.
Curiosity: What is the Keffieh?
This is the Jordanian headdress. It protects from the sun and sand. The traditional color is red and white. The Bedouins wear them in different colors and use them as a sign of tribal recognition.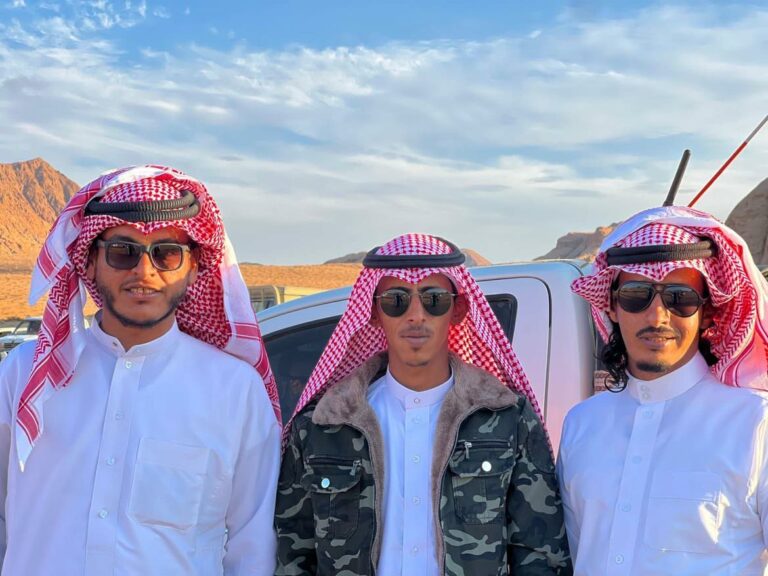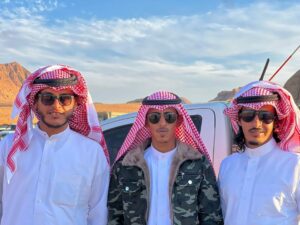 Like my buddy Aied and his brothers in the picture below, you can wear it in many different ways.
How do I organise myself once I'm there?
How to get from the airport to the city?
You have several solutions:
The taxi:
There is a fixed rate, Airport-Amman = 20 JOD (40 min to Amman).
You have to go to the official terminal where you pay your cab directly.

The bus :
The Shariyah Express company provides the trip to Amman for 3.30 JOD (1 hour).
Departures are every 30 minutes from 6:30 am to 6 pm and every hour thereafter.
The bus follows this route.
I tested this solution. I got off at 2 km from my hotel and I finished the trip with a cab which cost me 2 JOD.
The rental car:
All rental agencies offer to pick up your car directly from the airport. This is a very popular solution for travelers in Jordan.
In 2018 my sister had picked up her car at the Amman airport and went straight to Petra (3.5 hour drive).
Where to buy a SIM card?
At the airport you will find stands of the 3 Jordanian operators:
Orange Mobile
Umniah Mobile
Zain Mobile
Orange offers the best pricesI've been using the Internet for a while now, with packages adapted to different travel durations. I opted for the 20 GB package which was enough for 3 weeks (using Google Maps in airplane mode).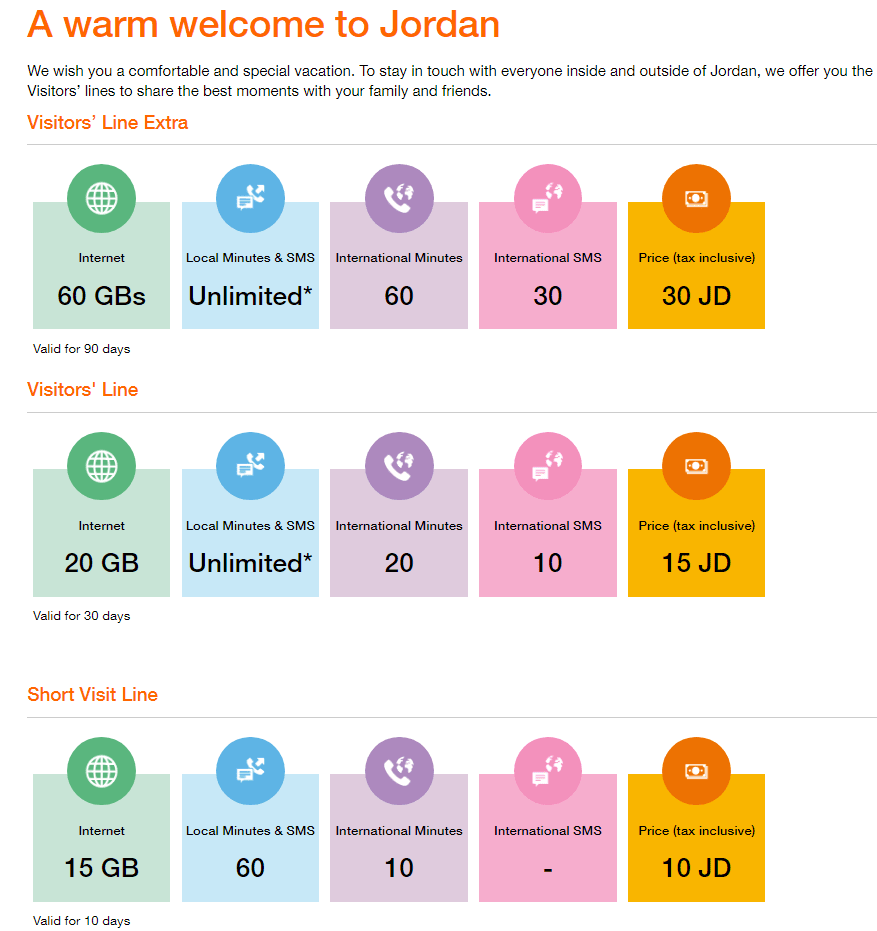 From France to Jordan: the code is + 962.
From Jordan to France: the code is + 33.
Where to stay?
You can easily find an accommodation whatever your budget. Except for the Dead Sea area where only luxury hotels are available.
With a backpacker budget, you can stay from 7 JOD in a hostel dormitory.
In Wadi Rum, nights in a Bedouin tent start from 25 JOD with dinner, breakfast and transportation included.
At the Dead Sea, you can enjoy the hotels' beaches (showers, swimming pool, jacuzzi) with day passes starting from 20 JOD.
Do you have any hotels to recommend?
Yes, you'll find the list of accommodations I liked the most and heard the most good things about. In Amman for example, I stayed in several hostels but I only chose one.
I mainly stayed in budget establishments.
Jordan is also famous for its luxury resorts and bubbles under the stars. I had the chance to visit the Palmera camp in Wadi Rum and the Seven fonder bedouin camps in Petra, which offer great services. You will find below a list of establishments for all budgets.
Amman

Backpacker budget : Battuta
A small hostel well placed with a roof top offering a nice view.
Madaba
Backpacker budget : Pilgrims guest house
It is the hostel of the parish of St. George's church. It is well located, simple and comfortable.
Dead Sea
Only large budgets:
I tested the beach and the swimming pools with day access. The services are of quality and the beach is very comfortable.
Petra
Backpacker budget : Nomad hostel Petra
Good value for money with a good location and a roof top offering a magnificent view.
To sleep in bubbles:
Petra bubble luxotel
Seven wonders bedouin camps
Dana
Backpacker budget : Al Nawatef Camp
A simple and comfortable camp, with super friendly and welcoming owners.
Aqaba
Backpacker budget : Al Amer
A simple and well located hostel.
Wadi Rum
[_box iicon_color="#e7e7e7″ titleBgColor="#e7e7e7″ bgColor="#e7e7e7″]
Backpacker and medium budget : My buddies Ali, Salameh and Aied have a family camp. It is in the heart of the protected area, 12 km from the village of Wadi Rum. It is perfectly placed to admire the sunrise and sunset.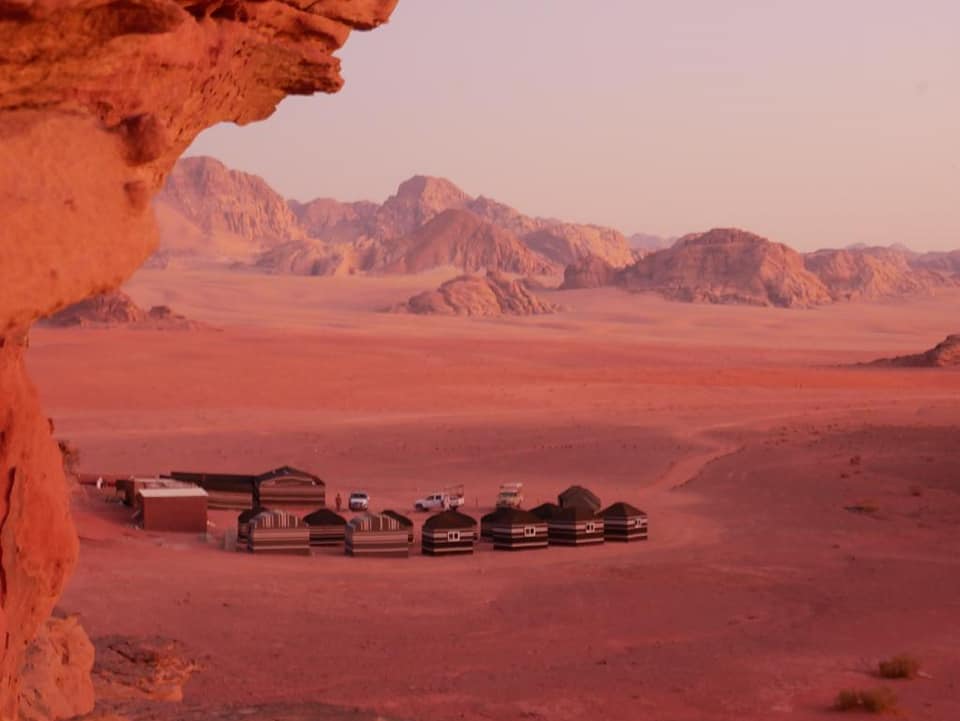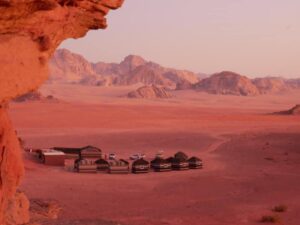 They offer basic Bedouin tents with shared bathrooms, breakfast, dinner and a round trip to Wadi Rum Village in 25 JOD.
They also have more luxurious tents with private bathrooms at 50 JOD.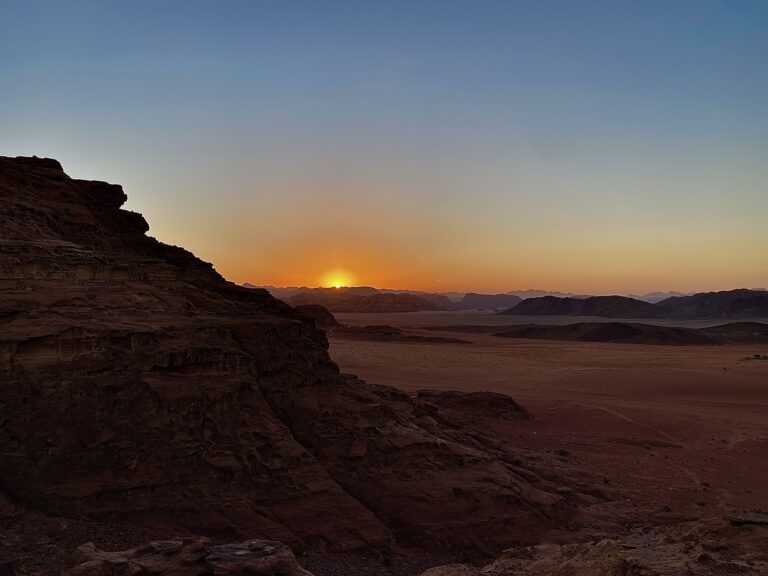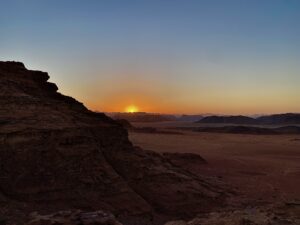 To book directly with them, you can write to them at wadirumfamilly@gmail.com
[/content_box]
To sleep in a bubble: Palmera camp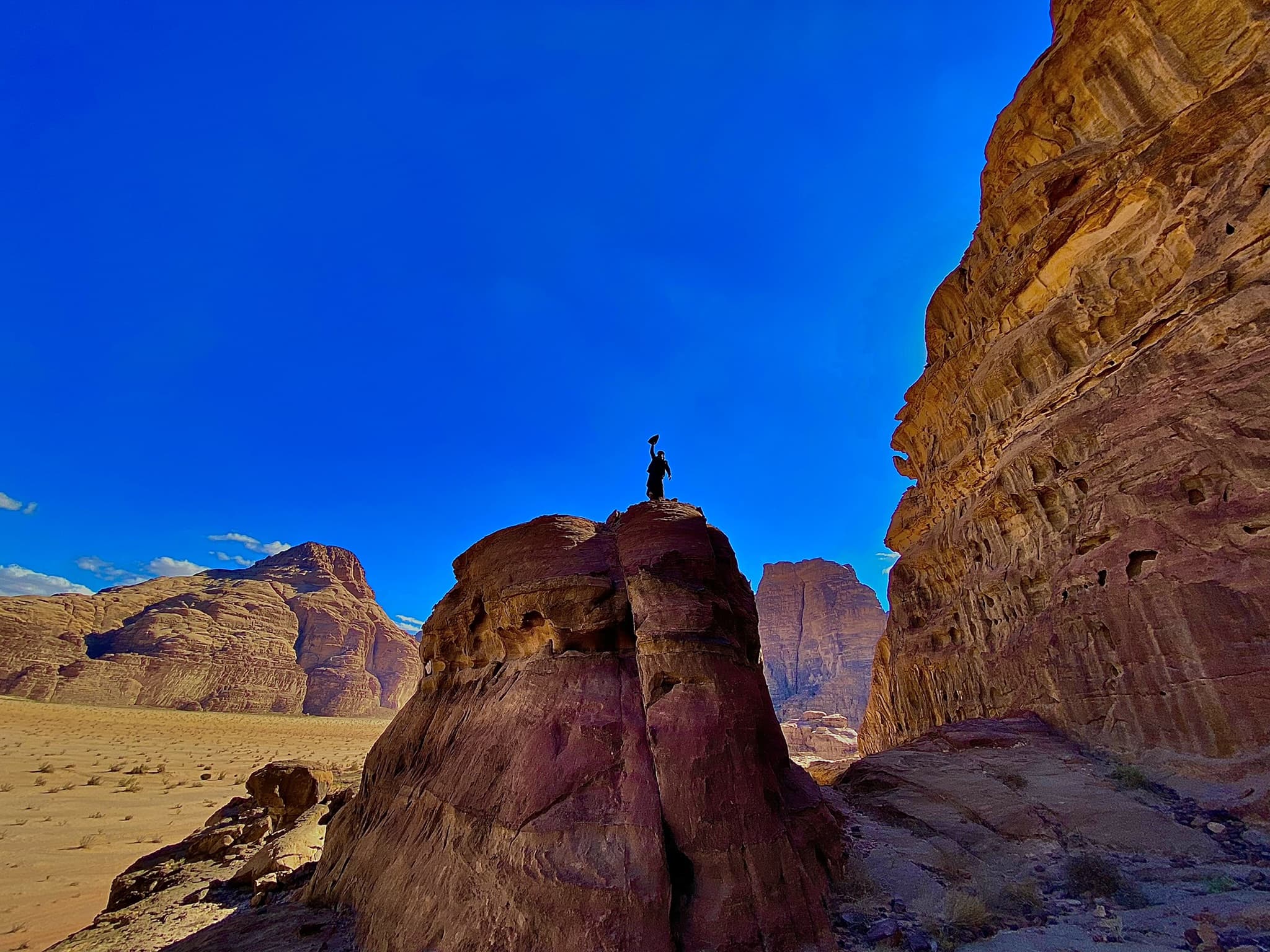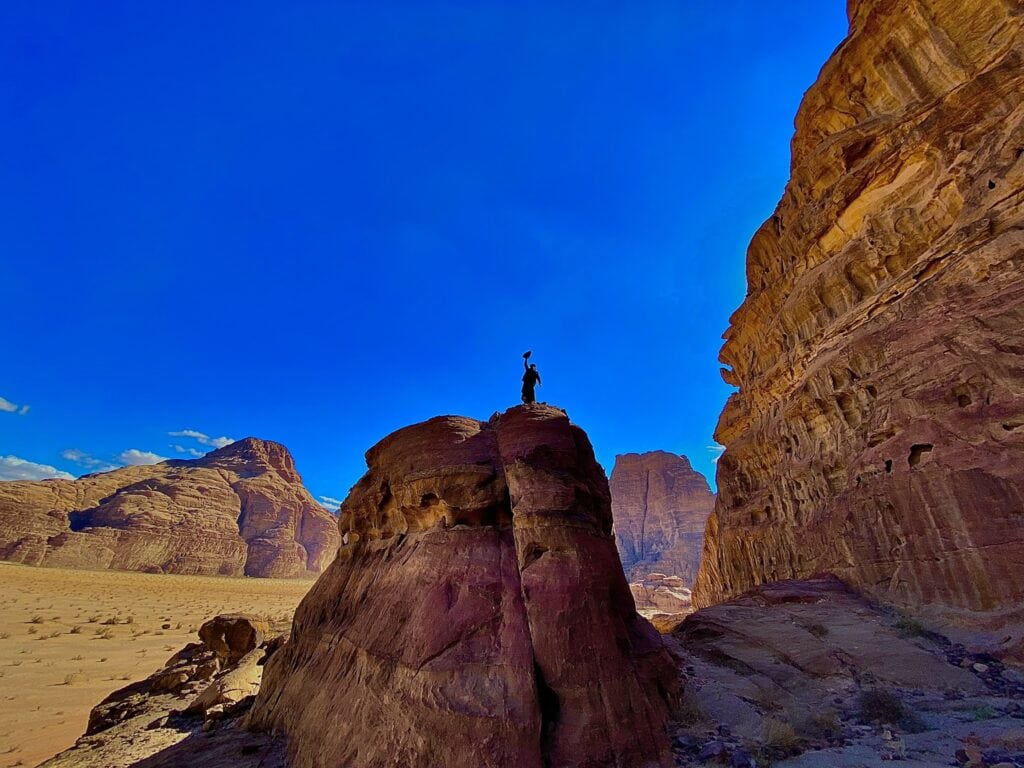 Do you have any tips for choosing a camp in Wadi-Rum?
Yes, on Booking there are hundreds of camps. Some offer very cheap prices.
You can find nights for 1 or 2 JOD.
They are Bedouins who do this to get in touch with you and propose you activities in which they will include the accommodation.
Sleeping for 1 or 2 JOD, in Wadi Rum is impossible. The camps are in the middle of the desert. You have to count the night, the meals and the transportation. In a basic camp the minimum cost is 25 JOD.
If you are looking for a basic camp, I suggest you book with Ali and his brothers who also offer trekking, jeep tours, camel and horse riding.
Whether it is for basic camps or luxury camps, I recommend you to book a camp in the middle of the protected area of Wadi Rum.
You can find this map on Booking or Google Maps for example.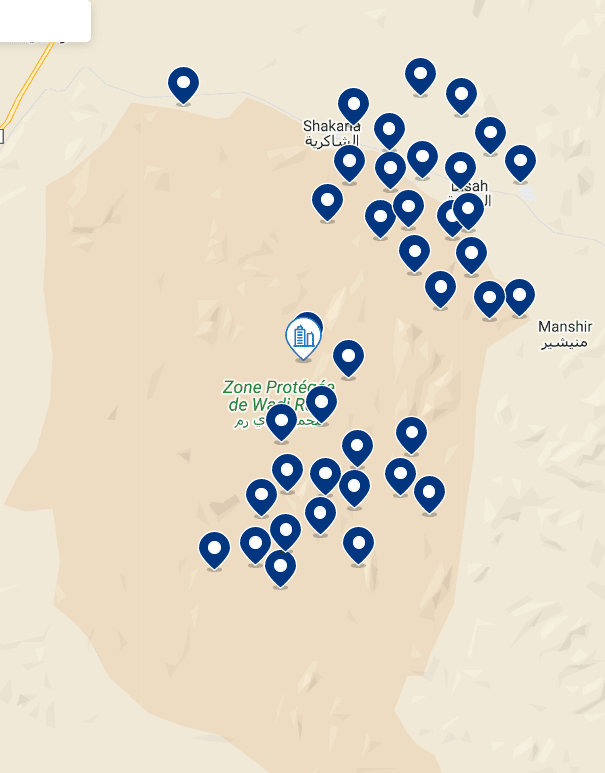 Some camps, especially luxury ones, are outside the desert or on the edge of the area. These camps are on the roadside. You can see the villages and the cars passing by.
You can get 4G, tourist buses and private cars can go there directly.
If this is what you are looking for, it's perfect, otherwise avoid these camps: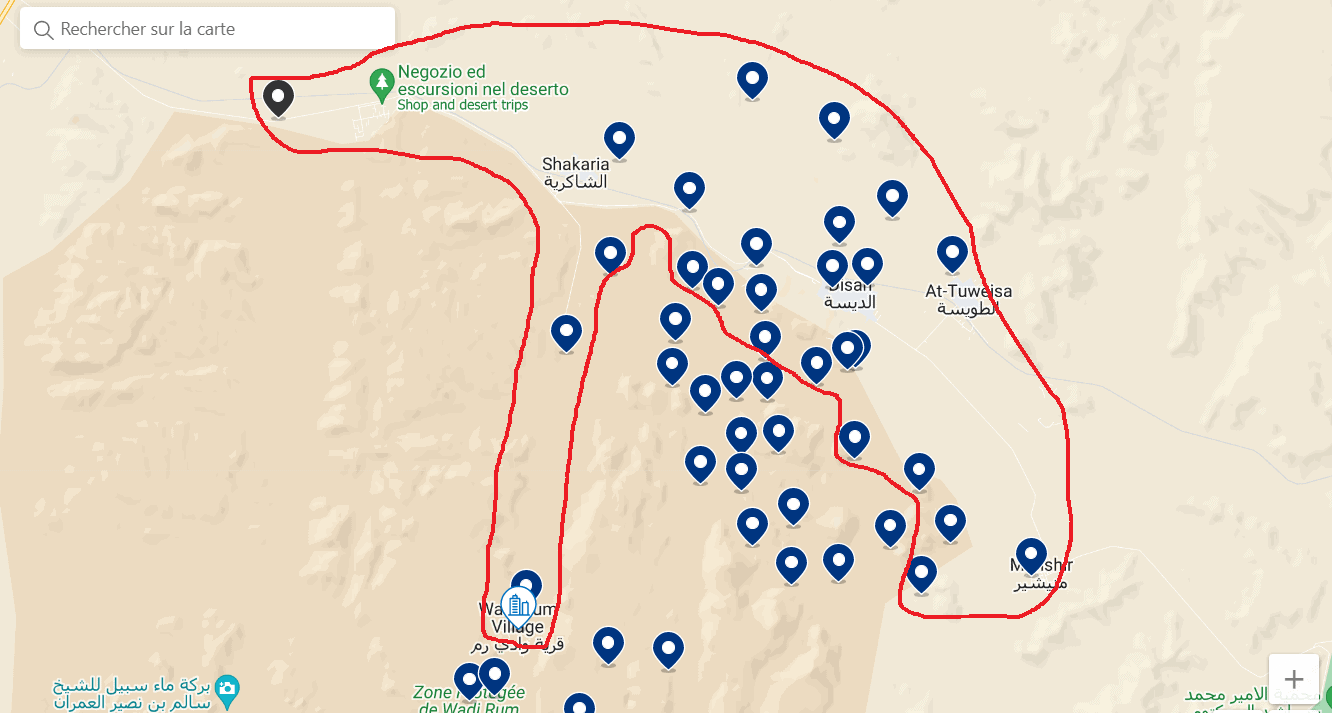 Before booking, be sure to check the camp's location in relation to the desert and the roads. Palmera camp is the only luxury camp isolated in the middle of the desert.
Where to eat ?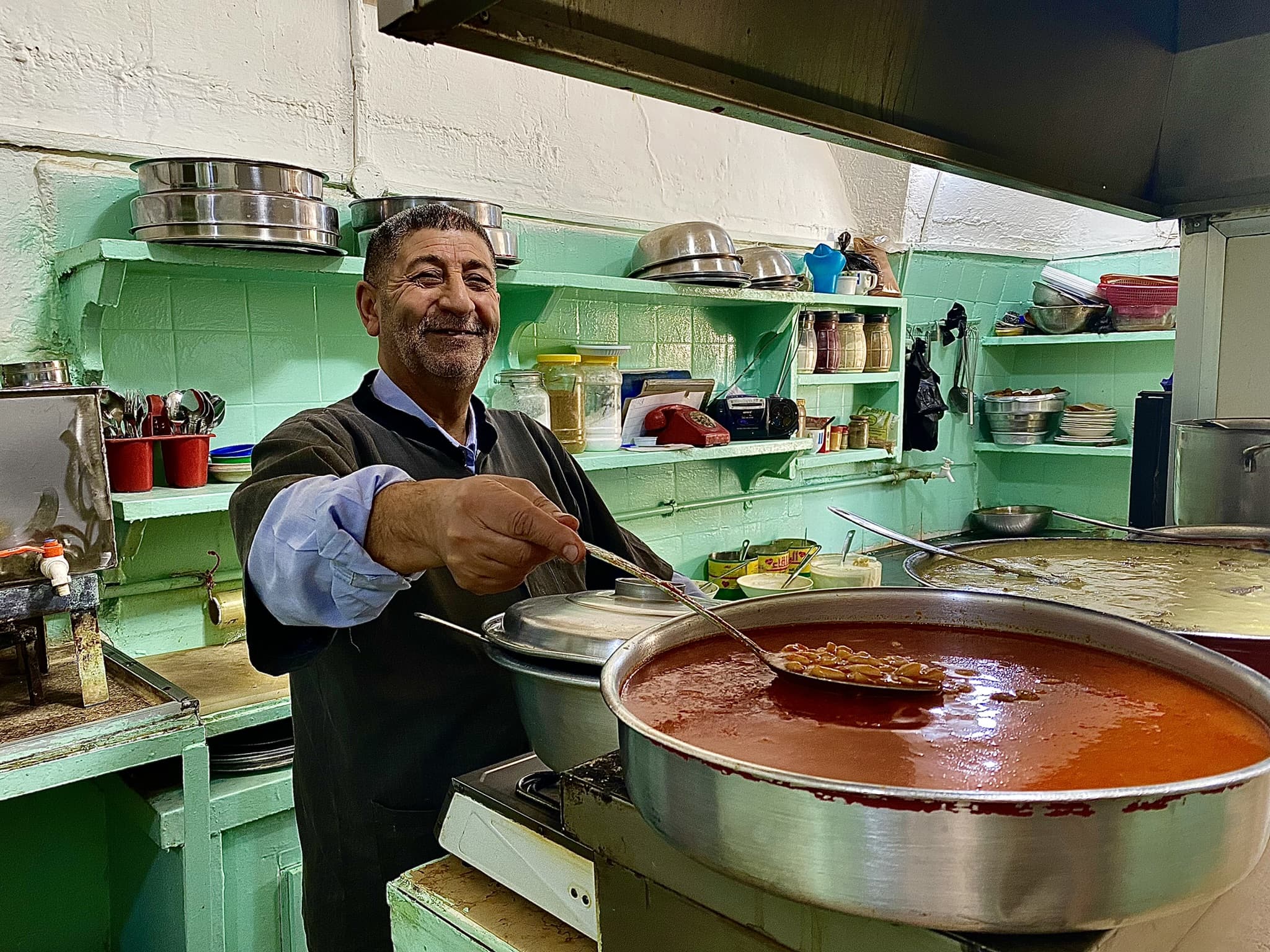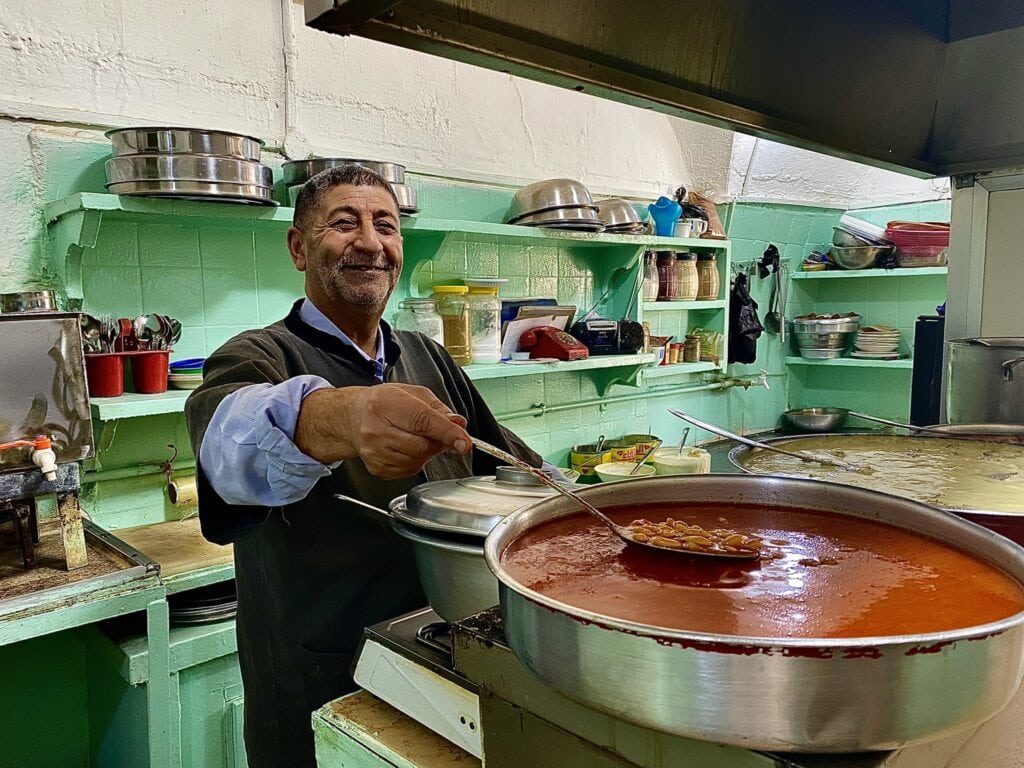 You can easily find small local restaurants that sell cheap sandwiches and mezze. I really recommend you to try the Mensaf, this dish was afavorite for me!
Inside the site of Petra, you can find several restaurants to eat and water vendors because even if you brought your own bottle, buying fresh water is a must.
Is the tap water safe to drink?
The tap water is not drinkable. I didn't take a micropur or a filtering gourd. Since I was going to spend time in the desert, I knew I would have bottled water.
In the city in the hostels, you have bottled water.
In the camps and on desert excursions, the Bedouins have a large supply of bottled water.
What are the means of transportion?           
In the city, you will find public bus services, many cabs or VTC (UBER, CAREEM).
Between cities :
Bus: The company JETT is the company that most travelers take. It offers scheduled trips to all tourist cities in the country:
-Amman-Aqaba: 10 JOD
-Amman-Irbid: 2.2 JOD
-Amman-Petra: 10 JOD
-Petra-Wadi Rum: 15 JOD
-Aqaba-Wadi-Rum: 15 JOD

You can find the schedules and rates on this page.
The Minibus: You'll find them in every city. They leave only when they are full. A little cheaper than the bus.
I tested both solutions. I advise you Jett Bus. The price difference is minimal and you can wait sometimes 2 hours for a minibus to be filled. 2 hours of waiting for an average trip of 2 or 3 hours, it's a pretty important waste of time!
Cab: You can negotiate the fare depending on the route and the stops you want to make. For a trip from Amman to Petra, you should count about 85 JOD.

The Stop: I've done it a few times and I've come across other backpackers who have also done it successfully. You are easily caught by tourists or by locals.
Car rental: There are many local and international car rental agencies in the country. Depending on the period, you can find cars from 20 JOD to 25 JOD per day.
A large majority of tourists opt for this option. It offers more comfort, autonomy and freedom in a country where distances are quite short and driving easy.
Curiosity: What is Bedouin Whisky?
It is the tea, chai in Arabic. My buddies Ali and Salameh and most of the Bedouins have fun offering Bedouin whiskey to the traveler.
Bedouin hospitality requires welcoming visitors with a glass of hot tea. The Bedouins like to perfume it with wild desert sage.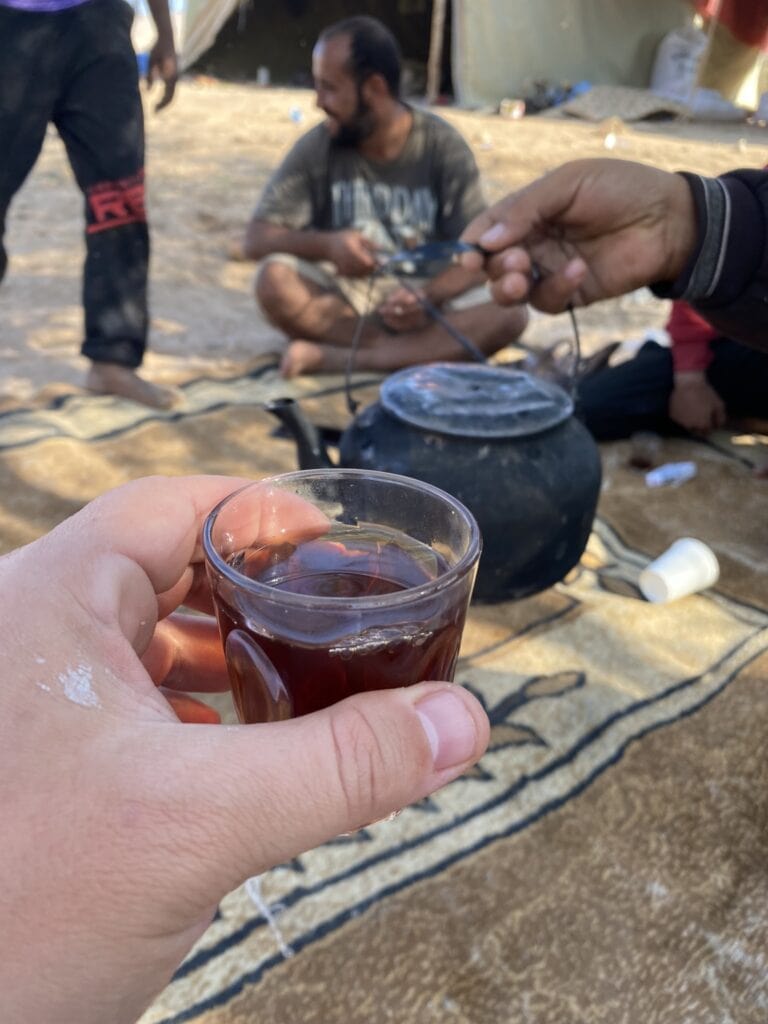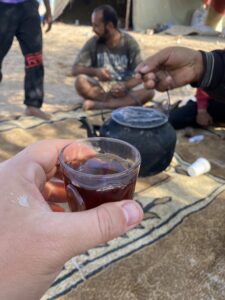 It is the favorite drink of Jordanians. They drink it all day long.
Do you know any good car rental agencies?
Who to rent a car from in Jordan?
In 2018 my sister had rented a car for the duration of her stay. She had picked it up and returned it at the airport in Amman. She had booked it in advance from France.
During my stay, I rented a car for my last week to have more comfort and freedom.
The majority of travelers, like my sister in 2018 and me in 2022 book via discovercars.com which is a site that compares rental car offers from local and international agencies.
I went around a few agencies in Amman and even negotiating, I couldn't find a cheaper price. I finally booked through this site and I was very satisfied.
This is the easiest way to rent a reliable and cheap car in Jordan.
Depending on the season, you can rent a car from 18 JOD to 25 JOD per day. I got a Hyundai Elantra for 18 JOD.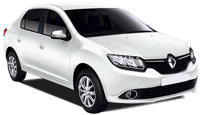 Find the best deal for your car rental.
In which city should I rent my car?
Rental agencies are located in Amman and Aqaba.
You can pick up your car directly in the city or at the airports.
Most agencies allow you to pick up your car in one city and return it in the other.
Is it difficult or dangerous to drive in Jordan?
It's super easy and fun to drive in the Hashemite Kingdom. My sister and I have made the same observation.
I have driven in several countries where driving is not easy and really different from France. This is not the case here.
The drivers are calm, they don't speed, they use the turn signals and don't abuse the horn.
They respect the speed limits and do not overtake without visibility.
The roads are in good condition and the landscapes are often beautiful.
The only things that change with respect to France are :
The speed bumps, which are quite inconspicuous and surprising.
Animals, which often roam the road. Anticipate by slowing down and avoiding them.
On the roads near the borders, you may encounter army checkpoints. Don't worry, slow down and wait for their instructions (if they want you to stop or not).
What documents are required to rent and drive a car in Jordan?
You must have your license valid for 1 year and your passport.
Your national license is enough to drive in the Hashemite Kingdom. My renter confirmed it to me.
Car rental is not possible under 25 years old.
You can also take your international permit. It is free and valid for 3 years, you just have to ask for it in your town hall or your prefecture.
Do I need insurance?
Yes, the cars of the rental companies are basically insured against third party risks. You can take out comprehensive insurance with the rental company, your car insurance in France or your credit card insurance. Bank cards in particular sometimes offer very interesting additional guarantees.
What to do once you have rented the car?
Make a complete inventory of your vehicle, interior and exterior with your renter.
My renter suggested a very practical technique:
He makes the paper report, he notes all the dents, scratches, cigarette holes.
I make a video report:
You film him and the report with the date.
You go around the inside and outside of the car.
You conclude the video with the signed paper report.
You immediately send it to her via WhatsApp.
This is a simple and effective technique to avoid any disagreement when rendering the car.
Before driving, check the fuel level and refuel if necessary.
How do I find my way?
You can rent a car with GPS in option or not. Otherwise, as for all destinations, you can use Google Maps, and Maps.me on your phone. These two applications work very well in airplane mode.
What is the price of gasoline?
The price of gasoline is set nationally. It is the same in all the stations.
You can see the current rate here.
During my stay the rates were
Super 90: 0.91 JOD per liter.
Super 95: 1.11 JOD per liter.
Diesel: 0.86 JOD per liter.
What are the specifics of the traffic code?
In Jordan, as in France, you drive on the right side of the road.
You don't have to have your headlights on during the day.
Wearing a seatbelt is mandatory in the front.
There is a 0 tolerance for alcohol.
What are the speed limits?
In the Hashemite Kingdom the speed limits are :
60 km/h in the city.
80 km/h outside cities.
120 km/h on highways.
What are the fines in Jordan?
There are fixed speed cameras and mobile speed cameras. I tested for you, they work very well! If like me, you exceed the limits, your renter will receive your fine and will deduct it from your deposit.
Here are some fines:
15 JOD:
- Non-wearing of the belt
20 JOD:
- Speeding under 30 km/h
30 JOD:
- Speeding between 30 and 50 km/h
100 JOD :
- Speeding over 50 km/h
Can I cross borders with a rental car?
No, the rental contracts and insurance do not allow you to leave the country.
Curiosity: What is Narguileh?

It is a water pipe with which you smoke perfumed tobacco. But it is above all an object of sharing and conviviality which accompanies long discussions around a Bedouin whisky.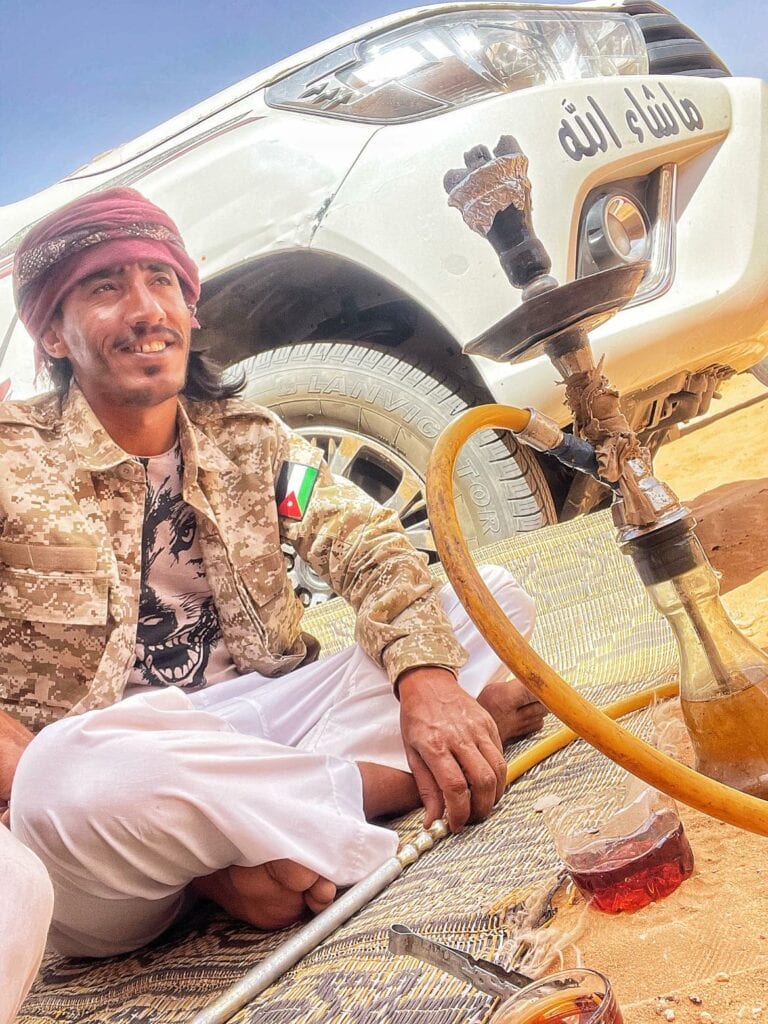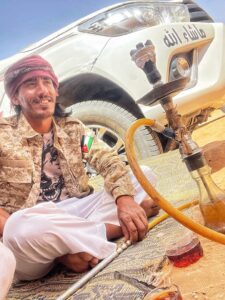 To make it work, you must place your flavored tobacco in a clay stove. The stove is covered with aluminum, on which you place burning coals. You draw the smoke through a large vase filled with water, which will let you hear a gurgling sound.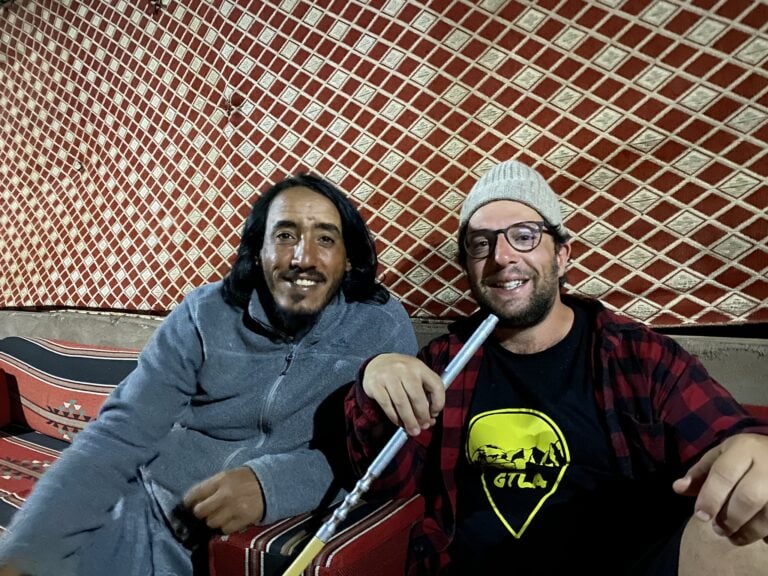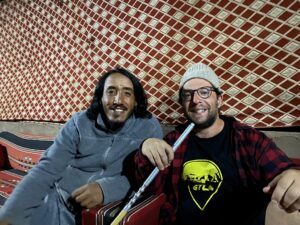 Narguileh like smoking is not recommended for health 🙂
Which itinerary to do in Jordan?
Where have you been in the Hashemite Kingdom?
The distances are very short, which allows you to optimize your itinerary.
Most travelers stay between 1 and 2 weeks.

In 2018, my sister had a short stay of 5 days.

She spent 2 days in Petra and 3 days in Madaba. From Madaba, she went to Mount Nebo, Bethany-beyond-the-Jordan, the Dead Sea and Jerash.

My stay lasted 3 weeks.
I spent my first week riding in the Wadi-Rum.

Then I went to Aqaba, Petra and I returned to Amman to rent a car.
With my car I went to Madaba, Aljoun, Mount Nebo, Bethany, the dead sea, Dana, the castles of the desert.

My itinerary is not the most optimized. In 3 weeks I had the time to come back several times to the same places, like Madaba or the dead sea.

Which itinerary for 3 days in Jordan?
This is the ideal route to discover the main points of interest of the country in a short time. The stages are not too long.
Most of them are loops that allow you to optimize your stay. This itinerary is easier with a rental car.
Day 1: Amman-Dead Sea

You leave Amman early in the morning and take advantage of the morning to discover :
- Madaba (2 or 3 hours of visits)
- Mount Nebo (30 min visit)
Around 1pm you arrive at the Dead Sea to take a swim.

Once the bathing finished and after a good shower, you take the road for Petra (3 hours of road).
Day 2: Petra-Wadi Rum
You go to the entrance of Petra for the opening at 6:30 am.
After discovering the main points of interest of the Nabatean city, you take the road to Wadi Rum (2 hours drive).

You can enjoy a Bedouin dinner and admire the starry sky.
Day 3: Wadi Rum-Aqaba
You enjoy the sunrise and you follow it with a Jeep Tour.
You have several options:
Take your flight back to Amman.
Take your flight back to Aqaba.

Aqaba is 1 hour from Wadi Rum.
Amman is 4 hours from Wadi Rum and 4 hours fromAqaba.

You have the choice between :
Spend your day in Wadi Rum
or sharing your day between Wadi Rum and a dive in Aqaba.
Which itinerary for a week in Jordan?
This is a loop, which offers the ideal flexibility to adapt to your preferences. This itinerary is easier with a rental car.
Day 1: Madaba-Mount Nebo-Dead Sea-Aqaba
You visit Madaba in the morning.
Then you go to Mount Nebo and spend the rest of the afternoon at the Dead Sea.

Day 2: Aqaba-Wadi Rum


Depending on your desires, you can swim, snorkel and/or dive.

You end up taking the road to watch the sunset in Wadi Rum.
Day 3: Wadi Rum-Petra
You enjoy the sunrise and you follow it with a Jeep Tour.

You take the road to Petra where you will spend the night.
Day 4: Petra
You go to the entrance of Petra for the opening at 6:30 am and explore the Nabatean city.

Day 5: Petra

You enjoy a second day in Petra and then you take the road to Dana.

Day 6: Dana

You visit the village of Dana and then go on a trek around the valley. You can for example explore Wadi Ghuweir which is accessible almost all year round.

Then you take the road to Amman.
Day 7: Amman-Jerash-Aljoun

You take advantage of the morning to visit Amman, then you take the road :
- Jerash (2 or 3 hours of visits)
- Aljoun (1 hour visit)

What are the prices of the main sites?

The sites included in the Jordan Pass are

- Petra: The entrance fee for one day is 50 JOD, for two days 55 JOD and 60 JOD for 3 days
- Jerash: 10 JOD
- Madaba :
Mosaic of St. George Church: 1 JOD
Archaeological Park: 3 JOD
Museum of Archaeology: 3 JOD
-Wadi-Rum: 5 JOD
-Aljoun : 3 JOD
-Karak : 2 JOD
-Castles of the desert : 3 JOD

Sites not included in the Jordan Pass:

- Bethany (site of Christ's baptism): 12 JOD
- Mount Nebo: 2 JOD

Find all the entrance fees of the sites here
Which itinerary for 2 weeks in Jordan?
A two-week stay in Jordan allows you to explore the country well and to make longer stops according to your desires.

I recommend that you base your trip on the one-week itinerary and add some of the following options:
- The castles of the desert for the archaeology lovers.
- Several days in Petra to discover the Nabatean city at its best.
- Several days in the Dana Valley for trekking enthusiasts.
- Hikes in one or several Wadis for the amateur hikers.
- Several days in Wadi Rum to soak up the Bedouin culture.
- A horse trek in Wadi Rum for experienced riders.
Do you have a guidebook to recommend when traveling in Jordan?
Yes, Wafaa is a Jordanian woman, bilingual in English and fluent in French. She loves her country and wants to make it known to as many people as possible.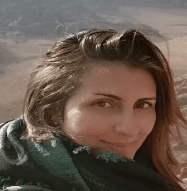 She is one of the few female guides in the country. She knows her country perfectly. She can create a classic tour or completely customize it according to your interests.
If you also wish to live an original adventure or a more classic tour, I let you contact her here
What are the lesser known places?
Aqaba ?
This is where Jordan's Red Sea beaches are located.
Aqaba is a port city, but you can swim, dive or snorkel 10 minutes drive south.

The ideal is to go to the Japanese Gardens, it is one of the most famous diving sites in the world and paradoxically not very frequented! It is also a site easily accessible by mask and snorkel.
You can go there by car or by cab for 8 JOD.
What can I see while diving?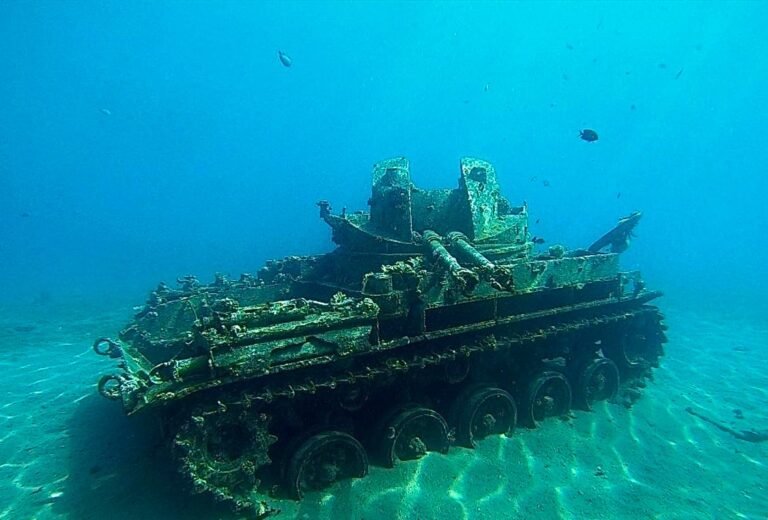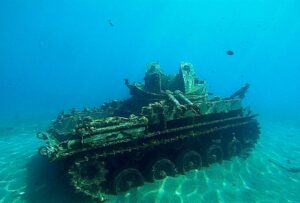 You can see corals, fish and many wrecks. The diving spot of Aqaba is a real underwater museum, where you can admire boats, planes or a tank. Some of them, like the tank, are accessible by snorkeling.
The most popular spots are :
Cedar Pride Wreck
Japanese Garden
Black Rock
Seven Sisters
Paradise
Blue Coral
Kiwi Reef
You can get a glimpse of them with this application that presents them in more detail.
How much does it cost to dive in Aqaba?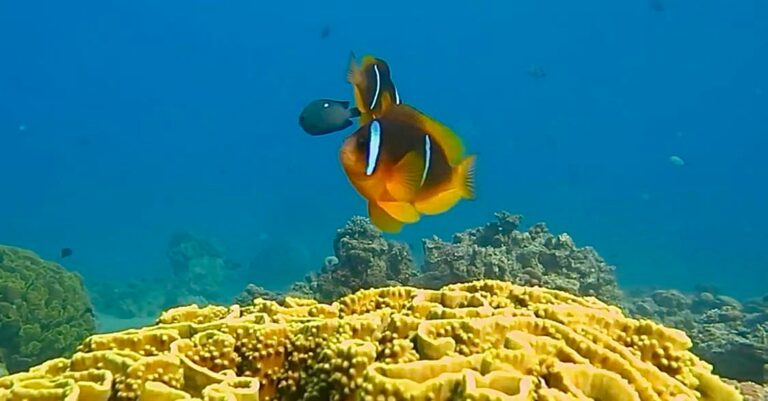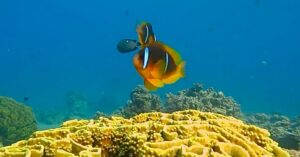 You can pass your Padi, dive or snorkel:
- Pass your first level of PADI: 295 JOD
- A first dive: 30 JOD
- A dive for a certified diver: 25 JOD
- Snorkeling: mask + snorkel + fins rental: 5 JOD
Dana Valley?
What is Dana Valley?
In Manau's song, she is an Irish goddess. In Jordan, it is the largest biosphere in the country. It is a reserve, less known and less frequented by tourists. It offers a wide variety of treks including the fabulous Wadi Ghuweir.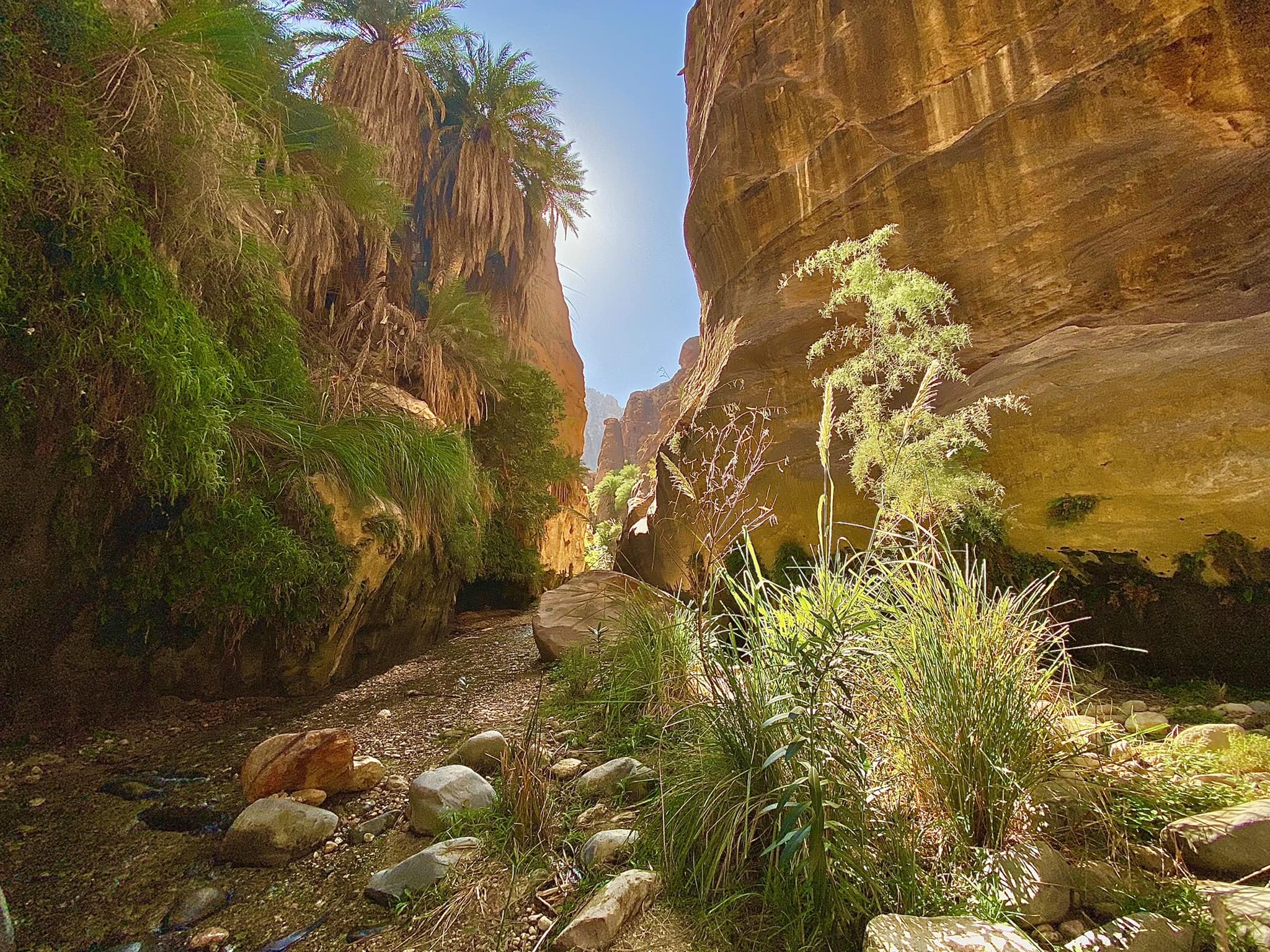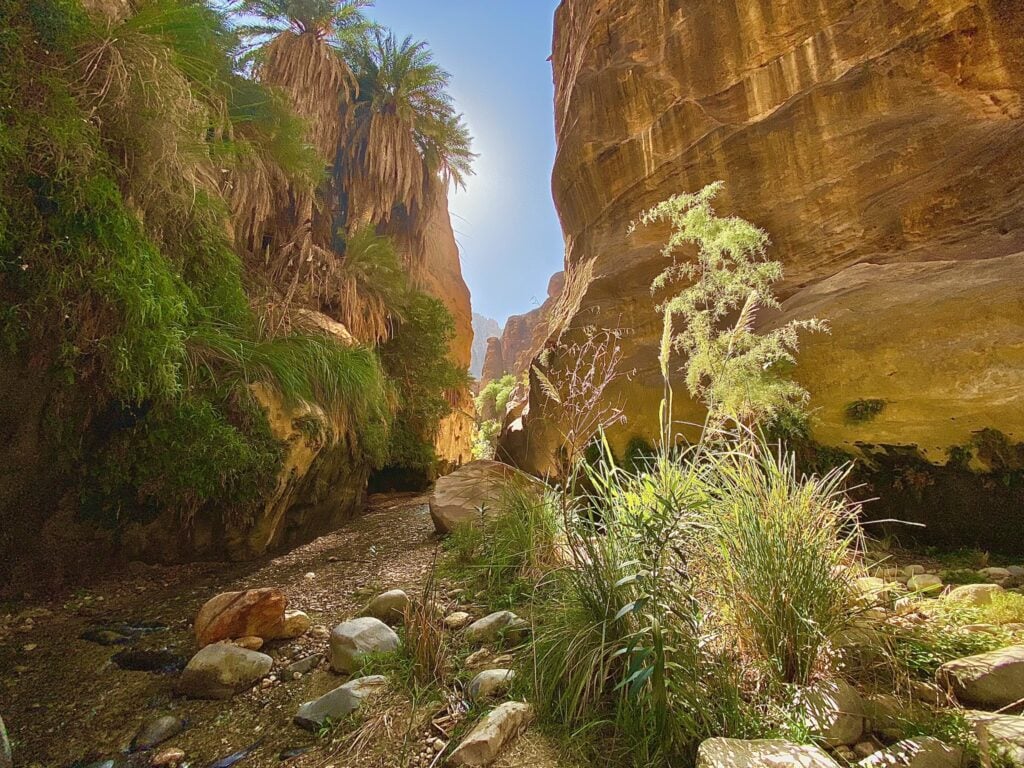 What are the activities in this valley?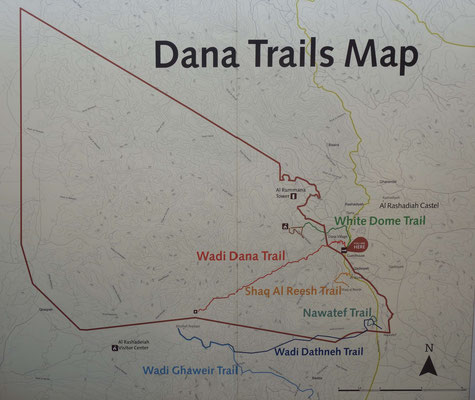 Trekking is the main activity in the Dana Valley.
The easiest ones are :
- The campsite trail : 1h
- The caves trail : 2h
- The rummana trail : 2h
- The nawatef trail : 2h

The treks that require a better physical condition and a vehicle at the arrival point:

- The white dome trail : 6h
- The shaq al reesh trail : 6h
- The wadi dana trail : 7h
- The wadi dathneh trail : 10h

Dana is the ideal place to organize treks of several days, in bivouac.
It is also possible to hike between Dana and Petra.
How do I get to Dana?
Dana is easily accessible by car. By public transport, it is longer. You have to use the local buses:

From Amman, you have to take a bus to Tafilah, to the north bus station. Then you have to go to the south bus station and take a bus to Al-Qadisiyya and ask the driver to drop you off on the road. You finish on foot or by hitchhiking.

From Aqaba or Petra, you must take a bus to Ma'an. Then you have to take a bus to Tafilah, ask the driver to leave you on the road. You finish on foot or by hitchhiking.
The Wadi ?

What is a Wadi?
The Wadis are canyons, waterlogged or not depending on the season. The floods draw them, shape them and transform them over time. These are magnificent places, quite unknown to travelers and are only accessible when the water level is high.
What are the main wadis?
The most visited Wadi is the Wadi Mujib. It is equipped and the visit is compulsory with a guide. The round trip takes 2 hours and the entrance fee is 21 JOD.
The main Wadis are visible on the map below:

The other wadis with a fee:
-Wadi Al Hidan : 35 JOD, round trip 4h
-Wadi Bin Hammad : 5 JOD, round trip 2h

The following Wadis are accessible free of charge and without a guide:
-Wadi Ghuweir : 7h crossing
-Wadi Al Kerak : 6 hours crossing
-Wadi Assal : round trip 5h
-Wadi Al Hasa: round trip 5h
-Wadi Numeira: round trip 3h
-Wadi Himara : go and return 2h
-Wadi Zarqa : round trip 2h
-Wadi Weidaa: return 2h
How to go to the Wadis?
By rental car, you can easily get there.
By public transport, it is inaccessible. You have to find a driver who will take you, wait for you and bring you back.
How to visit a Wadi?
The paying wadis are closed in winter, from November 1st.
The free wadis are open to the public: ask about the weather before you go.


Flash floods usually occur between November and March. They are violent, instantaneous and carry tons of stones. Don't go into a wadi without knowing the weather.
In November 2022, I visited the wadi Ghuweir without any worries. I had to cancel the visit of the others because of the weather.
What should I take with me?
Bring enough water for the duration of the trek or bring a water bottle.
Take a pair of shoes to walk in the water and a waterproof bag to put your electronic devices. Depending on the season, the height of the water is more or less important.
Bring your garbage with you.

Curiosity: Is it easy to find water in Jordan?

Jordan is one of the poorest countries for water, you can easily buy spring water in the stores. In Wadi Rum the camps have cisterns and stocks of spring water.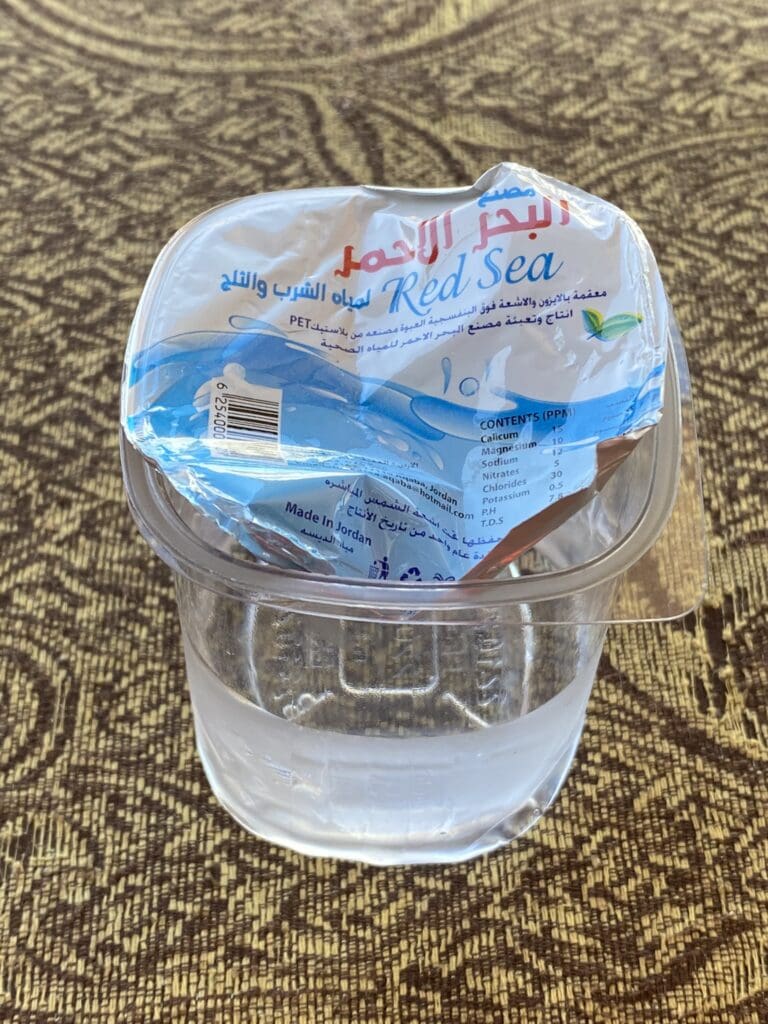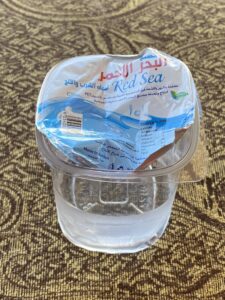 My buddy Salameh taught me that surprisingly the majority of the country's water reserves are under Wadi Rum. It is a very old water table that supplies almost the entire country. Unfortunately, it does not have time to replenish itself and will be empty in 20 years!
Where to swim in the Dead Sea?
You have two solutions:

- Swimming on a hotel beach.
- Swimming on a public beach.
Which hotel range do you recommend?
In Jordan, the hotels are located north of the Dead Sea. The rest of the coast is wild.
There areonly luxury hotels.
If these establishments are not in your budget, you can enjoy their beach with a day pass which includes:
- Access to the beach and pools.
- Towels.
- Mud.
- Mineral water at will.
- Buffet lunch in addition.

The Dead Sea Spa Hotel offers a pass at 25 JOD without meals and 35 JOD with the lunch buffet.
The Holliday Inn dead sea offers a pass at 20 JOD without meal and 35 JOD with lunch buffet.

I spent a day at the Holliday Inn, which offers very nice services. The day pass makes for a very relaxing day.
Which public beach do you recommend?
A swim in the Dead Sea, requires to take a shower as soon as you finish your swim. You can take with you 5l water cans to rinse yourself. But I advise you to go here (you will find the GPS point by clicking on the name).

Coffee and Smile offers an artisanal shower for 2 JOD. It's a small shop on the side of the road. The owners are very nice. Feel free to say hi to them for me. I visited them several times during my stay 🙂
Do you have any tips for swimming?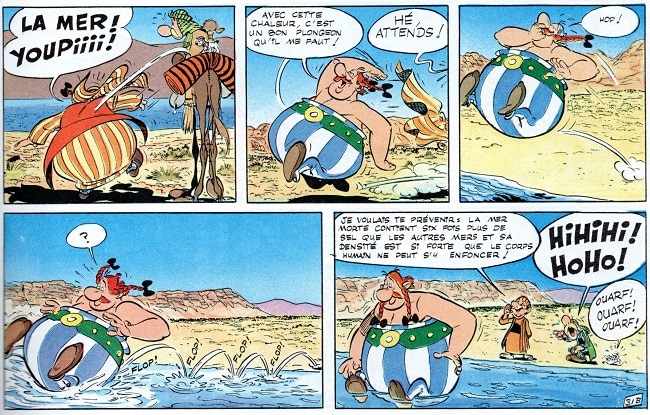 Yes, the salinity level of the Dead Sea is 34% compared to 3.5% for the Mediterranean for example. It is this high salt content that will make you float and make your swim a unique experience. But this high presence of salt requires to take some precautions.
Don't swim barefoot on public beaches. The salt crystals are very sharp, my buddy Will can attest to that. The hotel beaches are equipped with sand, so you can swim barefoot.
Don't dive. You won't bounce. You'll just get water in your eyes and an unbearable burning sensation. To avoid this, don't dive and don't try to swim on your stomach. Just swim and lie on your back.
Do not bathe if you are injured. The salt will dig and sting your wounds.
Take a nice shower immediately after your swim. That's not really a tip, you'll find that you'll want to immediately.
How to visit Petra?
How much does it cost to enter Petra?
Jordan Pass or not, you must pick up your ticket at the main entrance at the visitor center. If you don't have a Jordan Pass, the entrance will cost you :

1 day : 50 JD
2 days : 55 JD
3 days : 60 JD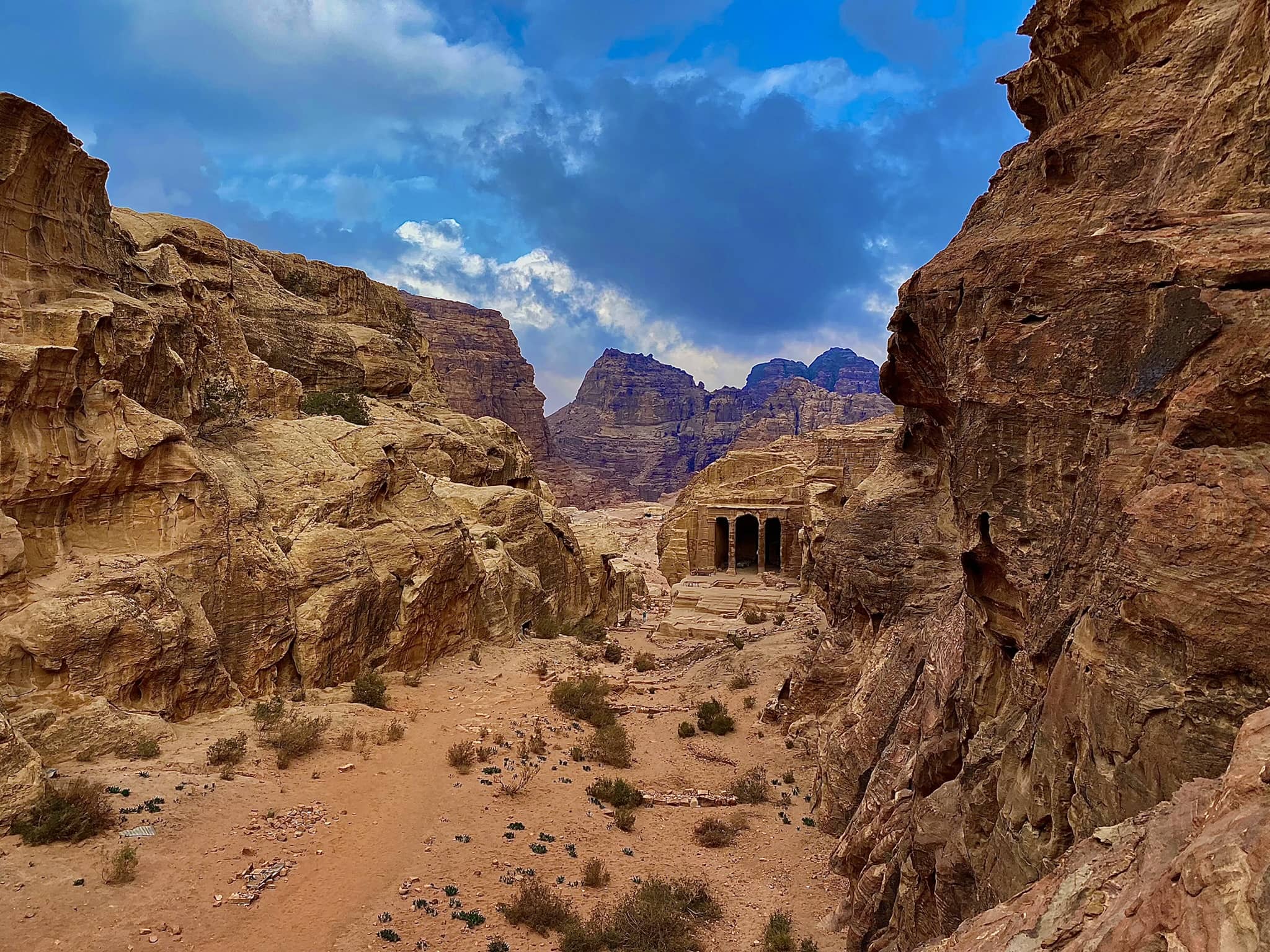 What are your tips for visiting the Nabatean city?
- Arrive at the opening of the site, to avoid the influx of visitors and the heat.
-Wear walking shoes, as the trails offer a lot of elevation change on slippery steps and rocks.
-Protect yourself from the sun, it is hot and shade is rare in Petra.
-Take water, this makes sense given the previous advice.
-Take something to eat, restaurants and snacks in Petra are not cheap.
-Respect the rules, leave the site before sunset, do not camp on the site and do not walk on the monuments.
Do I need a guide to visit Petra?
It's up to you. If it's not to lose you, it's not worth it. The trails are very well indicated in maps.me.
I didn't take any and found my way around easily.
A guide is above all a local, who makes you discover his country, his culture and in our case, the history of the Nabatean city.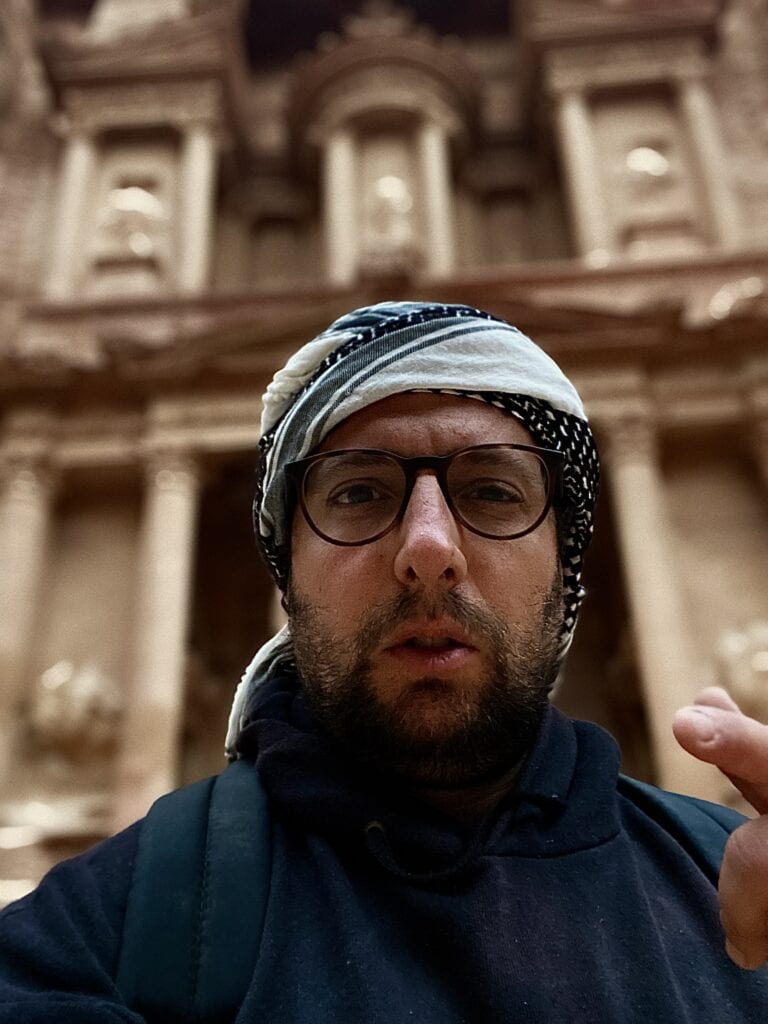 Only official guides are allowed in Petra. They can be found at the guide office at the entrance to the site. They all master one or more foreign languages. I talked with a few French-speaking guides who speak very good French.
The rate is the same regardless of the size of the group:
- –50 JOD: For the Main Trail
-100 JOD : For the Main Trail + the Monastery or the Main Trail + High place of Sacrifice
Can we get around other than on foot?
Yes, if you can't walk, you can take a golf cart (5 seats) with driver.
The prices are :
- Visitor center-Treasury: 15 JOD one way, 25 JOD round trip.
- Trésor-Qasr Al-Bint: 10 JOD one way.

You also have the possibility to travel by horse, camel or donkey.
I have not done this. If you do, make sure your animal is healthy and well treated.

- You can ride a horse from the entrance to the treasure.
- From the treasure to the Qasr Al-Bint you have donkeys and dromedaries.
- Donkeys are also used to get to the monastery (it is still physical and a fall down the steps can be very dangerous).
The rates are to be negotiated with the guides.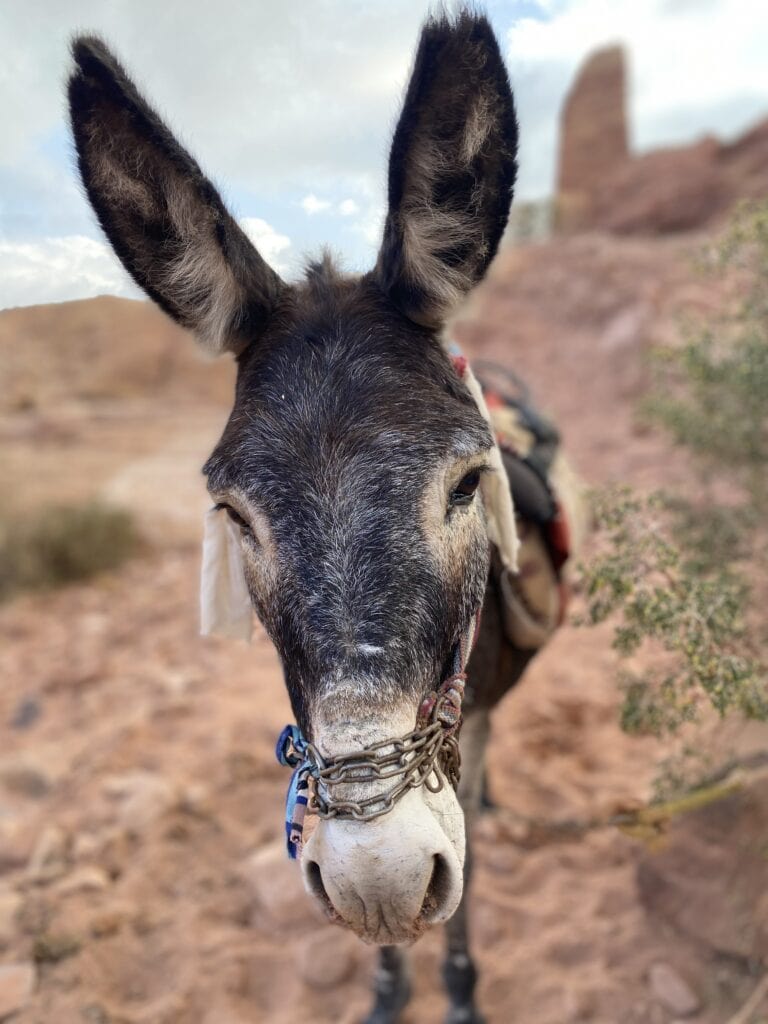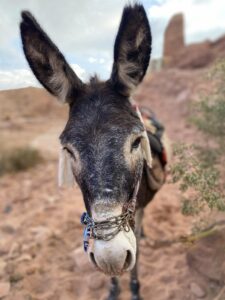 How long does it take to visit Petra?
It all depends on what you come to do and your physical condition. Some people come to see the treasure and leave directly, in this case a few hours are enough. If you want to explore the site and discover the monuments you need a minimum of two days.
Physical fitness is also very important. The main trail is not very steep and is accessible to everyone. The other trails have a difference in altitude and access that does not allow everyone to do them.

The access to the Monastery for example requires to climb 800 steps. It is possible to do it with a donkey. I have seen a lot of old people or people in bad physical condition doing it. On paper, it may look nice and easy, but I don't recommend it. Going up and down 800 steps on a donkey is not easy and a fall can be very dangerous.
How long do the treks last?
At the entrance of the site, you will find a map with the different trails, their distance and their duration in time.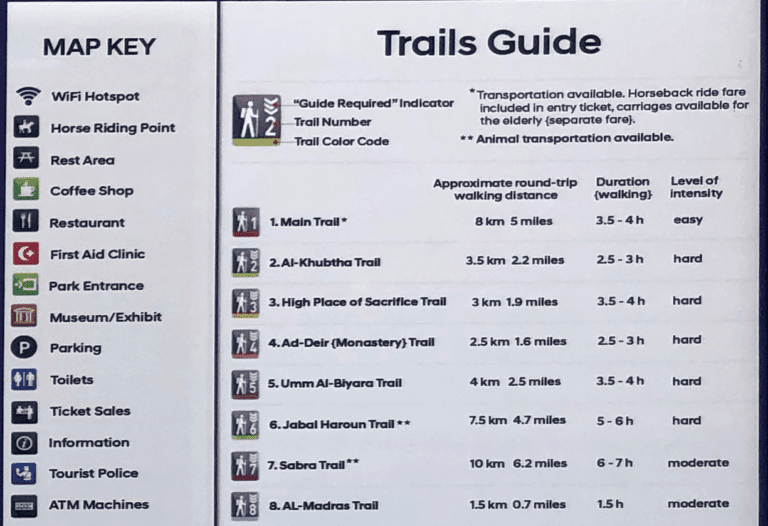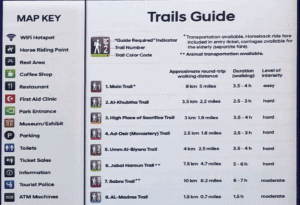 As you can see, these are the directions to and fromr. All these treks do not require you to retrace your steps. Moreover, their duration and difficulty are suitable for old people and people in bad physical condition... which are a large part of the public of the Nabatean city.
I have done these treks, and I can confirm you that, you can base yourself on the duration indicated by maps.me and divide their duration by 3 or 4.
What route did you take in Petra?
I spent two days in Petra, the first day I arrived at the opening and explored the site. I walked 27 km.
The second day, I went to explore the heights of the treasure and I went to admire the monastery. I walked less and took more time to contemplate the monuments.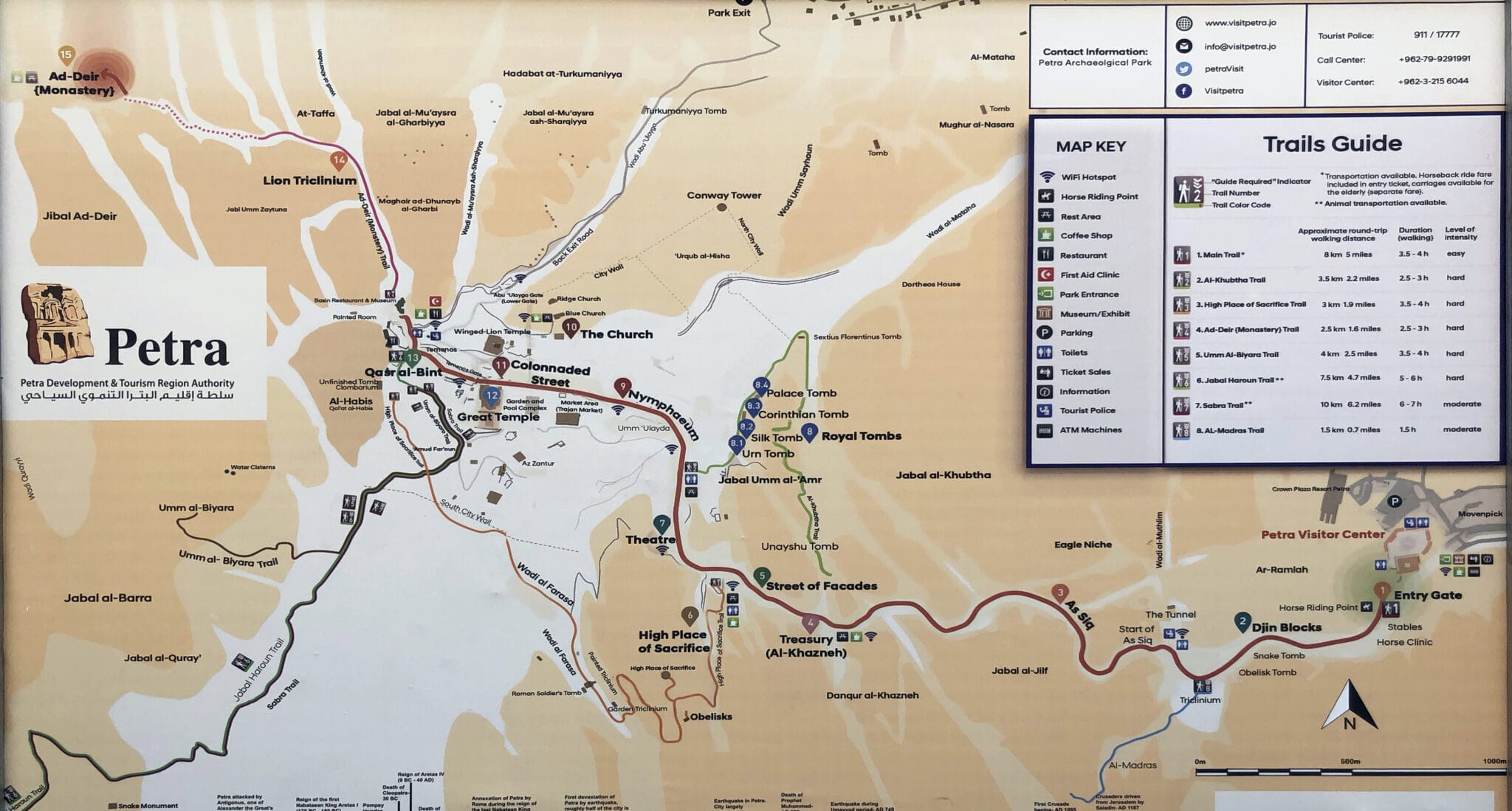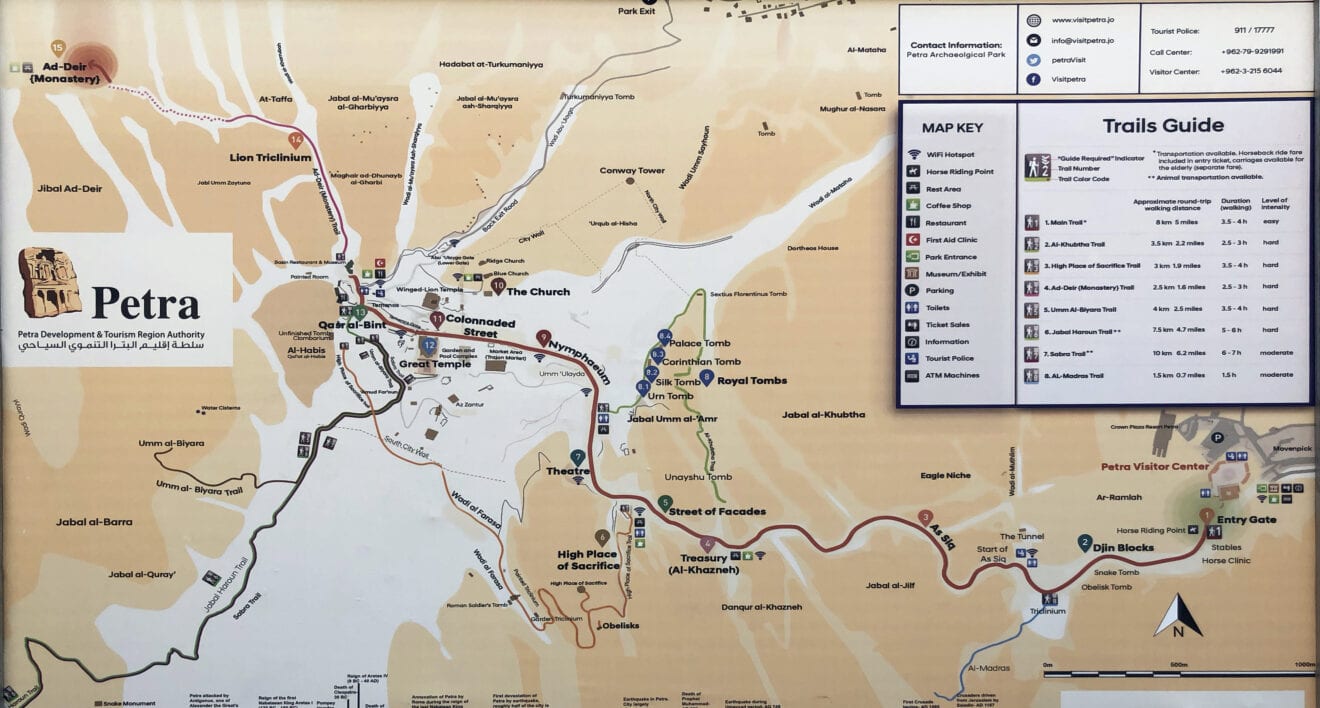 The first day, I started with the Main trail.
At the level of the street of façades. I followed with the High Place of Sacrifice Trail. I walked the trail by exploring the surrounding paths.
Arrived at the Qasr Al Bint, I followed the Jabal Haroun trail and back.
I finished by the Main trail to discover the part I had not seen yet and return to the front door.

The second day, I took the Main trail to join the Jabal Haroun Trail which leads above the treasure. I continued by retracing my steps to join the Al Deir Trail which leads to the treasure. I finished by joining the exit by the Main Trail.

The Main Trail is accessible to all and is logically the most frequented. The other trails require a good physical condition and are much less frequented.
I really liked the Jabal Haroun Trail. There are no famous monuments, it is very little frequented. It is a somewhat abandoned part of the Nabatean city where Bedouin families have moved into troglodyte houses.
How to get a view of the treasure from above?
You have two solutions:
- When you arrive at the treasure, guides offer to take you up, for a fee, through stairs. From there, you can queue up to take the typical Instagram photo.
- You can continue, the Main Trail, and take the Al Khubtha Trail which takes you to the top of the treasure in 35 minutes.

I opted for the second solution. I think that a view has to be earned and that the pleasure starts with the walk to get there.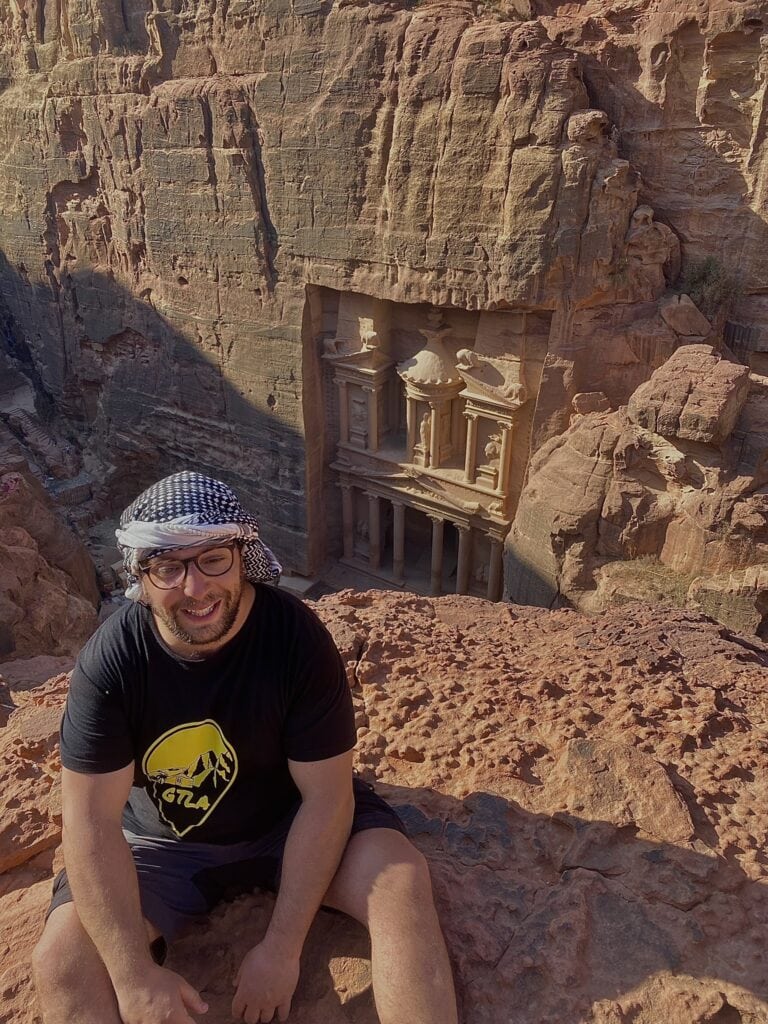 Can we visit Petra by night?
Yes, on Mondays, Wednesdays and Thursdays, a show is proposed. 1,500 candles light up the treasure from 8:30 to 10:30 pm.

The entrance fee for Petra by Night is 17 JD, children under 10 years old are admitted free of charge.
How to visit the Wadi-Rum?

What is the entrance fee?


The Wadi-Rum is the desert of the Bedouins for some, a place of filming of mythical movies or a dream place to sleep under the stars.
It is above all a protected reserve.

Access is included in the Jordan Pass:

Without Jordan Pass it costs 5 JOD.
Access and parking for a rental car are free.
Access with a 4×4 rental car is 35 JOD.
Can I drive in Wadi-Rum?
Yes, if your rental car company agrees.
I don't recommend it, it's a sandy desert. You can't improvise driving in the sand. You risk getting stuck in the sand or damaging your car.
Finally, orientation in the desert is complex. You could, for example, cross the border with Saudi Arabia without realizing it!
Do I have to book my stay in advance?
Yes, I recommend it.
As explained here, some camps are not in the protected area and/or do not offer an ideal location.
These Bedouins do not have the necessary license to access the protected area and show you the must-see of Wadi-Rum.

By booking in advance, you will be sure to be in the protected area.

I recommend you to book with my friends Ali, Salameh and Aied. You can contact them at wadirumfamilly@gmail.com

They offer basic Bedouin tents with shared bathrooms, breakfast, dinner and a round trip to Wadi Rum Village at 25 JOD.
They also have more luxurious tents with private bathrooms at 50 JOD.
Should I take water into the desert?
If you are traveling independently, it is essential.
Otherwise you will find water in the camps. The Bedouin camps have cisterns that are regularly supplied.
For drinking water, the Bedouins get it from the village and offer it at will in the camps.
Can I charge my electronic devices?
Yes, the camps have solar panels. The Bedouins allow you to charge your phone.
Some luxury camps even have wifi.
What activities are offered?
On the map below you will find the main points of interest in Wadi-Rum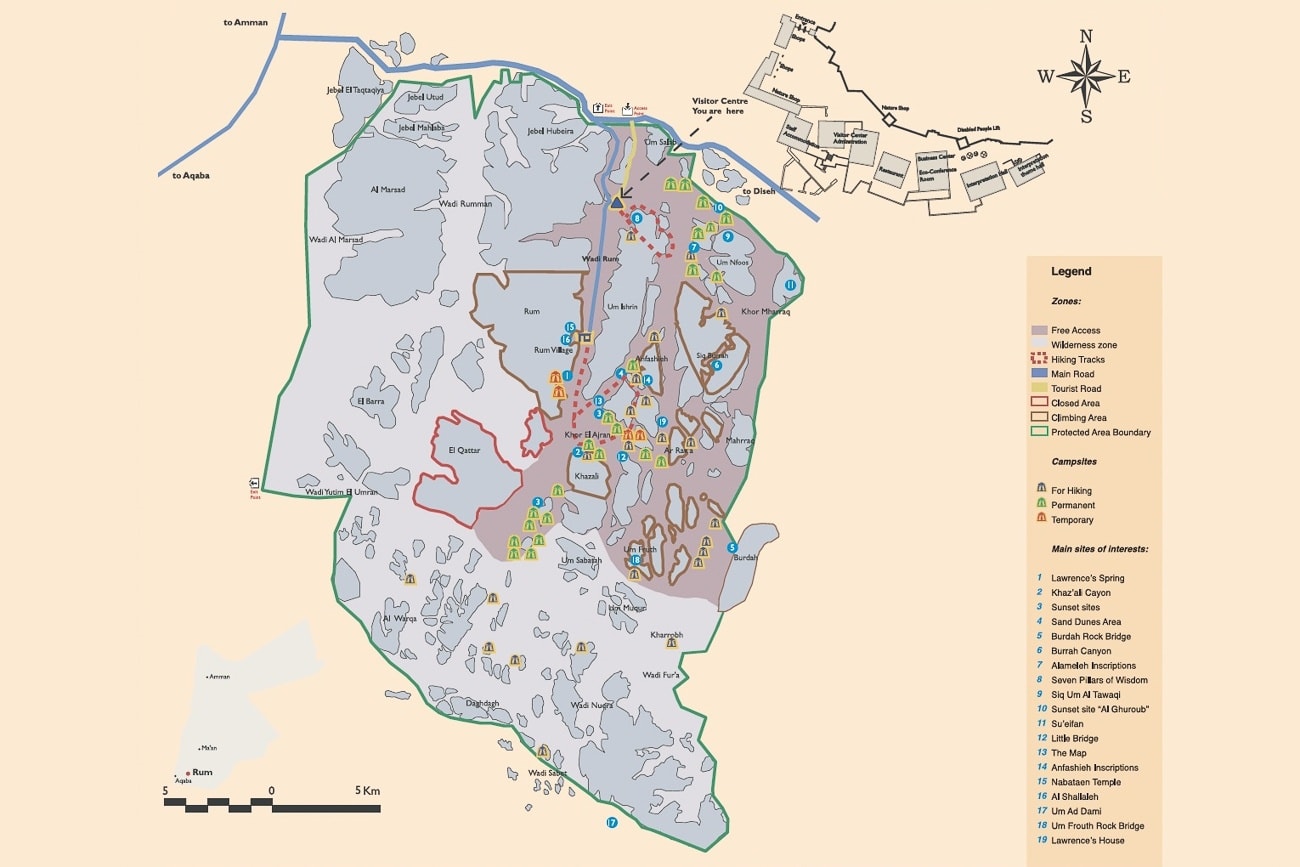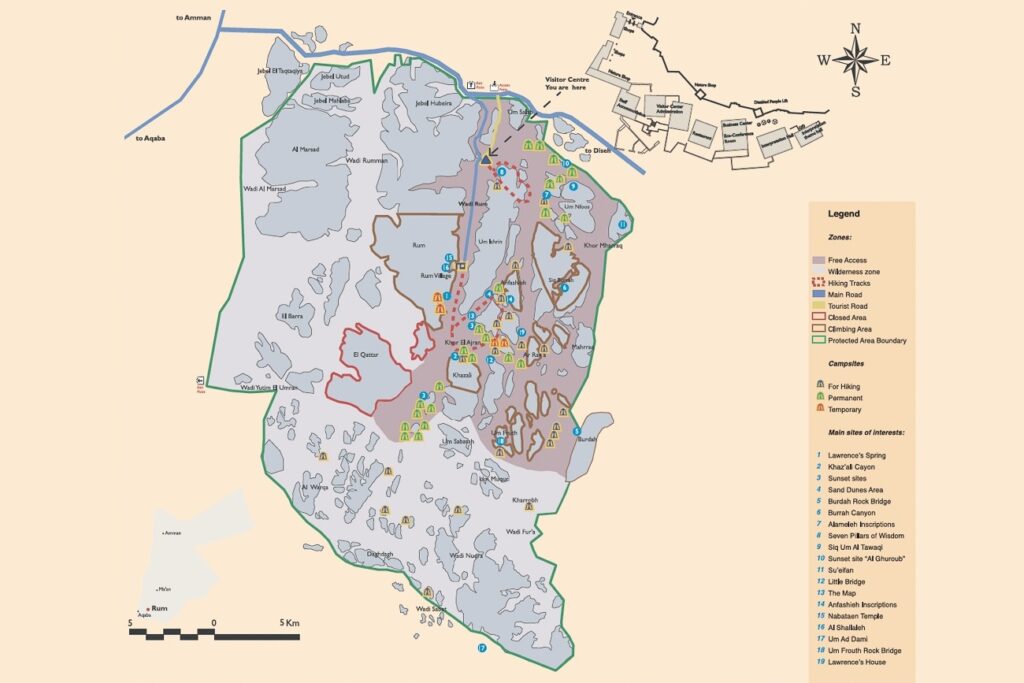 The desert offers a great diversity of activities:
- Trek on foot
- Jeep Tour
- Camel rides
- Horseback riding
- Climbing
Is it necessary to hire a guide in Wadi Rum?
The guides are competent, experienced local Bedouin and speak good English. As everywhere you can travel alone.
I used to say to people who asked me: "If you are wondering if you need a guide, you need a guide".

In the classic places, a guide allows you to discover the culture of his country and not to get lost. In the desert, he is also there to share with you his experience of this hostile environment and to ensure the logistics of the supplies.

If you are traveling alone on foot, you will need to carry enough water for your entire trip.
In 4×4, you will have to master driving in the sand and orientation in the desert.
If you travel by horseback, self-sufficiency is simply impossible, since you will not be able to carry the water and food necessary for you and your horse.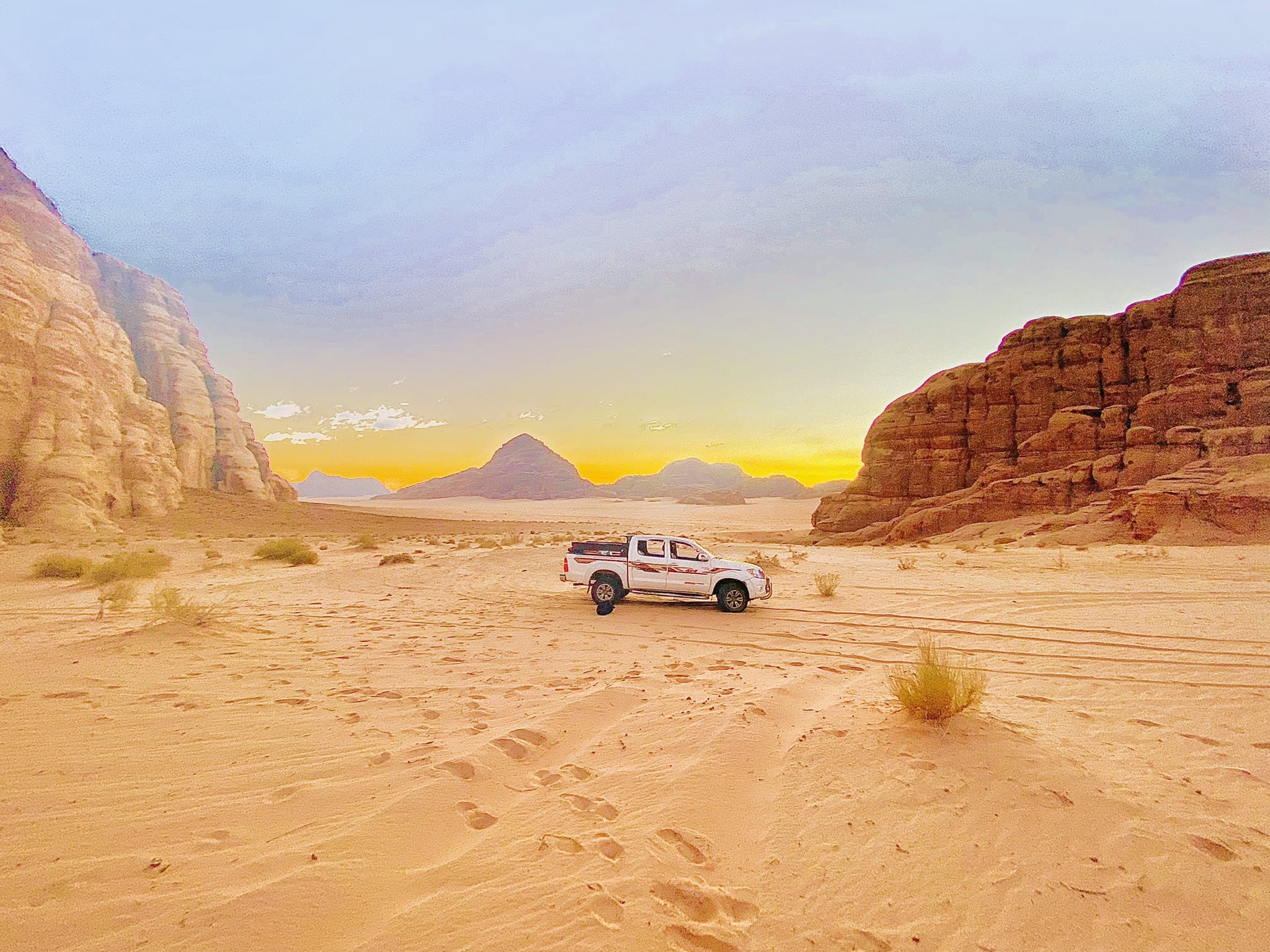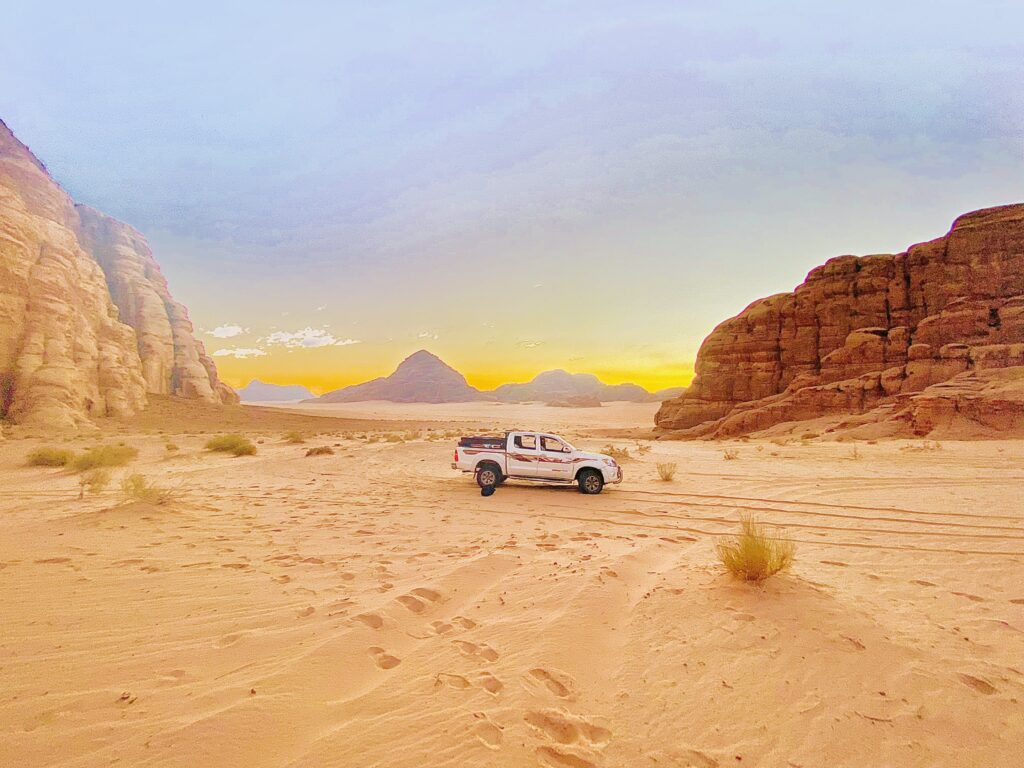 Do you have any guides to recommend?
Salameh and Aied are two Bedouin brothers who were born and raised in the desert. I stayed in their family camp and they introduced me to Bedouin life and traditions.
They speak perfect English and know Wadi Rum and their country very well. They take pleasure in making you discover their country and their culture.
To conclude my stay in Wadi Rum, Salameh took me back to Aqaba. As an authentic Bedouin, he drove me through the desert on a track unknown to tourists;

Salameh and Aied organize and guide jeep tours and treks on foot. They have their own family camp and their fee includes meals, overnight camp and transportation to and from Wadi Rum Village. They are trusted contacts with whom you will have no surprises.

You can contact them by clicking here

or via

wadirumfamilly@gmail.com

Curiosity: What is this green cage?

My buddy Basha, warned me. Flies can be a real nuisance, especially by the Dead Sea.

This exchange testifies to that. I am having a coffee by the sea with Mohamed, the owner.
"What is this empty green cage?
It's a quiet place to sit away from the flies!"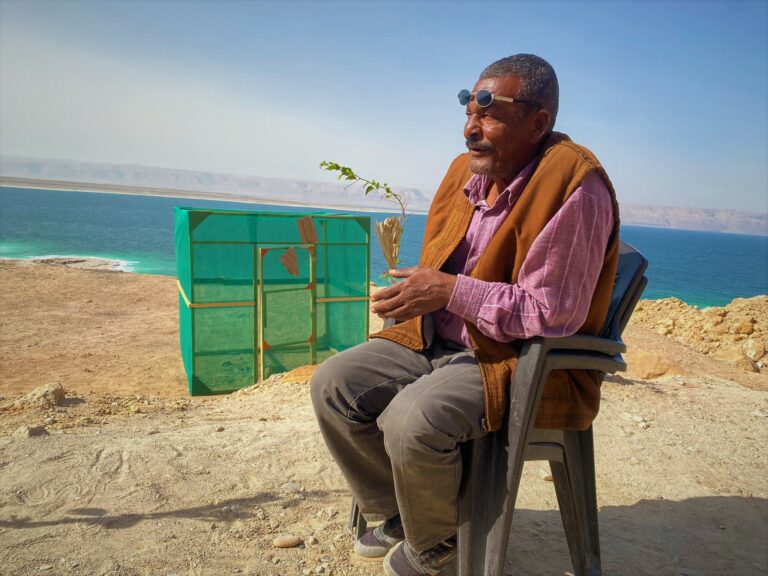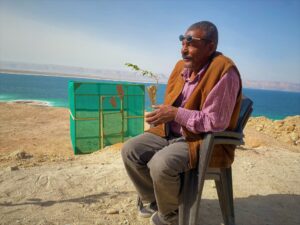 How to travel by horse in Jordan?
Why travel on horseback?
The Arabian thoroughbred is one of the most noble and legendary breeds of horses for riders. It is above all, to live this incredible equestrian experience, that I went to Jordan.

This Arabian saying, describes perfectly the Arabian thoroughbred: " From the boar, he has the courage; from the gazelle, the grace; from the antelope, the cheerfulness; from the ostrich, the speed. "

It is a lively and enduring horse. Its incredible qualities allow it to resist long efforts in the desert, drinking and eating very little.

I'll let you discover my experience at the gallop.
Who is it for?
For people under 85 kg and experienced riders.
Your weight is a primary consideration. Thoroughbreds cannot carry a heavier load. The guides will refuse any person exceeding this weight.

Your experience is also an important criteria. Thoroughbreds are hot-blooded horses, very lively and extremely fast. You don't need to have years of experience. You need to be comfortable in the saddle and know how to handle a horse.

On my horseback rides in Jordan, all the people in my groups were experienced riders. We were all able to gallop and control our horses at different paces.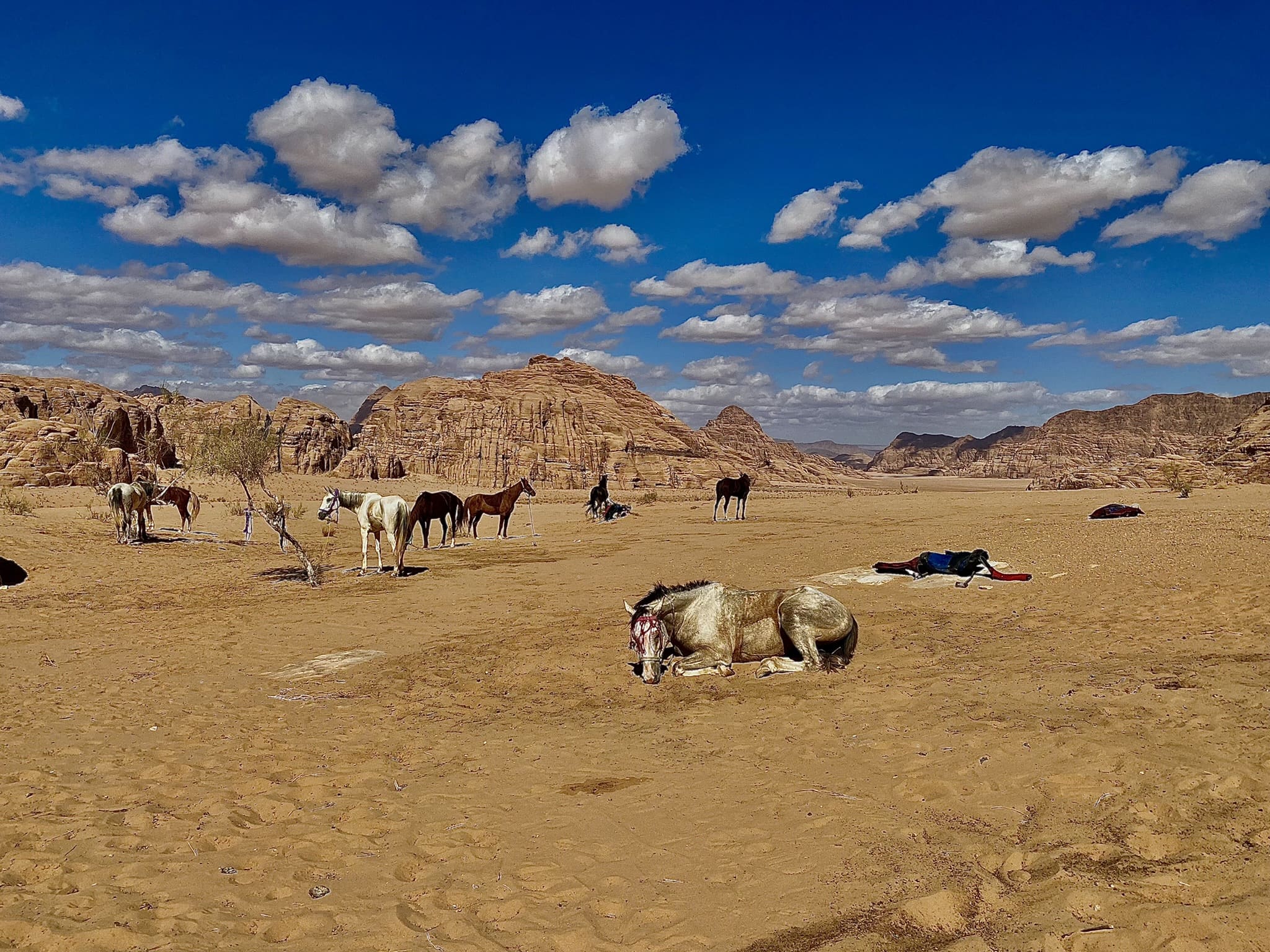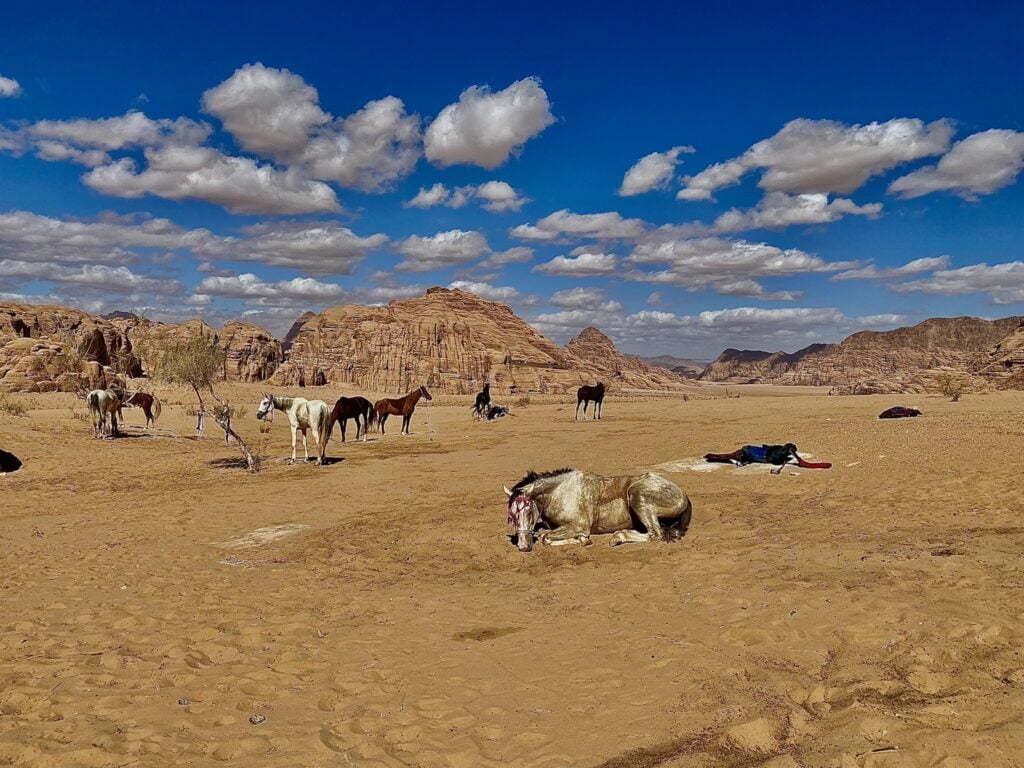 Is wearing a riding helmet really important?
Yes, a fall on the head can unfortunately happen. It is better if this fall is on the bomb...
As this is a very important safety element, I recommend that you take your bomb with European standards.
Do I need to take out insurance?
Yes, traveling without insurance is stupid and can cost you a lot of money in case of problems. In addition, Jordanian guides will ask you for an insurance certificate before your trip.
Where to do a horse trek in Jordan?
The most popular place for horseback riding in Jordan is the Wadi Rum desert.
It is a beautiful and extremely vast desert that offers you the perfect setting for beautiful gallops and bivouacs under an incredible starry sky.
When to go horseback riding in Jordan?
The best period is the high season which is from February to May and from September to November. July and August are too hot and in winter it is cold, rainy and sometimes snowy.
What is a typical day on the trail?
The stages of a horse trek last between 5 and 6 hours depending on the day. Most of the time you are at a walk. The rest of the time you can take advantage of the stamina of your horses to do long trots and gallops. If you are comfortable enough, the guide will let you do long gallops.

You start your day early with breakfast. Once you are full, you brush and saddle your horse before heading out on your adventure.
You stop around 11am in the shade of a mountain to take a break during the hottest hours of the day.
A jeep, joins the group to supply the horses and the men with water and food.
Around 3:30 pm after a good meal and a good nap, you go back in the saddle for 1 to 2 hours of riding.

Around 5:30 pmYou arrive at the evening bivouac.
You brush your horse, you make him drink before feeding him.
Before dinner, you can explore the area, climb the surrounding mountains and enjoy the sunset.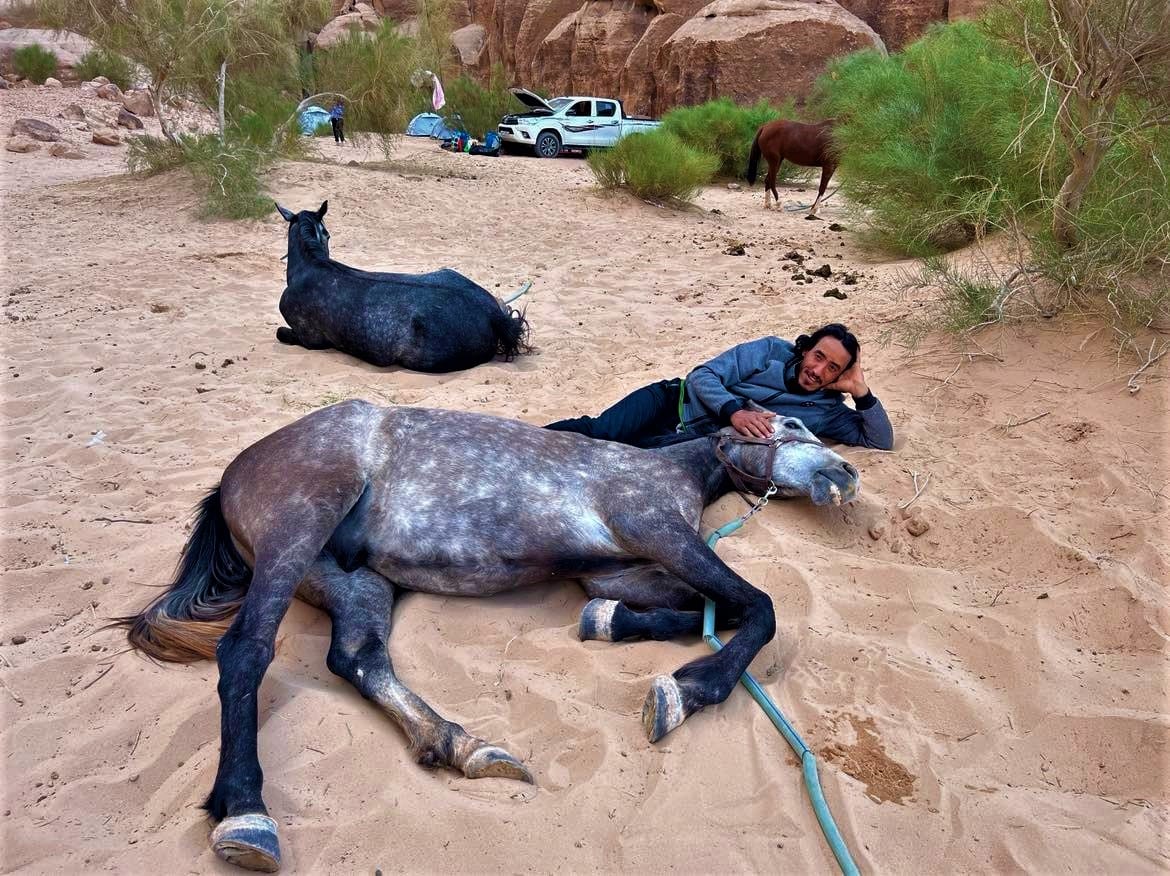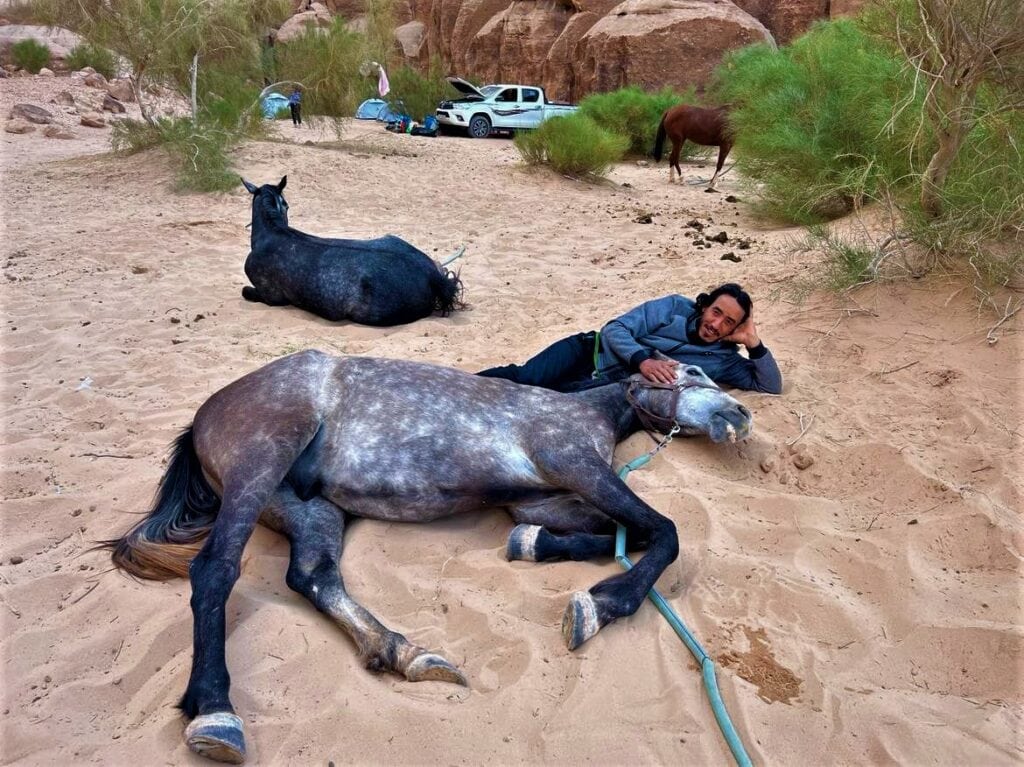 For dinner, the group gathers around traditional Bedouin dishes to enjoy under the stars.
Then you can chat by the fire, drinking Bedouin whiskey and admiring the stars before going to bed in your tent.

Once you're refreshed, you'll wake up ready to go back to riding through the desert.
What about accomodation?
While roaming, you sleep in igloo tents. There are 2 people per tent. The bivouacs are made in the hollow of the mountains in the shade and sheltered from the wind.
You can also ask to sleep in Bedouin camps for more comfort. The price will depend on the type of camp and the location of the camp or camps.
How do you wash and go to the toilet?
When roaming, the desert is your toilet. Put yourself sheltered from the wind and leave the minimum trace of your passage.
For the shower, there is a very basic shower tent that you can use with a 10 liter solar shower.

They use wipes and wait for the return to the city to take a good shower.
In the Bedouin camps, there are shower rooms that work with tanks.
Can I charge my electronic devices?
Yes, if you have an external battery. You'll need to learn how to manage your batteries and use your devices wisely.

The Bedouin camps have solar panels. They offer you to charge your phone in the evening if needed.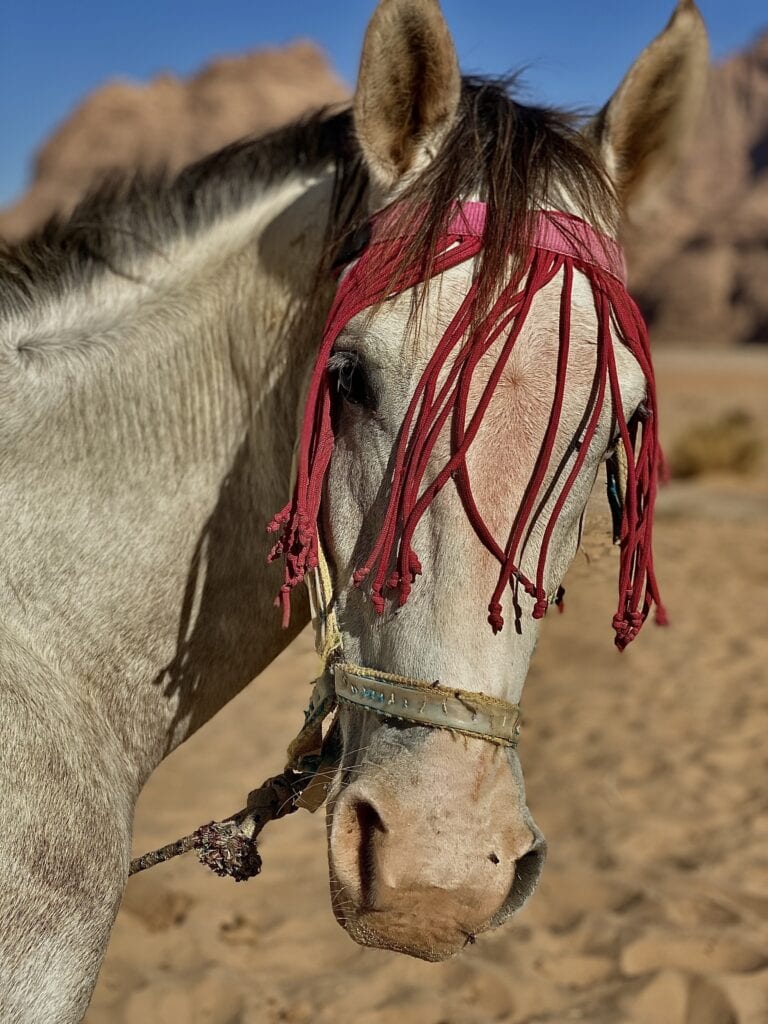 How much does it cost to ride a horse?
Prices vary between 1550€ and 2000€ depending on the travel agency.
The travel agencies specialized in horse trekking all propose the same itineraries.
It is an 8 to 10 days itinerary with between 5 and 6 days on horseback. The other days are dedicated to the visit of Petra, the Dead Sea and Madaba.
Do you have any guides to recommend?
Ali is a Bedouin who grew up and still lives in Wadi Rum. I stayed in his family's camp with his brothers Salameh and Aied. I also had the chance to discover the desert on horseback with him.
With his friend Astrid, they have a breeding of Arabian thoroughbreds at the gates of the desert. For a few years they have been organizing itinerant rides.

Ali, works with several travel agencies. He offers you to join him on his tours, only on the horse part.
Depending on his availability, he can also create a personalized itinerary for you, for the duration you wish.
You can contact him by clicking here
What to take with me when traveling to Jordan?
What can I offer as a gift to the locals?
Don'tbring anything: buy locally.
With time, I realize that you please the people you meet as much by offering them local products. Moreover, you give life to the local economy.

Finally, it allows you not to prejudge their needs but to adapt to them, which for me is the essence of a gift.

For children, I recommend toys that they can use in groups, such as balloons, frisbees...

For the adults, they will appreciate tea very much. Bedouins are fans of tea, they drink it all day long.

Most importantly, take pictures of your home and yours to show them your daily life.
Can you travel on a backpacker budget?
My budget was not a backpacker budget. In 3 weeks I spent 2329 € including flights.
I started with 5 days of horseback riding in Wadi Rum and spent another 2 weeks exploring the country.
Activities are not cheap in Jordan. Prices are about the same as in France.
Plane ticket: 250 €.
Jordan Pass : 75 JOD (110€)
Trek on horseback: 600 JOD (840€)
Food: 300€.
Lodging : 310

Transport : 120€.
Activities: 55€.
Car rental : 234€. 
Gasoline : 110€ (divide by 3)
Total: 2379€.
You can travel for less. Most travelers stay in Jordan, 1 week to 10 days.
To give you an idea of the prices:

You can find :
- a room in a hostel from 14 JOD
- a sandwich from 0,75 JOD
- a meal in a restaurant from 4 JOD
- a bus from Amman to Aqaba for 10 JOD

To travel on a more economical budget, you can do all the activities included in the Jordan Pass and stay on a regular tour. If you travel by public transportation, all activities outside the cities will quickly add to your transportation budget.
Rental cars are inexpensive, especially if you are traveling together. The gain in freedom and comfort is well worth it!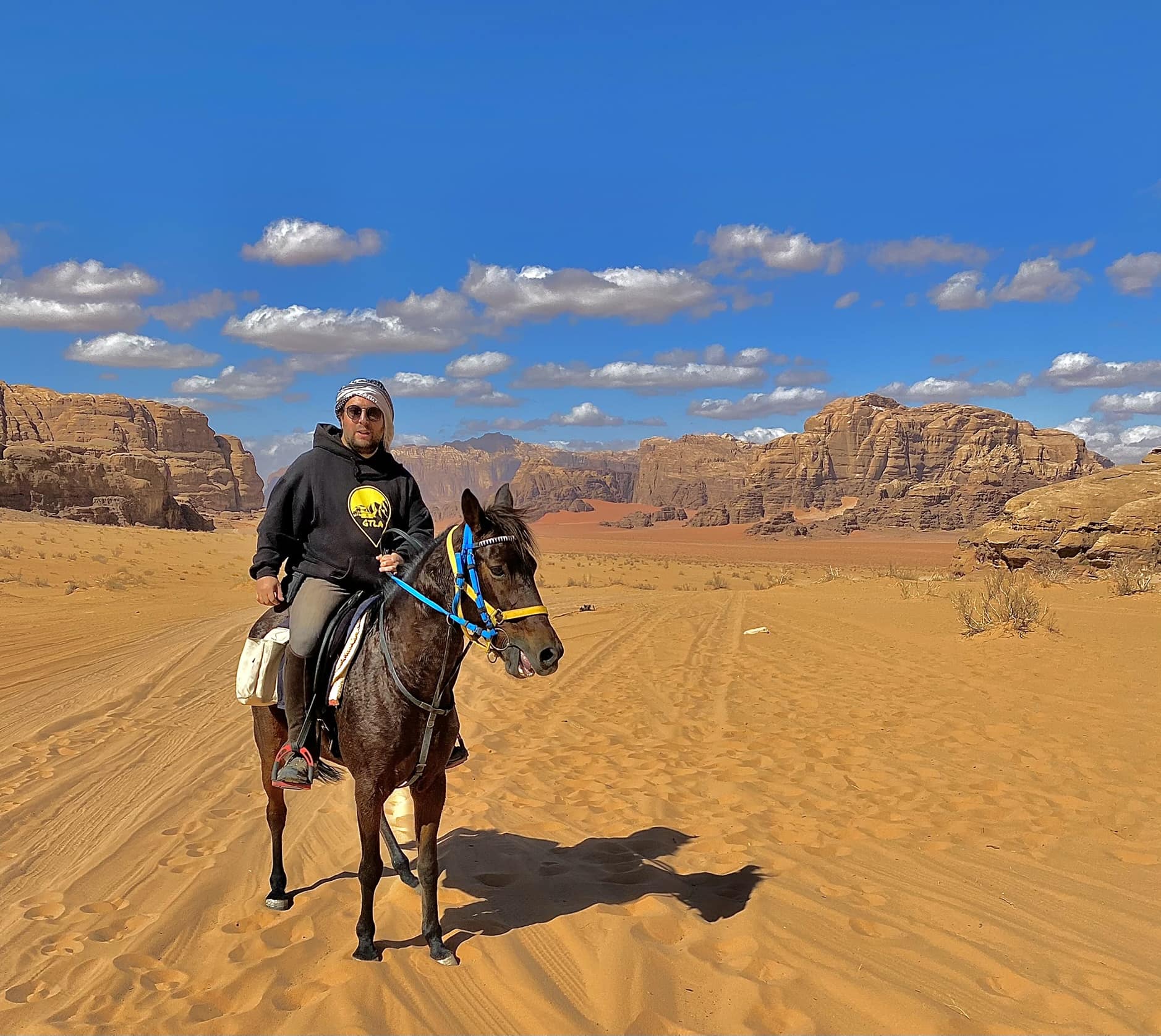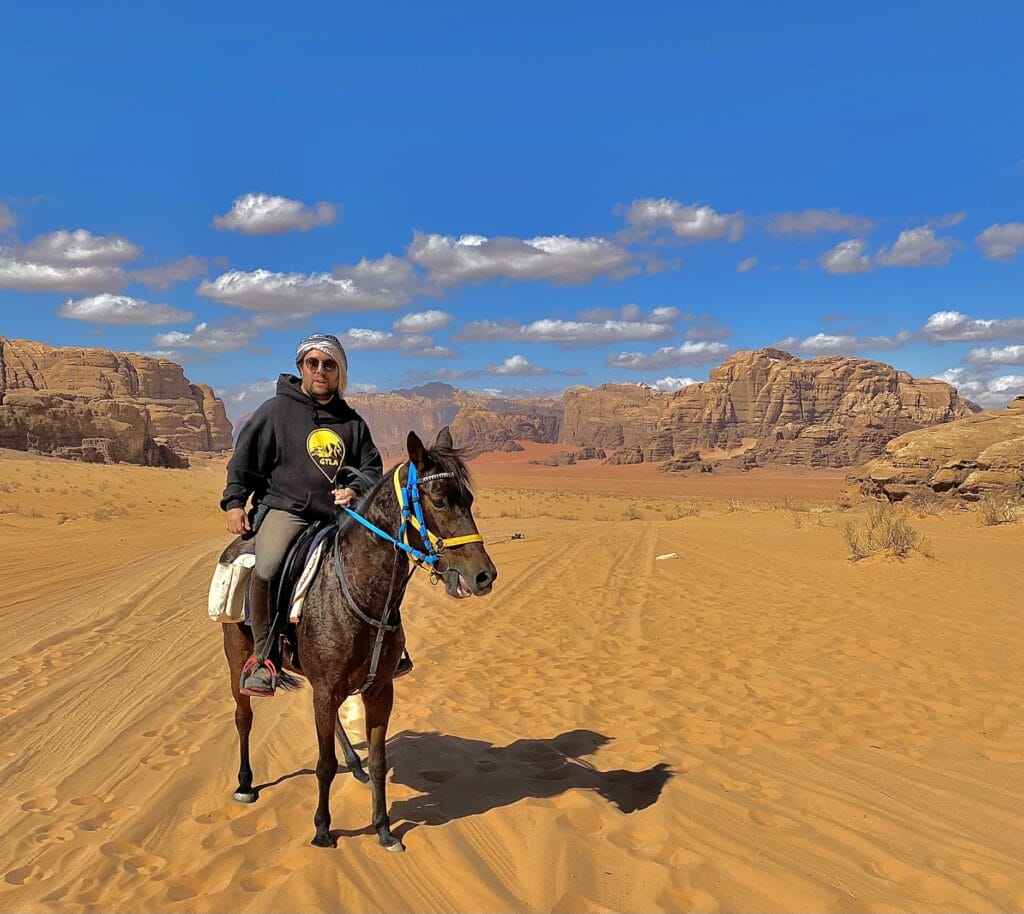 What to pack in your backpack?
As with any trip, I make sure that it doesn't exceed 8kg and that I can take it in the cabin.

I brought a horse outfit and clothes for 5 days. You can easily wash your clothes in the inns and guesthouses for 3 JOD.

Here are the contents of my bag.

Decathlon Forclaz 50 bag (it's a new one, my old one died, rep :'( ) :
1 backpack (for the day)
1 pair of riding jeans
chaps
1 pair of trekking pants
1 pair of swimming shorts
7 underpants
4 pairs of socks
1 shirt
4 t-shirts GTLA
1 technical t-shirt
1 headlamp
1 hoodie GTLA
1 sleeveless down jacket
1 waterproof bag
1 toothbrush
toothpaste
Iphone !

1 current USB adapter
bob
cap
keffiyeh
sunglasses
1 pair of spare glasses
trekking shoes
trainers
shoes for swimming
microfiber towel
sleeping bag
bottle
travel guide
Are there any useful applications to have on your smartphone?
Before you leave, download :

Maps.me - it's free. Download the map of Jordan before your departure and you will be able to geolocate yourself and follow routes in airplane mode. It's my favorite GPS to travel with. It will be very useful in Petra, in the Wadis and even in the desert.
How to be a prepared and responsible traveller?
Should I tip my guide?
If you are satisfied with the service, it is normal. My friend Salameh advises to give 3 JOD per person per day. That's what I do.
Is it necessary to take out travel insurance?
Yes, " I tested it for you" during my accident in Togo. I was and still am covered by my Visa Premier card insurance.

Check the guarantees offered by your credit card and if you are not well covered, take out travel insurance.
Do you have any travel insurance to recommend?
ACS offers comprehensive insurance at a good price. Readers are very satisfied.

I also recommend that you read my complete file on bank card travel insurance.
How do I manage my waste when trekking?
You can burn your waste on the spot. In France, this is not normal, but in Jordan, there is no waste treatment plant.

The easiest way is to limit the amount of waste:

Use your backpack instead to carry your food, and limit plastic packaging, choosing fresh food.
For the rest, incinerate it on site: it's more responsible to manage your waste than to have it done in giant landfills.

I hope you found this article useful. Are you thinking of going to Jordan soon? 

Don't hesitate to leave your opinion, information or questions as a comment.

Have a good trip!