Do you want to find a cheap plane ticket? Do you want to spend as little time as possible? And you want to get a good deal?
If you clicked on this article, the answer must be yes.
Why spend time looking for a plane ticket, only to feel like you didn't get a good deal.
Here are my techniques, which will allow you to find a cheap plane ticket, in less than 40 minutes. If you follow these techniques, you will never exceed your budget.
To begin with, my most important piece of advice:
Ignore the legends.
There are a lot of wrong tips on the internet about this. You must have read all these tricks while looking for air tickets in the past. I have read them all again while preparing this article. Don't listen to them, they will just waste your time.
Among all these misguided tips, the most common are:
- –Start on Tuesday and WednesdayThis is because the flights are cheaper, as you can see from the copy of Skyscanner, this is not true.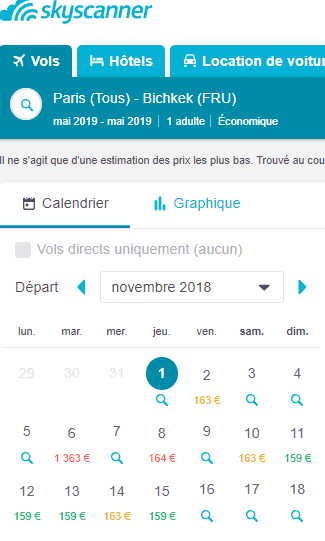 Today, if you buy a flight to Bishkek in Kyrgyzstan in May, you will be charged €163 on Friday 2 May 2019, €159 on Sunday 11 May 2019 and €1363 on Tuesday 6 May 2019. This screen shot is from my first attempt at the site.
Browsing in private and deleting cookies. This CNIL investigation proves that this is not true.
Use certain times of the day to buy your ticket. There is no better time to book your flight. This advice is based on an average and you are a special case. It all depends on the supply and demand of the destination at the time.
Airline algorithms are far too complex for these ancient tricks to still be relevant.
They take into account:
passenger demand
the weather
cultural events.
the price of oil
the competition's offers
I have read on some blogs that not all sites offer low cost flights, as they do not pay them.
I have tested on routes in Europe and Asia. Ryanair or Air Asia routes appear as much on Google Flight, Skyscanner, Momondo as on Edreams or Kayak. I will come back to this in this article.
Don't follow these tips and don't listen to the people who give them to you. If you really want to find a cheap plane ticket, start by setting a budget.
Set a budget that you don't want to exceed.
My budget for airfare is 550 € maximum, for a 2 or 3 week stay. This is the price I am willing to pay for a long-haul flight. That's half to a third of my travel budget for a 2 or 3 week period.
This is my number one rule for finding a cheap ticket: Set a maximum budget before you start looking.
You should set a maximum amount for your ticket before you start your search. This limitation will make your task easier, save you time and limit your hesitations.
Once this budget is established, you can put forward my other techniques.
Be flexible with your destination.
The best way to find a cheap air ticket is not to have a predefined destination.
This is how I was able to get very good prices, even when travelling in the middle of summer. This is how I ended up in Kyrgyzstan or Albania. On the other hand, my most expensive flights were to destinations I had chosen in advance, such as my trips to Colombia or Sri Lanka, where I joined friends on site.
My idea of travel is to discover the unknown. This is what drives each of my journeys. I don't give much importance to the destination. I leave with the idea of discovering a region of the world.
That's why I went to Kyrgyzstan. I wanted to go to Central Asia. It was the cheapest country to fly to and no visa was required. The same goes for Togo in West Africa (but all countries, including Togo, require a visa).
Flight comparison services make it easy to do this kind of research:
Google Flight is ideal for this, you enter an airport of departure, a region of the world and it shows you the prices of tickets to all airports in the region.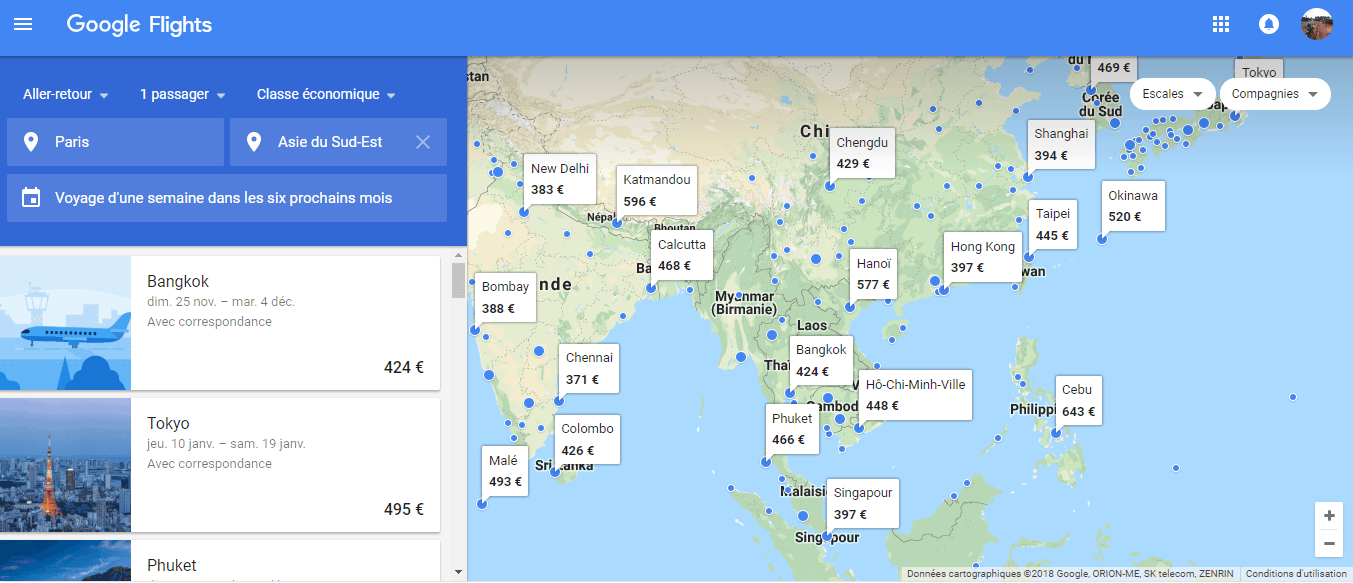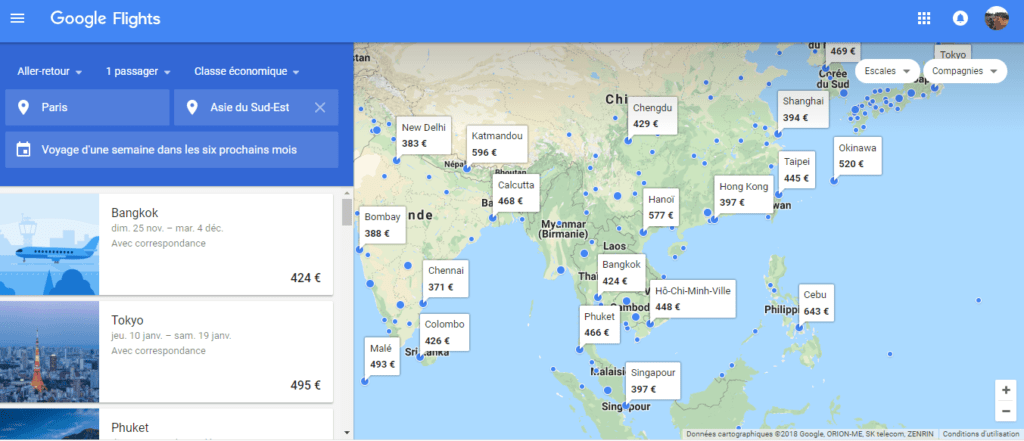 In this example, in November, South East Asia offers reasonable prices. With my price limit of €500, you have a wide range of choices here.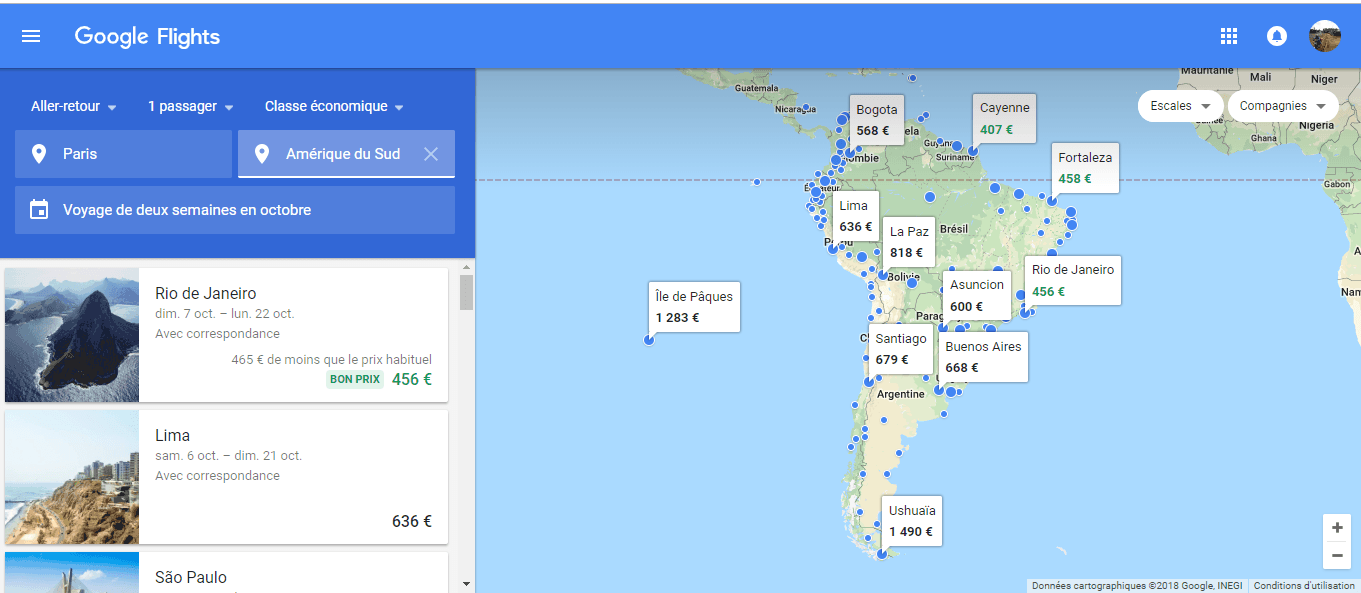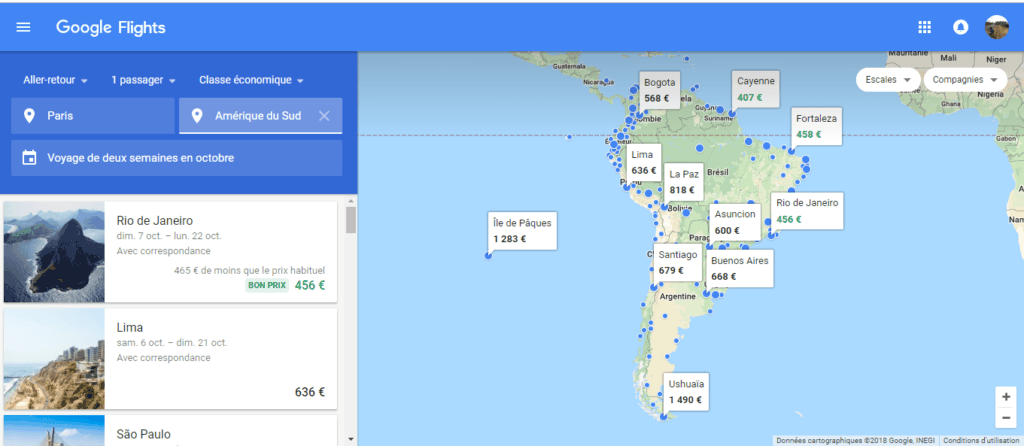 In this one, in South America, with my €500 price limit, you'll have no trouble making your choice.
If you have a destination in mind and the airfare is out of your budget, you will never find a quick fix.
Set a maximum budget for your ticket and you'll easily find the place for your next trip. If you are willing to be flexible about your destination, there is an even easier solution.
Subscribe and check out the travel sites.
These sites do the selection work for you. For a long time, I used to subscribe to newsletters and Facebook pages of travel sites, but I find it quite frustrating. Every day they post their best deals.
Very often, these crazy offers are from far away airports. I live in the Paris area. Even if it's easy to get to Frankfurt, Basel or any other departure city, the travel time and added cost is not worth it.
These sites are much more interesting when you use the search function. It allows you to select the city of departure:
This day, from Paris, there are plenty of good deals for the month of November. Then, it is important to check that the flights do not have long stopovers. In all 23 offers, you can easily find what you are looking for: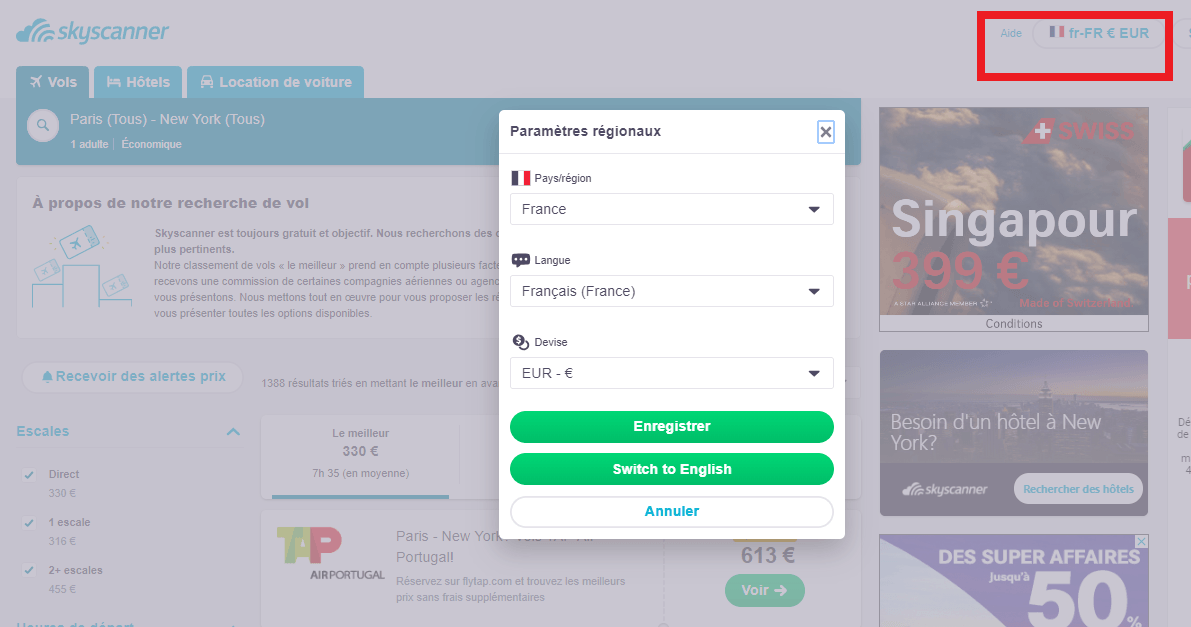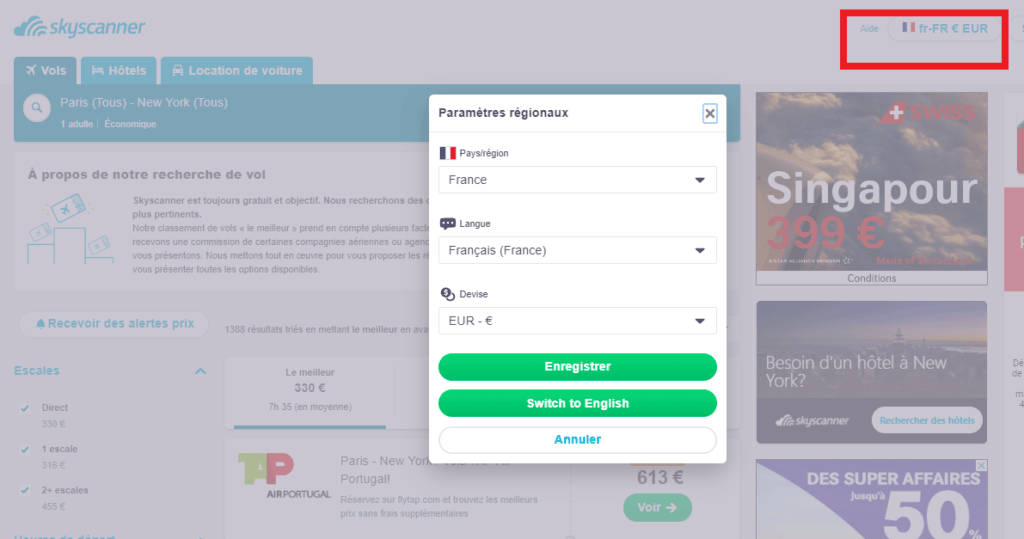 The offer for South Africa, for example, is a real bargain. November is a good time to go there. The flight doesn't have a long stopover and if you go with someone else, you can have the flight + car rental for less than €500 per person.
The best sites for good deals are:
www.voyagespirates.fr
www.voyagesdetective.fr
www.holidayguru.fr
Pirate travel has the most offers. Go directly to it to search for a flight from the airport of your choice.
Please note that when they offer a car and/or hotel room with the flight, this is always a price per person based on a 2-person departure.
If you are not flexible with your destination, at least remain flexible on another criterion.
Be flexible with your dates.
As you could see at the beginning of the article with the example of Bishkek, a difference of one day can represent hundreds of euros.
Airline algorithms take into account supply and demand, time of year, cultural events, weather... If you are set on a specific destination, it is preferable to leave in a period with less demand.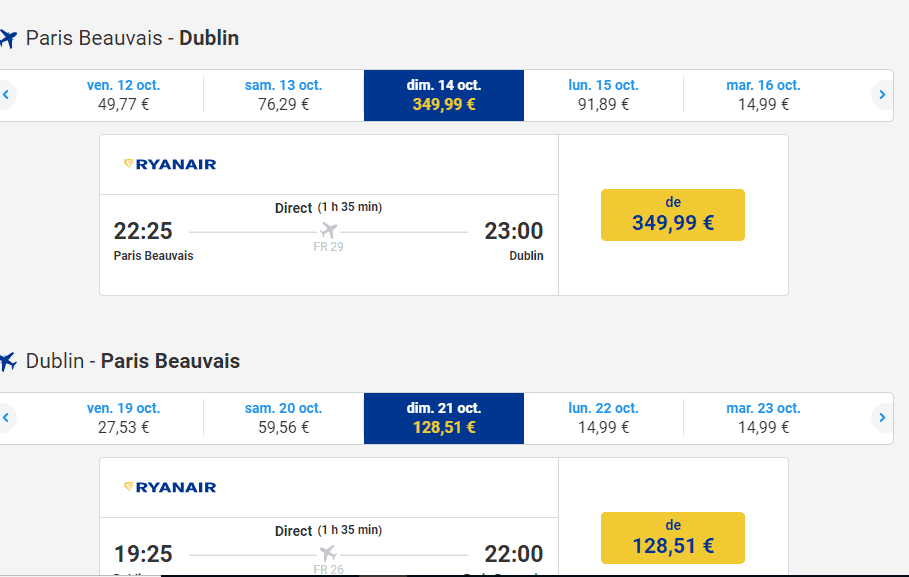 In the example, on a Ryanair flight, you can see huge price differences.
You can save a lot of money on the outward and return journeys in the same week, simply by changing the day.
Try to travel at times when people are not flocking to the destination. If you really want to visit New York in the summer, you'll need a lot of luck to find a good deal.
Go in September, when everyone is back from holiday and no one is going. Momondo offers an option to help you find the cheapest travel times for your destination. Just click on the red boxed area:

You will get this fairly accurate summary: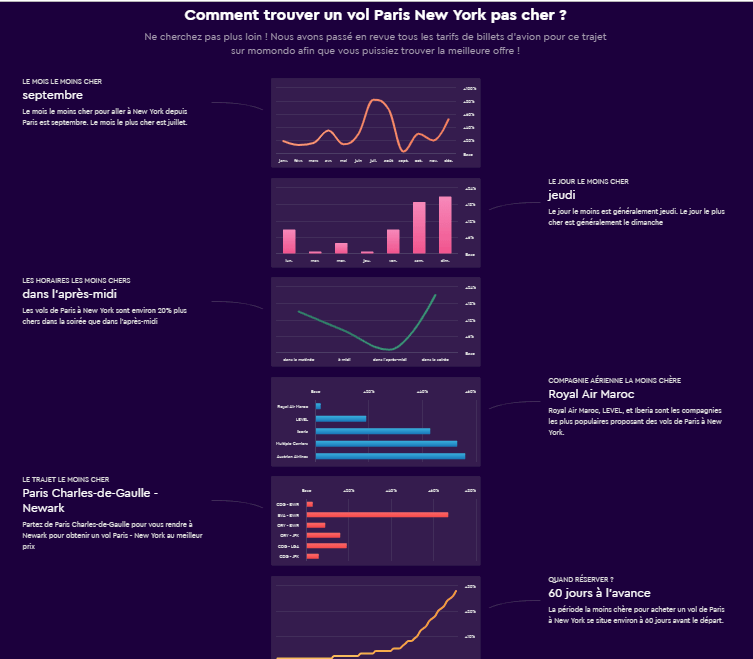 Whether it's the period or the dates, flexibility is the real solution to save on your airfare.
There are other tips that will always give you a good deal.
Travel with low cost companies.
As I said at the beginning of this article, I read in some articles that flight comparison services do not offer low cost flights. This may have been true before, but I've done several tests and it's no longer true.
For a flight from Kuala Lumpur to Langwki, Momondo even offers a better fare than the one directly displayed on Air Asia.
Today, you don't even need to know the list of low cost airlines around the world , flight comparison services do it for you.
As forsecondary airports, flight comparison websites offer this option, which can allow you to pay less by flying from a smaller airport near you.
You don't need to spend hours searching for flights from every airport. The comparators do it for you.
Here on Momondo, you just have to check the box you can see in the red square on this screenshot.


Finally, don't listen to the blogs that advise you to fly on several airlines and make your own stopovers, because the comparators don't do that.
The comparators do, and offer you realistic stopovers.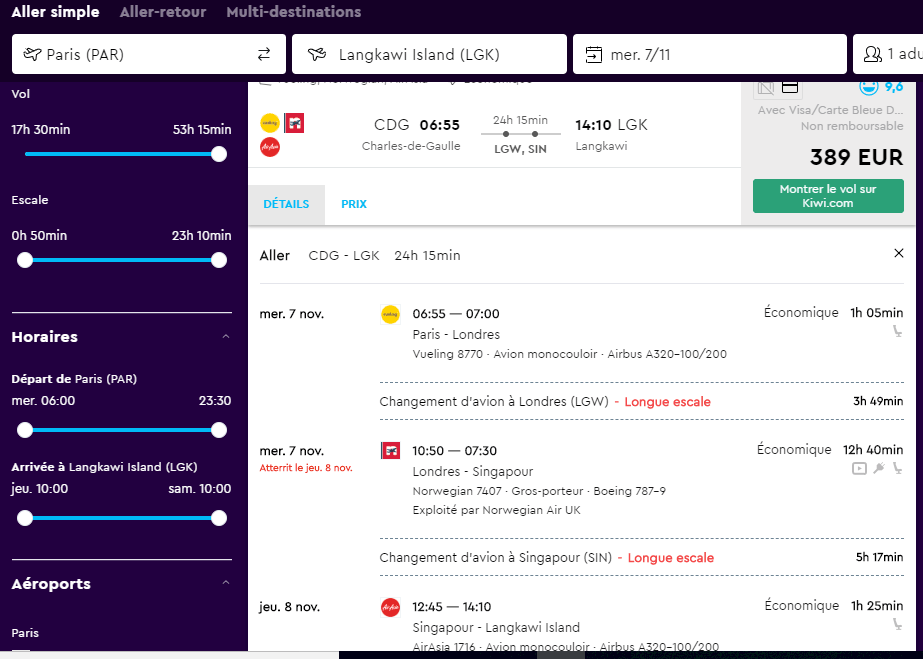 Let's take this example, Paris / Langkawi. The journey is long and you can find a more direct route. Momondo offers you a mix between Vueling, Norwegian and Air Asia. The stopovers give you time to change planes.
Once again, the comparator takes care of everything for you and saves you a lot of time.
Once you've found your flight, there are still some tips to follow so that your price doesn't go through the roof.
Do not travel with luggage in the hold.
Low-cost airlines, even long-haul ones, make their profits on extra services. If you want to benefit from low fares, it is essential not to be charged for these services. This is why you should always travel with a backpack, which is accepted as cabin baggage.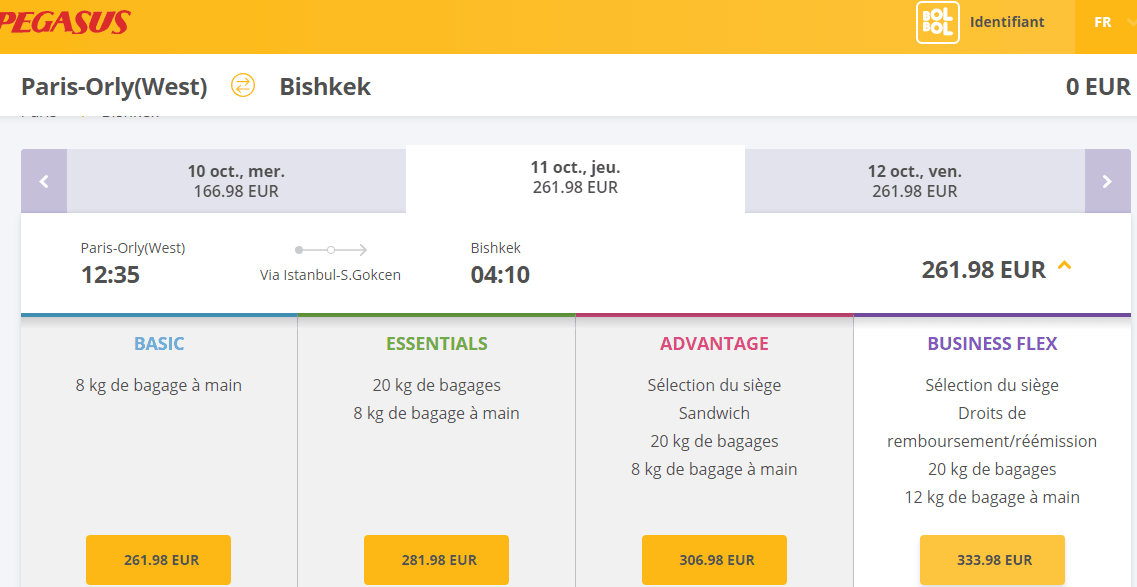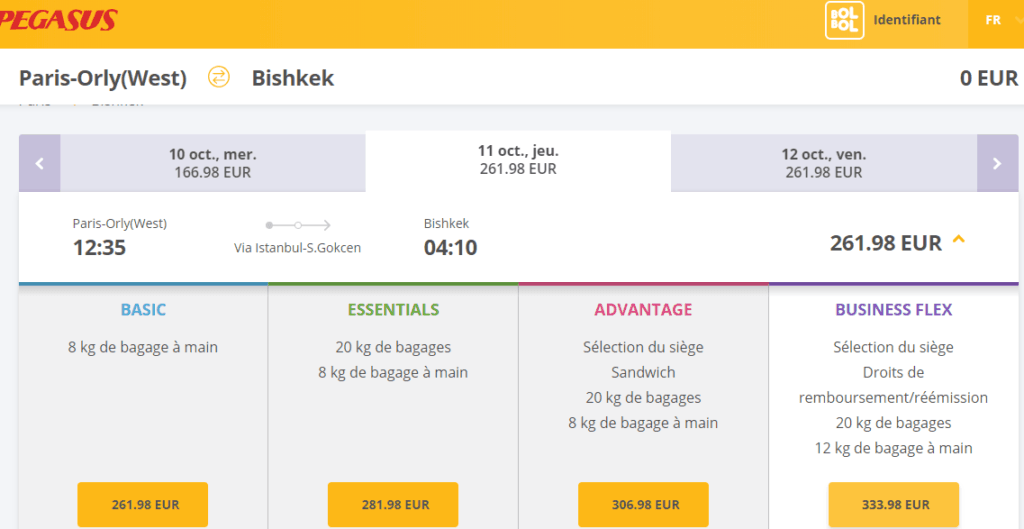 In this flight to Bishkek, with the company Pegasus (you can test with any low cost company), you can see that the price (here it is the one-way ticket) varies enormously according to the services.
Travelling with a piece of luggage that is accepted in the cabin, your own sandwiches and without choosing your seat, will guarantee that you always get the best price.
I always travel with a backpack in the cabin, which allows me not to pay extra on low cost airlines, but also to avoid losing it during stopovers and not waiting for it at the destination airport.
Good to know: If you have a Visa Premier or Mastercard Gold card, you do not need to take out cancellation insurance.
Don't book a group's air tickets in a single purchase.
When you buy more than one ticket at the same time, the prices shown are for the most expensive ticket. Ticket prices change quickly and seats in the same class have different prices.
For example, if you are travelling with a group of 4 people and seats 1 and 2 cost €300 and seats 3 and 4 are worth €500, the whole set of seats will be displayed at €500.
Buy each seat individually and select the seats once you have purchased them. More simply, make arrangements with other passengers to change seats or simply make the journey and agree not to sit next to your friends. In any case, always look for your ticket individually.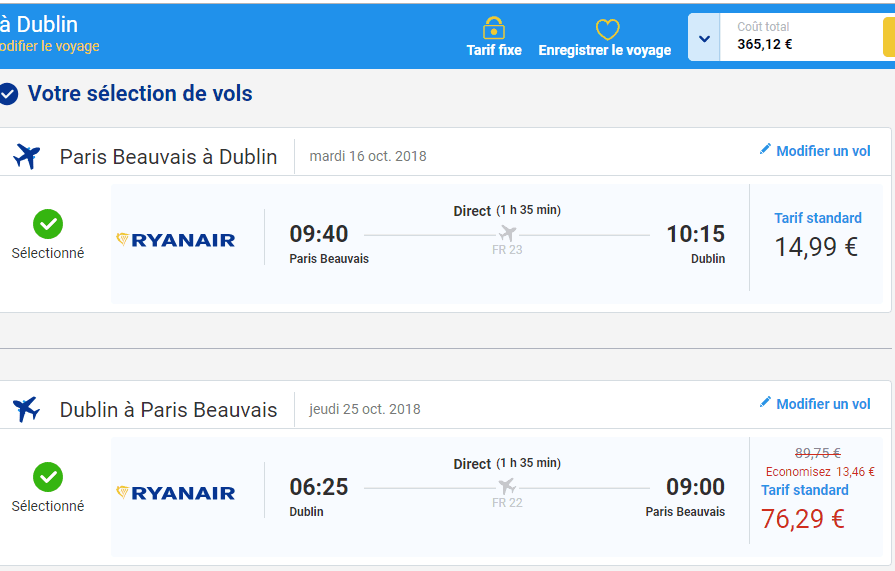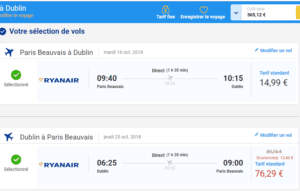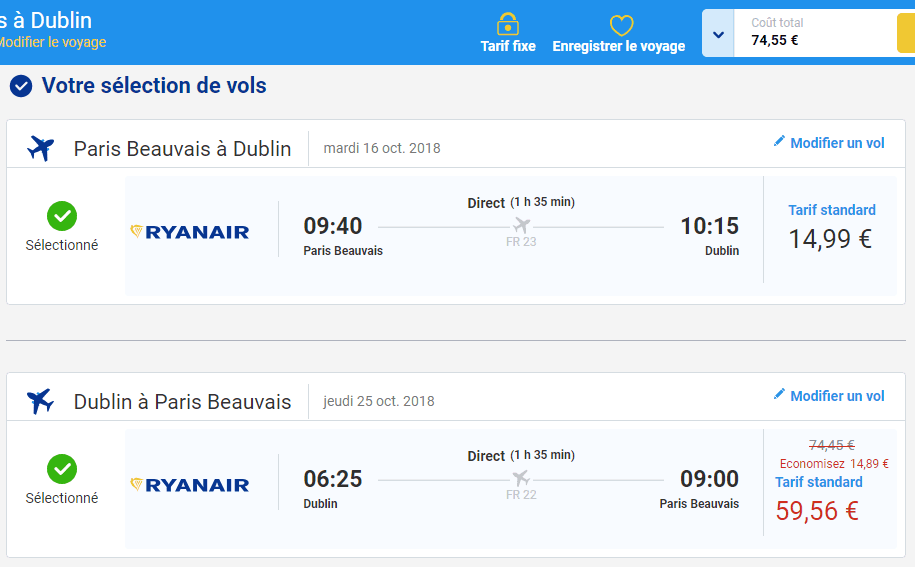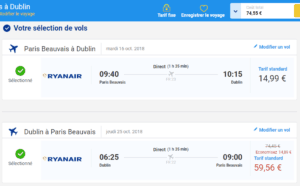 In my example, today's screenshot, you can see that for the same flight, booked at the same time, Ryanair shows a return at €16.73 more per person.
Change the currency and the country of location.
I've heard people tell me that changing the currency will make your airfare cheaper. I tried to do this to make a nice screenshot and give you this advice, unfortunately all my attempts were unsuccessful.
Having heard or read nothing but unproven claims, this is not advice I can give you. However, if you want to test and get a better price, don't hesitate to send me the screenshot.
To try this out, you can for example go to Skyscanner and change the settings (by clicking in the red boxed area as explained below: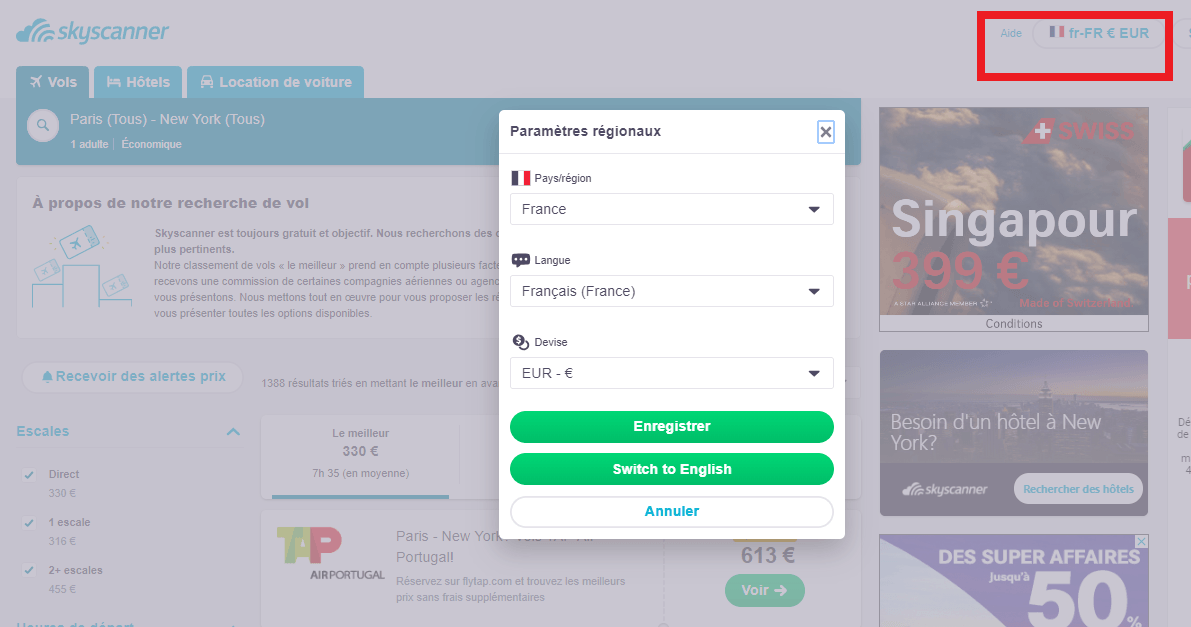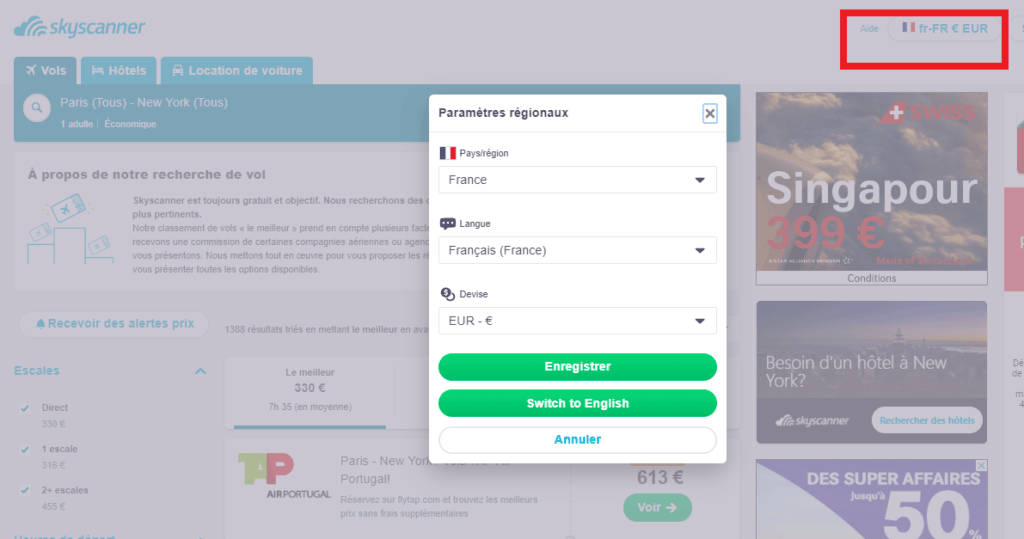 I also tested by changing the geolocation, as was done in this article. Unlike them, I only got more expensive rates.
I have limited myself to 10 countries, so as it is said in this article, if you have time and luck, you may be able to get an interesting rate. In that case, don't hesitate to send me a screenshot.
Conclusion, to find a cheap air ticket:
Intelligence and flexibility are the only things you'll need to find a flight for less than €500. Follow my advice and spend no more than 40 minutes looking for your flight, that's already a lot. If you spend more time, it will drive you crazy and the result will not be any better. Use the time you save to prepare your trip with essential elements such as insurance and protection of your money.
On this subject I invite you to read
my complete file on travel insurance for credit cards.
my article on the best ways to protect your money when travelling.
I have always used these techniques and have never been disappointed. How do you manage to pay for your flight as cheaply as possible?