I have just returned from Togo where I left with several hundred euros in cash. In West Africa, as in many places in the world, it is more interesting and easier to change money on the street than to withdraw money from an ATM.
Hiding your money when you travel requires some planning. You can be robbed, lose your wallet or have an accident. In all these situations you will need to have a back up money plan with you.

It will probably never happen to you, but if it does, you will be prepared.
For your own safety and the safety of your money, don't leave room for improvisation.
Since I have been travelling, I have used and implemented several ways to hide my money. You will find them here in this article, along with all my traveller's tips.
What are the best tips for travelling with cash?
Store your money in at least 3 different places:

You will be sure not to lose everything at once. If you are mugged, it is unlikely that the thief will take the time to find all your hiding places.
I advise you to carry a fake wallet with a small amount of money and used credit cards. If you are mugged, you give it to the mugger who will think he has taken everything. I always carry a fake wallet with me. I used it in Vietnam, for example, to pay police officers who wanted to immobilize my motorbike. I took out my fake wallet and made them believe it was all I had left.
Keep your money with you:
Your body and your clothes are the best hiding place. You are sure not to lose them. Hiding your money in your bag or leaving it in the trunk of your hostel may seem like a good idea. However, my friend Charlie who had his money stolen from his bag in Colombia and other travellers who have told me similar stories, prove that this is not the best solution.
I recommend that you divide your money between a money belt and several other places on your body.
Pay with small denominations:
This will ensure that shopkeepers don't have to worry about giving you change and that thieves can see that you don't carry much.
It's mainly a question of respect. In some countries, salaries are very low and the amount of money you may carry can represent a fortune for the locals.
The small bills will prevent you from feeling stupid in front of a Cambodian restaurant waiter to whom you have just handed a 100$ note and who wonders how he will find the change for such a sum. He will probably come back 30 minutes later, after having found the change, at the gas station. But small bills will save you from this misadventure and it's better for both of you.
Finally, always travel with 2 credit cards stored in 2 different places. You'll have a backup card that will help you out in many situations. With the advent of online banking, it's easy to find free credit card offers that are perfectly suited to travellers.
What accessories help you to hide money while travelling?
The flat bumbag/fanny pack.
It is the most common accessory among travellers. It's practical because it allows you to store a lot of money, to put your passport in it and to put it under your trousers. I used it for a long time to hide my money, but once in the bazaar of Bishkek in Kyrgyzstan, I was stopped by the police. They asked me to empty my pockets, felt me up and very quickly found this bumbag with my money inside.
I was lucky enough to find some honest officials who didn't take anything from me but that's the problem with this accessory, it's too well known.
I now use it as a fake wallet and that's what I advise you to do. This one has the advantage of having RFID protection.
The money belt.
I've been travelling for several years with this belt. It's the coolest and most useful travel accessory I know of for hiding your money. This belt is simple, strong and unobtrusive. You can store about 20 notes in it by folding them in half, so you don't have worn out or folded notes that traders don't like to deal with. It is the ideal place to store your large denominations.
In short, for the price of a standard belt, you can travel with your money safe. A mugger may palp you and find the flat bumbag, but there's little chance he'll make you take off your belt to find out if there's money in it. This is definitely the accessory I would recommend.
Sewing pockets
I met two girls in Albania who told me they had sewn secret pockets into their trousers. There are probably many other travellers who do this, but they didn't take the time to share their secrets with me. I find the idea quite simple and effective, but I'm not good at sewing. I have some tips that are just as effective and much simpler to put in place, which I'll share with you later in this article.
The leg wallet
You can store a lot of notes in it, but that's the only advantage of this accessory. I used it several years ago, but it's not very practical. You can't wear shorts, otherwise it becomes visible and loses all its interest.
It's not very comfortable either, you tend to sweat a lot underneath. You can use it as a dummy wallet if you never sweat from your legs.
I don't use it anymore and I think it's not the best accessory to hide your money when travelling.
The wrist wallet.
This sporty looking gadget is comfortable and practical but you can't put much money in it and it's not discreet at all. It's the perfect accessory to use as a wallet or a purse for a night out. The biggest advantage is the price, it is the cheapest of all the gadgets that will allow you to hide your money.
How to create hidden places in your clothes to hide money?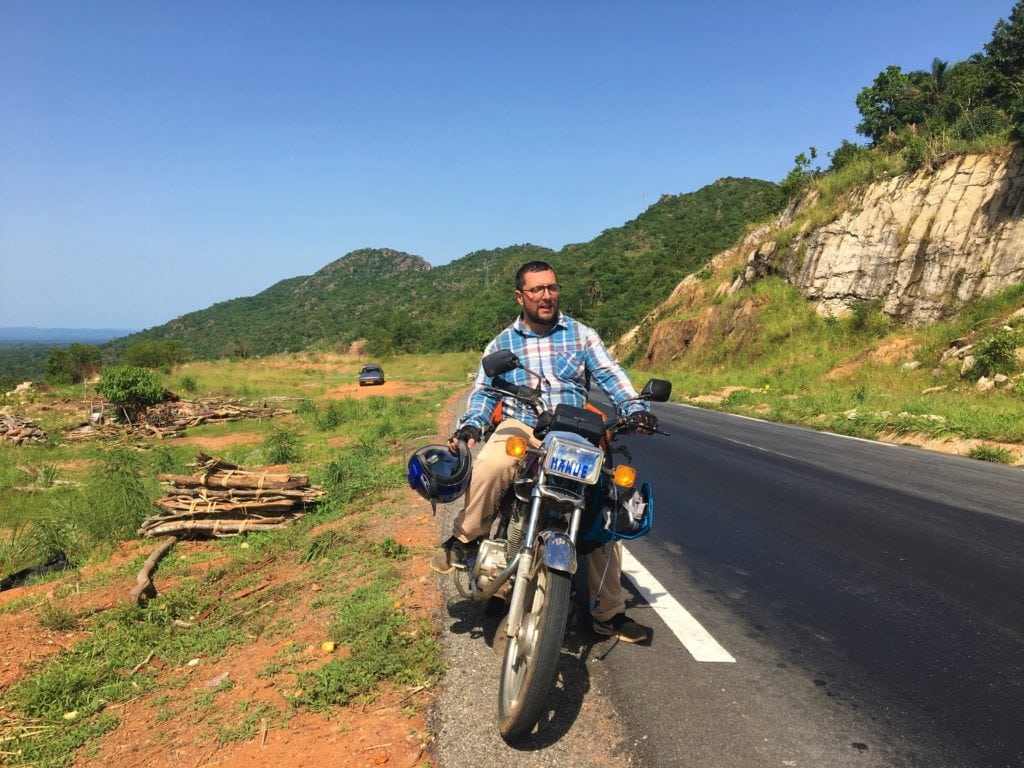 In this picture, I am in Togo and as you will see below, my clothes have several hiding places that I made to hide my money. It's very simple and quick to do.
Secret storage in the trousers.
This hiding place is right behind the label of my Levi's jeans. It's the strongest part of my trousers and I'm sure that even without a belt, if I'm felt, it's impossible to find.
To make it, all you have to do is make a small cut with a scissor. During my trip, I was able to slip in two 100 € notes.
Secret storage in the shirt collar 
A fellow hostel guest showed me this trick in Colombia. It's simple and effective. You just have to make a small cut in the inside of your collar and slip in some banknotes, without putting too much in so that it remains discreet. At the beginning of my trip to Togo, I had a €100 note in my collar.
Secret storage in the sleeve cuff.
This is an alternative method to the collar stash. All you have to do is make a small cut in the inside of your wrist. Once your sleeve is rolled up, this hiding place has the advantage of being undetectable by touch.
Secret storage in the shoes.
It's an old trick. Not very comfortable and your notes might end up smelling of your shoes, leaving you with dirty money.
These are all the different ways you can hide your money on you while travelling. As you can see, you can create new ones yourself, like I did with my trousers and shirt.
I really recommend that you have a money belt which is the best way to carry your money. Combine this with a fake wallet, a few crafty hiding places in your clothes and you'll be ready to travel safely.
Do you know of a free hiding solution that doesn't include damaging my clothes?
You don't want to ruin your clothes and I understand you. Don't worry, I have a very simple solution for you.
To avoid having your money stolen or lost, simply don't carry any.
You're going to say "but then I can't buy anything".
Rest assured, my solution is not a joke, it's N26.
What is N26?
It is the ideal card for travellers, as it allows you to pay for all transactions without any fees.
N26 is an online bank, which offers two different cards:
one free
and the other one for a fee.
There is no income or minimum deposit required to open the account and the account management fee is free.
The free card allows you to pay without fees in all different currencies, concerning withdrawals, you get 5 free withdrawals per month, the 6th one is charged 2€.
The paying card costs 9,90€ per month, it offers free withdrawals and payments in all currencies and a travel insurance.
I personally use the free card as a second card, in addition to my classic Visa Premier card.
It costs me absolutely nothing and allows me to pay by card without any extra cost. Of course you won't be able to do this in the farthest reaches of Asia, but in many destinations (and even in some Asian cities) it saves you from walking around with cash.
If you want to avoid carrying cash around as much as possible, N26 is the solution.
Other highlights of N26:
They have a great app that is very intuitive and you can choose the pin code for your bank card. Which for people like me who only use it when travelling, means you don't forget it.
It will take you 2 minutes and this is where you can get your N26 card
However, contrary to what is often said, the travel insurance offered offers less coverage than other cards.
You can find all the details in my free guide on travel insurance offered by bank cards.
Do you often travel with cash on you? Do you know of any other accessories or do you have your own tricks to hide your money? Don't hesitate to share them in comments to enrich the article. See you soon.