My crossing of Vietnam by motorbike, it's 22 days of travel, 12 cities, 16 mechanic stops, 55 litres of petrol, 2 flat tyres. Thousands of motorbikes overtaken, hundreds of animals dodged, dozens of buses avoided, an incalculable number of encounters and unforgettable memories.
You too want to make this trip, or you are simply curious. You want to know which visa to take, where to buy a motorbike, where to maintain it, where to live, where to eat and how much it will cost you?
You can now find all this information on Ryan's travel blog in the article Advice and guide for a motorbike trip in Vietnam.
As a complement, you can find below, the videos of my different trips to Vietnam.
If you like local and original means of transport but prefer to have a vehicle with a body, my article on the
Tuk Tuk tour of Sri
Lanka is for you.
AND HERE IS MY COMPLETE GUIDE TO ANSWER ANY QUESTIONS YOU MAY HAVE
Where you can buy and sell your bike and where to avoid!
What you should definitely check before buying to avoid being ripped off
Precautions to take to protect yourself from theft
How can you go from Vietnam to Laos or Cambodia with your bike
How to solve small problems on the road even if you know nothing about mechanics
How much small repairs can cost
How to find your way on the roads, which ones to avoid and which ones not to miss
Several ideas of itineraries to visit Vietnam by motorbike according to your tastes and the time you have.
All you need to know about how to get your visa
Some nice addresses for accommodation
How to deal with the police and bribes
Which insurance to choose for your trip
And much more in this guide of almost 100 pages!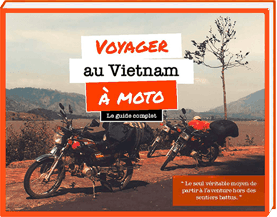 Now it's my turn to say these words that we've heard so often: "Have a safe trip".