My trip to Sri Lanka is 21 days of smiles, amused and incredulous looks exchanged with incredible people.
You too would like to rent a Tuk-Tuk to discover this small island in the middle of the Indian Ocean, to see wild elephants crossing the road in front of your Tuk-Tuk and to exchange more smiles than you have ever done in your whole life.
Wondering what visa to get, where to get a Tuk Tuk, where to stay, and how much it will cost?
Find the summary of my adventure in this video:
Why travel by Tuk Tuk in Sri Lanka?
Since I crossed Vietnam on a motorbike in 2013, I love to travel with my own means of transport to immerse myself in the scenery and travel the country at my own pace.
The Tuk Tuk is the most common means of transport in Sri Lanka and allows for travel with others. It is a friendly vehicle that allows you to really share your experience with your fellow travellers.
Contrary to what I thought, there are still very few travellers who drive them themselves.
I only saw them on the seaside and none of them were driving around the country. So Sri Lankans are surprised every time they see a foreigner riding a Tuk Tuk . These looks and laughs make this adventure unforgettable.

What are the differences with motorcycling in Vietnam?
Having travelled twice in Vietnam by motorbike, I was able to compare these two modes of transport.
Which is better:
The roof and the folding tarpaulin doors: they protect you from rain and cold.

The seats: they are more comfortable than a motorbike seat.

Its power: it can climb very steep hills and cross all roads.

The boot: it allows you to carry your bulky luggage and has pockets for more sensitive items.

The presence of the cigarette lighter charger: it allows you to keep your phone charged, if you navigate with a GPS.

The bottle holder: it allows you to have a drink at hand.
Which is not so good:
The slowness: even if the machine can reach 70 km/h, the Sri Lankan law limits you to 40 km/h, which is tiring. This is tiring, as it requires a lot of concentration to keep up this speed.
Lack of suspension: the seats are comfortable but the suspension is almost absent, which depending on the road conditions can become unpleasant.
The heat for the driver: on a motorbike you don't feel the sun because of the headwind, in a tuk tuk you are behind the windscreen, under the roof, with no ventilation, so if it's hot you are in a real sauna.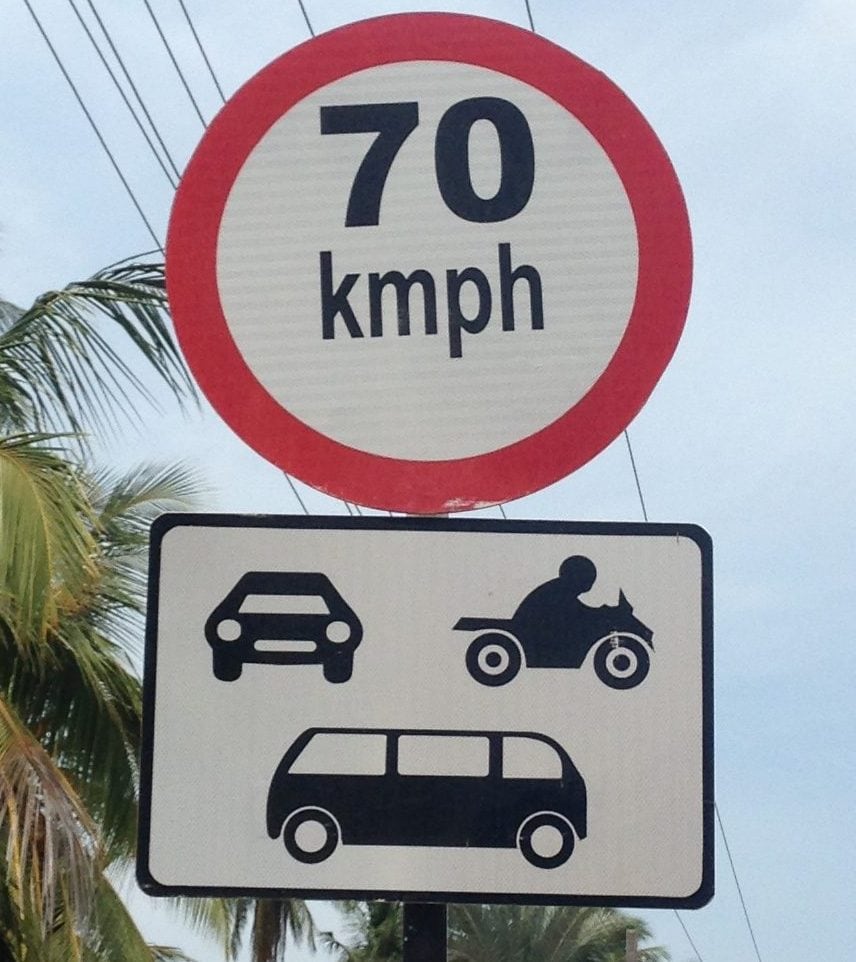 Which is the same:
The ease of finding petrol.
The many encounters you will have and the attraction you will be.
The freedom to go where you want and stop where you want.
Your total ignorance of the state of the roads.
Do I need a visa?
No, you need an ETA, which you can get online. This is an electronic authorization to enter the territory;
The tourist ETA costs 35$ and is valid for 30 days for a double entry
The transit ETA is free for a single entry and valid for 2 days.
The ETA is valid for 3 months from the day you obtain it.
How to obtain the ETA?
You must have a passport valid for more than 6 months when you arrive in the country.
Go to the official website: http://www.eta.gov.lk
You will receive a first email telling you that your ETA is in progress and within 24 hours you will receive a second email "ETA APPROVAL" (I received mine in less than 2 minutes).
You will not be asked for the ETA when you arrive, it is managed electronically by Sri Lankan customs.
Caroline of the blog Tong and Sri Lanka, details the procedure very well on her blog (very interesting blog, if you are looking for more info on the country).
 How much does the airfare cost?
Sri Lanka is not an expensive destination, you can find flights with a short stopover (less than 3 hours) for 460€.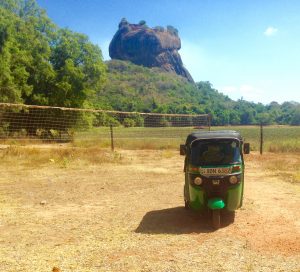 For more information on the subject, I advise you to read my article on how to find a cheap plane ticket, in less than 40 minutes.
For my trip in July 2017, from 14 July to 5 August, I paid 870€ (I got there late) with Qatar airways on the outward journey, 6 h stopover in Doha, Sri Lankan Airlines and Saudia Airlines on the return journey with a 2 h stopover in Ryadh.
This experience allows me to recommend Emirates and Sri Lankan Airlines which are good companies, comfortable with good services. Kuwait Airlines is to be advised if the price is very low, it is not very comfortable and they do not offer a high quality service. They only had one film in French (no subtitles), "Bienvenu à Marly Gomont".
What flights?
No need to take a Multi Destination. A round trip to Colombo will do the trick. The shape of the country and the short distances within it, allow you to easily make a loop.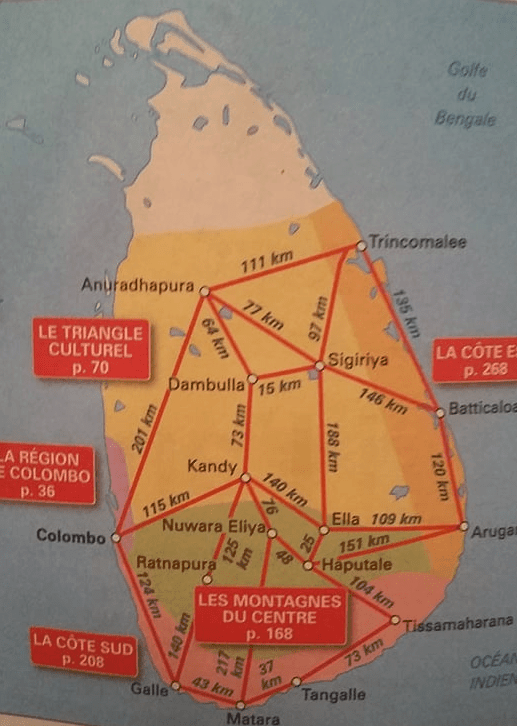 What currency?
The official currency is the Sri Lankan Rupee. 1 €= 175 RS.
ATMs will offer you to withdraw in RS. Visa-compatible ATMs are only available in major cities.
Withdraw enough money to survive between each stop in town.
What language?
There are two official languages:
Sinhalese
Tamil
each with its own alphabet.
English is spoken by the vast majority of the population. Even outside the tourist areas, you will easily find people who speak English.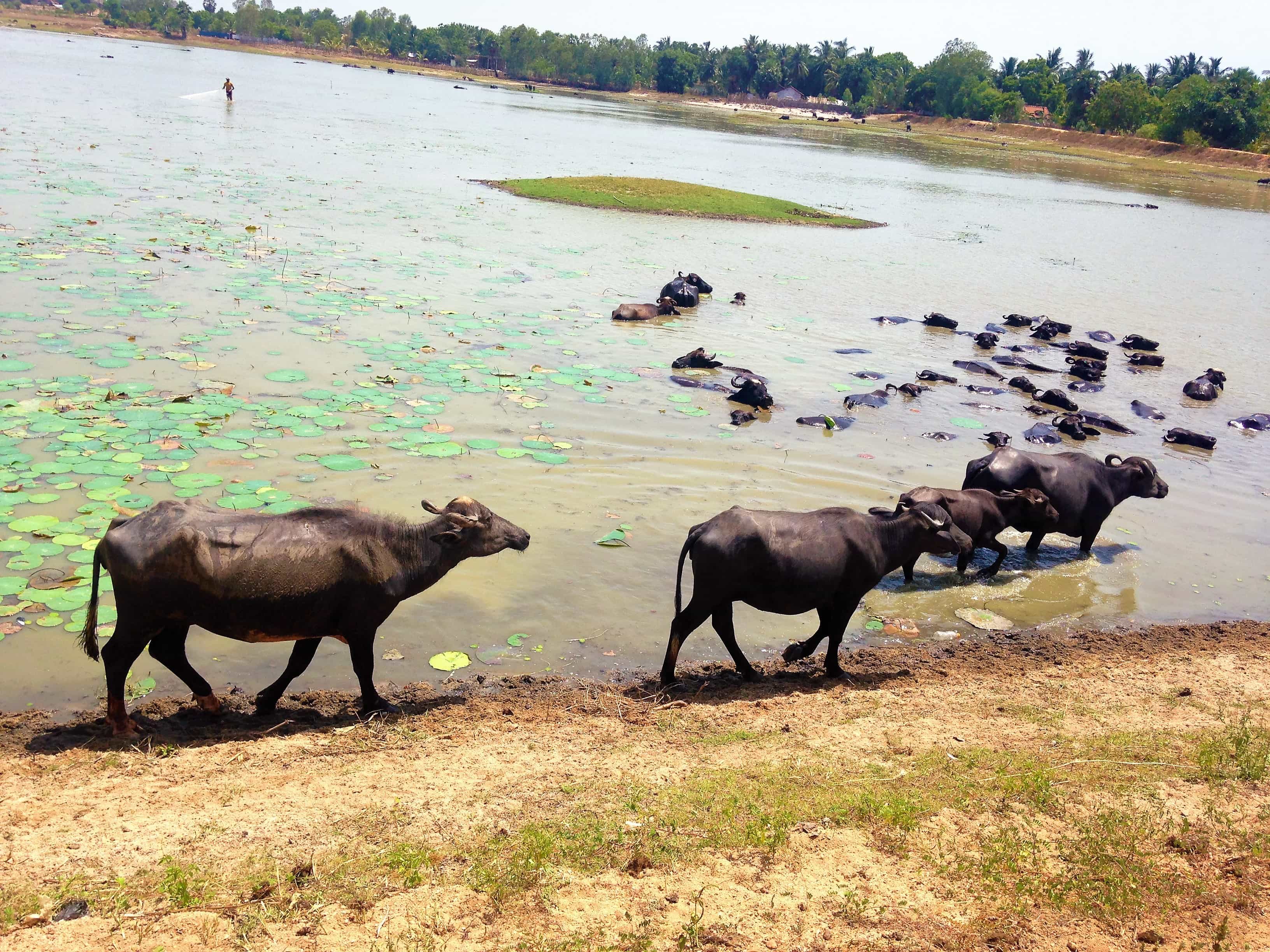 Do I need to buy a sim card?
Yes, given the price, there's no reason not to. You'll be able to communicate with friends and family, access 3g and use online applications.
When you arrive at the airport and throughout the city, you can easily find sim cards. If you want to buy one, make sure your mobile is unlocked.
There are several operators to choose from, but the best is Dialog, which offers a tourist package:
A chip with 4GB of 4g credit and the ability to make local and international calls for SR1299.
I bought one, the network coverage is very good, you can pick up absolutely everywhere.
To buy it you need your passport, the sim will be valid for 30 days and you can check your credit by sending #456#.
How are the police?
The police are honest. I've been stopped several times. The first one was for speeding. I was going 52 km/h instead of 40 km/h. At first I thought it was a racket, but the police showed me a radar binoculars.... I could only admit that I wasI could only admit that I was wrong.
They were understanding and were kind enough to let me leave without paying anything.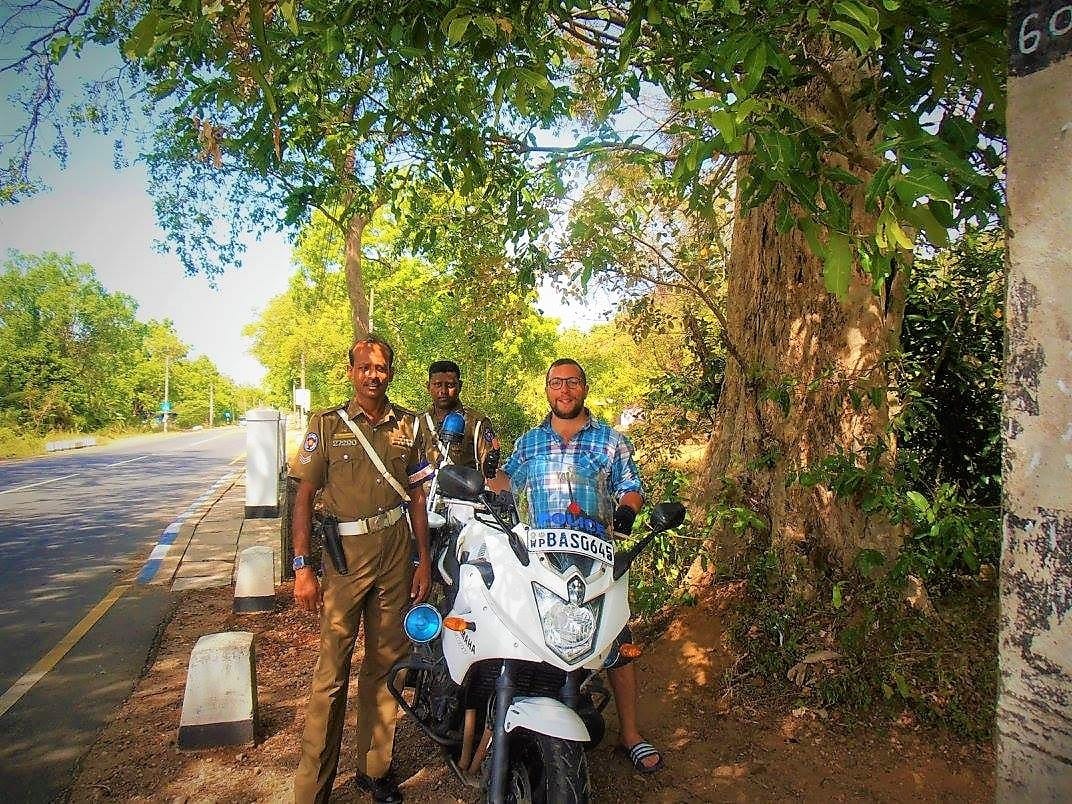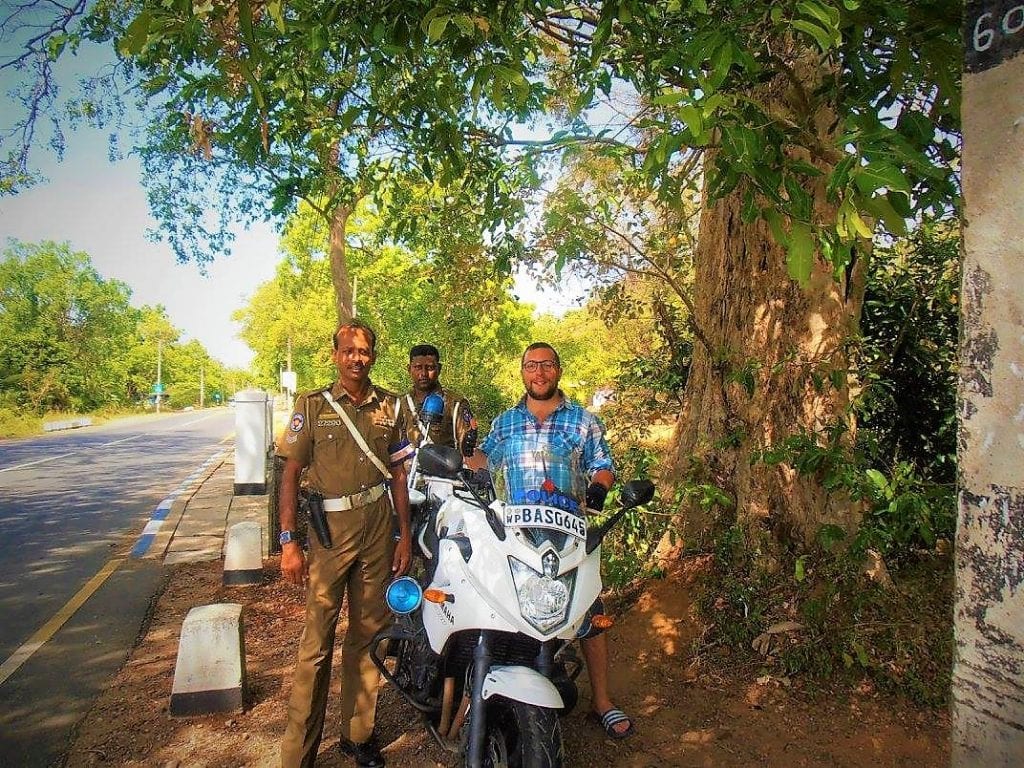 I risked a €30 fine.
The other times I was stopped just to talk to me or take a picture because I was a tourist.
Should I buy or rent my Tuk Tuk?
Rent your Tuk Tuk. Sri Lankan law already prohibits non-Sri Lankans from owning and therefore buying a Tuk Tuk.
Then my rental company, Alma tour, offers cheap rentals, with unlimited mileage, assistance and above all a comprehensive insurance .
No matter how much damage you cause to your machine, you don't have to pay anything.
Finally, if you have a mechanical problem, all you have to do is go to a mechanic, call the rental company and they will negotiate the price with you. When you return, the rental company will reimburse you for the cost of the repairs.
I had a problem with my brakes. I went to the mechanic, my rental company negotiated and reimbursed me when I returned.
What kind of tuk tuk?
There are two brands of Tuk Tuk in Sri Lanka
The most common is Bajaj,
The second is Piaggio with the Apé
Hirers offer Bajajs which are smaller but recent and reliable.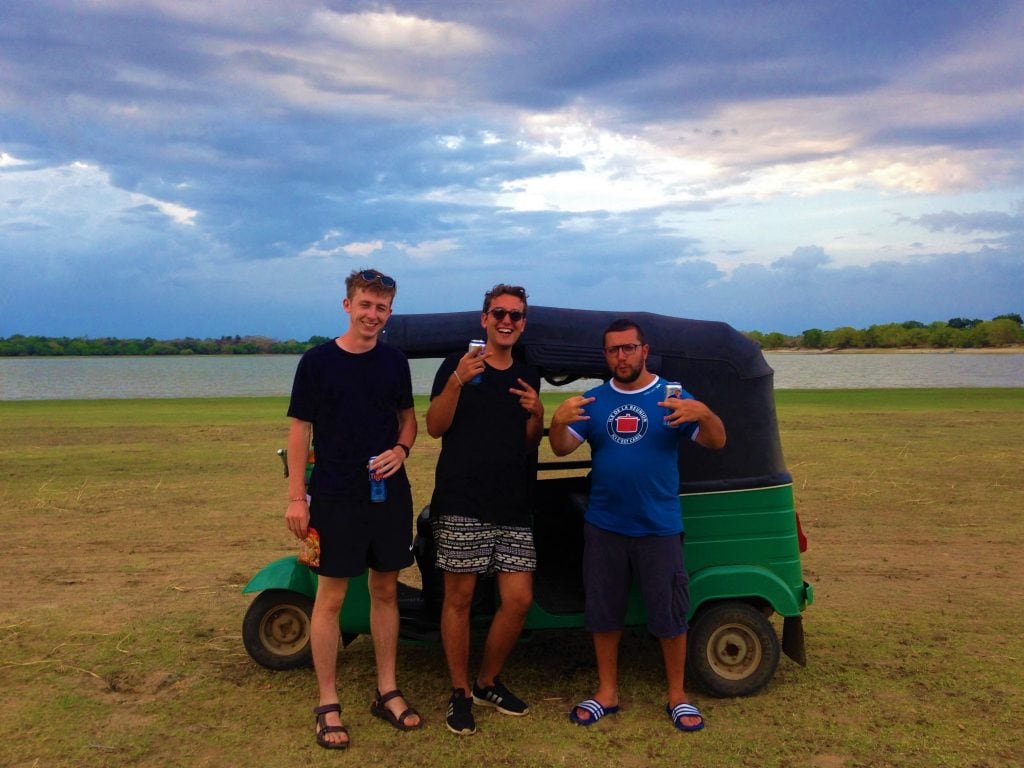 Where can I rent my Tuk Tuk?
In Negombo, it's a small fisherman's town next to the airport, it's touristy but it's less expensive.
Alma Tours offers recent and inexpensive Tuk Tuks.
How much should I rent my Tuk Tuk?
I negotiated mine at €12 per day with one day free.
It's a very good price, on the Internet you can find Tuk Tuk for $18 a day. You can also find Redbull races and tours organised by agencies at indecent prices. In short, 12$ is already a lot of money in Sri Lanka, it's a fair price where everybody wins.
Alma tours charges €50 for comprehensive insurance, as explained above.
Finally, he asks you for a €100 deposit to ensure that you return the vehicle (former clients used to drop it off at the airport on their way out without telling him).
He has no problem giving you back the €100 and doesn't even go around the Tuk Tuk.
This deposit seemed strange to me but Alma Tours is well known, it had been recommended to me by other travellers and it is on Tripadvisor. So there's no reason why they shouldn't give you back the 100 €.
What to check on my Tuk Tuk?
Here is a list of the main points I encourage you to check
Before starting it check
The condition of the tyres.
Cigar lighter charger (to recharge your phone).
The tarpaulin doors that you can unfold in case of rain.
The bottle holder.
Turn on the ignition and check:
Electric starting (it is more convenient and gives you an indication of the battery operation).

Turn signals.

The kick (useful in case of malfunction of the electric starter).

The brakes.

The horn (vital element).

Shock absorbers.

The rear brake light.

The throttle lever.

The clutch (test how easy it is to shift gears, and how easy it is to find neutral. If you are a beginner it is normal that the neutral position is difficult to find).
Finally, take the Tuk Tuk and drive it, to see if it suits you.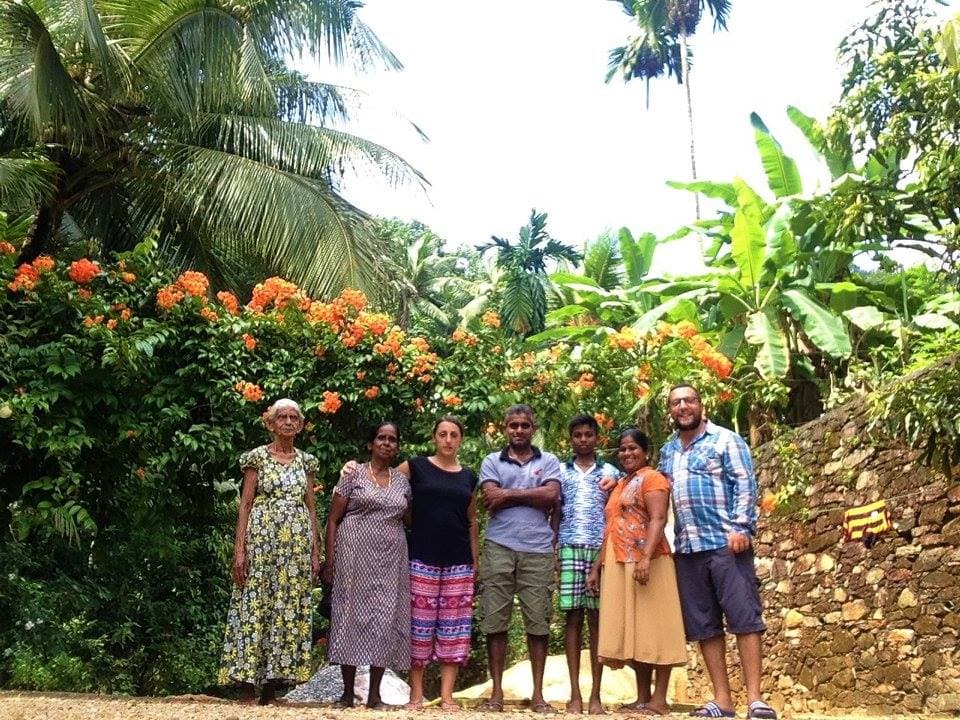 What documentation is required?
You will need :
Your international driving licence
Tuk Tuk registration document
Your national driving licence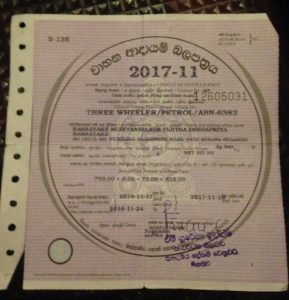 Tuk Tuk insurance card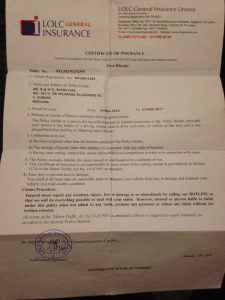 The owner (the renter) is required to insure his Tuk Tuk so that it can be driven on Sri Lankan roads. This insurance covers the vehicle regardless of the driver
How many people per tuk tuk?
A Tuk Tuk is equipped to accommodate 4 people:
For reasons of comfort on long journeys and luggage storage despite the boot, I advise you to limit yourself to 3 people.
1 driver and 2 passengers.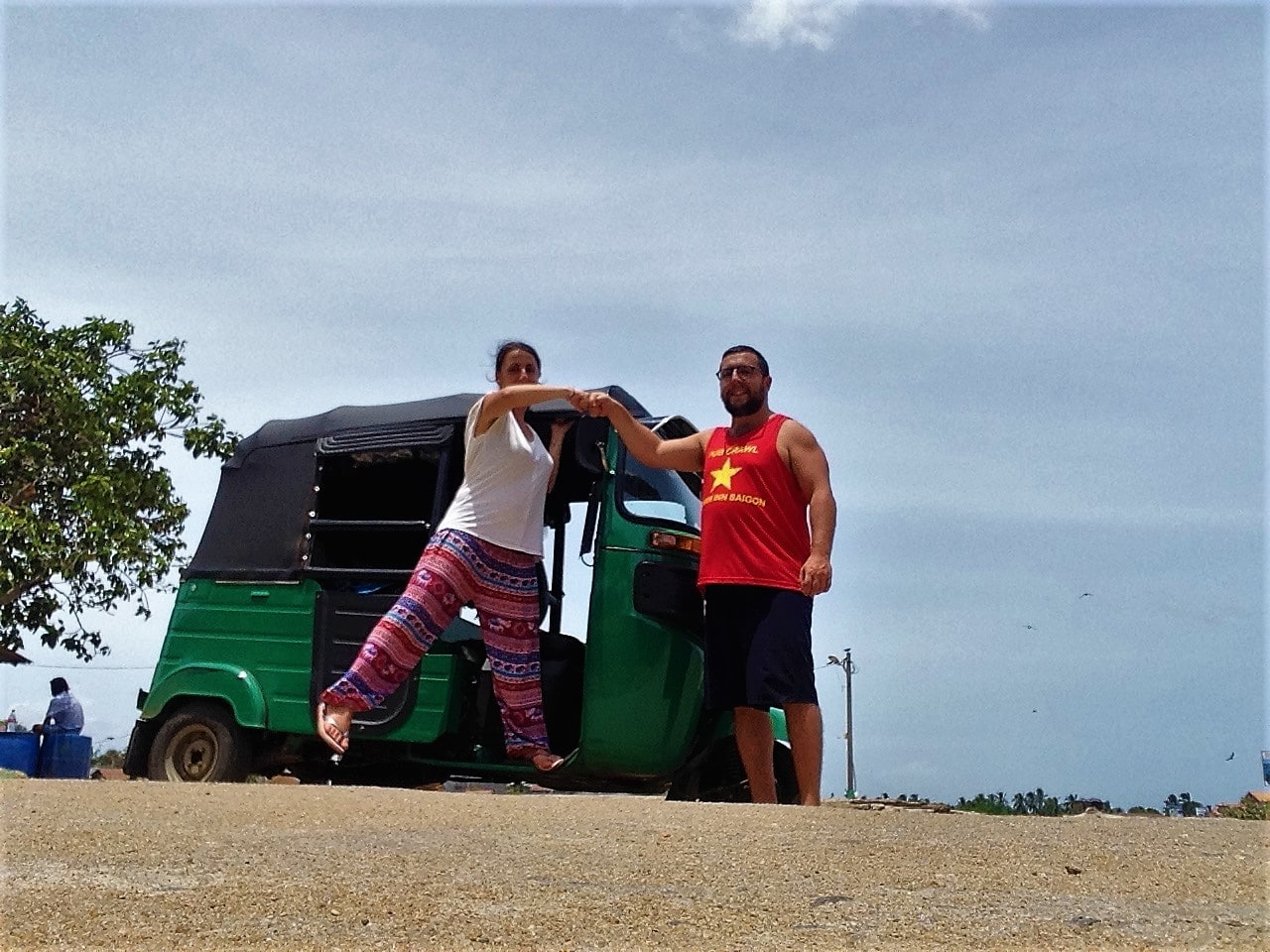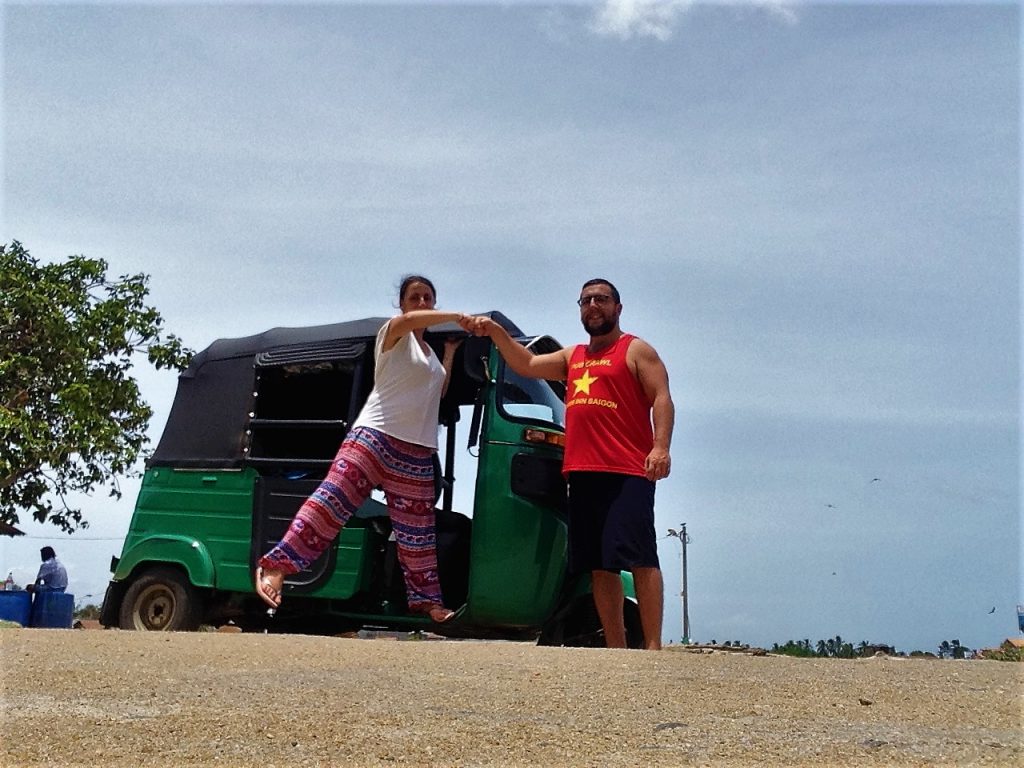 Do I need to know how to drive a tuk tuk?
No, a Tuk Tuk is easy to handle. My rental company offered me an hour's lesson with a teacher, and in 15 minutes I had it under control.
It is a machine that is driven like a Vespa, it has 4 gears. The clutch and gear selection are done on the handlebars.
Afterwards, I taught my sister and two other friends I met on a trip how to drive.
My sister and one of my mates had never driven a motorbike at speed and had no trouble getting used to it.
It's very intuitive and fun to drive.
How do I transport my luggage?
The Tuk Tuk has a trunk in which you can easily store 3 travel bags.
There is also a small boot under the driver's seat where you can store a small 50L bag.
Finally, if you have a lot of luggage, you can rent a Tuk Tuk with a roof rack.
BEWARE OF MONKEYS: they are very smart and not afraid of anything. They know how to get into a tuk tuk, open the bags and strip you of your belongings. They are very present next to the temples which are full of offerings. I advise you not to leave your tuk tuk unattended if you have monkeys around. Take your backpack with you, or leave it with someone you trust.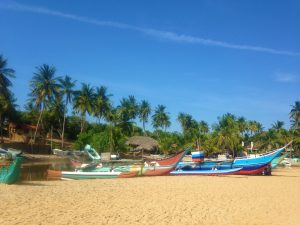 Is it dangerous?
The Tuk Tuk is less dangerous than the motorbike:
It has a body.

It has a seat belt.

The Sri Lankan Highway Code limits your speed to 40 km/h. Of course you can go faster, but then you are outlawed.
Can you go to the national parks with your Tuk Tuk?
No, officially for safety reasons you can't enter the national parks with your Tuk Tuk. You have to take guides and a jeep.
So can we see elephants in Tuk Tuk?
Yes, and frankly I think it's cooler than cramming into reserve jeeps.
Whether it's elephants, crocodiles, monkeys, there are hundreds of them living outside the reserves that you can come across on the roads without disturbing them. It's much more fun and surprising. The elephants you can see in my video are all wild animals that I saw without expecting it.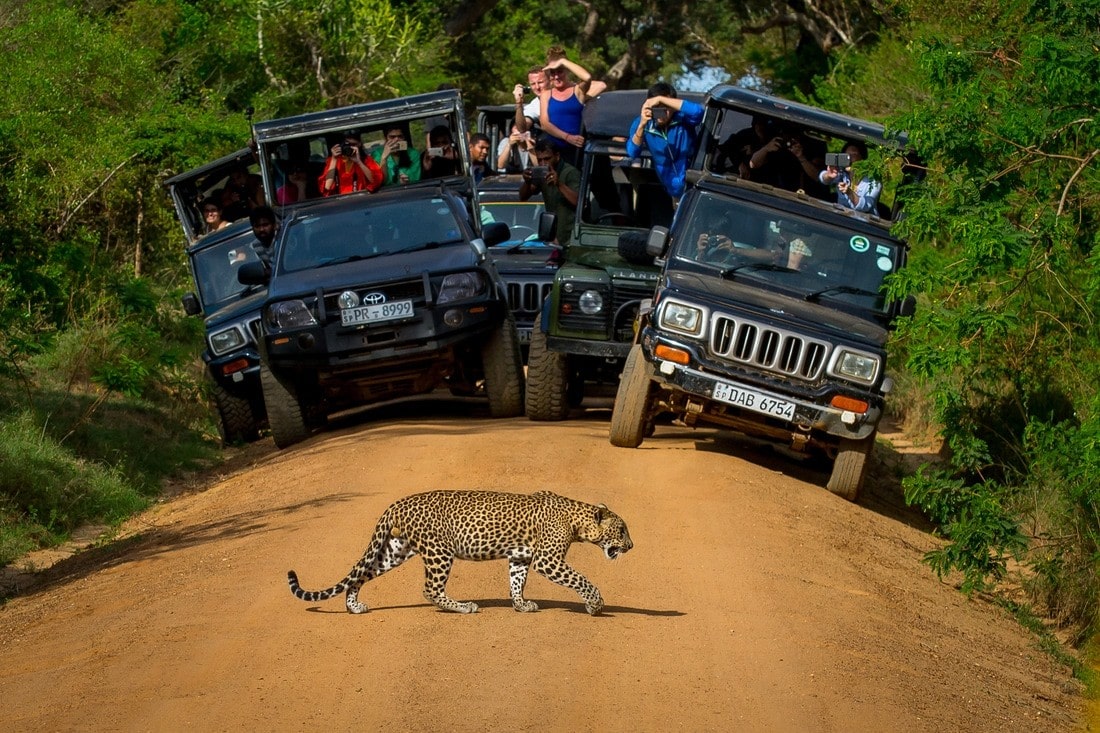 With the tuk tuk and by asking the locals, you can go to wild and remote places to observe elephants living in their natural environment without disturbing them.
Is it easy to drive on the left?
Yes, you get used to it very easily.
In the Tuk Tuk you are in a central position, like on a motorbike, you don't have a passenger next to you. So you don't have any of the things that might be a problem for you like you would in a car.
The easiest way is to follow other vehicles.
When you come to an intersection, wait until there are vehicles passing to make sure you are not going the wrong way.
If you really need a visual cue, my Tuk Tuk, for example, showed me the right side with its wiper and sticker.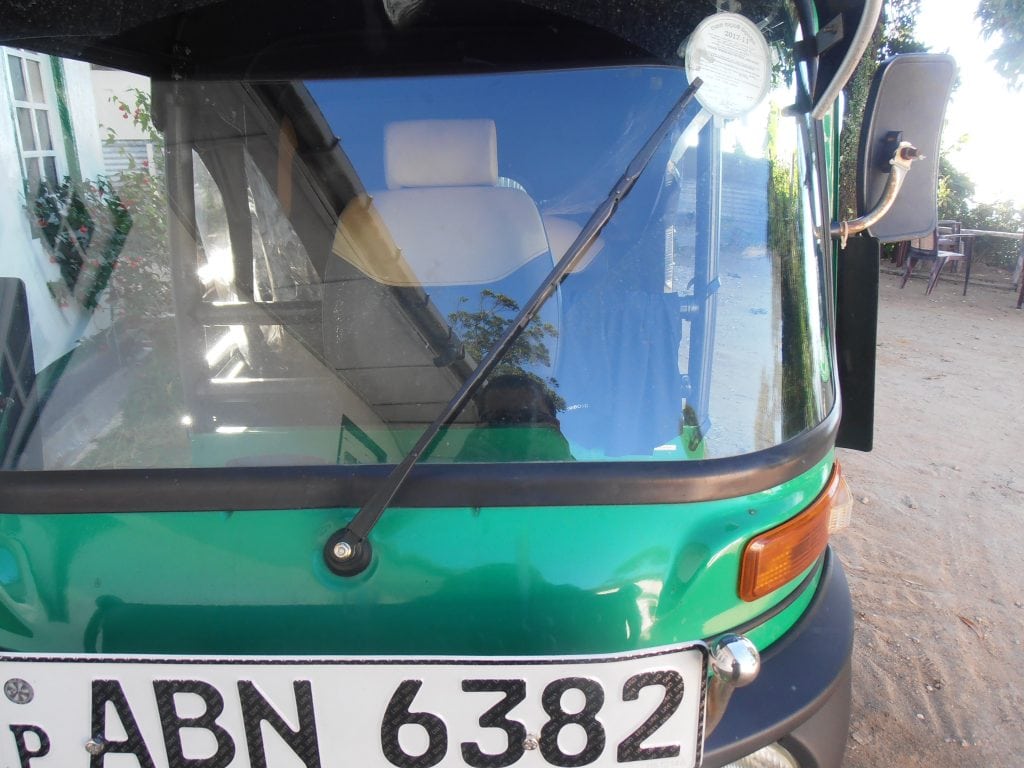 How many kilometres per day?
The Tuk Tuk can reach speeds of up to 70 km/h, but at this speed the brakes are very hard and dangerous, especially for your passengers.
Especially the Sri Lankan traffic regulations limit the speed of the Tuk Tuk to 40 km/h .
There are a lot of police in the country and like us they have radar.
So you are limited to 40 km/h.
The country is not very large and the distances between cities are not very long. An average of 100 km/h per day is an ideal compromise to avoid getting too tired.
Can I drive at night?
The roads are poorly lit and the headlights of the Tuk Tuk are not very powerful. There are animals around the roads, such as elephants. It is therefore best not to drive at night.
One evening I returned from an evening out at about 3am on the road to a pilgrimage. There were hundreds of pilgrims sleeping on the ground by the roadside. It was quite surprising.
Which route for a road trip in Sri Lanka?
During my 3 weeks my itinerary was as follows:
How do I find my route?
The signs are also in English. So you can easily follow the signs or read a map.
If you have a smartphone, download the Maps.me application. It's an offline map and gps. Remember to download the map of the country before you leave or when you have wifi. This application not only serves as a guide but also shows you the nearest hotels and restaurants.
You can set up your GPS phone on your screen, but I would advise you to keep your eyes on the road and leave the co-driving to your passengers.
Where to eat?
When you travel by Tuk Tuk, breakfast is the most important meal. Most hostels and hotels offer an inclusive breakfast. If not, you can find Boui Boui on the street, where you can eat a local breakfast for less than 150 RS
The food in Sri Lank is cheap. You get all-you-can-eat rice and curry buffets, which are rice and different spicy vegetables that you can eat for less than 1€. If you add meat, you will get it for a little bit more.
Don't hesitate to ask for "no chili" if you don't like spicy food. Otherwise drink a lot of tea.
Where to sleep?
Negombo
Hangover hostel: This is a brand new hostel located right next to the airport. It's comfortable and modern, but not Sri Lankan. It's a great place to crash at the end of your trip before catching your flight, or on arrival if you want to rest.
Breakfast is included.
Kandy
Hipster hideout lounge: This is a hostel located outside the city in a quiet area. There are quite a few common areas and the staff are nice. You can probably find better.
Nuwara Eliya
Hi Lanka Backapackers: Hostel owned and run by a Sri Lankan. It is very well located and has a beautiful view.
Breakfast is included.
Dambulla
Dambulla City Hostel: My favourite hostel, I highly recommend it. Antony, the hostel manager is an extremely friendly Sri Lankan. The hostel has a beautiful garden and large communal areas for socialising. He offers a Sri Lankan dinner every night.
Breakfast is included.
Trincomalee
Aqua Hotel Trincomalee: I do not recommend you to stay there. It is the most famous hotel and recommended by the backpackers but it is very uncomfortable. The rooms are expensive and dirty and the dorms are in the same building as the kitchens. There is no wall separating the two, so you sleep in the smell of fried food and it is very hot.
The bar and the restaurant are very cool but you can stay there without staying in this uncomfortable hotel.
Arugam Bay
Beach Cab Resort: I recommend it. The owners are lovely and you are located 50m from the beach. It's heavenly.
Arugam hostel: It's old and creepy but it's a great place to meet people, I used to spend all my evenings there.
The long hostel: It's clean and comfortable, my mates used to stay there and it's right next to the arugam hostel.
Can you travel on a backpacker budget?
During my 3 weeks of travel, I spent 1778,28€ including flights.
| Airline ticket | 872 € |
| --- | --- |
| Tuk Tuk rental | 290 € |
| Meals | 216,80 € |
| Hotel | 189,86 € |
| Outputs | 60,86 € |
| Petrol | 36,46 € |
| Visa (ETA) | 35 € |
| Taxis | 26,29 € |
| Gifts | 23,14 € |
| Visits | 25,43 € |
| Train | 2,06 € |
| Bus | 0,29 € |
| Parking | 0,11 € |
| Total | 1778,28 € |
I didn't always go for the cheapest. You can spend less in terms of food, hotel and especially airfare. You can get a plane ticket at almost half price.
I have indicated the total price of the rental but in reality I shared it with my sister. So you can subtract €145 from this total budget.
What was in your bag?
As with any trip, my bag did not exceed 8kg.
Each time I manage to keep my backpack in the cabin. This forces me to make sure that it is not too heavy. It saves me having to wait for it when I arrive at the airport and, above all, it saves the company from losing it during the stopover.
I don't take clothes for more than 5 days, I think it's the ideal compromise to enjoy your trip while stopping and taking time for yourself.
In Sri Lanka, as everywhere, it is easy to find laundries. The price is 150 RS per kilo.
Here are the contents of my bag.
Decathlon Forclaz 60 bag :
backpack (for the day)

light trousers

fabric shorts

swimming trunks

5 pants

6 pairs of socks

2 decathlon shirts

3 t shirts

tank top

padlock

headlamp

hoodie

waterproof bag

Toothbrush

toothpaste

camera

camcorder

Go Pro

adapt USB current

Sun hat

sunglasses

a spare pair of spectacles

fabric shoes

flip-flops

microfiber towel

hammock

box of micropur
I wish you a great adventure in Sri Lanka by tuk tuk.
Don't hesitate, if you have other questions to leave them in comments.
If you think of any other tips, leave them as a comment and add them to the article.
Have a good trip