You want to go horseback riding in Kyrgyzstan and you are looking for a maximum of information to prepare your trek?
Since the publication of my travel guide to prepare your trip to Kyrgyzstan, I regularly exchange with the readers about horse trekking. Thanks to our discussions, the advice of my local friends and my experience, I can share with you our tips and recommendations through this specific guide. 
Do you want to experience a well-prepared horseback riding adventure in the Kyrgyz mountains?
Do you want to know where to find a horse? How to check if your horse is injured? What to do if it is? Do you want to know the basics of horse riding? What a day on horseback in Kyrgyzstan is like? What equipment you need for your ride? Where to go for a safe ride?
Here you will find all the answers to the questions that my friends, readers and I have asked ourselves before our first trip.
To exchange with other travellers join the Facebook group, Travelling to Kyrgyzstan.
I created this group in June 2018. It's the ideal place to exchange the latest information, the latest best tips and find travel companions for your excursions. Don't hesitate to contribute and keep the group alive.
In order to depart serenaly, you will find the contact details of my friends Aïgul and Azamat, local guides, to whom I have already confidently referred hundreds of readers since 2015.
As a bonus, at the end of this guide: an interview with Florent, who bought a horse to travel independently across the country.
Why travel on horseback?
Kyrgyzstan is a country of nomad people, who travel on horseback through the mountains, setting up their yurt camps according to the seasons. Horses are an integral part of their life and culture.
On your treks, you will often meet real nomads who will ride through the mountains.
Thanks to your equine companion you will experience a unique feeling of freedom.
This is the only travel mode you will find yourself galloping among a herd of wild horses. It is also the only way you will share an evening with a family of nomads who will teach you how to play their traditional instrument. And only in this way will you learn to milk mares in order to make adulterated alcohol.
Horseback riding is one of the main reasons why you should go to Kyrgyzstan.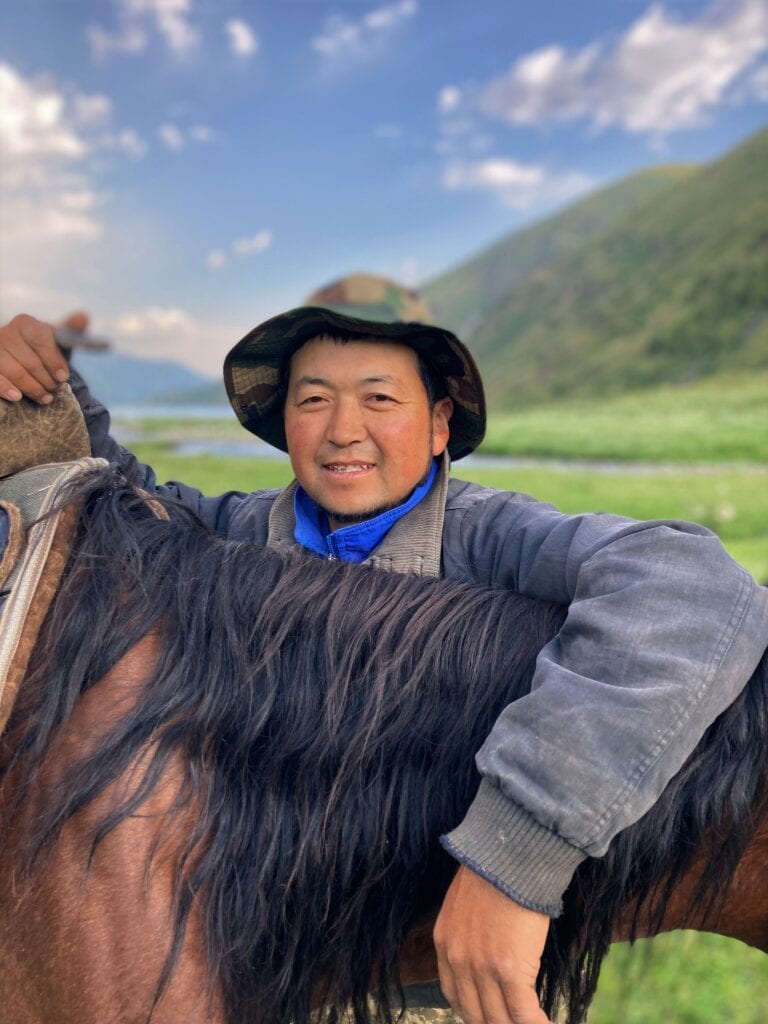 Who is it for?
For anyone who wants to. I met people of all ages and from all walks of life. The most amazing encounter was a French family, of 3 children, accompanied by their parents.
They had a guide and 4 horses. The 2 youngest children (4 and 6 years old) shared their parent's horse (one sat in front of its mother and the other in front of its father). I did part of my return journey with them. They had just done a 4 day ride.
The best advice I can give you is to share your trek with people who have a similar level of riding or to take a second guide to allow the group to split up, if necessary, according to levels.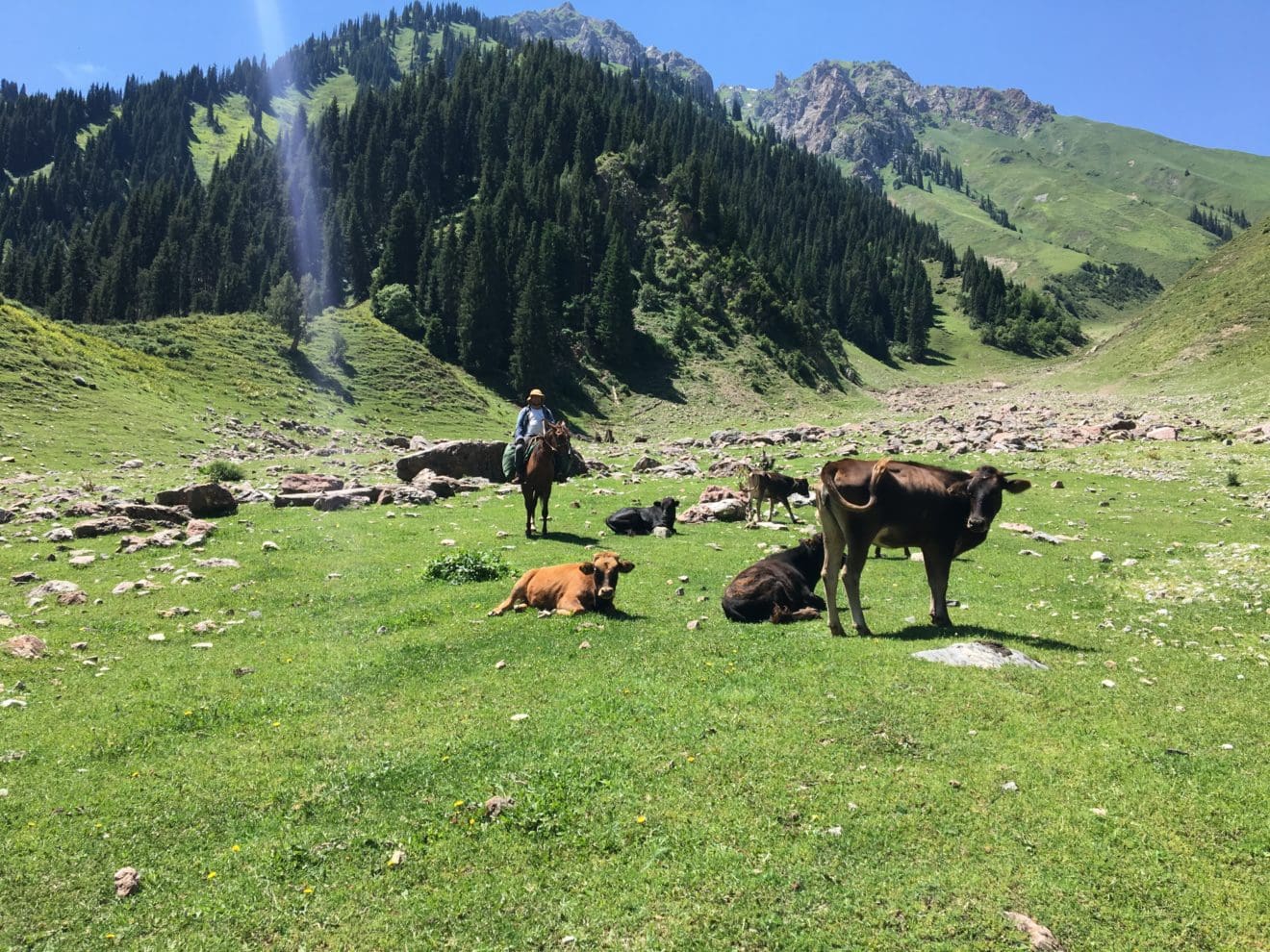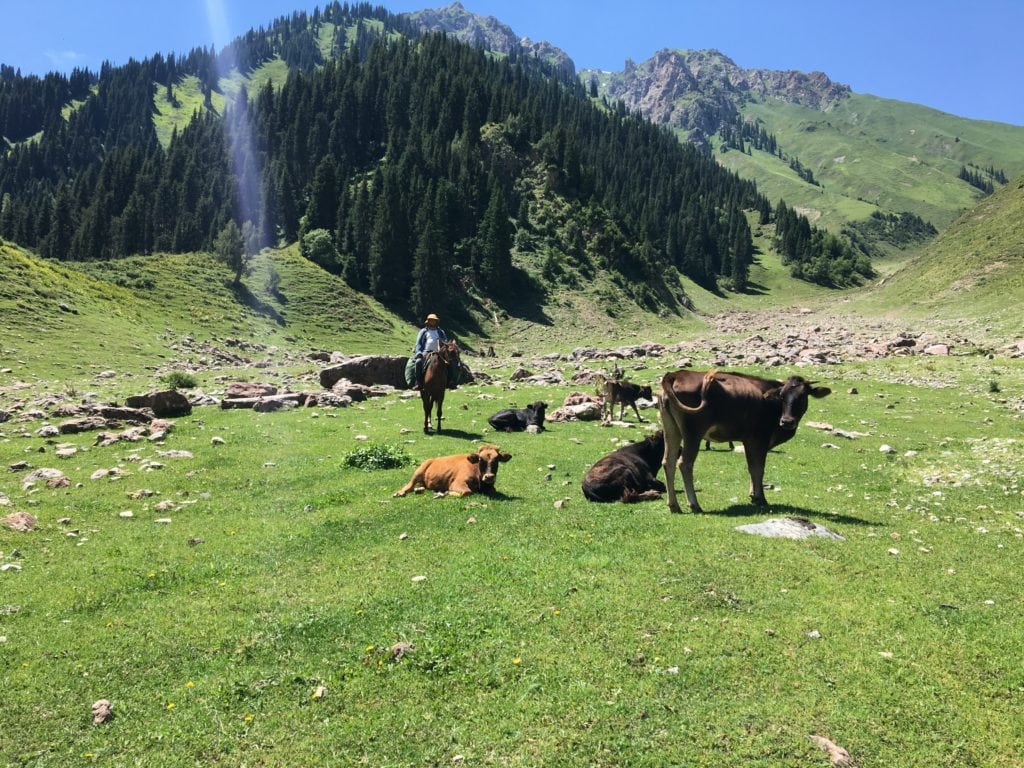 Do I need to know how to ride?
No, before you start your trek your guide will give you a full riding course.
What are the basics of horse riding?
To keep it simple, here are the main rules:
Never walk behind your horse.

Always wear a helmet for your safety.

Use your reins to direct your horse.

Kick your heels and say TCHU TCHU to make it go faster.

Pull on the reins and say BRE BRE, to slow down

To turn left, you pull the reins to the left.

To turn right, you pull your reins to the right.

When riding uphill, you lean your body forward to help your mount.

On the other hand, when going downhill, you lean backwards.

Pull hard on the reins to make him back up.

Last but not least, wear high shoes so that you don't hurt yourself with the stirrups. Press your feet down and lower your heels so that you don't get stuck in the stirrups.
I also made this video for you in Sary Chelek:
If you wish to know more, I invite you to read this article which explains how to ride a horse.
Contrary to what some people think, horseback riding is quite physical. At the end of the day, you will be tired and sore. If you are well equipped, you will avoid chafing and possible pain in the buttocks and thighs.
What should I check before I start my trek?
I've had a lot of discussions about this with travellers who have ended up with injured horses. It is not normal to be offered to ride an injured horse. If this is the case, refuse it and ask for another one.
This is a simple advice, that can be applied in any country and with any guide. When travellers decline to ride on injured horses, the organisers will no longer offer injured horses.
How do I check my horse for injuries?
Take a good look at the condition of your horse before you ride him. The most common injury is at the girth of the saddle, as shown in the picture below.
This is a poor country. On the photo for example, the saddle strap is made from a car seatbelt. You are not in France, you cannot expect a European standard saddle. However, it is possible for the owner to go to a bazaar, buy some fleece and sew a protection on the girth at a very reasonable price.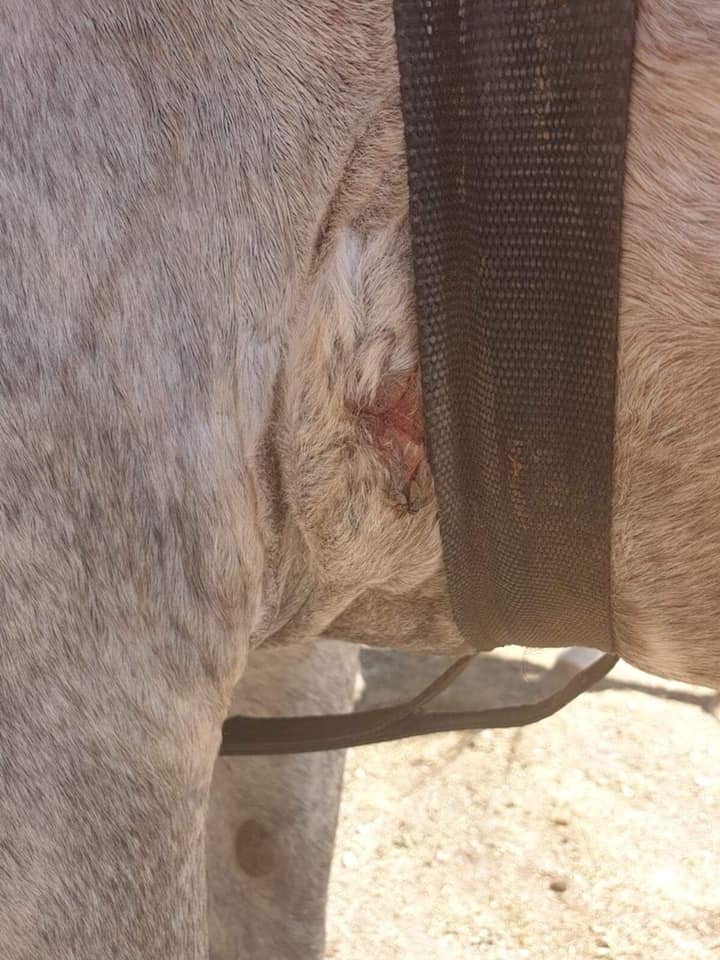 The same goes for shoeing. A complete shoeing costs 500 som and is valid for one and a half month. A villager who regularly rents his horse therefore has no objective reason not to shoe it.
Aigul, my friend, whom I recommend you go through for the Song Kul trek, shares my opinion on this subject and has raised awareness among the farmers she works with. If however you book with her and you are presented with an injured horse, refuse it and let us know as soon as possible.
What to do if it is injured?
If the condition of your horse seems abnormal, ask your guide for another one. An injured horse should not be ridden.
If the guide refuses, insist on another horse. The guide knows that you are right. The health of the animal and your mental well-being are at stake. Nobody enjoys riding an injured animal.
Don't hesitate for a second, your only risk is to delay your trek by 1 or 2 hours 🙂
If it is a recommended guide on the blog, let me know.

Should I take a packhorse?



A horse should not carry more than 25 or 30% of its weight. If the weight exceeds, you need a pack horse.
If you are going for a short period of time with not much belongings, you don't need a pack horse.
- For Song Kul for example, it is not necessary. It's a loop, you sleep in a yurt and meals are prepared by the nomads. You leave most of your belongings in the village of departure and get them back when you return. You travel very light.
- For a longer trek, where you take your food and camping gear, you need a pack horse.


Is wearing a riding helmet really important?
Yes, horse riding, even if it is a leisure activity, is still risky. A fall on the head can unfortunately happen. You are better off falling on the helmet...
Especially since horse riding in the mountains is nowhere close to hospitals.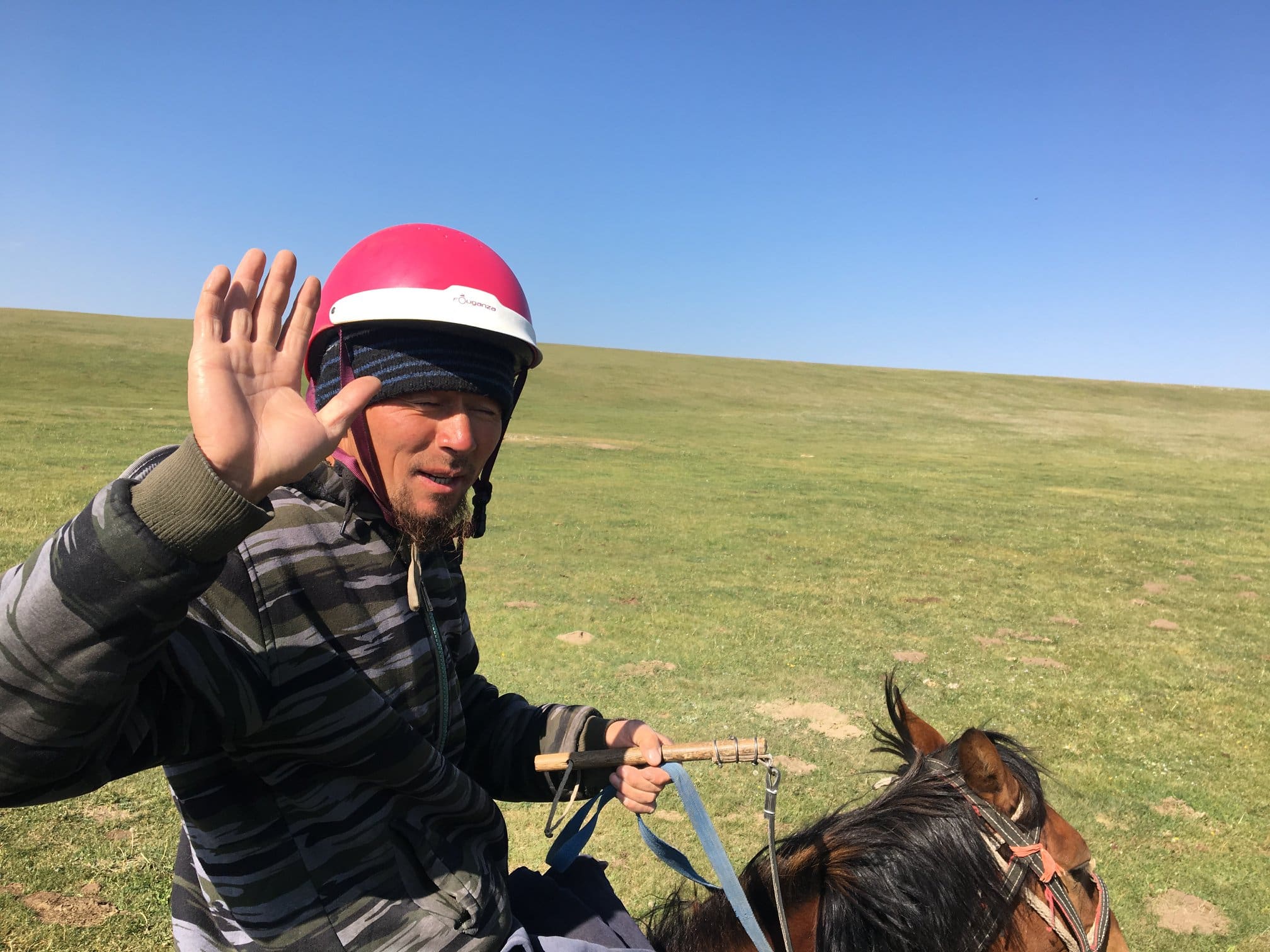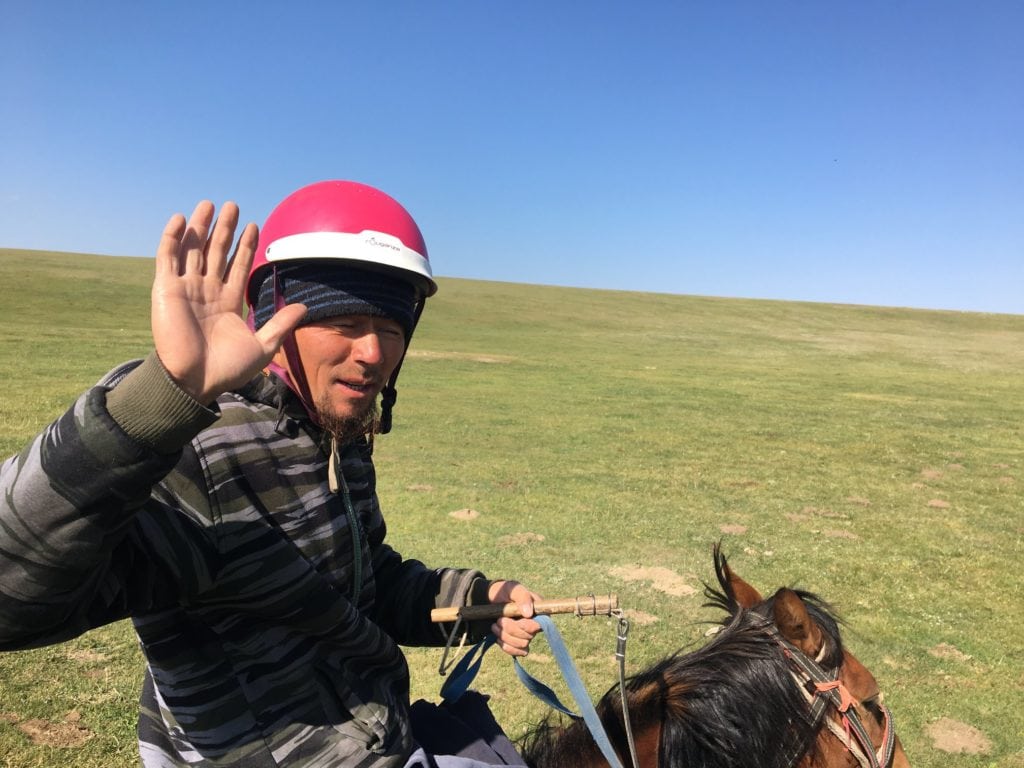 Since 2019, the guides that I recommend in Song Kul have been supplied by myself and readers (whom I wish to thank) with riding helmets from Decathlon.
In 2021, I had the pleasure of discussing this topic with the French ambassador in Bishkek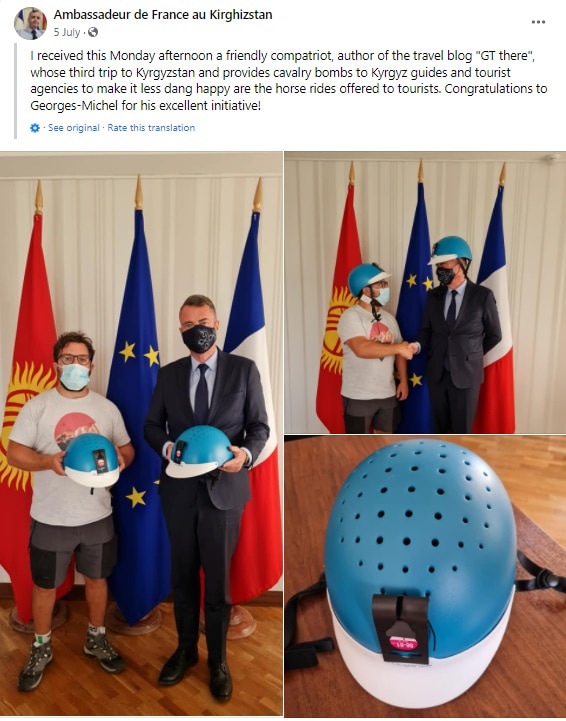 Do I need to take out insurance?
Yes, as with any trip, you need to be insured. Horse riding is a risky activity.
Travelling without insurance is stupid and can cost you a lot of money if a problem occurs.
Where to go on a horse trek in Kyrgyzstan?
You can go horseback riding in different places.
The most popular and cheapest places to trek are :
Song Kul: The country's most famous lake, located at 3013m above sea level, is a beautiful body of water, surrounded by mountains. There are different treks to reach the lake, ranging from 1 to 4 days. All the way long you will find welcoming yurts.
Issy Kul : The second largest alpine lake in the world, after Lake Titicaca. It is a salt lake located at 1600m altitude where you will easily find agencies that will offer you a trek at a correct price.
Here are other places where you can go on beautiful horseback rides:
The Sary Chelek National Reserve will allow you to admire beautiful lakes surrounded by dense forests and nut forests.
Alay, to the south, offers a completely different panorama of glaciers, high rocky mountains and pine-covered gorges. In the distance you can see Mount

Lenin (7134 m.)

Karakol region which will allow you to access the

Terskey Ala-Too mountain range (up to 5100 m).

If you have the riding skills and the appropriate physical condition, you will be able to cross passes at more than 3800 m.

Chong Kemin to the north of Lake Issyk Kul, will give you the opportunity to gallop through

pine forests and vast pastures.

Arslanbob also offers an incredible panorama, home to the largest walnut forest in the world. However, you will not be able to sleep in yurts. Here the nomads have settled down and live in huts.
If you have more time and your budget allows it. You can go on longer hikes, travelling through several of these regions.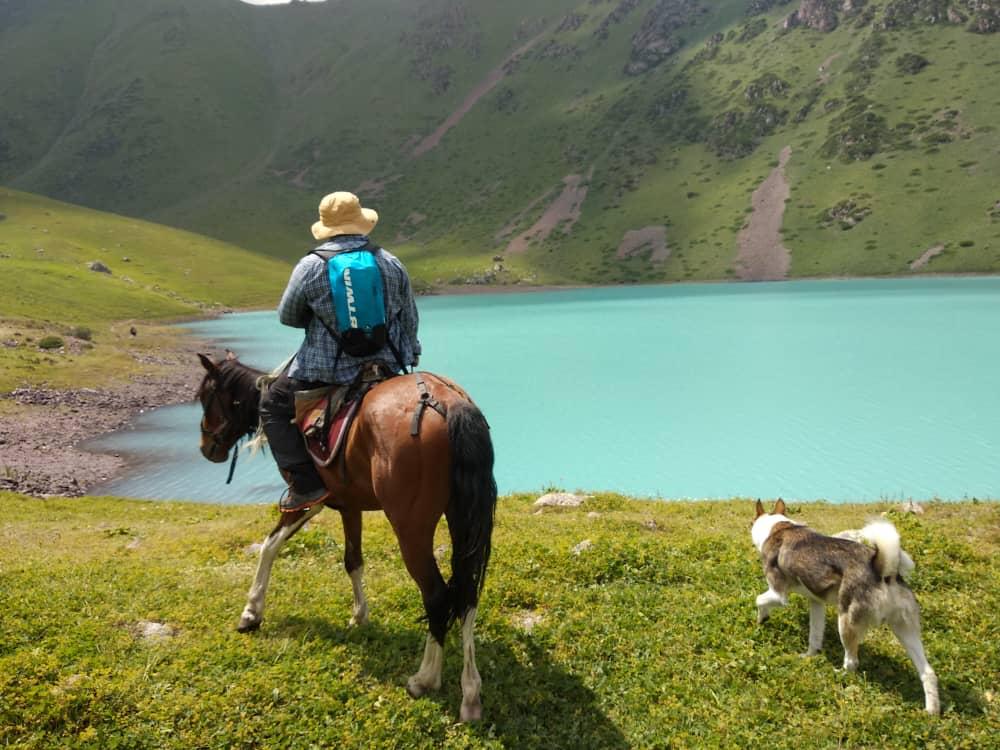 How much does it cost to ride a horse?
The rates vary greatly. The more people join the group, the better rates you will find as you will all share the guide's fees.
An English-speaking guide is a little more expensive and a French-speaking guide is even much more expensive.
For longer hikes, prices are negotiable depending on the group and the logistics involved.
There are several elements that increase the cost.
Longer treks require more experienced and therefore more expensive guides.
The logistics are greater and include :
-camping gear and
- kitchen equipment (for evenings not spent in yurt camps)
this equipment is rented
In order to transport this material, depending on the size of the group, you need :
-one or more pack horses.
- one or more horse groomers to manage the horses and the setting up and dismantling of the camps.
- a cook to prepare the various meals and manage the food.
Some agencies will suggest that a 4*4 joins the camp each evening, with the luggage and a cook. Personally, I find it beats the purpose of free horse trekking with a group and really isn't eco-friendly. Incidentally, it is not less expensive.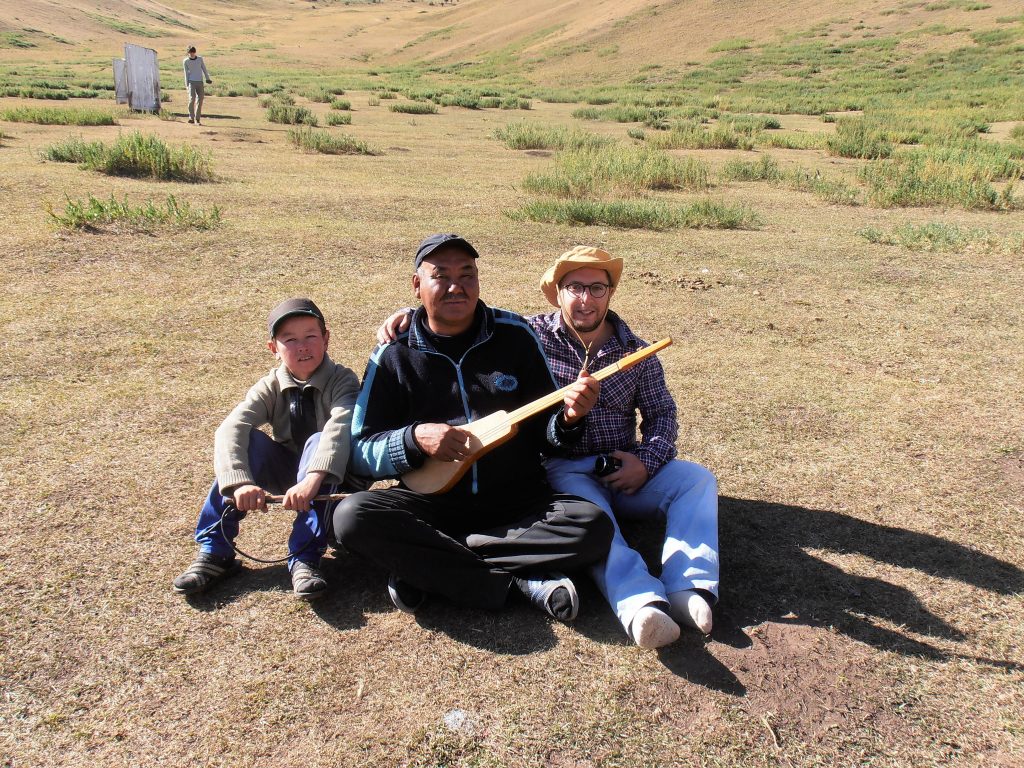 When is the best time to go horseback riding in Kyrgyzstan?
The best period is the high season, which is from May to September. July and August are the hottest months. They are also the most touristic (although this is not yet a very important concept).
In Song Kul, you can hike and sleep in yurts (which remain especially for travel groups) all year round. During the winter time, the weather conditions are very specific, with temperatures that vary between -10° and -20°C.
Is a guide necessary and what are the trekking conditions?
Yes, it is essential.
The guides know their horses inside out.
A horse is a living being, which needs food, rest and care.
The guide knows its needs perfectly.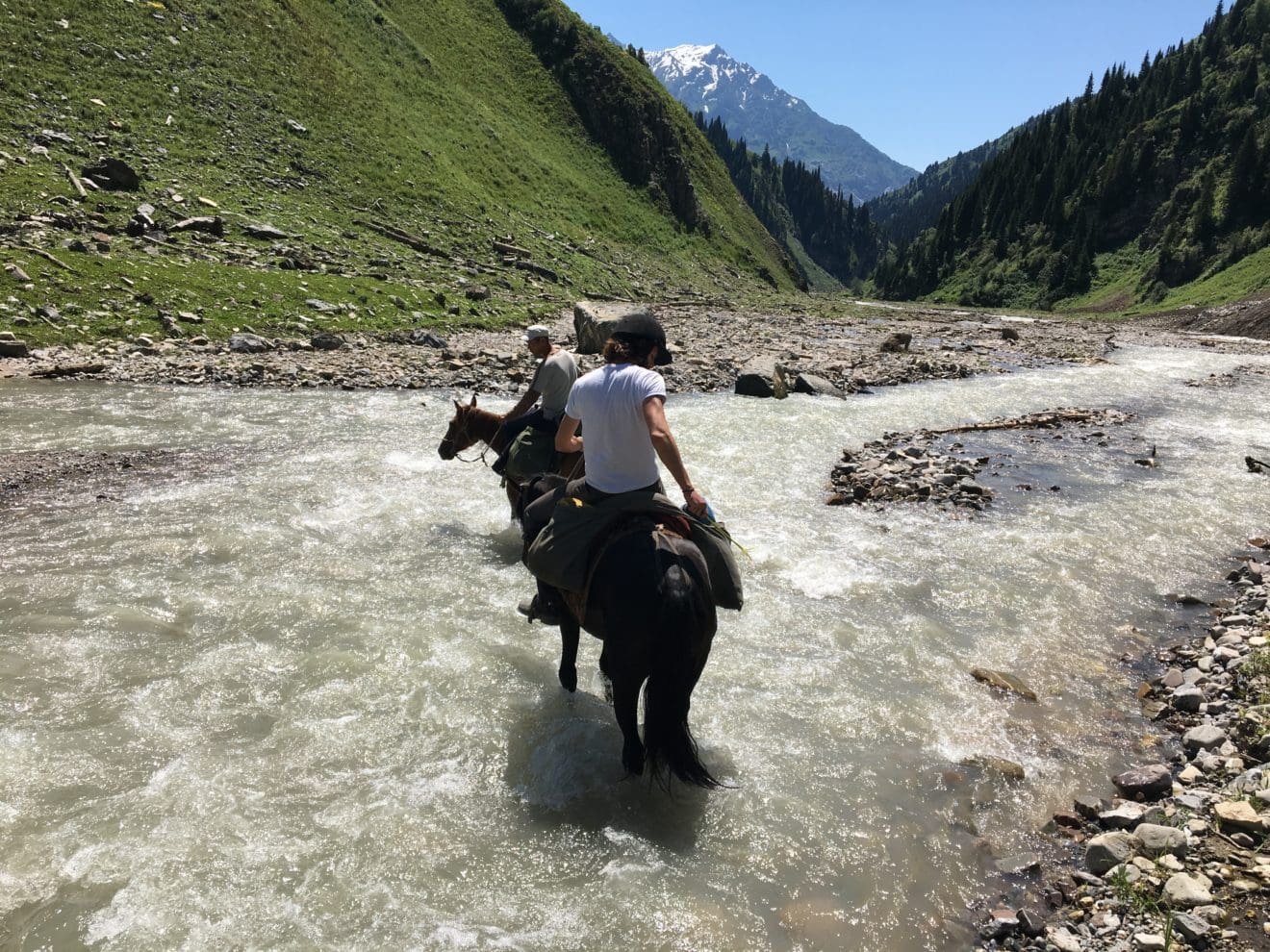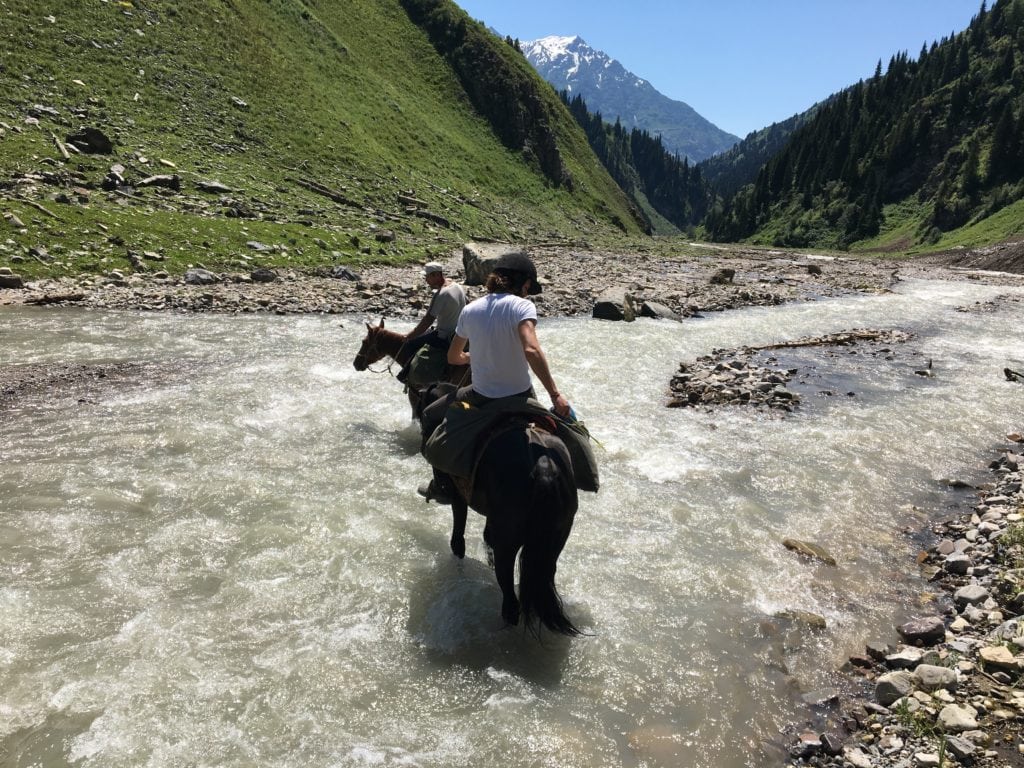 At night, the Kyrgyz let the horses run free (they bind their forelimbs) so that they can graze and drink. In the morning, they go to collect them. This is a technique that cannot be learned in one day. It requires a perfect knowledge of the mountains and the horses.
 I rented a horse for one day from a farmer and went off on my own. I'm a good rider, but I wasn't completely reassured when I had a natural urge.
I didn't want my horse to get away from me and I having to go looking for him alone in this huge mountain. 
Can I rent a horse?
Yes, since 2022, Hélène has been renting 3 Kyrgyz horses, for riders who want to go on their own with their mounts.

She is a fascinating woman. She has a great knowledge of horses, as she has been breeding them in Kyrgyzstan for more than 20 years.
She bought Fidel, Chai and Thian from Ashley and Quentin. Two experienced adventurers, whose skills she has completed and who have travelled 1600 km across the country in 2021, with their 3 companions.

The horses are experienced. They are geldings, which is very rare in Kyrgyzstan and allows you to cross herds in complete peace.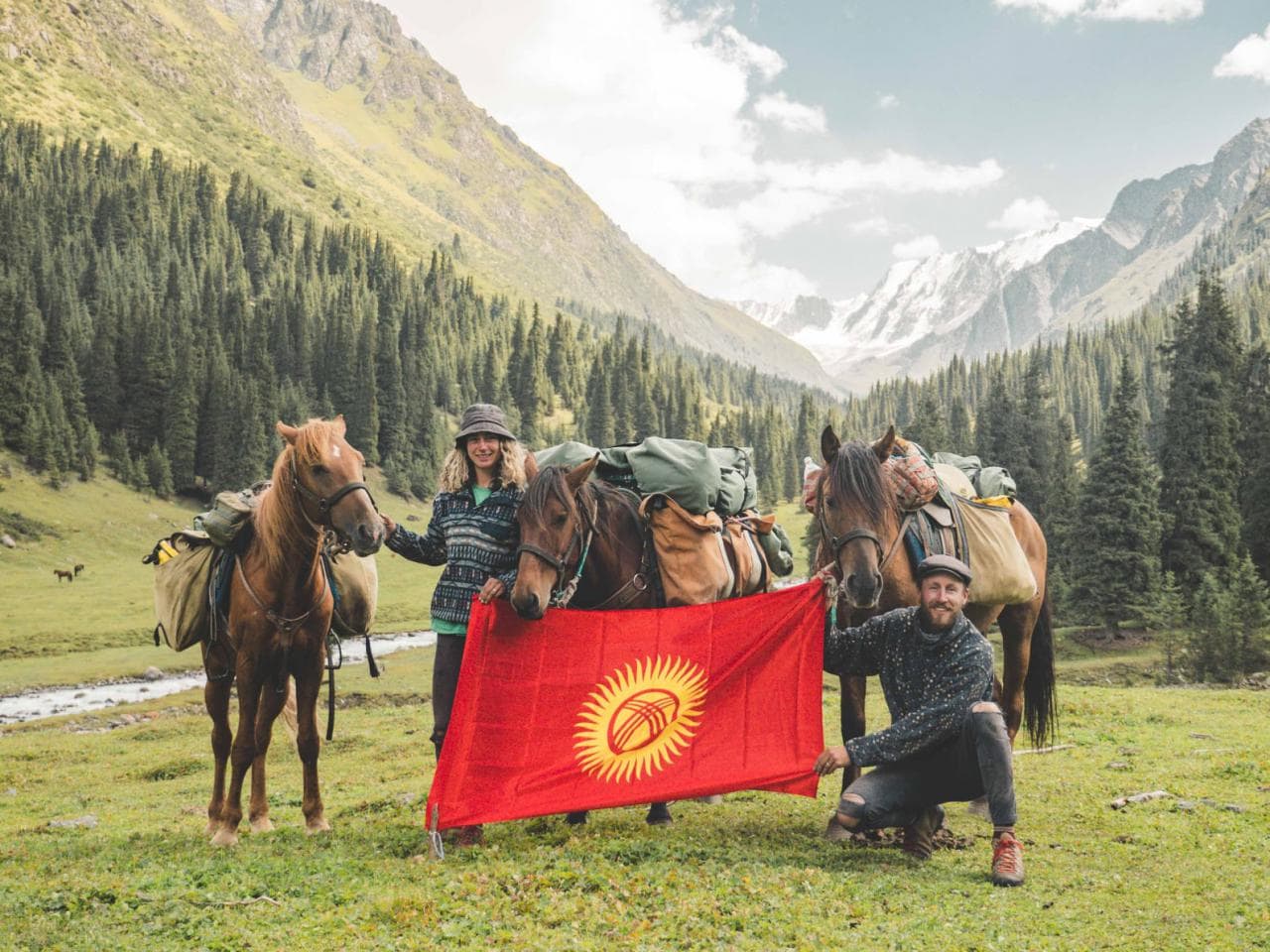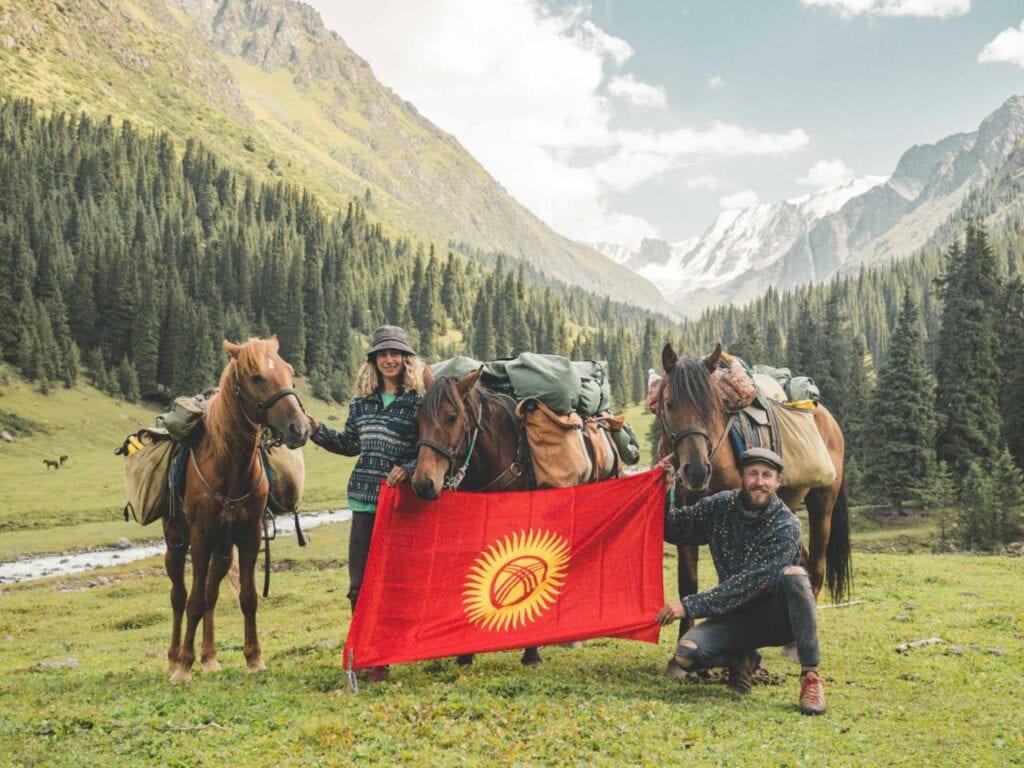 As I have more and more readers, who ask me, if this service exists. We had a lot of discussions with Hélène.
She has developed a unique and intelligent concept, which corresponds to our values. The safety and health of the horse and rider are her priorities.
Why rent Hélène's horses?
To reassure you about their past. Their successful adventure with Ashley and Quentin allows you to reassure yourself about their experience and character.
Not to worry about their future. 90% of the horses bought by the travellers are sold to end up in the butchery. Hèlene guarantees them a long and beautiful life.
What are the conditions for renting Fidel, Tian or Chai?
Hélène's services include:
Training.
Rental of the horses.
Hire of saddles and panniers.
Telephone assistance throughout the trip.

To rent the horses you must:

Share your riding and bivouac experience.
Share your map reading skills.
Show her your travel insurance certificate.

As an indication, his rates for a horse, his equipment and the training so that you and the horse can leave in complete safety:
2 weeks: 275 €
1month: 465 €
You can reach her by email at helene.kirghizie@gmail.com
Can I buy a horse?
Yes, the best place to buy a horse is the Karakol or Tokmok Animal Market. It is an amazing place where you can buy all sorts of animals.
A horse trades for $1,000 to $1,500. Beyond the price, if you want to buy a horse, make sure you know how to take care of it. I repeat: it is a living being for which you become responsible: you must care for it, feed it and water it.
What about accomodation?
The yurts are large and spacious. Usually the families who host you have one yurt for the travellers and another for themselves. They have warm blankets and basic mattresses. All travellers sleep in the same yurt. This is a good way to keep warm because of the coolness of the Kyrgyz nights.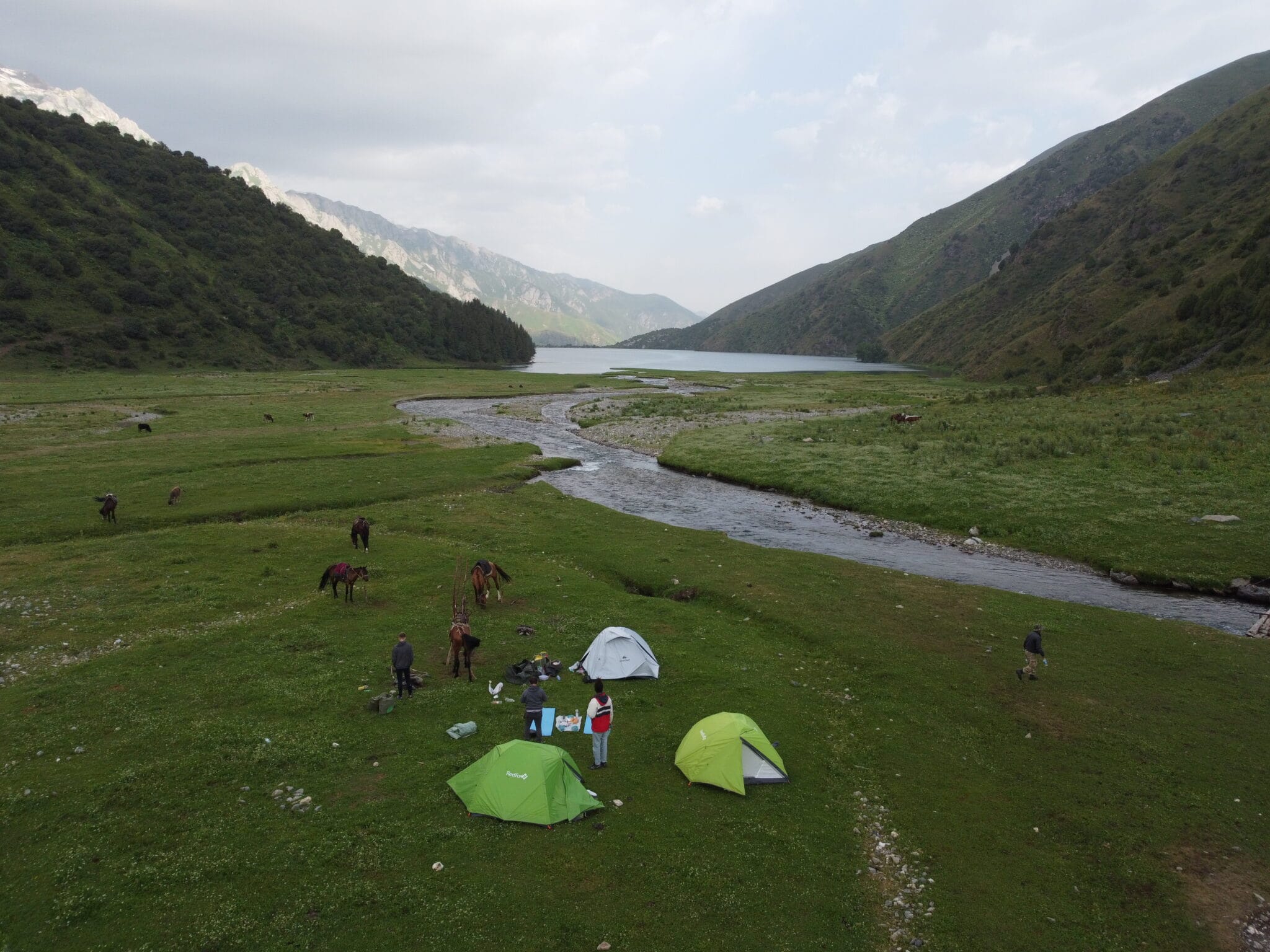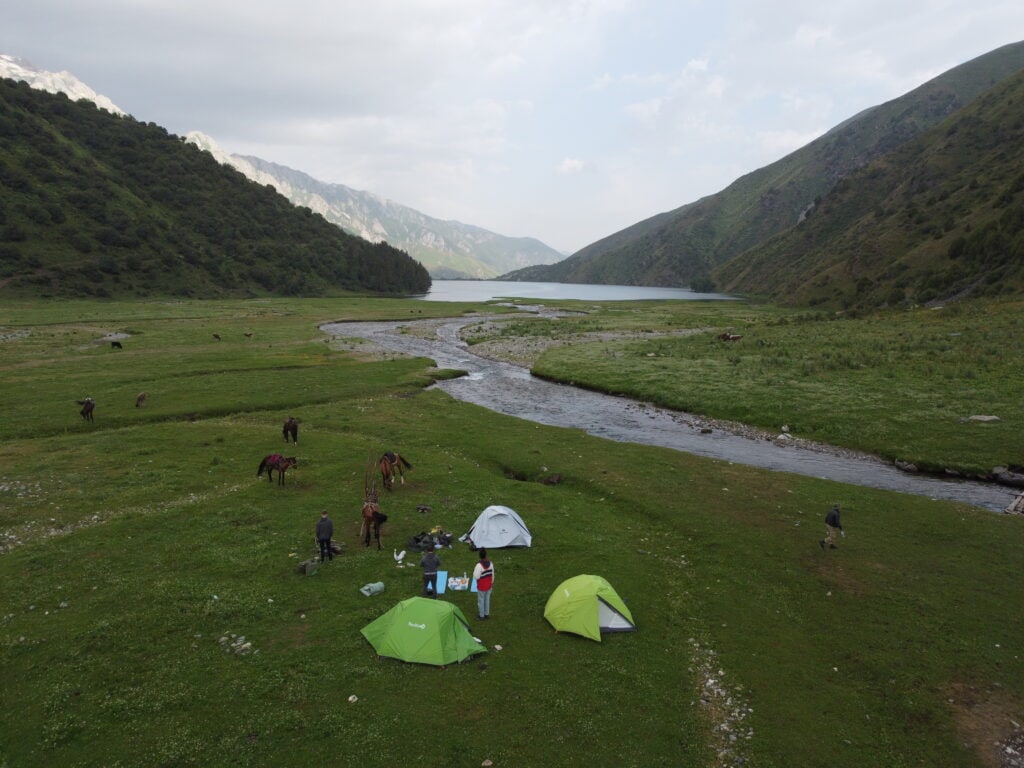 How do you wash and go to the toilet?
You have to manage as best as you can outside of the yurt camps. Within the yurt camps, there is a very basic toilet. It is a hut, far from the camp, in which a hole is dug in the ground. It is quite elemental.
Some camps have a hut that serves as a shower cabin, with a small supply of cold water.
You can also wash up in the icy streams that surround the camps.
The most common option taken among travellers is a simpler one. They just change their clothes and wait until they get back to town to have a proper shower.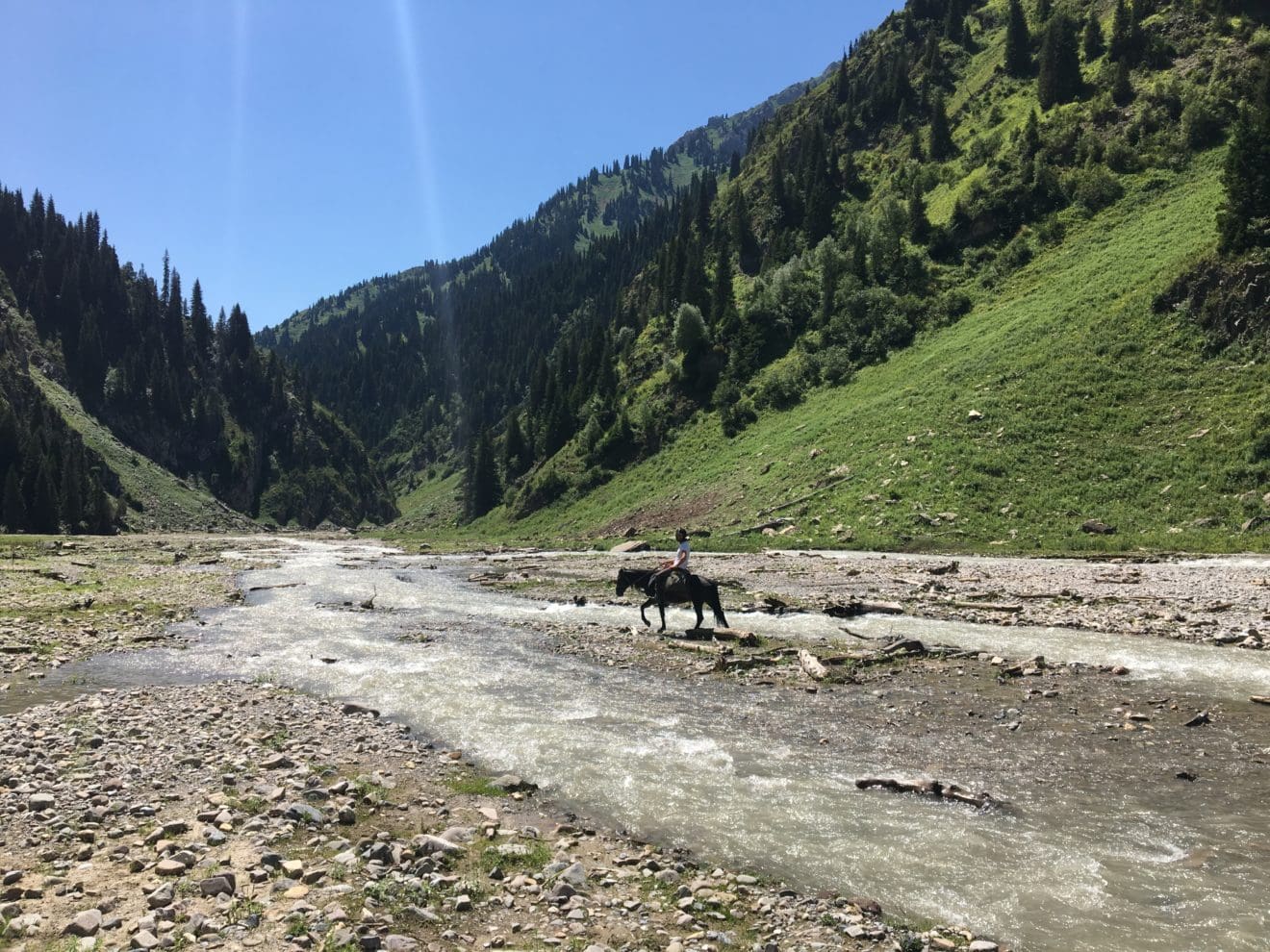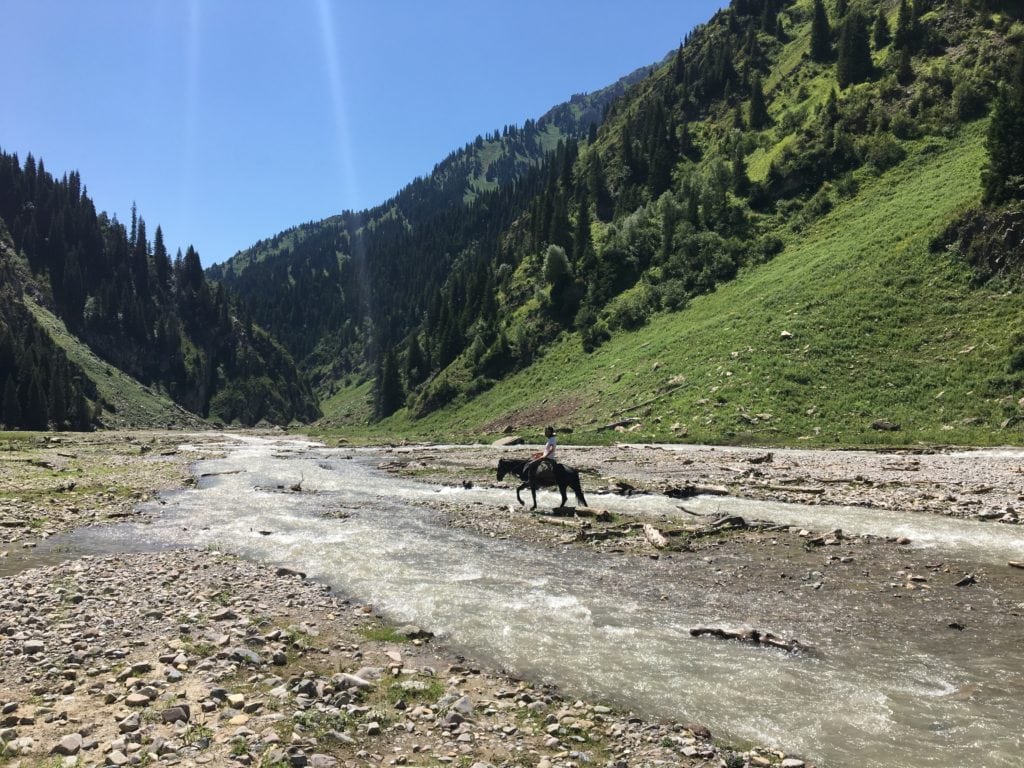 What kind of clothes should I bring?
In summer it is very hot, but at night it is very cold. Take warm and covering clothes. The weather can be changeable, so remember to bring rain gear so you don't get caught.
Finally, make sure that your clothes are suitable for riding, to avoid chafing and other pains. It is essential that you wear high shoes or boots so that your stirrups do not hurt your ankles.
Can I charge my electronic devices?
Yes, if you have an external battery.
The yurt camps have no electricity or only a small solar battery. This is used by nomads to run a light bulb or a satellite phone. You will not be able to charge your electronic devices. You will have to learn to manage your batteries and use your devices wisely.
Do you have any guides to recommend?
Yes, if you want to leave with peace of mind, I have two local guides who are also friends of mine, that I can recommend. They are experienced, in love with their country and with horses and I have full confidence in them.
For these reasons, I have sent them hundreds of readers since 2015.
Aigul is a Kyrgyz woman I met during my first stay in the country. Since then we have remained friends and since the creation of the Blog, I have sent her readers every year.
She loves her country and has been riding since she was a child.
Today,she runs a small travel agency. Her experience as a guide allows her to offer horseback riding tours in different parts of the country with local and experienced guides.
I recommend Aigul, to organise your fabulous trek to Song Kul Lake or to venture into the more confidential Sary Chelek trek.
Azamat is also a very good friend, I stayed with him in Toktogul. I also had the chance to receive him for a week in France to make him discover Paris and Fontainebleau, for his first trip outside his country.
He is an experienced guide, an excellent rider and speaks fluent French and English. In 2019, he spent more than 60 days riding with travellers.
In July 2021, we got together with my friends Basile and Loïc for a brand new horse trek. Azamat had promised us an unforgettable experience and we can confirm, it was incredible.
We are not the only ones, Suzanne, a reader of the blog and her 11 year old daughter, also went with Azamat in August 2021. They loved it.
Azamat is the ideal guide to organise a hand picked horseback ride for you. 
What is a typical day on the trail?
During a horse trek, you don't ride all day. The different phases last between 3 and 6 hours depending on the day. Most of the time you are at a walking pace. A horse cannot gallop for 3 hours straight.
You start your day early in the morning with breakfast in the yurt, or by admiring the sunrise in the middle of the deserted mountain.
Once your belly is full, you help your guide preparing the horses and you set off to ride the mountain.
At noon, depending on the day's route, you arrive at your destination camp or you break for lunch.
If it is the latter option, you set off again for a maximum of 2 hours horse riding before reaching your day camp.
The camp is a family of traditionnal farmers (5 to 10 people). They welcome tourists in addition to their livestock activity. 
It is comparable to staying in a farm in France. Kyrgyz people are open and welcoming but very rarely speak English.
The horses will be able to rest and feed. During this time, you can roam the surrounding nature, take pictures, learn how to take care of the animals, play football with the children and chat with the farmers.
You can also make use of the surrounding waterways and the sun to wash yourself.
For dinner, everyone gathers in a yurt and eats traditional dishes while sitting on the floor at a low table.
After the meal, your hosts will show you to your room. This is one of the yurts in the camp that you will share for the night with your group. The farmers will provide you with warm blankets to make sure you have a good night's sleep.
It gets dark very early, but even if you are tired, I encourage you to stay and admire the night sky. The total absence of pollution will allow you to admire the most beautiful starry sky of your entire travelling life.

Last advice, go to the toilet before going to bed. The nights are so cool that it is best not to leave your yurt.
After a good night's sleep, you will wake up ready for a day of horseback riding and scenery viewing.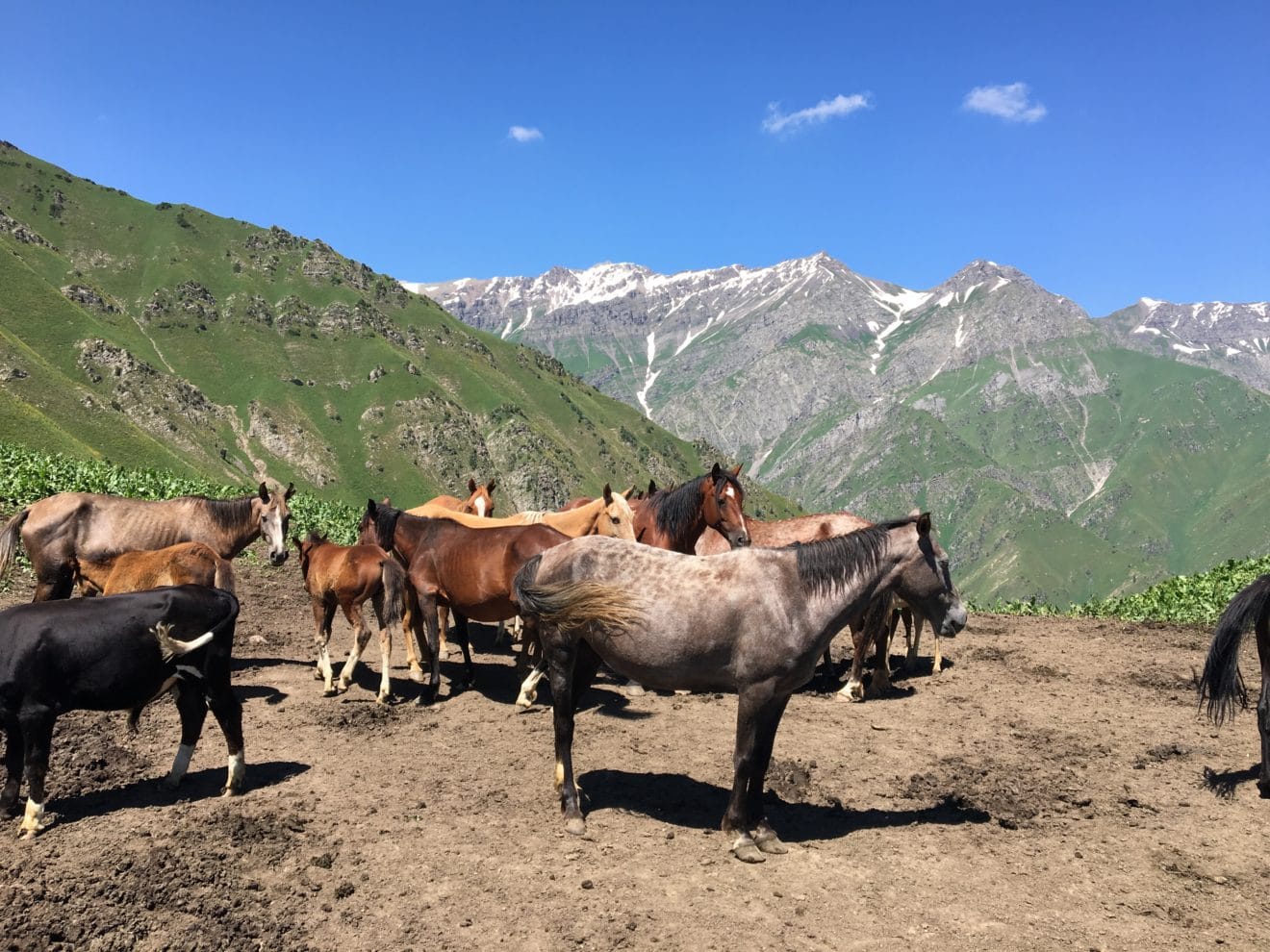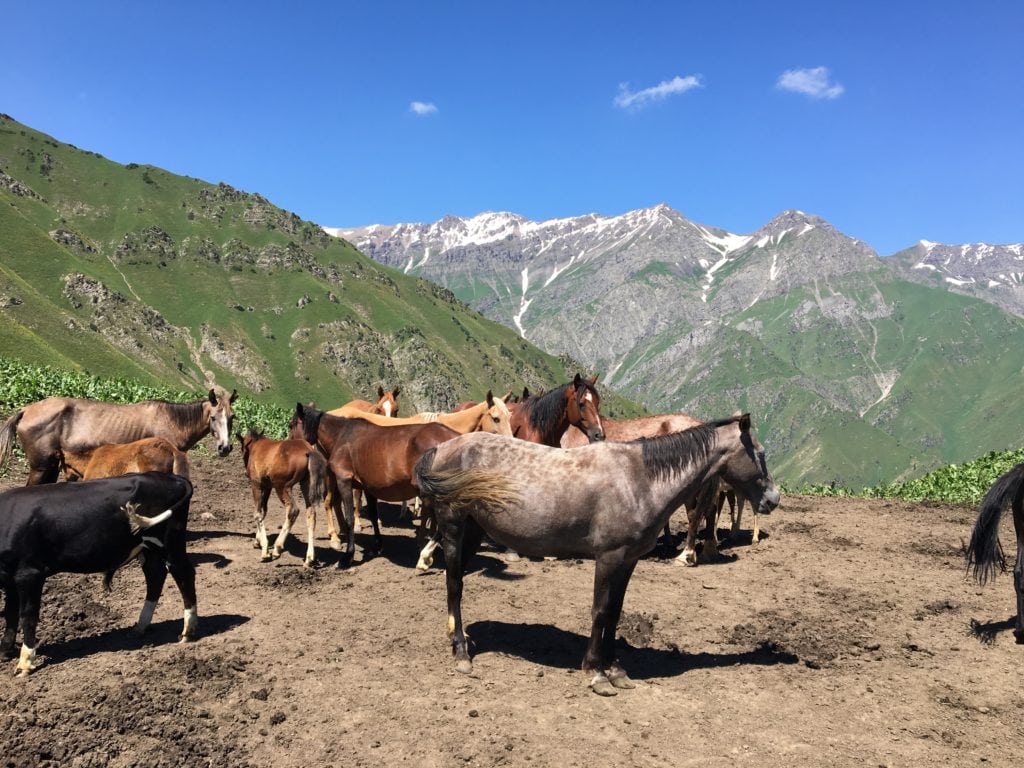 What should I pack for a horse trek?
In Kyrgyzstan, even in summer, in the mountains, you can have all four seasons in one day. Take clothes for all situations. The weather can be changeable, you need clothes for hot, cold and rainy conditions
Finally, make sure that your clothes are suitable for riding, to avoid chafing and other pains. It is essential that you wear high shoes or boots so that your stirrups do not hurt your ankles.
In order to be equiped like a real Kyrgyz, I advise you to go to the bazaar in Bishkek to buy these Kok Boru chaps (600 soms) and this rain cape (500 soms) from this merchant.
Loïc, Basile and I used them with great satisfaction during our stay in July 2021 !
To help you find her, in addition to her photo, I'm leaving you her GPS coordinates. She doesn't know me, but don't hesitate to say hello for me!
Health accessories:
During your treks in the Kyrgyz mountains, you will have to drink water from streams. This water is often contaminated by animal waste and must be purified.

The Lifestraw water bottle:
This water bottle with integrated filter allows you to filter up to 1000 litres of water. Then, you only need to change the filter.
See on amazon
Riding accessories :
The riding helmet:
It protects your head in case of a fall. Since I fell on a motorbike in Togo, I have become more concerned about my safety when travelling. Bringing a European standard bomb with you can make a difference in case of an unfortunate fall. Think about it.
See on amazon
The chaps:
I'm not going to recommend a pair of shoes. It's up to you whether you prefer trainers or hiking boots. On the other hand, when riding, you need high shoes. This will protect your instep and ankles from the stirrups.
This is also why you need chaps. Every time I rode in jeans and trainers, my legs regretted it. The chaps are not very bulky. They will offer you a very good protection to the lower parts of your legs, whatever your shoes are.
See on amazon

Riding trousers:
These are the most suitable trousers for horseback riding, especially if you are a beginner. It avoids all the chafing pains and allows you to spend much more pleasant evenings.
I have done several treks in jeans and even if I am not a beginner, it is not an experience I would repeat. Here is the women's version.
See on amazon
If you prefer a looser fitting and a more casual look to seem less touristy in front of your future nomadic friends. These riding jeans with padding and stitching are ideal
See on amazon
Camping accessories:
Wipes:
This is the only item in this guide that I am not keen on using, but that's just my personal opinion.
Many travellers use them and are very happy with them. When you come to think about it, it's not at all environmentally friendly, nor financially interesting. Do as you wish, personally I manage without and wash in the streams.
See on amazon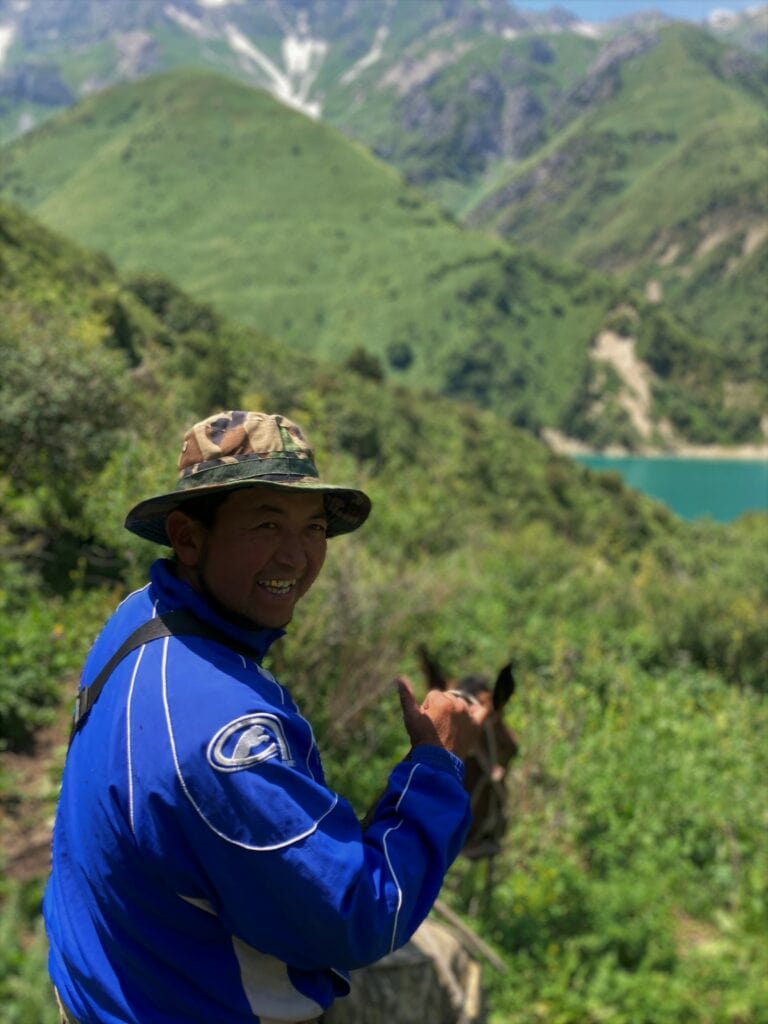 Do you have any feedback from people who have travelled alone on horseback?
Yes, Florent who is a member of the Kyrgyzstan travel group. I met him when preparing his Kyrgyz adventure: the lonesome crossing of the country on horseback. Florent is an experienced adventurer, he has already crossed the Gobi desert with a camel and spent more than 6 months riding solo in Mongolia.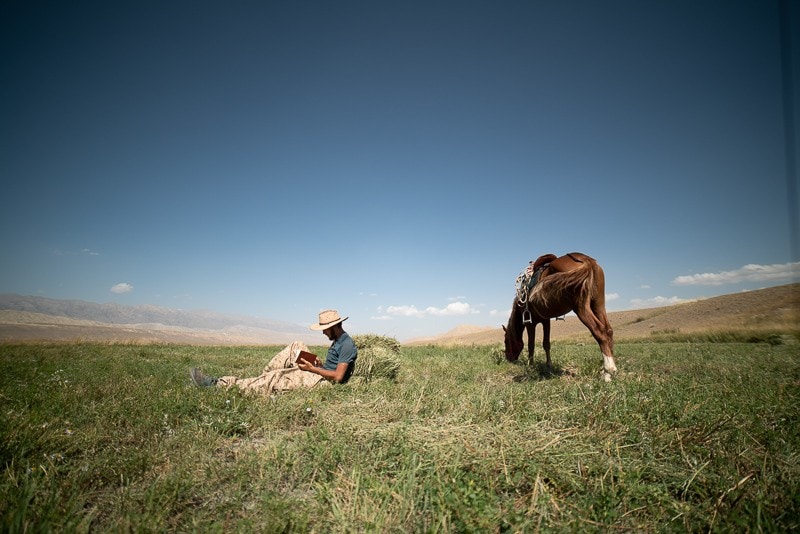 He shares his travels by making films of his adventures for television and is currently preparing a new, even more extreme adventure!
We talked before, during and after his adventure and this is how the idea of this interview was born, in which he tells us about his journey on horseback.
Hi Florent, can you introduce yourself?
Hi, my name is Florent, I'm 33 years old and I've been travelling the world for 3 years with my camera. I make movies orientated on adventure and the discovery of different cultures around the world. I travel in an extreme manner, I have crossed North America on fret trains, the Yukon in a canoe, lived alone in the wilderness in Alaska ... 
Why did you choose Kyrgyzstan to travel solo on horseback?
Four months ago I had just returned from a long 2 year trip. I was working on my next adventure which should last 4 years, it includes many climbs in very high altitude as well as crossing countries with horses. A friend of mine was looking for a partner to climb Peak Lenin (7,138m). I was looking for a place where I could link a long trip on horseback with a very high altitude climb. The country was perfect for both.
You have already travelled on horseback in Mongolia, how was this trip to Kyrgyzstan different?
In Mongolia I started by crossing the Gobi desert with a camel (I had bought two, but I lost the first one on the second day...). It was my first experience of travelling with animals and I was well served. It is not rare to walk several days without meeting a single person, the horizon is flat like an ocean, we are really far from the landscapes of Kyrgyzstan.
Then after a month's crossing I went to the Oregon Valley where I bought two horses (I was going deep into the mountains to spend the winter in total autonomy for 5 months) so I needed two horses. The big difference here is that it was more of a philosophical retreat. I had just travelled for 2 years and I was going to stay in my teepee by a lake all winter with extreme temperatures of -30 to -40c°...
What level of riding do you need to try this adventure?
In Mongolia I had no riding experience. I think the biggest difficulty is in the strength of mind when you travel alone. Then it is better to read several books on the subject beforehand which will allow you to learn a few things.
Riding a horse is not complicated, but you have to take into account that travelling with animals is totally different from any other trip. You have many constraints, as well as a great responsibility towards your horse. Whatever happens, it has to come first. You have to accept this even before you leave, because it has a huge impact on your trip.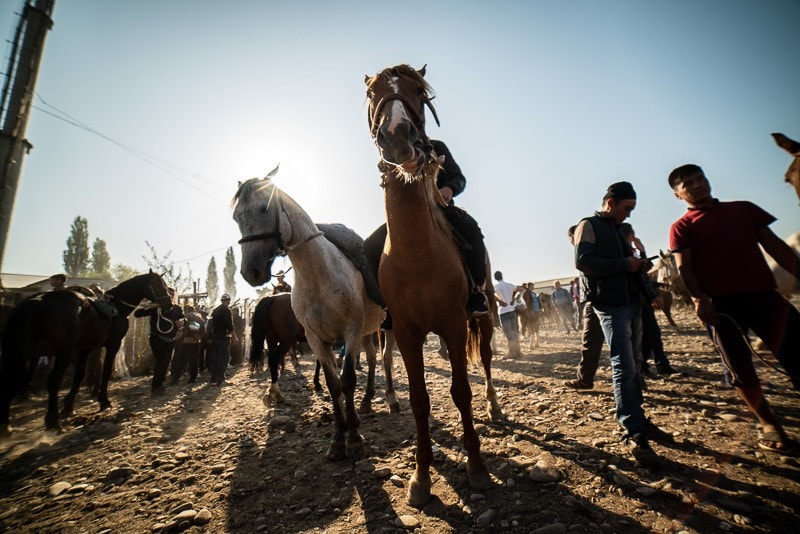 How did you manage to buy your horse and what price did you pay for it?
In Mongolia I bought my camels and horses directly. There is no real animal market like in Kyrgyzstan. The sell happens with the nomads. In Kyrgyzstan I bought Saphir with the help of a local (I had given him a little financial contribution). Not only does it allow me to buy the horse at the real price, but for someone like me with no experience in this field, it helps to acquire a horse of good quality.
The price of the horse was 67,000 sum. Add an extra 4 000 sum for the equipment. I sold Saphir at the end of the trip for 58 000 sum ...
How did you manage to feed and water Saphir on a daily basis?
Unlike the Gobi desert, which you can't cross on horseback. Access to water in Kyrgyzstan is not a problem. I regularly found on the road spring water or a river to quench Saphir.
For the food it was a bit more complicated, where it takes a few minutes for your horse to fill up with water, he will have to graze on average 12 hours a day ... You have to be mindful of where you stop. To keep it simple, I tied him up with a 15-metre rope and an ice axe. He had plenty of room to graze all night. At high altitudes or in arid places, there was not much grass. Saphir lost a lot of weight in one month.
Observation was key to notice any health issues. After a few days, you realise if your horse is tired, stressed by this or that situation and you have to adapt. I also sometimes asked the locals if Saphir was in good health... But widely speaking we did not encounter any major problems.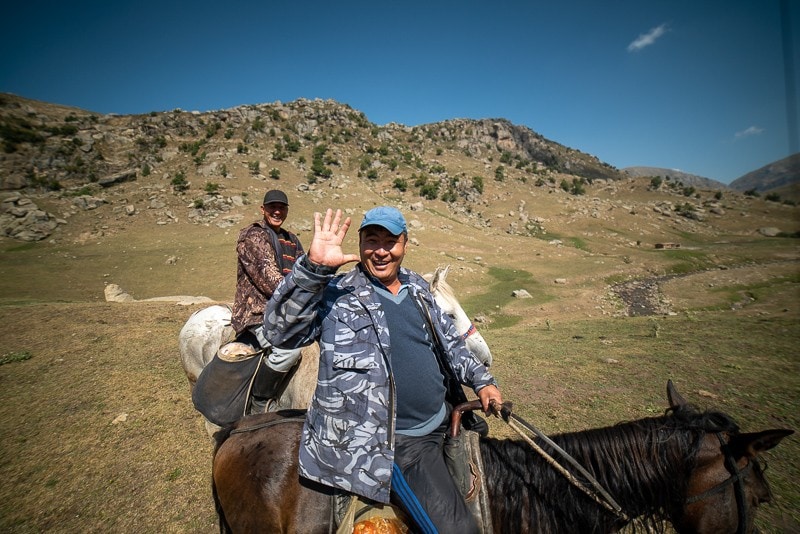 What did you check on your horse each day before departure?
Once again,my experience as a rider is limited, which is why I don't feel legitimate to advise people on this subject... But logically, we do a small check around the horse to see if everything is normal before setting off. Then, it's once you're on the move that you can tell if your horse is having a good day or not...
The locals are very curious, especially if you have a horse. They will come and look at it, sometimes they offer to buy it ... so they don't hesitate to tell you if they see a little problem on your horse, in the mountains in Kyrgyzstan everybody has a horse, everybody is a bit of a vet...
What was your typical day like?
As in any outdoor adventure, your days are punctuated by the sun... In the morning, wake up at 6 am for an 8 am departure. Depending on the terrain, we cover 20 to 40 km per day. At lunchtime the most important thing is to find a place with good grass for Saphir (so he can eat for 1 or 2 hours). On average we walked 8 hours a day.
In the evening we have to find an ideal place for Saphir (the quality of the tent site is secondary...). In normal circumstances, the night represents up to 50% of the time that the horses eat. For Saphir it was more like 80% as he walked all day... Under no condition could we stop in a place totally devoided of grass. The days are therefore punctuated by walking and by looking for nice places where your horse can rest and feed. We gave ourselves a rest day every 6 days or so.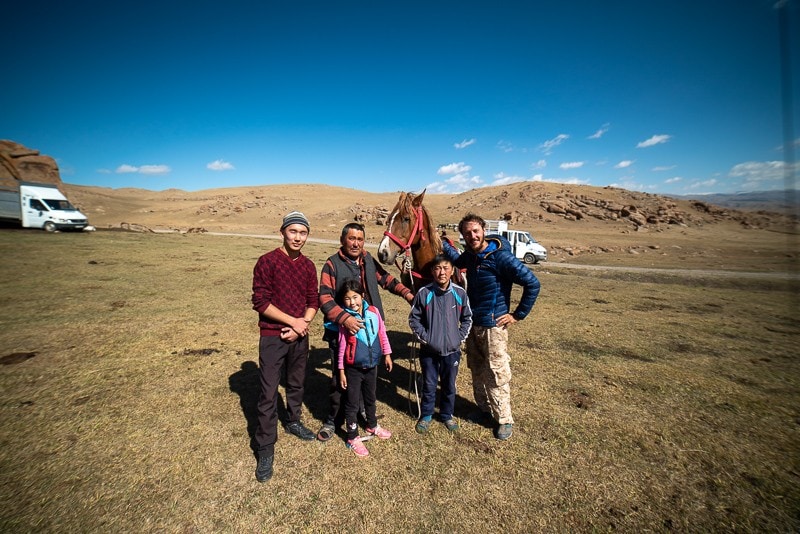 What route did you take? How did you find your way?
I bought Sapphire at the animal market on Ozgon. Then someone drove us to Kara Kulja by van (I didn't want to leave Ozgon with the stress of walking through an urban area). My first goal was the Chatyr Kul lake, but I was not sure if I could pass the Shilbili Ashuu pass. Some of the locals told me it was impossible, others the opposite...
In the end, after 4 days of walking there were no more tracks, it was becoming too dangerous, and finally Saphir stopped moving. We had to make a 5 day detour to the Chaar-Tash Ashuu pass further north. This part of the trek was really cool, as people were not used to seeing tourists. I was the first tourist they saw on horseback. So I was regularly invited to have tea, a meal or spend the night in the tents or yurts of the shepherds. 
Instead of the lake Chatyr Kul I changed direction towards the lake Son Kul more to the north, then towards Narin. From there we walked to the Tong Ashuu pass which is over 4,000 meters high and reached the Issyk-Kul lake. Then we walked along side the lake to Tosor (Saphir was quite tired) and stopped 3 days from Karakol.
The first part of the trek was not referenced on Maps.me (which I use in all my trips), so I used traditional maps, and the help of the locals ... Then from the Son Kul lake we arrive in more touristic areas, and therefore all the treks are referenced on maps.me and on traditional maps ... 
Has the horse changed your relationship with the locals?
I was quite surprised when the locals told me that they had never or very rarely seen tourists travelling alone on horseback. So they were really curious, they wanted to know where I had started from, where I was going... People are very connected with their horses that's why they really respected the fact that I was travelling through their country, alone on horseback. They really wanted to invite me to have tea, to eat and to stay with them for the night.
Many people were also interested in Saphir. He was a beautiful horse and people were coming to see him and try to buy him off me, so bonds are easily created. Definitely if you want to meet the locals without experiencing the money-tourist relationship they might have, travel alone on horseback, you will make many friends for sure...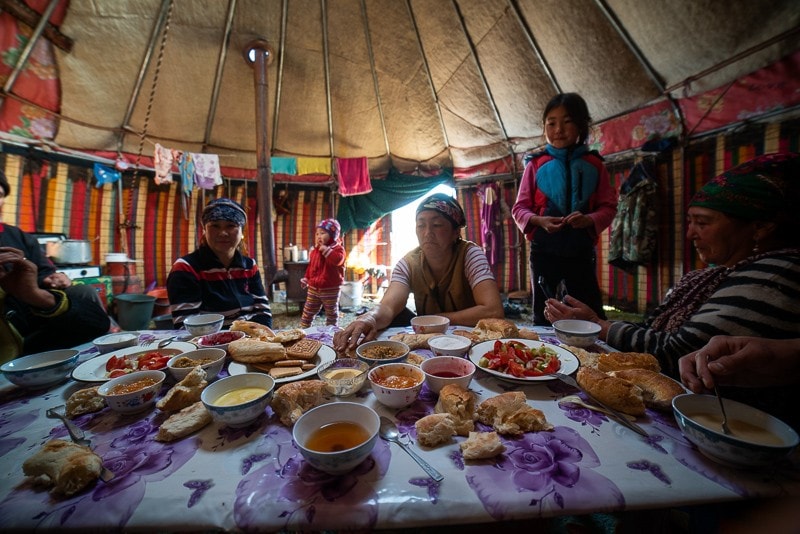 What are the risks of travelling on horseback alone? How can you avoid them?
The main risk is the unfortunate fall, you can't avoid it, but you can reduce the consequences ... That's why I carry at all times (in a small backpack and not on the horse) a satellite phone and enough to survive 48 hours. The first few days I also take time to get to know my horse (how he behaves when a car approaches, a dog, other animals). It is also important to start in a sparsely populated area, in order to reduce as much as possible the stress of populated areas.
There are not so many other risks, but one has to accept the hazards of a long journey on horseback. I changed my route several times. Once I was forced to take a 5-day diversions because it was impossible to cross a pass with my horse. In the end I decided to stop the walk 3 days before Karakol, because I felt that Saphir was too tired. 
Finally, Florent, can you share with us your most beautiful memory?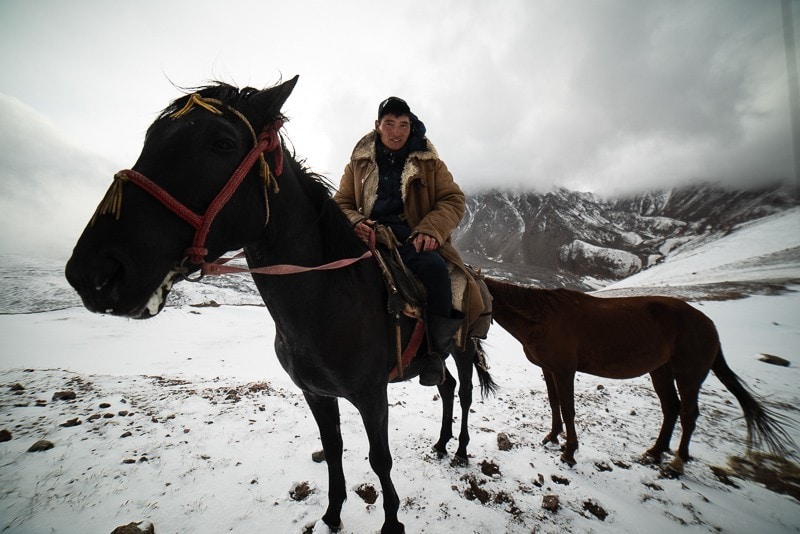 The beauty of a trip lies in its globality and cannot be reduced to a few instagrammable moments or places.Crossing a country on horseback is far from being a peaceful journey, you often have to walk for several days to reach a particular place, pass through gaps in the rain, go without food, not to mention the difficulties, risks and responsibilities inherent in travelling on horseback... It is once you have overcome the pain, the fatigue, the doubts, that you begin to appreciate the beauty of such an adventure. The encounters are then magnified by their authenticity, the mountains, meadows, lakes, reveal to you in their greatness their true beauty...
Conclusion
Thank you Florent, for this fascinating exchange. I have my program for my next trip to Kyrgyzstan. I wish you all the best in your projects and I'm looking forward to their release on video.
You can find Florent on his instagram: https://www.instagram.com/florentdefay/
If you want to have more information on how to travel in Kyrgyzstan, I invite you to read my complete guide to prepare your trip to Kyrgyzstan.
If you want to chat with former travellers and/or find fellow travellers, I have created a facebook group in 2018 Travelling to Kyrgyzstan, so don't hesitate to join it and participate.
I wish you a lot of fun. Don't hesitate to ask your questions or to share your information in the comments. Also, if you have experienced a similar adventure to Florent's, leave us your testimony. Thank you.