Oslo is a city I wanted to discover for a long time, for different reasons. Norway is number 1 in the HDI, so this city is the capital of happiness. Wild camping is allowed and widespread, and for me it is the best way to travel. Ryanair flights allow you to get there at very low prices. Finally I had a 'revenge' to take. In 2012, I bought a flight to Oslo, but the trip was stopped in Beauvais because the plane couldn't take off because of fog... In May, I finally went there, with my friend Sébastien.
This country is reputed to be one of the most expensive in the world, but I always thought that it was not necessary to have a big budget to travel while having fun. My idea of travel is to combine pleasure and discovery. I wouldn't say that it's possible to go to Oslo for cheap, if it wasn't easy to stay there, eat enough, and wash every day, while having fun.
Have fun for 5 days in Oslo for less than 200€, it's possible!
How do I do it? You'll find my tips below!

Do I need a visa?
Although not a member of the European Union and the Eurozone, Norway is part of the Schengen area. No visa is required, you can go there with a simple identity card.
How much does the flight cost?
Living in the Ile de France region, I can only tell you about flights from Paris. Ryanair offers very interesting rates from Beauvais airport. For my stay I paid 45€ for a return ticket. This price is not difficult to get, you just have to book a few weeks in advance to get it.
For more information on the subject, I advise you to read my article on how to find a cheap plane ticket, in less than 40 minutes.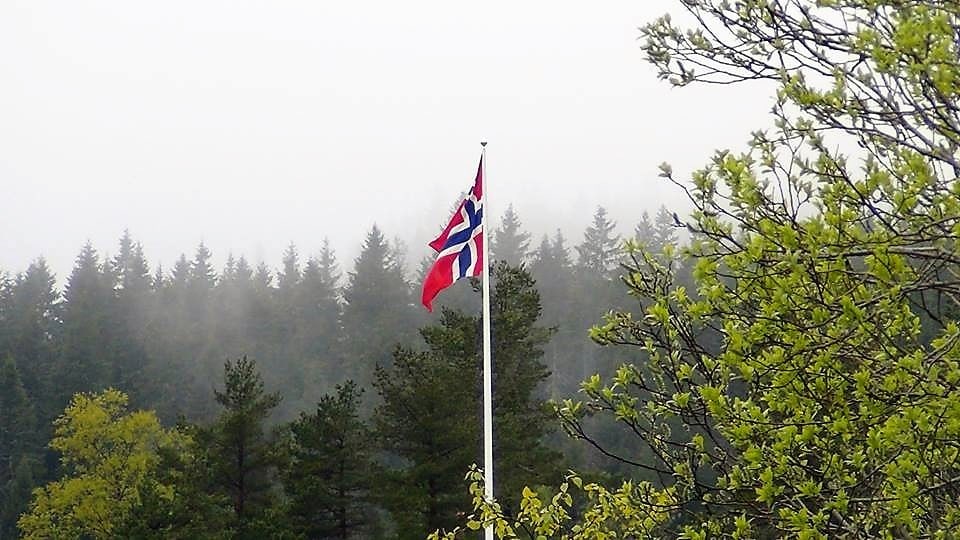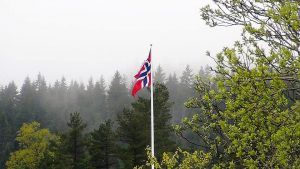 How do I leave Oslo Rygge Airport?
Ryanair lands at Moos Rygge airport which is 67 km from Oslo. It is a very small airport in the middle of the countryside. To leave it you have 3 options:
Hitchhiking: We tried our luck, but apart from passengers leaving the airport, there is little traffic. As it was raining, we did not push the experience beyond 25 minutes. With patience and/or luck it is surely possible to find a good soul.
If the weather is not suitable, you have two options:
-The train:A free shuttle bus takes you to Rygge station, from where a train takes you to Oslo station in the city centre in 45 minutes. The round trip costs 38€ (312 NOK).
-The bus: For each flight, there is a corresponding bus. It is located just outside the airport. It takes you 1 hour to get to the Oslo bus station in the city centre. The return trip will cost you 27€ (220 NOK) if you take the student fare (no proof needed) or 36€ (300NOK) at the normal fare.
The best solution is by bus. The train station and the bus station in Oslo are opposite each other. With the bus you will pay less and you will not have any changes or waiting time.
How to get around Oslo?
Oslo is not a very big city, so you can easily get around on foot. However, transport is not very expensive, if you take a long-term card:
Don't buy a single ticket directly from the driver 6.15€ (50NOK), or even from the distributor 3.69€ (30NOK). Instead, buy a daily ticket for 11€ (90NOK) or a weekly ticket for 28€ (230NOK) depending on the length of your stay.

The Oslo Pass long term tickets are valid for buses, metro, trams and ferries on the Oslo Fjord.
You will see self-service bicycles such as Véli'b, but this is not an interesting option. For tourists the card costs 12.5€ (100 NOK) per day and these bikes do not have a lock. You can only park them in their stations.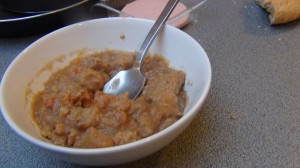 Where to eat?
My first meal was free. We met a Buddhist monk (the Dalai Lama was in Oslo during my stay) who was giving away salmon to promote world peace. At first I was reluctant to accept but after thinking about it I decided that I was more for it and accepted his salmon.
If you are not so lucky, or if you are not for peace, food is a big budget in Oslo. A kebab costs at least 8€, a mac do 12€ and you won't find any restaurant with dishes under 15€.
The best option is to shop in a supermarket for cooking or picnics.
The best value for money can be found in Kiwi shops
To give you an idea, here is a price list of foods I have bought: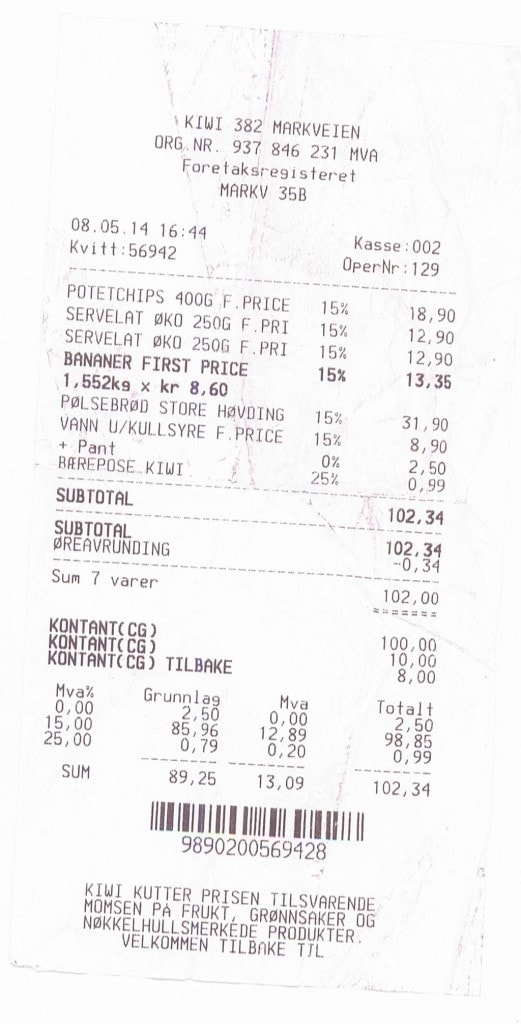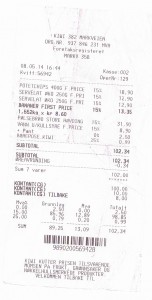 | Aliments | Prix |
| --- | --- |
| Petit pain | 0.4 € (3 NOK) |
| Paquet de 10 pains au lait | 4 € (31.90 NOK) |
| 250 g de cervela | 1.6 € (12.9 NOK) |
| Boite de 100 g de thon | 1.6 € (12.9 NOK) |
| Boite de conserve 800 g brun lapskaus | 2.5 € (20 NOK) |
| Paquet de 400 g de chips | 2.5 € (18.9 NOK) |
| Banane | 1€/ kg (8.9 NOK/ kg) |
| Bouteille d'eau 2 litres | 1€ (8.9 NOK) |
Il est probable que la nourriture de Kiwi ne te laissera pas un souvenir incroyable, mais il n'en sera pas de même pour les lieux de tes pique-niques.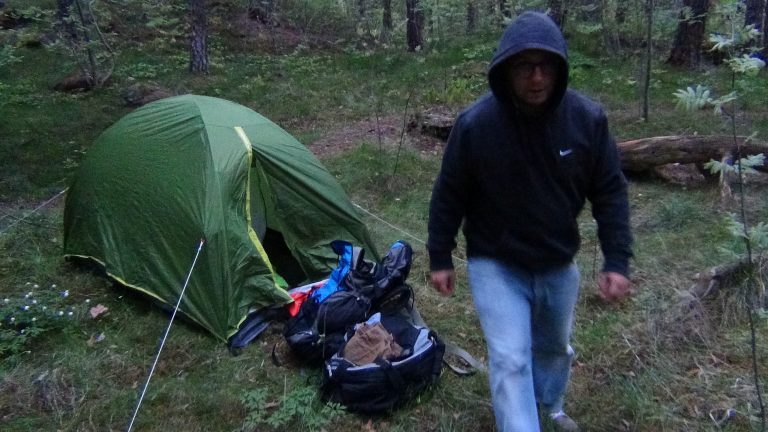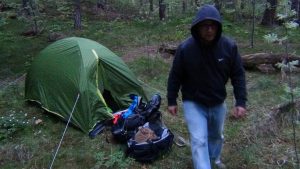 Where to sleep?
Oslo is a city where accommodation is a big budget. Our initial idea was to go camping. It is important to know that wild camping is allowed and widespread in Norway. Unfortunately, the first 2 days, it rained.
Couchsurfing is an interesting solution and also a great adventure that I have already experienced in other trips. But for this trip, we were too late. Nobody had the possibility to host us.
We decided to find a hostel. Which allows me to tell you that the cheapest hostel in Oslo is http://www.ankerapartment.no/en/
A night in a dormitory costs 24.5€ (200NOK), they rent bed linen (duvet covers, pillow cases and sheets) 6.15€ (50NOK) however it is not necessary. Beds are provided with duvets, mattress protectors and pillows. A sleeping bag will do.
The hostel is very clean and quiet, I have never seen a hostel so quiet. The dormitories have 24 beds but there is plenty of space and it is clean. The same goes for the common areas which are huge and perfectly maintained.
The next two days we camped. This is the main interest of Oslo, the possibility to camp in the wild.
We opted for the Oslo fjord. It consists of 6 islands: Hovedøya, Lindøya, Nakholmen, Bleikøya, Gressholmen and Langøyene.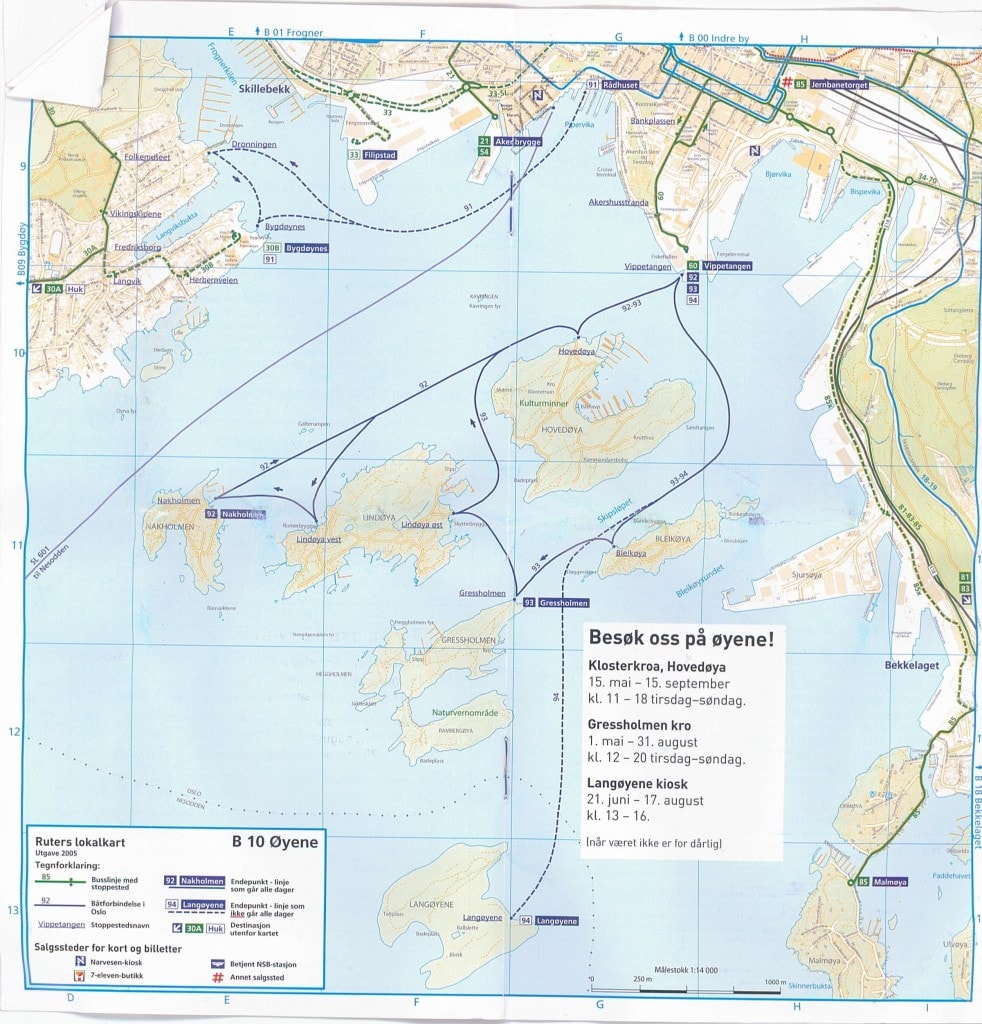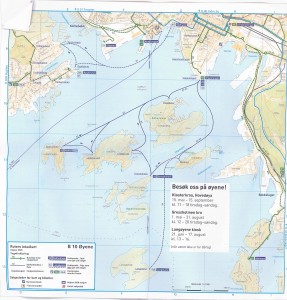 Only Langøyene allows wilderness camping, but this island is only served by ferries in summer, from 25 May to 7 September.
We camped on Gressholmen. This island is the most suitable, it is a nature reserve, 20 min by ferry from Oslo. If you camp on this island, you won't have any problems if you respect the place. Don't make fires, don't leave any trace of your passage and if like us you stay several days, take down your tent in the morning and put it up in the evening.

Where to wash?
The irony of camping in a fjord is that you are surrounded by water, but sea water. Remember to take bottles to drink and brush your teeth. If you want to wash, you have to go into town.
Our solution was found, we went back to the hostel where we had spent our first 2 days, to take advantage of the communal showers.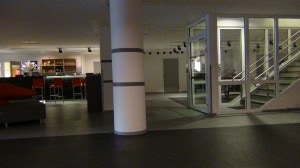 Access is by card, but if you go at check-out time (11am) you can easily get in when someone is leaving.
You can also take advantage of the municipal swimming pools or use the more basic toilets in the public toilets.
What to do in Oslo?
I devoted my stay to outdoor activities. Oslo is one of the most expensive cities in the world, but paradoxically, it is one of the greenest cities I have visited. Nature is really present.
When I travel I like to interact with the people I meet. Oslo is great for that, people, whether they are shopkeepers or just passers-by, are friendly, always pleasant and helpful
In 5 days you can :
Discover the city of Oslo, its monuments and its inhabitants, who as said are charming.
Visit the mountain north of Oslo. You can do some great hiking and see the impressive ski jumping site Holmenkollen.

Explore the Oslo Fjord. The 6 islands are all different, some are wild, some inhabited, but they all lend themselves to shorter or longer hikes.
Enjoy the beaches of Oslo. Whether in the Fjord, in the city or in the lakes, the city has a multitude of beachesthat really made me want to go back in the middle of summer.
If you prefer museums and indoor activities, www.visitnorway.com will give you all the information you need.
How do you come up with a backpacker budget of 200€?
Durant mon séjour mes dépenses se sont réparties ainsi:  
| Dépenses | Coûts |
| --- | --- |
| Vol | 45 € |
| Navette aéroport/Oslo (aller retour) | 27 € |
| Oslo pass | 28 € |
| Auberge (2 nuits) | 49 € |
| Nourriture | 40 € |
| Total | 189 € |
As you can see I spent a little less than 200€, if I had camped during my whole stay, I would have even reached a budget of 139€. So it is quite possible to discover Oslo for less than 200€. You can spend my hostel budget on paid activities and still stay within this budget.
What did you have in your bag?
For 5 days I had:
My travel outfit:
A pair of trainers, jeans, a t-shirt, a hoodie and a winter coat.
In my bag I had:
My toiletry kit
1 decathlon microfiber towel
3 pairs of socks
4 pairs of underwear
3 shirts
1 Decathlon ultralight sleeping bag
1 arpenaz 2 Quecha tent
My camcorder
My bag was light, compact and I was able to take it in the cabin on Ryanair flights.
Do you have any other advice?
If you want to camp and enjoy the beautiful nature around Oslo, I strongly recommend you to go in summer or late spring (from May 25 when Langøyene opens). When I went in early May, it was raining and still a bit cold.
If you are there in summer, remember to take a night mask. When I was there in May the sun was up at 4.30am, in summer it's up around 4am. This gadget will allow you to spend a better night in your tent.
Don't hesitate to leave me a comment if you have any other advice. Thanks in advance.
Enjoy your stay!