Albania is the only country in the Balkans that I had not yet visited. I had been to the neighbouring countries several times, but time and meetings had always led me to other destinations. The easiest way not to miss this country again was to go there directly and spend 3 weeks.
You too want to discover this country, you wonder how to get around, where to stay, where to live and what is the budget for a backpacker?
You can find all this information in this article.
During my trip I joined a team, who were driving to Thessaloniki in Greece, where we spent 5 days. I have included some information about this place in the article and to start with I invite you to watch my video.
Do I need a visa?
Although not a member of the European Union and the Eurozone, no visa is required, you can go there with a simple identity card. For a stay of more than 3 months, a visa is required.

How much does the flight cost?
As I live in the Ile de France, I can only tell you about flights from Paris. Transavia offers flights to Tirana. For my stay I paid 250€ for my return ticket, buying it at the last moment. You can save money by taking a flight that lands in a neighbouring country. The main surrounding cities served by low cost airlines are :
Corfu
Athens
Skopje
For more information on the subject, I advise you to read my article on how to find a cheap plane ticket, in less than 40 minutes.
How to get from the airport to the city?
The airport is a 25-minute bus ride from the city centre. There are buses every hour. The fare is 280 LEK (2€ ). You can pay in € or in Lek.
By taxi the journey costs 2800 LEK (20€).
What currency is used?
The official currency of Albania is the Lek. 1€ = 140LEK.
The dollar can be used everywhere. 1$=1500LL.
In the big cities you can pay in €.
In the city, you will find street changers, often retired people who do this to make ends meet. You can change your money with confidence.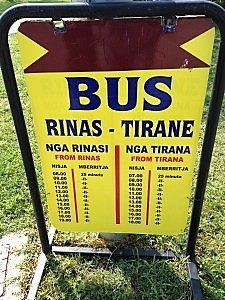 What language is spoken?
The official language is Albanian. As Italian tourism is very developed, many Albanians speak Italian. Outside the major cities, English is not widely spoken.
What is the police like?
Police presence is important. The police are not corrupt. The police will not hesitate to help you if you need it.

Where to stay?
In a youth hostel you can stay for LEK 1120 to LEK 160 (€8 to €12) per night.
During my trip I stayed in these different hostels:
In Tirana:
Tirana Backpackers: A nice hostel with several common areas and a bar where you can easily meet other travellers.
Vuno:
Vuno Shukla: A really attractive concept, the rest of the year it is the village school. During the summer, the classrooms are transformed into dormitories. The hostel is located in a small mountain village, 1 hour walk from the beach. If you want to live in a peaceful place, surrounded by olive trees, goats and sheep this is the place to be. If you like hot water, electricity and wifi, you will be disappointed.
Himare:
Himare Downtown Hostel: This is a well located hostel, right next to the beach. It is a dormitory and a terrace. It is a simple hostel, a place to sleep.
Sarande:
SR Backpackers: I really recommend you to stay in this hostel. In itself, it's nothing special, it's an apartment with 3 rooms in dormitories, a living room and balconies facing the sea. The real plus of this hostel is Tony, the owner. He is a character to know absolutely, a nice guy, friendly and helpful. He spends his days sitting on the sidewalk in front of the hostel waiting for his guests and being available for them.
Dolphin: I also recommend you, even if it is in the same city, to stay in this hostel. It's a real hostel atmosphere. They don't turn anyone away, no matter how late it is or how many people are staying in the hostel, they will always find you a mattress and a place. People sleep absolutely everywhere. It's the perfect place to party.
Pogradec:
Chill out hostel: This is a nice hostel in a nice town. It's a clean place, well located with a pool as nice as its owners.
Check the price of accommodation in Albania
In Greece, in Thessaloniki, before taking an airbnb, we stayed at:
Little big house: It's a comfortable, well-appointed hostel with a bar and communal areas to rest or socialise.

Where to eat?
Food in Albania is good and cheap. Breakfast is always included whether in guest houses or youth hostels.
Other meals will cost you between LEK 280 (€2) and LEK 840 (€6), if you eat in the street or in a small guinguette.
In Greece, you can eat out for a budget of 8€ to 15€. Greek restaurateurs are very good businessmen and always offer extra dishes or desserts.
What are the means of transport?
It is really easy to get around in Albania.
In town:
As the distances to be covered are quite short, I have always travelled by foot in the city. A bus ride costs less than 140 Lek (1 €).
To circulate between cities you also have several options:
Hitchhiking: Albania is not a hitchhiking country, but if you are patient you will always find a kind soul to drive you to your destination. I used hitchhiking for medium distances, but I met other more patient travellers who hitchhiked long distances.
Bus: Albania is very mountainous and there are no tunnels. The journeys are therefore quite long considering the distances, but the fares are very interesting.
Scooters: Rental companies offer 125cc scooters from 2100 LEK (15 €) per day.
The car: Rental companies offer cars from 2800 LEK (20 €) per day depending on the season.
Discovercars. com is the best way to find your car. It is a site that compares car rental offers from local and international agencies.
Which route to take in Albania?
My various visits and meetings during my stay, allow me to advise you these places:
Tirana:
The capital is a modern city with a rich cultural life and a lively nightlife. You can see the amazing George. W Bush Street.
Gjirokastra:
A unesco heritage site. You can walk through the Ottoman houses and admire the view from the top of the medieval city.
Ksamil:
A seaside resort famous for its four small islands accessible by swimming. You can swim in the turquoise sea and walk on the white sand.

Pogradec:
A small town on the border with Macedonia. You can discover Lake Ohrid and the beautiful mountains surrounding it.

Koman:
An artificial lake built by the dictator Enver Hoxha to make the country self-sufficient in terms of energy. You can sail on the turquoise waters, admire the breathtaking cliffs and the arid mountains.
Can you travel on a backpacker budget?
During my 17-day trip, I spent €841.73, including the flight.
Budget for 12 days in Albania
| Expenditure | Costs |
| --- | --- |
| Airline ticket | 250 € |
| Food | 127,16 € |
| Housing | 112,69 € |
| Transport | 40,84 € |
| Leisure | 31,69 € |
| Withdrawal fees | 16,18 € |
| Petrol | 9,03 € |
| Memories | 1,44 € |
| Total | 589,03 € |
Budget for 5 days in Greece
| Expenditure | Costs |
| --- | --- |
| Food | 80,7 € |
| Housing | 80 € |
| Leisure | 39 € |
| Transport | 28 € |
| Petrol | 20 € |
| Memories | 5 € |
| Total | 252,7 € |
As you can see the budget in Greece is much higher than in Albania, which is a very cheap country.

What to pack in your backpack?
As with any trip, my bag did not exceed 8 kg.
Each time I manage to keep my backpack in the cabin. This forces me to make sure that it is not too heavy. It saves me having to wait for it when I get to the airport and most importantly.
I don't take clothes for more than 5 days, I think it's the ideal compromise to enjoy my trip while stopping and taking time for myself.
In Albania, as everywhere, it is easy to find laundries. Prices vary from 140 Lek (1€) to 280KGS (2€) per machine, depending on the place.
Here are the contents of my bag.
Decathlon Forclaz 60 bag :
backpack (for the day)
2 flat bananas (for my passport, payment card)
Canvas trousers
denim shorts (personal choice)
2 swimming shorts
6 pairs of pants
5 pairs of socks
2 decathlon shirts
3 t-shirts
2 tank tops
padlock
headlamp
hoodie
waterproof bag
Toothbrush
toothpaste
camcorder
Go Pro
current USB adapter
Bob
pair of sunglasses
spare eyeglasses
cloth shoes
pair of flip-flops
microfiber towel
If you have any other questions, or advice, don't hesitate to leave a comment.