Last update: 14/04/2023.
As of 1 May, a negative PCR test or vaccination certificate is no longer required for entry into Kyrgyzstan
Kyrgyzstan is my favorite country. My first trip to this country, dates back to 2014. Since then I go back regularly. I continuously enrich this article thanks to my friends on the spot and to the readers' feedbacks. My last stay in September 2022, allowed me to discover new regions, to make new treks and to meet many new people. I had the pleasure to introduce the region to some friends and family members.

You also want to prepare your trip in this unknown country, where nomads live and ride horses, in the middle of beautiful mountains and alpine lakes.
You are wondering which visa to take, how to get around, where to stay, and if you can get by on a backpacker budget?

Are you looking for reliable contacts, good tips or answers to even more specific questions?
You will find in this article all your answers and the contacts of my friends, to whom I have referred several hundred readers since 2015. If you need to, don't hesitate to send me a message. 
To exchange with other travellers, join the Facebook group, Travelling to Kyrgyzstan.
I created this group in June 2018. It's the perfect place to exchange the latest information, the latest best tips and to find travel companions for your excursions. Don't hesitate to contribute and keep the group alive.
Finally I invite you to download my free Ebook. It includes a complete travel guide, the French/Kyrgyz lexicon and all the resources and tips to prepare your trip.
Since 2020, the french guide Le Petit Futé, recommends my blog: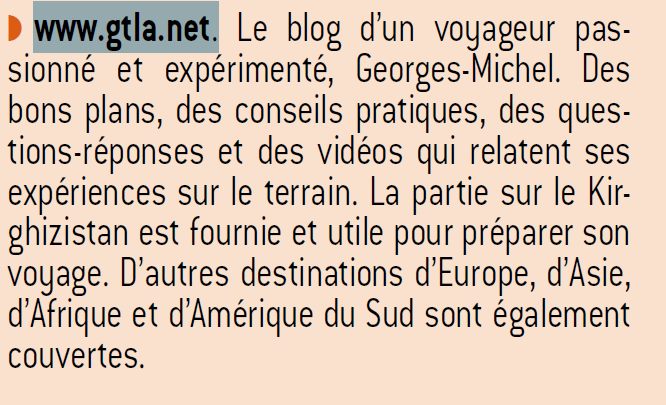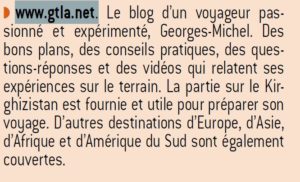 I also invite you to discover this destination through my videos:
What do I need to know to prepare my trip to Kyrgyzstan?
Do I need a visa?
Travellers from 60 different countries do not need a visa for stays less than 60 days. Your passport must simply be valid for the duration of your stay. Make sure that it has been stamped on arrival. You can check here if you need a visa or not.
If you wish to extend your visa, go to the Kyrgyz Ministry of Foreign Affairs (10a Togolok Moldo Street / Toktogul Street - Bishkek).
How much does the flight cost?
Kyrgyzstan is not an expensive destination, but there are no direct flights.
Flights with stopovers are operated by several companies. Pegasus, Turkish airlines and Aeroflot are the most interesting, as they offer very short stopovers: from 380€ to 450€ in the summer, depending on your booking date.

For more information on the subject, you can read my article on how to find a cheap flight ticket in less than 40 minutes.
Coralie, a reader of the blog, told me about a really good deal with Air Astana . If you have a long stopover in Almaty or Astana (especially an overnight one), the company has a Stopover Holidays program, with a $1 night in partner hotels (often starred +++): everything is done online, they send you a driver to the airport, night and breakfast at the hotel, and return with driver to the airport.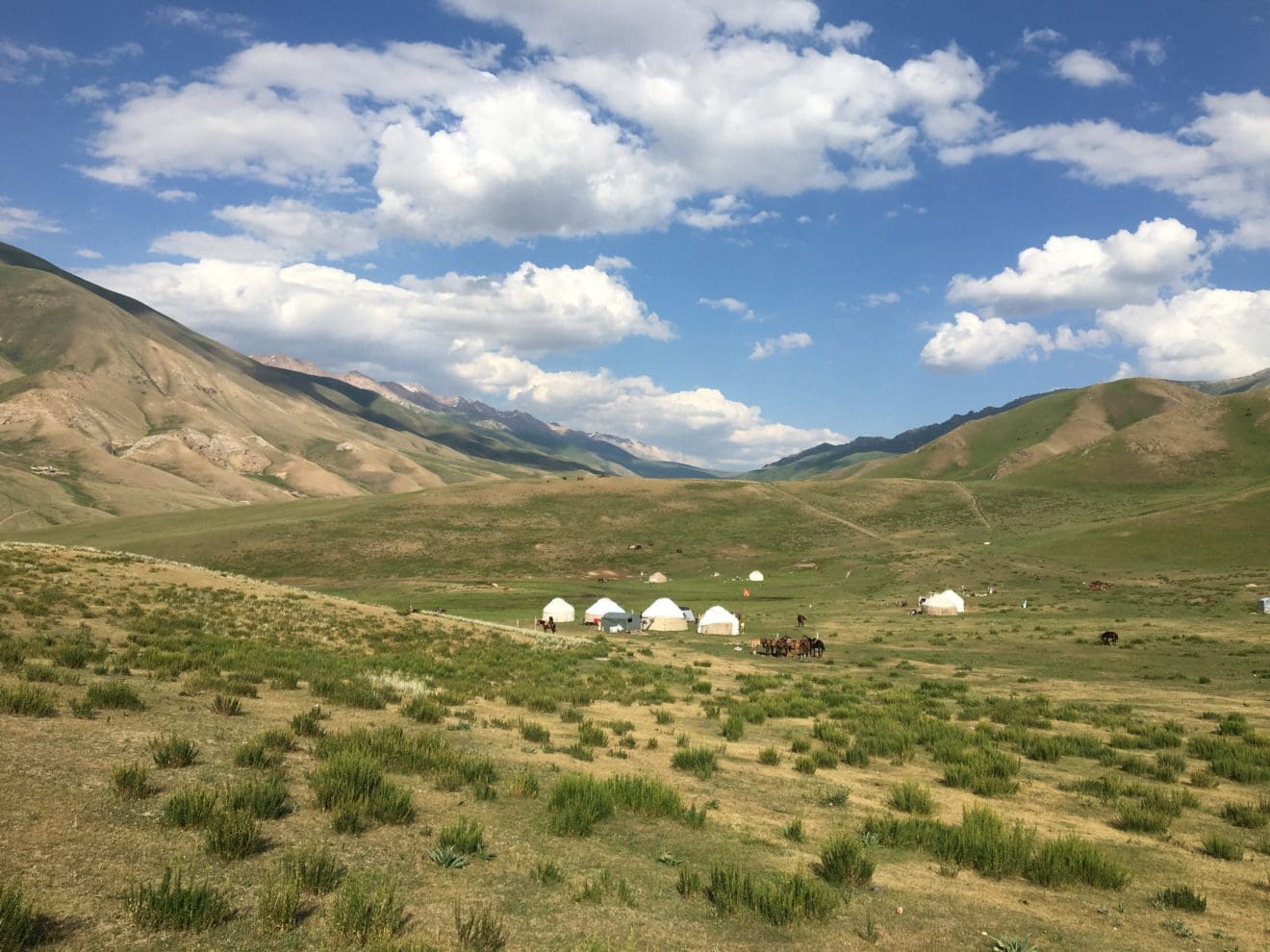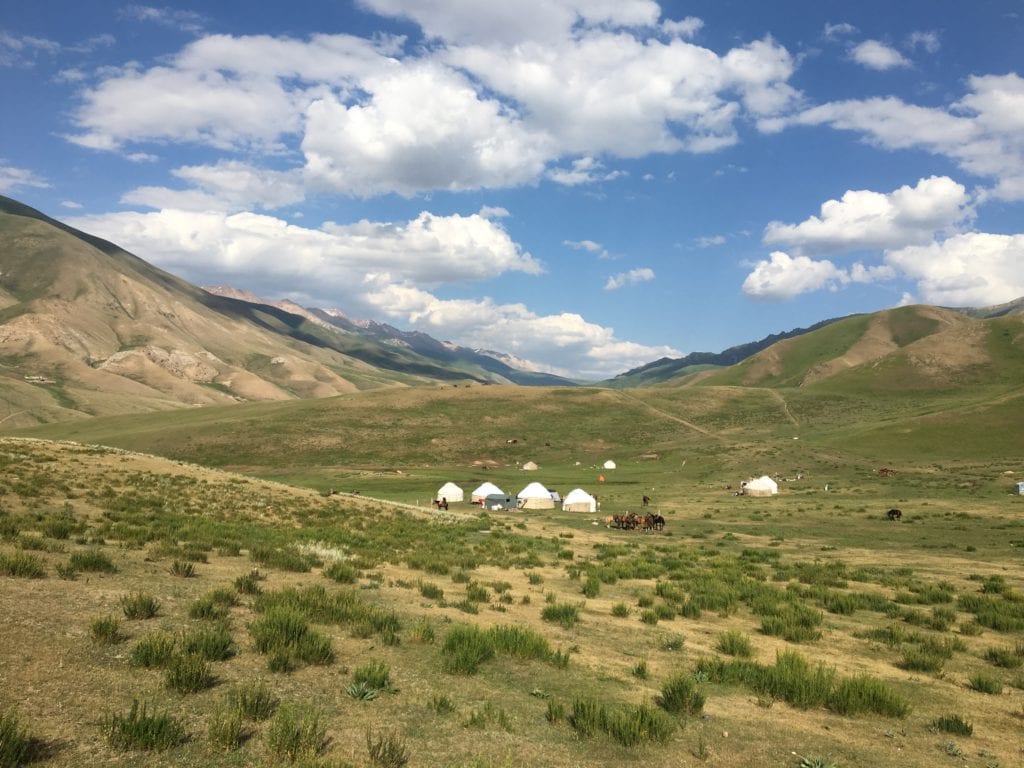 What currency is used?
The official currency is the Kyrgyz Som. 1€= 95 KGS.
Currency exchange is a very good solution, and commissions are low.
Be careful when choosing your banknotes:

-In euros, banknotes must not exceed €100.
-The easiest to change are €20, €50 and €100.
-200€ and 500€ bills are not accepted.
Dollars must be new, post-2005 and undamaged.

ATMs will offer you the choice of withdrawing in KGS or $, although KGS is easier to use for everyday purchases. Visa-compatible ATMs are found only in major cities. Withdraw enough money to survive between each stop in town.
IMPORTANT: You will NOT be able to change your Kyrgyz soms once you have crossed the border, do it before! Nobody will change your Kyrgyz soms, not even banks...
Commissions from traditional banks can be quite high. Before 2020, I made transactions with my CIC card. I was charged around 5% on my withdrawals and payments.
Since then I have been using my N26 card. It allows me to pay without fees and to make withdrawals with a maximum fee of 1.7%.
To find an ATM compatible with your card, it's very simple, there are 2 apps:
Visa : https://www.visa.com/atmlocator/#(page:home)
Mastercard : https://www.mastercard.us/en-us/personal/get-support/find-nearest-atm.html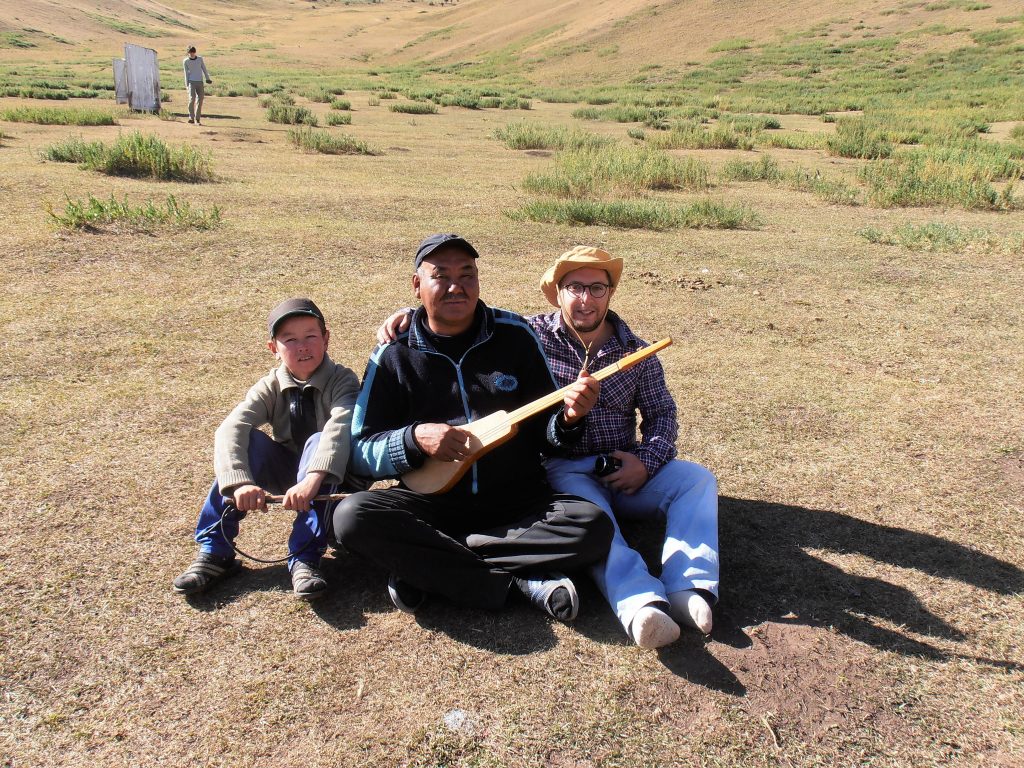 What language is spoken?
The official languages are Kyrgyz and Russian. Hardly anyone speaks English.
With my local friends, we have created a French/Kyrgyz lexicon
When travelling by bus or taxi and when staying with locals, it will facilitate the communication.

I didn't think about this when I made it, but I quickly realised that it is useful in both directions. You can hand it to Kyrgyz people who can read the Latin alphabet, and exchange with them in English!
Learning basic Russian will be very useful:
You will be able to communicate with locals in Kyrgyzstan and in all other countries in Russian.
You will be able to read Cyrillic, which will allow you to understand signs, directions, restaurant menus and anything else you see...
I learned Russian and Cyrillic with Babbel. The app is really well done. It's interesting, fun and designed to help you quickly acquire notions that are really useful when you travel.
By spending between 15 and 45 minutes a day, I learned Cyrillic in 2 weeks. After 2 months, I could hold basic conversations.
Don't hesitate to test it and give me your opinion.
Tip for people working in France: If you have been working for more than 2 years, you can use your CPF account to finance Russian language courses. 
Last tip: To enquire about the price of a trip, the easiest way is to ask the person to write down the amount on your phone or why not, in the dust of a car window.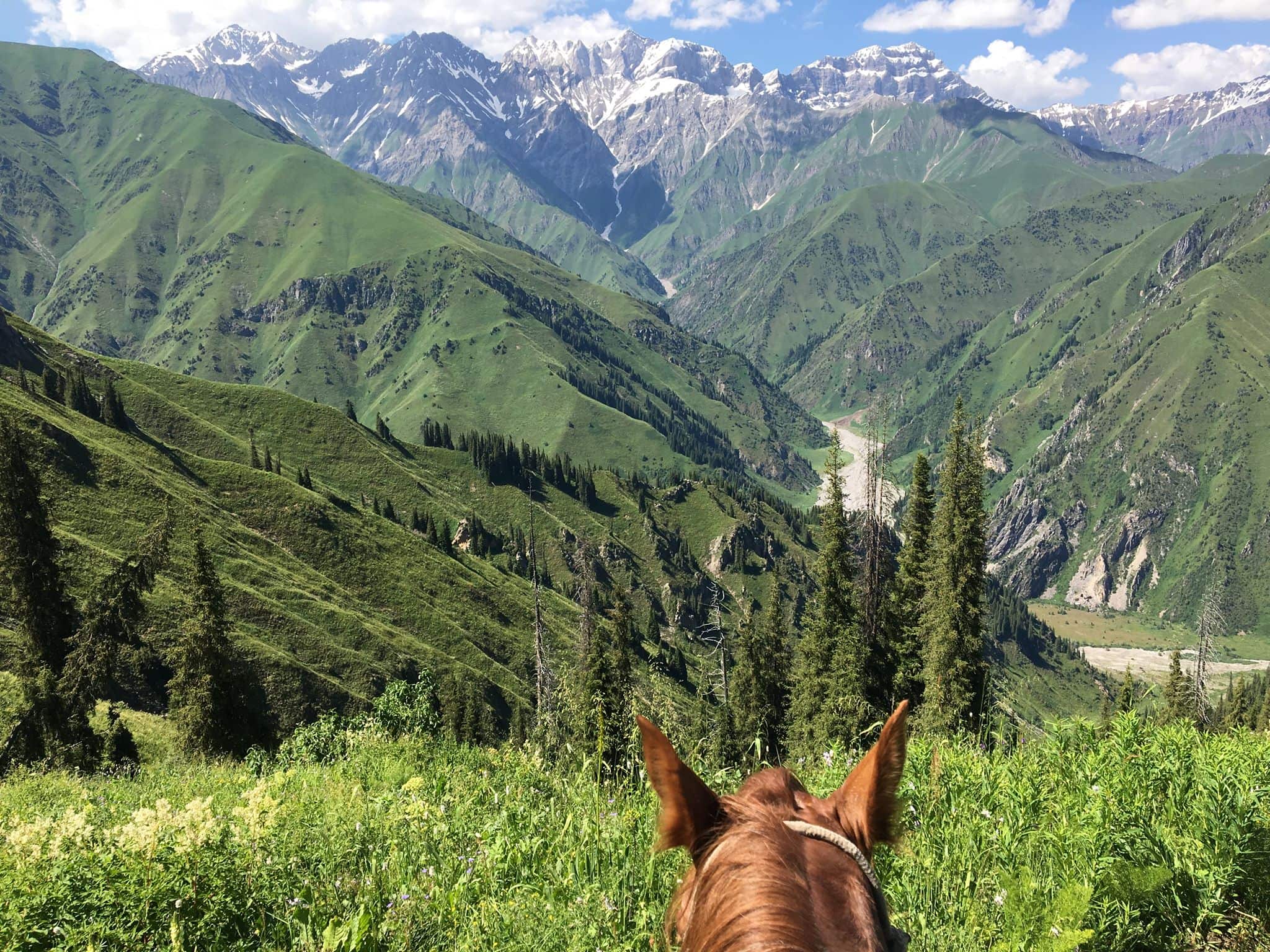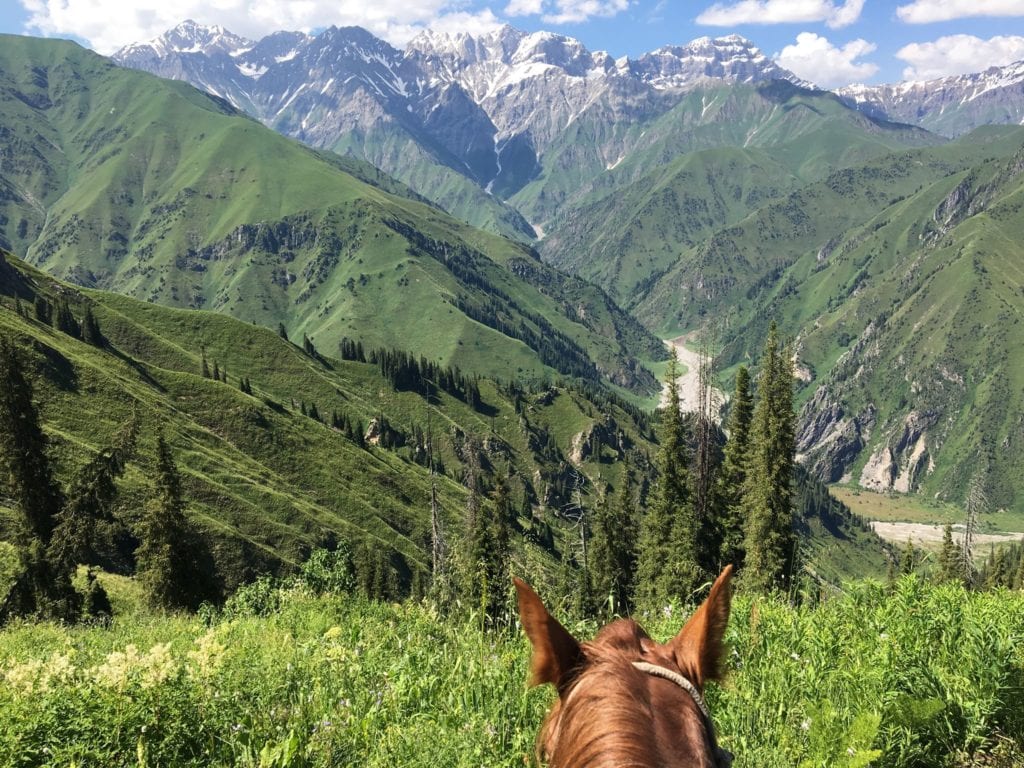 What is the religion?
The country is 80% Muslim, 17% Russian Orthodox and 3% other religions. All religions are still marked by shamanism and Muslims like to say that they have the Koran in one hand and a bottle of vodka in the other.
What is the police like?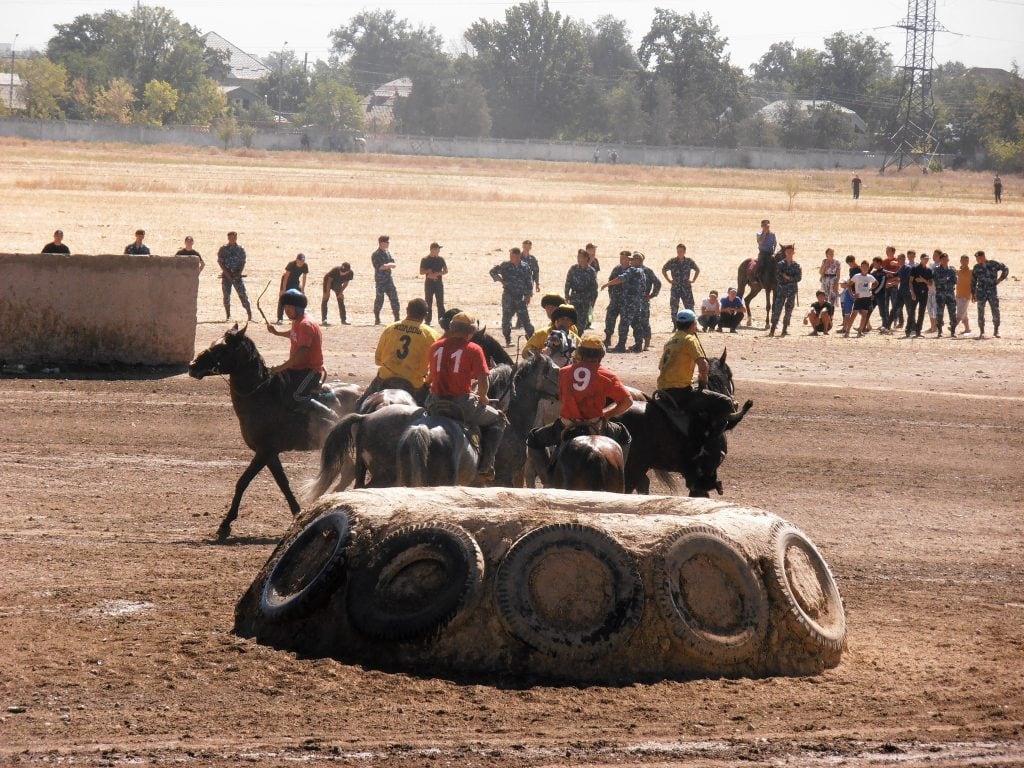 The police is quite honest. My only mishap was in the Osh Bazaar in Bishkek, with a German friend. It is known, that the police stop tourists in this place, to get money from them. It is recommended to go there with a copy of your passport.
They arrested us and took us to their office. We were two foreigners and six policemen. I showed them a photocopy of my passport. They made us empty our pockets and searched us. They found my flat banana, under my trousers, in which was my passport and all my money (10 000 soms or 142€). When I returned to the hostel, I noticed that they had taken a 1000 soms note (14.5€).
It is better to leave your passport and large denominations safe at the hostel before going to this bazaar, if you do not want to contribute to making ends meet for these officials.
This story is from 2014, since then I have been back to the bazaars many times and I have exchanged with many readers. Neither them nor I have had to relive that experience. Anyways, to stay on the safe side, leave your passport at the hotel.
When to travel to Kyrgyzstan?
The ideal period is from mid June to mid September. Outside of these periods, hiking and camping are possible but the passes are snowed in and the farmers have dismantled their yurts. You will have to manage by your own means.
If you want to know more about off-season travel, you will find a feedback from Stéphane, a reader of the blog.
How do I organise myself once I'm there?
How to get from the airport to the city?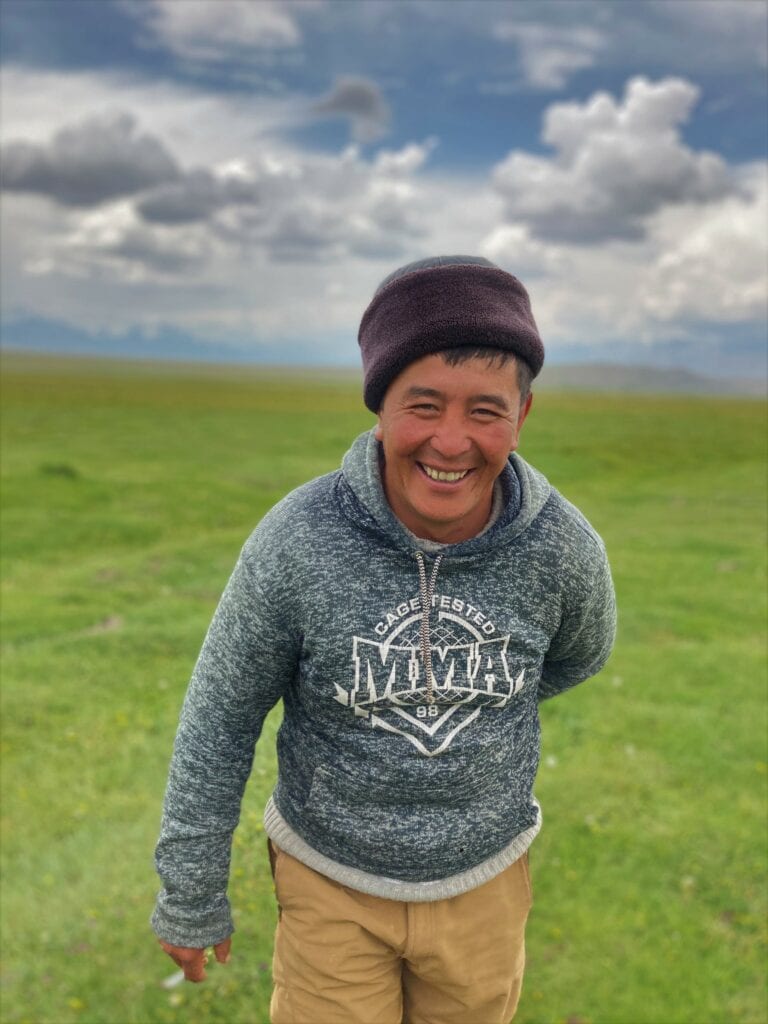 The airport is just over 35 km from Bishkek city centre. There are hawkers waiting for taxis. The price of the 45-minute ride is 500 som. They will offer it to you for 800 to 1000 soms. Dollars are accepted. 
The easiest solutions are:
-Ask your hostel in Bishkek to send you a driver. It will cost you 9€.
-Download the Yandex application, it is the equivalent of Uber. You pay the driver in cash directly at the end of the trip.
If you arrive during the day, you can also take bus 153 for 50 KGS which will take you into town within 1 hour. You will find the bus stop outside of the airport at the intersection of Osh and Chuy prospekt.
Where to stay?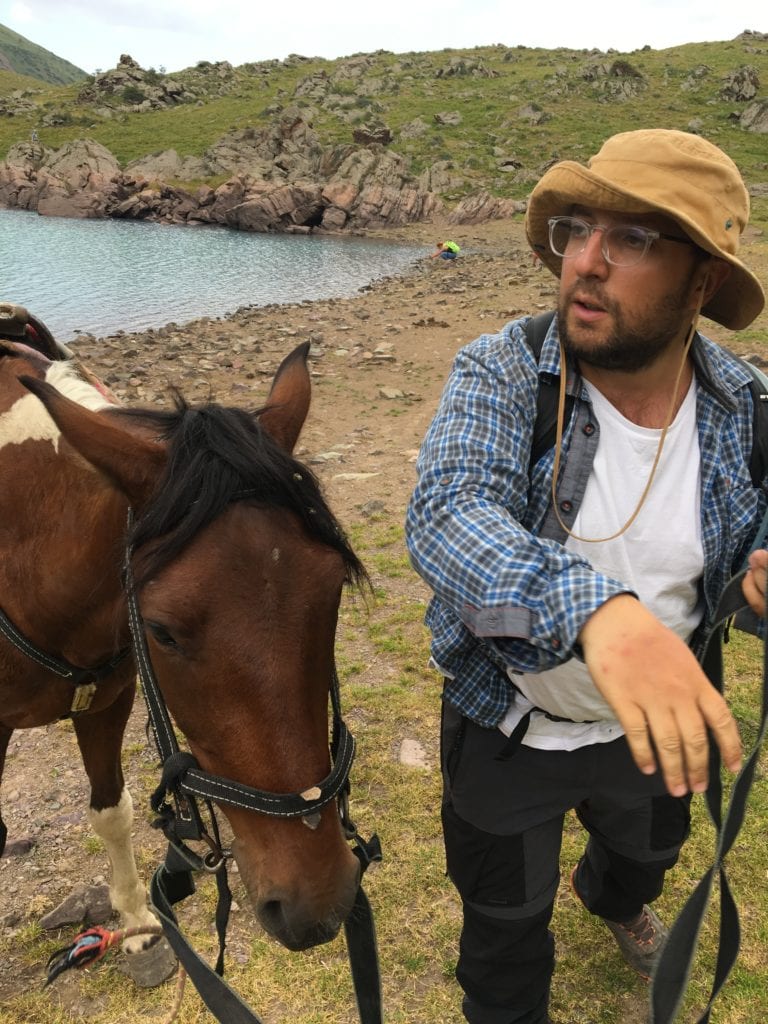 In the mountains, you can choose between staying in a yurt or camping. If you want to camp, make sure you have the right equipment, as it is not uncommon for the temperature to drop below 0° at night in the mountains.
If you want to stay in a yurt, a night with breakfast will cost you 900 KGS.
In town you can easily find hostels and guest houses at reasonable prices.
If you want to stay with a local, you can trust the CBT who offer very good guest houses for 900 KGS, breakfast included.
Do you have any hostels to recommend?
If you're more of a youth hostel fan, you'll find below a list of the ones I stayed in. You
As a bonus you will find a useful information, absent from all travel guides: the address in Cyrillic, essential to ask for directions:
In September 2022 I came back to Bishkek, I visited new hostels but the best ones are still the same:
In Bishkek:
One of the best hostels in Bishkek.
Thehostel is great because it has lots of common areas where you can meet people and find fellow travellers. It is also extremely clean, they clean all the time. It's a 10-minute walk from the Bazaar. And what's even more convenient is that it's located next to the bus station (20 meters), which makes it easier for you to continue your journey.
Tunduk Hostel : Another very good hostel, clean, comfortable with a good breakfast. Azema, actively contributes to the warm atmosphere of the place. The refreshing swimming pool, the beautiful garden and the many common areas will make it easy for you to meet the many travellers who use this hostel.
Koisha: The staff are very friendly, the dormitories are comfortable and the decoration is original and beautiful. 
In Tokmok:
Alma Farm: My friend Aigul's parent's farm. It's a farm in the middle of the countryside with chickens, ducks, a vegetable garden. It's the ideal spot for resting before heading to discover the Tokmok animal market (the biggest in the country), the Burana tower, the Ak Beshim site, or going for a day trip on horse back. Overnight accommodation is only 600 soms in a very modern and comfortable room.
You can book directly via aigulkyrgyzstan@gmail.com
In Kochkor:

Adamkali, Well placed, just opposite Jailoo Tourism and 200m from the only restaurant in town and the bazaar. The family who run the guest house are very friendly and speak some English.
Address
In Toktogul :
Kagan guest house: A very comfortable family guest house with a nice garden. The grandmother who cooks and serves breakfast is a real cordon bleu.
In Bokonbaevo:
Sonun yurt CampSonun Yurt Camp: A small, comfortable yurt camp on the edge of the lake. It is the ideal place to rest and enjoy the beach. Merim and his daughter speak very good English and are real cordon bleu.

Bel Tam Yurt camp: EmilieBP recommends this camp which is ideal for a night by the lake.
In Karakol:

Jamila Guest House: I fell in love with this Guesthouse discovered in July 2021. Zina the owner is charming, she speaks an impeccable French. Her house is clean, very comfortable and she offers an incredible breakfast. It is the ideal place to stay before or after a trek in Karakol.
Duet Hostel: Many travellers recommend this hostel which is very cheap and has everything you need (dormitory or yurts). It has a bar and a pool table.
In Altyn Arashan:

Ala-Kul guesthouse is the only accommodation in Altyn Arashan that you can book to make sure you have a warm bed before you go to Ala Kul. Jezzy will cook you a nice dinner while you can help Ucha milk the cows, or while you're at the hot springs or doing anything else
In Cholpon Ata:

It is a very clean and nice Guesthouse whose name I have only in Cyrillic. I put you the GPS point and the photo of the coordinates. It is clean and very well located. If you can get the booking link, don't hesitate!
gps point : 42.65230643796554, 77.09132136206541
address
Адилет: Several readers have recommended this affordable guesthouse with pool to me.
In Tamga:

Tamga Guest House: Jane also recommends this Guest House run by a charming family in a beautiful setting.
In Osh:

Konok Hostel : Very nice, with its garden, its bar and its breakfast, this hostel is a good address in Osh.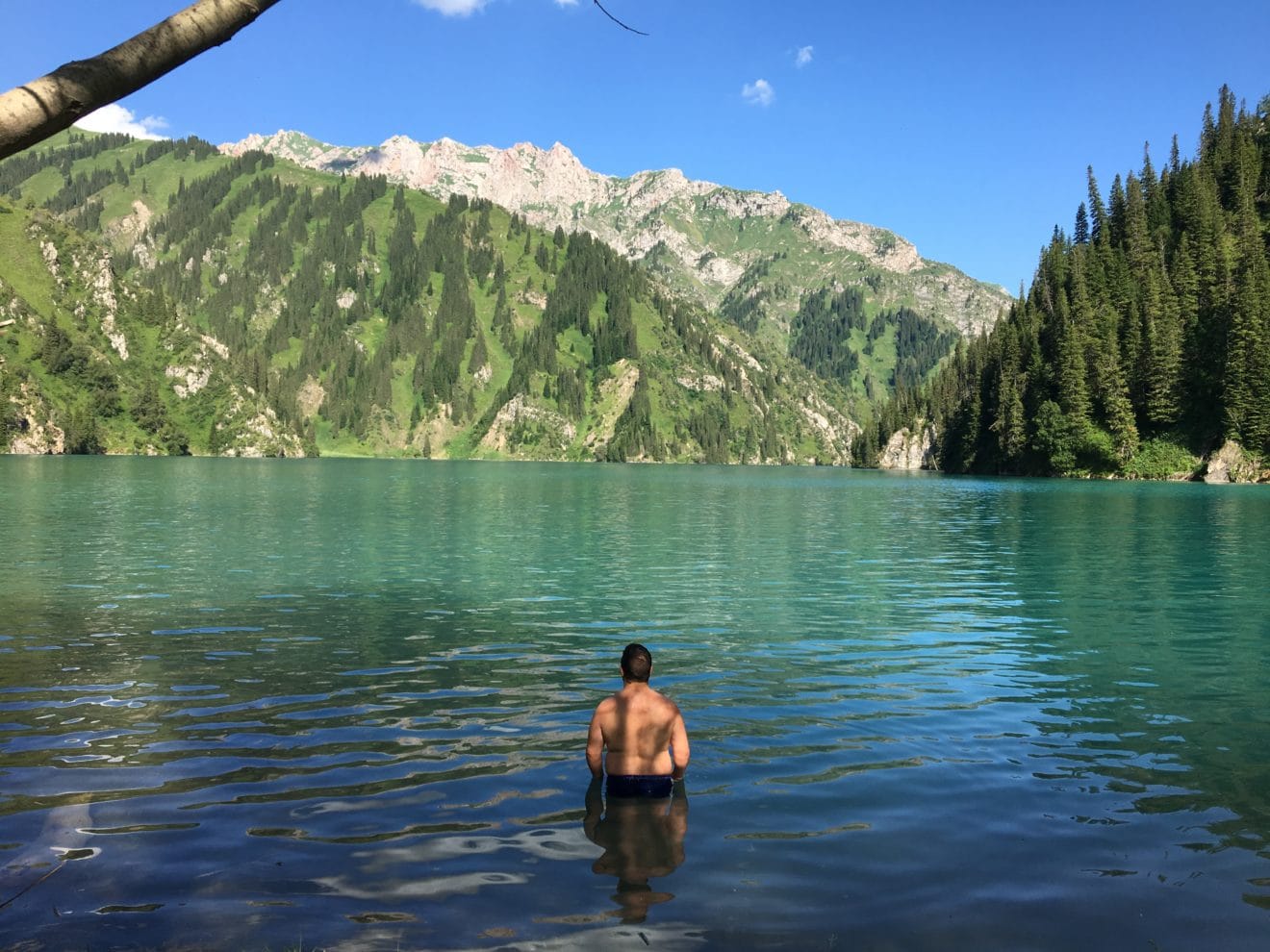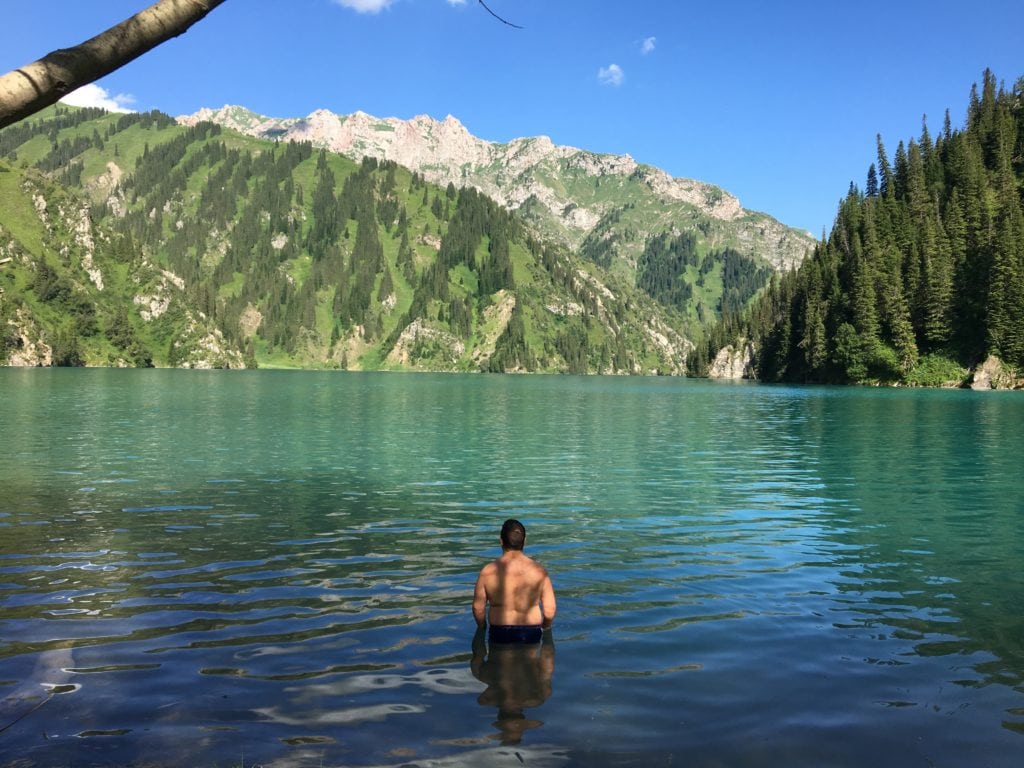 Where to eat?
The food is good and cheap. Breakfast is always included in both guest houses and hostels.
Other meals will cost you between 70 KGS and 250 KGS, depending on where you eat.
In the Guest House the dinner is 450 KGS. Kyrgyz people are very friendly and welcoming, your host will offer you a very hearty meal.
In the restaurant you will eat for 100 KGS to 150 KGS. At this price you will get meat, rice and tea.
In the street you can buy ready-made trays in the supermarkets, or eat in the bazaars for 70 KGS.
Do you have any restaurants to recommend?
My friend Fabien, who has been living in Bishkek for 5 years, made me a list of all the good restaurants he tried. and after trying them myself, I 100% back up his recommendations.
- Faiza (cheap, good, fast, always crowded, sometimes you have to wait, but it's worth it)
- Assorted Bukhara (the best plov in Bishkek)
- The Ramada hotel restaurant (Lebanese food)
- Pur Pur (Georgian food)
- Testo Mesto (ravioli)
- Furusato (best Japanese in my whole life) I second this 🙂
- Burger House (burger)
- Dolce Vita (real Italian pizza)
- Chicken Star (high quality fried chicken, Korean style, and other very interesting dishes good for vegetarians)
- Shaolin (not far from apple hostel, a very good real Chinese with the best sweet and sour beef you can imagine)
If you have any other good addresses, don't hesitate to leave them in a comment, I'll add them.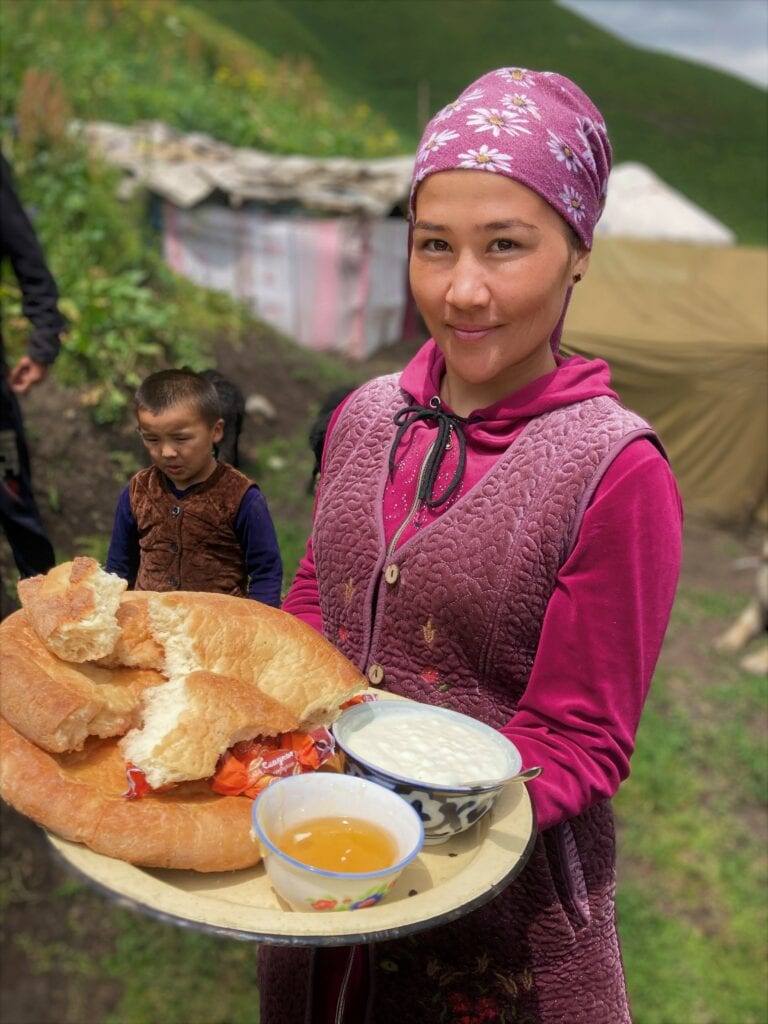 How to stay healthy?
The most common risk is tourista. Especially in the mountains. When you go hiking and stay in yurt camps, you are staying with herders. The surrounding waterways are contaminated by animal waste. Even if the water is clear, it is not safe to drink. It is essential to purify it with a micropur tablet. I always purified my water, which prevented me from getting sick, unlike other travellers who drank it without treating it.
The sun can be a hidden enemy you don't think about! In the mountains the sun is very strong and you can easily get sunburnt. Bring sun cream, but a good long-sleeved shirt and a hat are best! Long sleeves will also protect you from branches when riding (experienced by my friends Basile and Loïc during our horse trek in July 2021.)

A final risk is rabies, but same as anywhere, simply avoid petting stray animals. There are mosquitoes, but dengue, malaria and yellow fever are absent.

What are the means of transportion?
It is really easy to get around in Kyrgyzstan.
In town:
Public transportation is widely spread. You can travel by minibus called Marshrutkas . The fare is 10 KGS whatever the journey, 12 KGS after 8pm.
Note that there are no public transport stops, you just have to reach out, arm pointing downwards in order to stop the bus, and get on.
If you prefer a taxi, call an official metered taxi company, the city fare is between 70 KGS and 120 KGS depending on the distance (that's why it's easier to take a metered company if you don't know the distance).
In Bishkek the easiest way is to use the Yandex app. It will allow you to know the price in advance.
To circulate between cities you also have several options:
Hichhiking:

It is the easiest way to travel. Hitchhiking is an institution. If you stand at the side of the road and give a thumbs up, almost every car will stop. All Kyrgyz people practice hitchhiking. Depending on your destination, the driver will charge you or not. If you have time you can travel for free, I met several travellers who travelled exclusively like that, without paying, often being picked up by truckers.
As a testament to this, Marie, a member of the Travelling to Kyrgyzstan group , shared a cool testimonial with us:
« 👍 Give it a go in Kyrgyzstan!
🚗
A little advice that goes a long way!
1- You save money
2- You meet the best people!
3- You discover even more of the country, its landscapes, its culture, its cuisine (and yes, after inviting you into their cars, some Kyrgyz will also invite you to their table! 
😉 )…
4- Sometimes it doesn't take longer than taking a maschruta...
During the last 7 weeks, I went from Bishkek to Kochkor, Song Kuul, Issik Kuul ( All the way around with multiple stops/back and forth between villages and touristic sites ), Jyrgalant, Arslan Bob, Osh, Sary Moghol ( Lenin peak ), Kazarman, Naryn... all by hitchhiking !
Most of the time we were 2 ( 2 girls or 1 girl/1 guy ), we did not have to wait more than 30 minutes (max !), at anytime (8h00, 12h00,22h00... ), on main roads or deserted tracks, without any trouble or almost ( 2 slightly drunk drivers )...
Don't forget to specify that you don't want a taxi, don't have any money ("niet dienge/ soms" in Russian, "archa djok" in Kyrgyz), smile... and go for it! 
😉 »
Minibuses called Marshrutkas:

These are the cheapest. At the beginning of my stay, travellers told me to use shared taxis because the Marshutkas buses overfilled. I took several Marshutkas, always sat comfortably and they never stopped to pick up people on the way.
Here you will find a Latin alphabettranscription of the main Kyrgyz cities: very useful in the bus stations.
Shared taxis:
These are Japanese 7 seater minivans. The purpose is to share the total fare amount with the other passengers. The driver waits until the taxi is full before leaving. This is a slightly more expensive means of transportion (usually between 100 and 150 som) but faster and more comfortable than the Marshutkas.
Below is a list of prices that I have compiled for the main routes. Please note that the price changes according to the price of petrol and the travel time changes according to the weather.
Bishkek-Kochkor: 400 KGS /4 h
Bishkek-Cholpon Ata : 350 KGS /4 h
Bishkek-Karakol :400 KGS / 6 h
Bishkek-Balykchy: 200 KGS / 2 h
Bishkek-Bokonbayevo: 350 KGS/ 5h
Bishkek-Talas: 500 KGS/ 6h
Bishkek-Jalal Abad: 1,500 KGS/ 9h
Bishkek- Bazar Korgon: 1 500 KGS/ 9 hrs
Bishkek-Toktogul: 500 KGS/ 5h
Bishkek-Chon Alay: 200 KGS/ 2pm
Bishkek/ Bakten: 1600 KGS/ 12h
Bishkek-Tokmok: 150 KGS/ 2h
Bishkek-Naryn: 500 KGS / 8 h
Bishkek-Osh: 1500 KGS / 12 h
Bishkek-Almaty: 400 KGS/ 5h
Bishkek-Astana: 2500 KGS/ 18h
Bishkek-Chymkent: 620 KGS/ 8h
The members of the group, Travel to Kyrgyzstan, allowed me to update the rates and sent me the rates of new trips they made in 2022:
Karakol- cholpon ata: 3500 KGS
Bishkek - Kashka Suu: 25 KGS
Bokonbaevo - Karakol: 150 KGS
Tokmok-karakol: 500 KGS
Tamchy- Bishkek: 300 KGS
Balakchy-Tamchy: 100 KGS
Tamga - Bishkek: 300 KGS
Kochkor - Balyktchy: 150 KGS
Balyktchy - Tosor: 300 KGS
Shazka canyon - Tamga: 50 KGS
Bishkek - kyzart: 300 KGS
Tosor - Karakol: 150 KGS
Balykchy -Cholpon Ata: 250 KGS
Kotchkor-Balykchy : 200 KGS
Balikchy-Karakol: 200 KGS
Karakol-Cholpon Ata: 150 KGS
Bishkek-Arslanbob: 1500 KGS 
Arslanbob-Och: 200 KGS 
Arslanbob-Bazar Korgon: 60 KGS
Bazaar Korgon-Jalalabad: 30 KGS
Jalal-Abad-Och: 120 KGS
Naryn - Bishkek : 300 KGS
By plane:
This is the fastest way to get to Osh in the south, while avoiding a 12 hour drive. Several companies provide daily shuttle services, within an hour's flight time, for almost the same price as taxis. You can buy tickets directly at the airport or on the Pegasus website.
I often hear that flights are operated by blacklisted companies.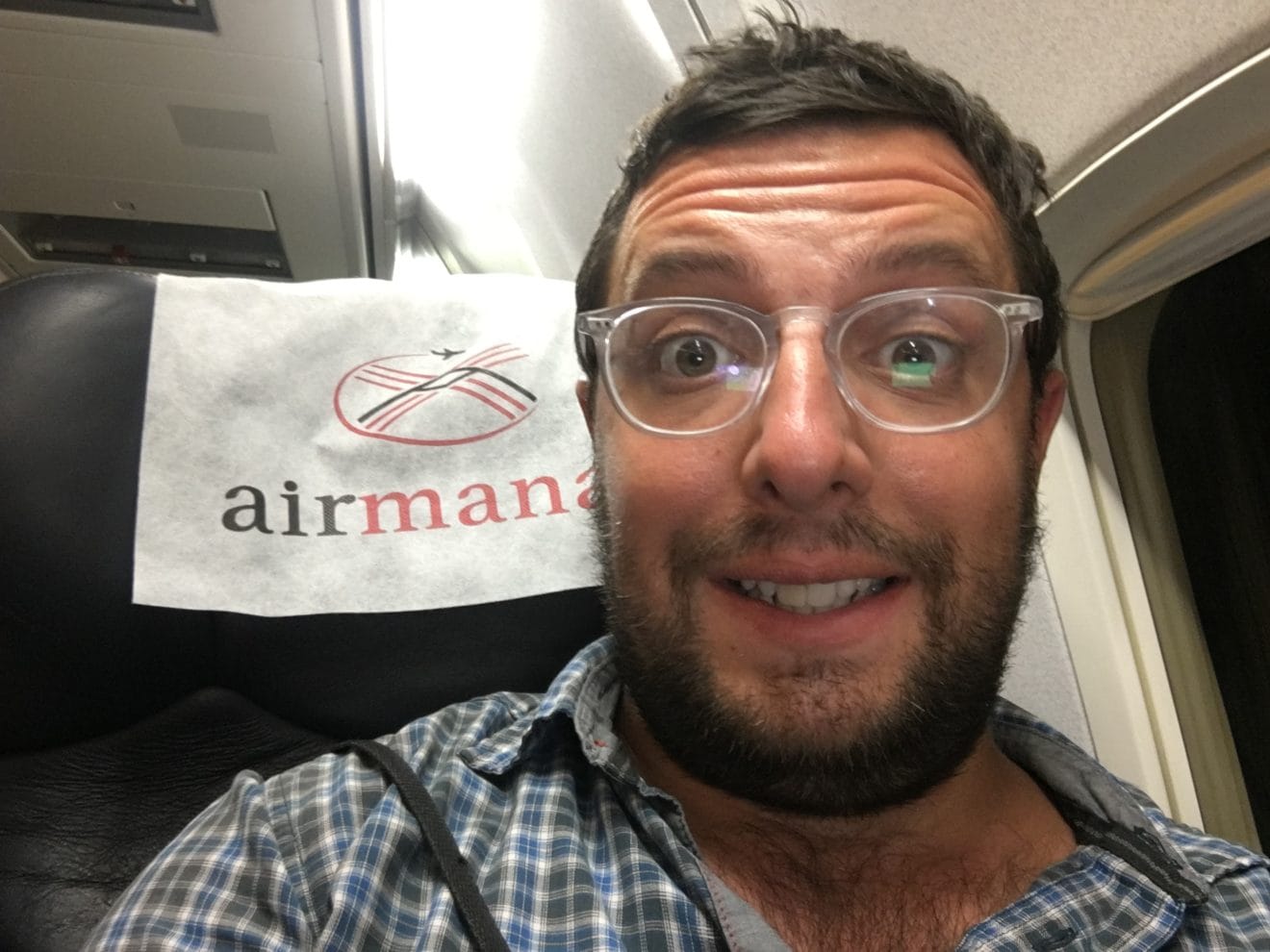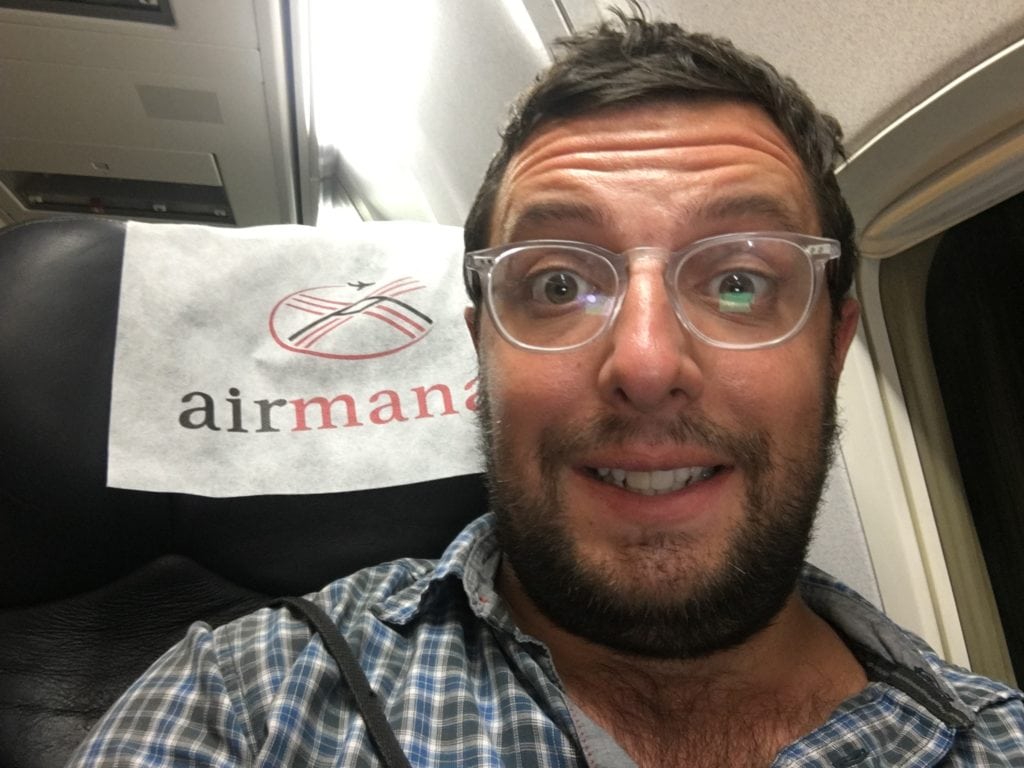 Pegasus is a company that flies from France. It is not blacklisted. It subcontracts with Air Manas, I myself tested a flight with this company in August 2019, I did not feel insecure and everything went perfectly well.
The trip cost me €50 because I booked it the same day, but if you book in advance you can get it for €30. There is quite a difference in prices compared to public transportation, but you save a lot in time and comfort. And again that is up to you.
By bicycle:
The country is a great playground for cycling enthusiasts. The number of bicycle tourists is increasing. That's why I asked Marie, who is a cyclist and a cycling blogger, to write an article on the subject. You will find her anecdotes, tips and experiences in the article she wrote about cycling in Kyrgyzstan.
Do you know of any good car rental agencies in Kyrgyzstan?
Who to rent a car from in Bishkek?
I can recommend several reliable rental companies in Bishkek.
Though, in 2014 with my mates Will and James, we opted to buy an old Lada: a wreck of a car, that we named Roxane.
It held up and we even sold it to Polish travellers who crossed the Pamir with it, and then sold it in Tajikistan.
It was the wreckThe car was the cheapest in Bishkek and it cost us $500. There were 3 of us and we were lucky to be able to sell it.
But if you're looking for a more reliable and safer car, I know some good rental companies (Anyways, I've lost track of Roxane long ago!).
I recommend to chose between these 3 people:
Azamat offers you a small fleet of cars at very good prices and as he is a friend, he offers a 5% discount to readers of the blog.
Aïgul  Aïgul can also offer you some 4*4 at very interesting rates, they also offer tours with drivers at very attractive rates.
Sergey offers a nice fleet of recent and reliable cars.

Currently the offer is lower than the demand, the rental cars are booked out well in advance during the high season. If you want to rent a car in summer, book it as soon as you know the dates of your trip, so that you avail of a choice.
To find out everything about car rental in Kyrgyzstan and surrounding countries, I have written a comprehensive article, based on readers' feedback and my personnal knowledge, which lists : all the best car rental companies in Central Asia.
Who to rent a car from in Osh to cross the Pamir River into Tajikistan?
Oibek offers a wide range of recent and robust cars and motorbikes fully adapted to the roads of Central Asia and especially to the crossing of the Pamir. He also offers repair and guarding services for your own car.
For any information and/or to book a car,please contact Oibek
What are the main places to visit?
What was your itinerary?
My itinerary during the 3 weeks on my first trip in 2014 was as follows:
Bishkek/Kochkor/Lake Song Kul/Kochkor/Kyzyl Oil/Kochkor/Karakol/Altin Arachan/Cholpon Ata/Bishkek/Cholpon Ata/Bishkek
Getting around Kyrgyzstan is easy, but time consuming. The country is 95% mountainous and has only few good and easily drivable roads. This makes it difficult to tour the country. If you want to get to the main cities, you will have to go back and forth to Bishkek, or in the least backtrack often.
For example, if you go South to Osh and want to go to Naryn further North, you won't be able to go directly from one city to the other unless you rent a 4*4 with a private driver, at an exorbitant price. Only a track in very bad condition, because snowed in most of the time, connects the 2 cities. You will have to go back up North to Bishkek to go down South to Naryn.
The distance does not matter, it is the terrain and the state of the roads that will make it easier or harder for you to get to a destination.
Which itinerary do you recommend for a first trip to Kyrgyzstan?
Many readers ask me for advice on how to plan their itinerary.
The itinerary for my first trip is fairly standard.
Below you will find 2, 3 and 4 week itineraries. I have thought them up with my local friends to optimize them as much as possible.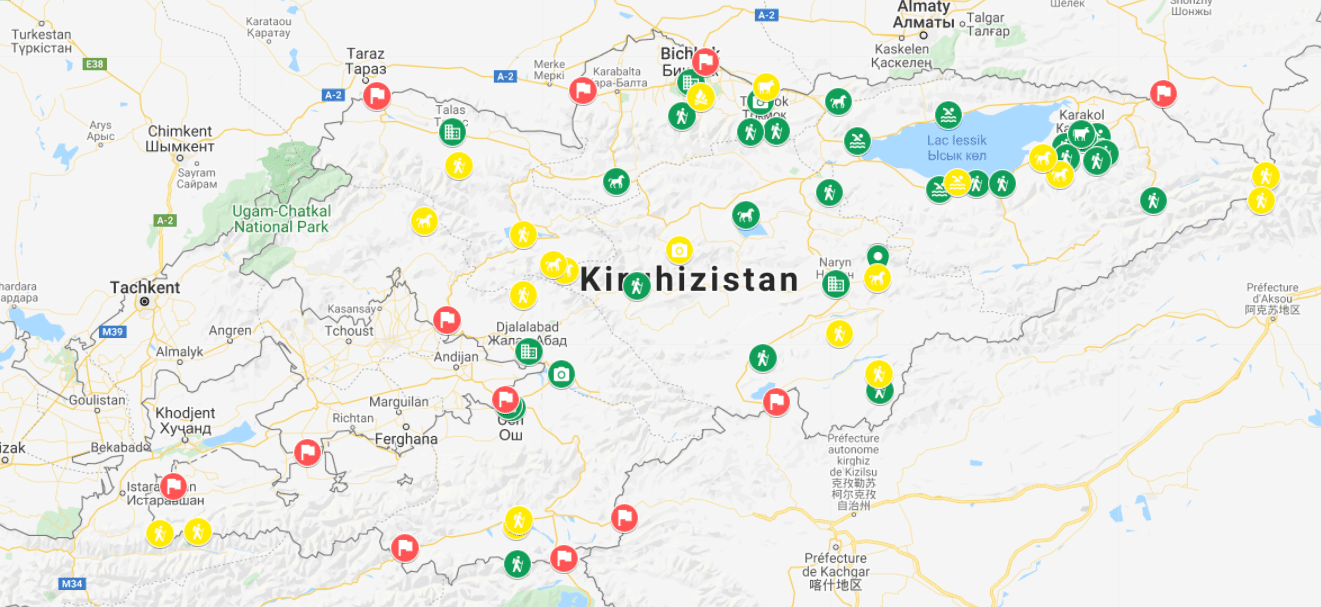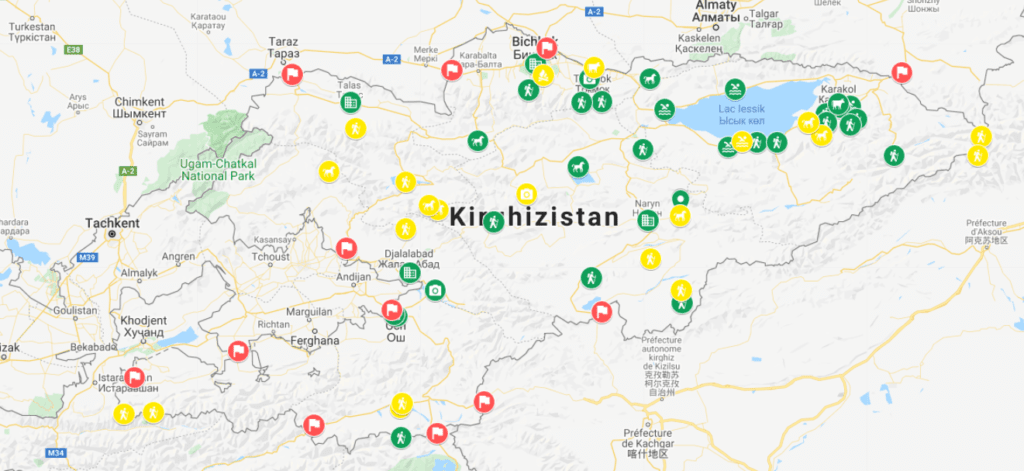 The main points of interest in Kyrgyzstan
You can follow them in full or in part. You can also create others and share them in comments 🙂
Take advantage of your arrival in Bishkek to follow the best advice my buddy Azamat gave me , before my horse trek in July 2021. I went back in 2022, it's still cool.
Go to the Osh bazaar in Bishkek and buy these Kok Boru chaps (600 soms) and this rain cape (500 soms) from this merchant. It's local, cheap and above all very efficient.
Don't pack your luggage before your departure, take advantage of your arrival on the spot to equip yourself like a local!
I'll leave you her GPS coordinates. She won't remember me, but don't hesitate to greet her for me.
2 week itinerary.
This is the ideal route to discover the main points of interest in the country. The stages are not too long (maximum 6 hours of transport).
Most of the route is a loop. You can cut out steps to enjoy certain places longer.

Day 1:

Bishkek:
Visit the city and discover the typical Soviet architecture.
-The Dordoi bazaar which is the biggest in Central Asia .
The Osh bazaar which is the biggest food bazaar where you can see the cultural diversity of the country.
-The parks, more than 10 all over the city.
-The nightlife.
-Local cuisinecooking class.
-Shyrdak (local carpet) making class.

Near the city:
- Tashtar Ata: My friend Aigul told me about it . Have a unique spiritual experience. You can purify yourself and get rid of your sins by bringing your old socks and burning them in the fire.
-Shooting range: If you are a thrill seeker, you can practice shooting Kalashnikovs and other firearms.
To get around Bishkek, download the Yandex application. It's the equivalent of Uber and allows you to pay the driver in cash.
Day 2:

2 Options:



Option 1: Ala Archa:
-Hike to the end of the Ak Sai glacier.
-Take a picnic at the same name waterfall.
How to get to Ala Archa?
It is 1 hour from Bishkek. Take a taxi from Bishkek to Ala Archa, which will wait for you for 6 hours on the spot and will cost 3000 soms. The entrance to the reserve costs 80 soms.
Option 2: Tokmok:
-If you are lucky enough to go on a Sunday, you can go to the Animal Market (the biggest in the country).

It is 2 hours from Bishkek. There are regular minibuses from the bus station for about 150 soms.
To go to the Burana Tower, you can take a taxi back and forth from Tokmok, that will wait 1 hour for about 600 soms.

Days 3, 4, 5 and 6: Song Kul, 4-day horseback riding.

-Horse riding, discovery of the Song Kul lake. Immersion in the nomadic culture and yurts stay.
-The horseback riding is a must and is the easiest for beginners. 90% of the travellers are beginner riders.
-It can be done in 3 days but I really recommend you to do it in 4 days, take your time and really enjoy it, rather than going back and forth.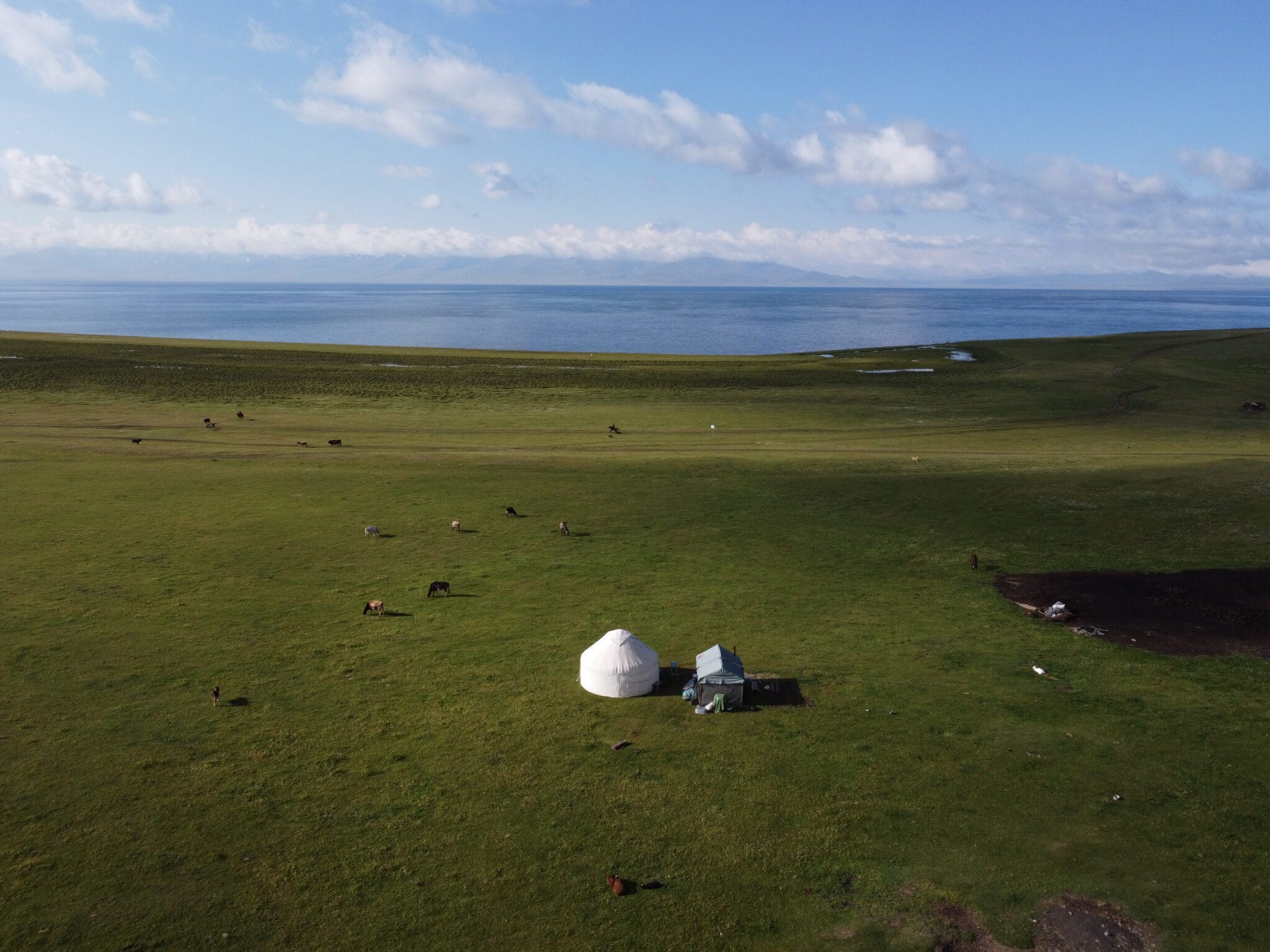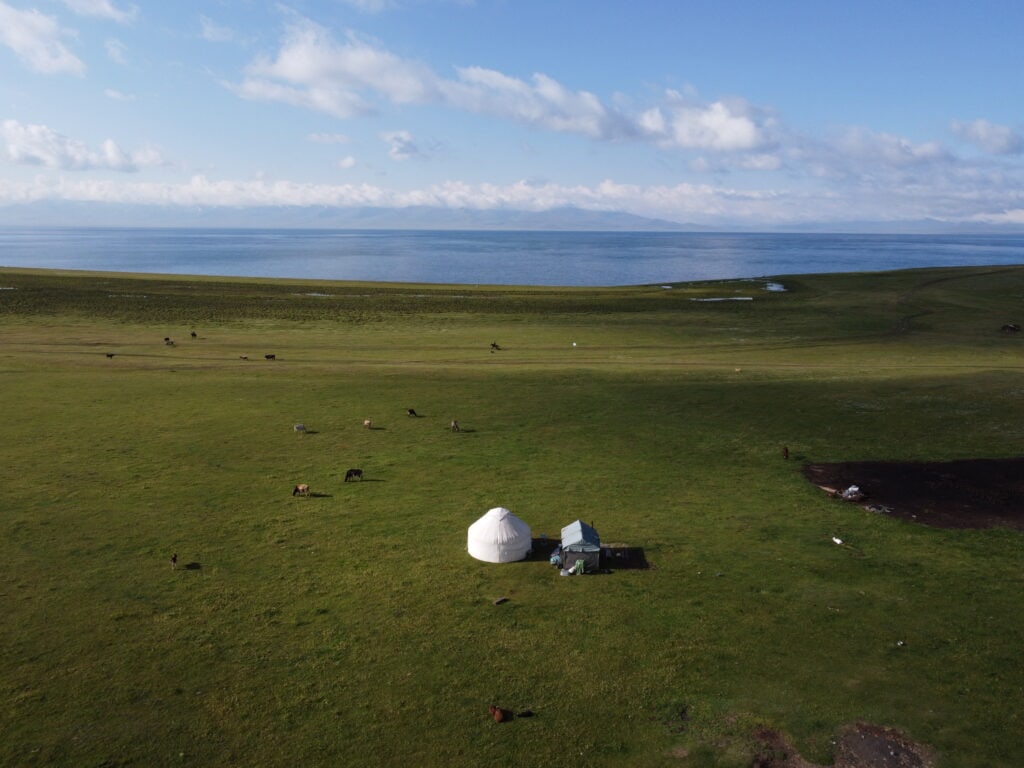 How do you get to Song Kul?
Take bus 514 from Bishkek to Kyzart which leaves at 6am, for 400 soms. 
How to leave Kyzart?
You have to go to Kochkor (the town where you will find means of transportation  to continue your journey) after the trek. The last Marshrutka from Kyzart leaves at 2pm. If you need a taxi, it costs 2000 soms from Kyzart to Kochkor but it must be booked in advance.

From Kochkor, several options are available, you can:
-take a taxi to Balykchy and continue around Lake Issy Kul skipping days 7 and 8 of this itinerary. (If you wish to stop in Balikchy, you can visit the fish market and see the abandoned boats in the lake.)
- follow the 2 options I suggest for days 7 and 8.
Days 7 and 8:
2 Options
Option 1:Naryn:
Caravanserai of Tash Rabat
-Hike to Lake Kol Suu. 
Please note! The Kol Suu trek lasts 3 days, you will need to remove another stage from this itinerary.
In order to travel to the Lake, you need to acquire a border permit, which you must apply for in advance.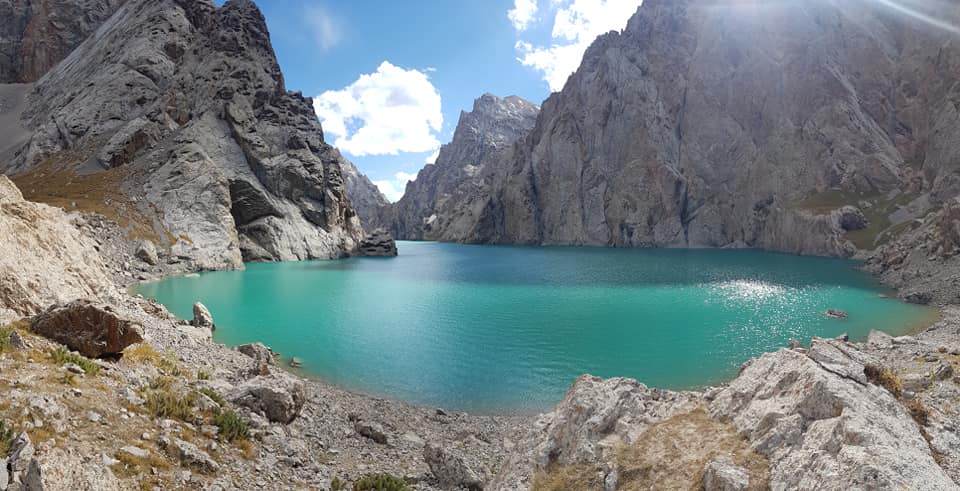 How do you get to Naryn?
From Kochkor you can take a shared taxi for 250 soms.
Option 2: Kol Ukok:
Easy 2-day hike.
-Night in a yurt on the lake shore.
How to get to Kol Ukok?
The start of the trek is in the village of Isakeev, 30 minutes from Kochkor, easily accessible by taxi
Day 9:

Bokonbayevo

:

Beach and yurt stay on Lake Issy Kul.
-Eagle hunting demonstration.
How do you get to Bokonbaevo?
You have to take a taxi or a minibus to Balykchi. From Balykchi you take another minibus to Bokonbaevo.
Little extra: On the road between Bokonbaevo and Karakol, discover the hot springs of Goryachiy Istochnik Nur. They are  in open air, with a beautiful view of the lake IssyK kul and the surrounding mountains.
Day 10:

Karakol:
- Stock up for the Ala Kul trek.
-Zoo.
-Dungan Mosque.
-Pravoslavik Church.
-Parakol Museum.
-Przewalskii Museum.
-Local bazaar. 
Days 11, 12 and 13: Ala Kul Trek3 or 4 days
-Hike to the top of the Pass where the view of the lake, located at 3500 m above sea level and surrounded by mountains, is totally incredible.
There are different routes. The 3 day route is accessible to almost everyone. The 2 nights are spent in a guest house in Altin Arashan. You can rest well and enjoy the hot springs (there are priced ones and natural ones, both are very nice).
The second day of the trek can be done on horseback to the foot of the pass, which is not accessible by horse.
How do you get to the Ala Kul trek?
You can take a taxi to Asku village (for the 3 day trek) or to the entrance to the national park (for the 4 day trek).
The trek ends at noon, so you can take a bus or taxi back to Bishkek right afterwards.
Day 14:

Bishkek :
-Use your last day in town to buy souvenirs and say goodbye to your new friends.
How to get back to Bishkek?
You can take a taxi or minibus from any city. From Karakol it will take you 6 hours and 350 soms.
3 week itineraries:
For a 3-week stay, I propose 2 different itineraries. They are based on the 2 weeks itinerary. For this reason, I invite you to refer to the previous itinerary to see the details of the stages.

As for the 2 weeks itinerary, you can delete stages, to enjoy more time in certain places.
Route 1:
This first itinerary is classic. You go around the Issy Kul lake, discovering the main points of interest of the country. The stages are not too long (6 hours of transport maximum).
Day 1: Bishkek.
Day 2: Ala Archa.
Days 3, 4, 5, 6: 4 day Song Kul trek.
Days 7 and 8: Kel Suu or Kol Ukok. Please note! The Kol Suu trek is 3 days long, you will have to delete another stage of this itinerary.
Day 9: Bokonbaevo.
Day 10: Karakol, Fayrtale Canyon or Jeti Oguz.
Day 11: Karakol, Fayrtale Canyon, Jeti Oguz or start of the 4 day Ala Kul trek.
Days 12, 13 and 14: Ala kul 3 or 4 days.

Day 15: Cholpon Ata.
-Swimming
-Jetskiing, parasailing, pedal boats.
Days 16, 17 and 18: Chon Kemin.
-Trekking in the national park (3 days on foot or horseback).
How do you get to Chon Kemin?
You can take a taxi or minbus from Cholpon Ata.
Day 19: Tokmok.
Days 20 and 21: Bishkek.
Route 2:
This second route is less traditional. It combines the traditional tourist route with the discovery of beautiful and little-visited areas such as Arslanbob and Sary Chelek . Some of the stages are long, which gives you the chance to cross the country and discover the diversity of the landscape along the roads.
Day 1: Bishkek.

Day 2: Ala Archa or Tokmok.

Days 3, 4, 5, 6: 4 day Song Kul trek.
Day 6: The trek ends at noon, you can take a taxi to Kazarman.
- Overnight in Kazarman.
How do you get to Kazarman?
You can take a taxi from Kochkor to Kazarman.
Day 7 and 8: Arslanbob.
-Walnut forest.
-Waterfall.
-Sacred lakes.
How do you get to Arslanbob?
You can take a taxi from Kazarman to Arslanbob.
Day 9: Bus or taxi to Sary Chelek.
-Overnight in Arkit.
Days 10, 11 and 12: Sary Chelek (my favourite trek):
-The 5 day trek requires a good level of horsemanship,
The 3-day course is much more accessible.
-You can also do it on foot,

Day 13: Toktogul:
-The reservoir
How do you get to Toktogul?
You can take a taxi or an Arkit minibus to Toktogul. 
Day 14: Bishkek.
Days 15 and 16: Bokonbaevo. 
Day 17: Karakol, Fairytale canyon or Jeti oguz.
Days 18, 19 and 20: Ala Kul Trek 3 or 4 days.
Day 21: Bishkek.
4 week itinerary :
If you are going for 4 weeks. I suggest you take inspiration from the previous itineraries. Depending on your wishes, you can travel more slowly or add stops in the following places:
Chon Orutkuu, 1 day:
-Hot springs.


Barskoon, 1 day:
-The waterfalls.


Uzgen, 1 day:
-The historical complex.


Min Kush, 1 day:
-An old Soviet village.


Sary Mogol, 2 to 3 days:
-The starting point to prepare for the ascent of Lenin Peak, one of the most mythical peaks in the region. The climb requires a permit and mountaineering skills but the base camp is easily accessible.
You can see Lake Tulpar and have a magnificent view of the peak: a 7200m mountain, the second highest in the Pamir.


Suusamyr 2 to 3 days:
-Hike to Muztor Lake.


Talas 3 to 5 days:
-The Manas memorial (one of the holiest places in the country)
-The Kirov reservoir, with Lenin's head carved into the rock.
-Hike or ride from Talas to Toktogul. You will pass through the forest where you may meet wild animals on the way.
-Visit the Best Tash National Park .
-Talas is the city where the best Kok Boru players are.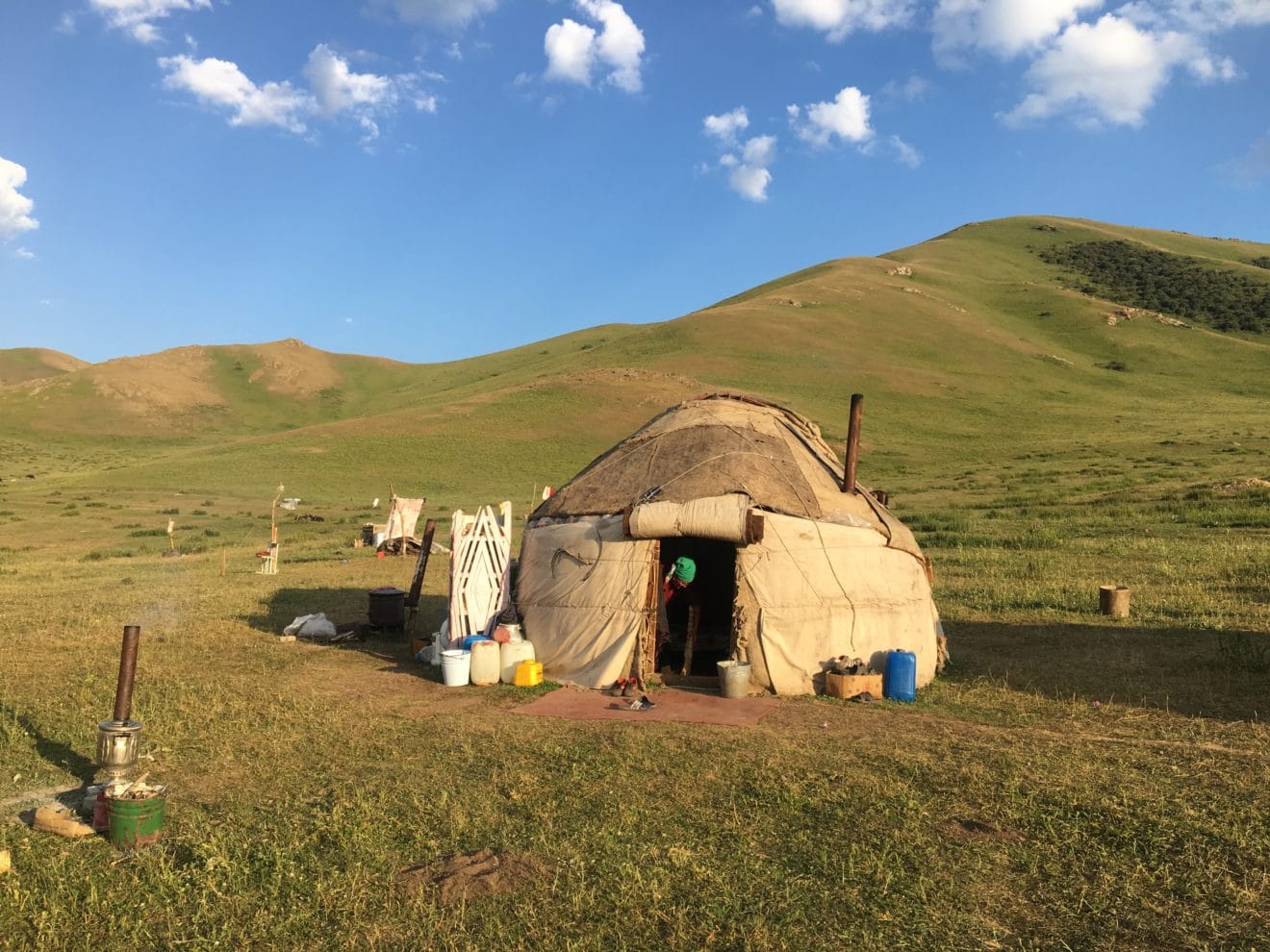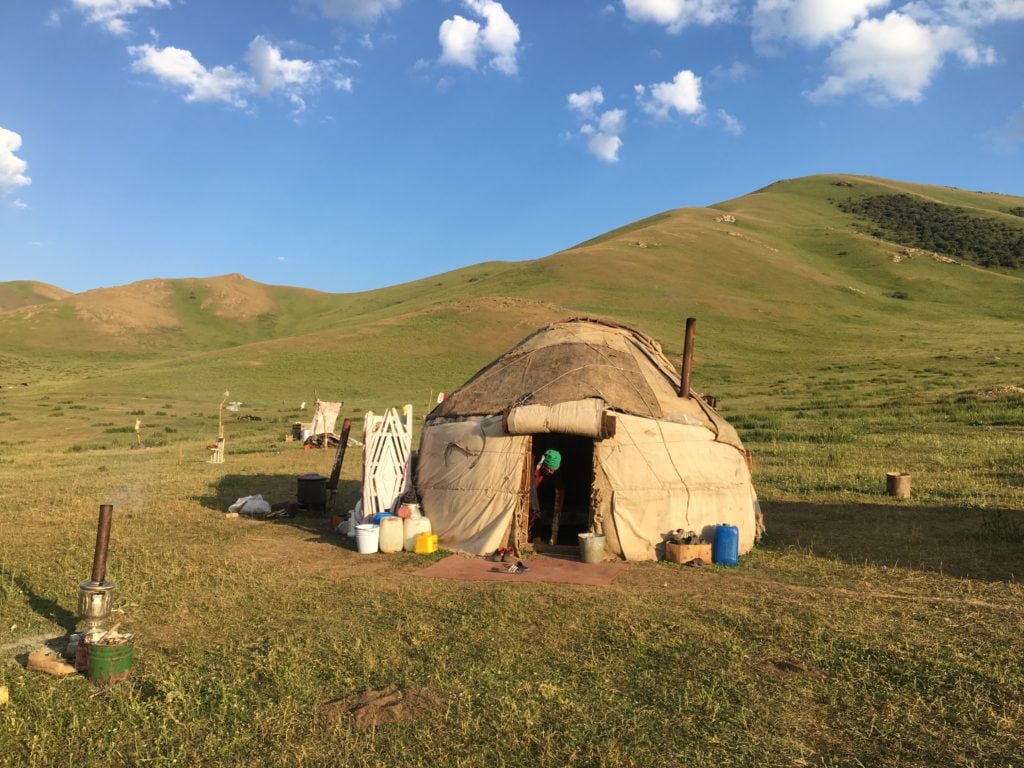 How to cross the border between Kyrgyzstan and Uzbekistan?

Several people in the facebook group have done so, and you will find below a summary of the experiences of Coralie, Géraldine and Thomas:

Crossing the border in Osh is really easy. On the Uzbek side, the customs officers "spot" foreigners and make them pass in front of everyone else. They just look at the visa, stamp it and that's it. They don't ask for anything, neither about medication nor currency. 
Once you cross the border, there are plenty of (communal) taxis to Andijan, Fergana, Marguilan or even directly to Tashkent. It is possible to pay in dollars. You can change Uzbek soms at the bazaar in Osh (there are also a few exchange offices at the border) but don't change too much because the rate is not worth it.
How difficult are the treks in Kyrgyzstan?
There is a huge variety of treks in Kyrgyzstan. You have to choose the ones that are most suitable for your experience and physical condition.
Do you have a classification of the treks according to their difficulties?
Yes, I have ranked the 4 most popular treks. I based my ranking on my experience and the questions of the readers. 
This is a subjective classification. It is primarily intended for travelers with little experience, with a normal physical condition.
Kyrgyzstan, obliges, I also indicate you the level of equestrian difficulty.
What is your ranking?

I have classified the hikes from the most accessible to the least accessible, on foot and on horseback:
On foot
1° tied Kol Suu and Kol Ukok
2°Song Kul
3°Ala Kul
On horseback:
1° Song Kul
2° Kol Suu
3° Kol Ukok
4° Ala Kul
Kol Suu and Kol Ukok, equal first?
Kol Suu is physically simpler but it requires a much longer logistics and organization.
Kol Ukok is more involved, but it is very accessible.
Kol Suu is in the south of the country. It takes 2 days to get to the start of the trek and back. It requires to buy a border permit in advance. It is a step that takes time in the trip.
Kol Ukok is easily accessible. The departure of the trek is 15 minutes by cab from Kochkor and does not require any specific preparation.
What are the characteristics of the Kol Suu trek?
Kol Suu is a lake located at 3500m not far from the Chinese border.
Best period: mid-June to mid-September

Trek to be done over 3 days including 2 days of transportation 

Maximum altitude: 3860m, 

Loop from the yurt camps

Difference in altitude: +180m, -180m,

Round trip distance: 14 km 

Duration: 4h30

Easy water supply:

There is a river accessible all along the way

Where to sleep: in a tent or in a yurt. From mid-May to mid-September there are a few dozen yurt camps within 6 km of the lake.
It is a very accessible trek, only the altitude can be a problem for some people.

The path is simple. You can do it without a guide.
The constraints are that the lake is located in the south of the country. To get to the start of the trek, you have to take a jeep with driver in Naryn. Naryn is 8 hours away from Bishkek. From Naryn it is a 5 hours drive through (beautiful) trails. The trek lasts 1 day and the return trip from the yurt camp to Naryn takes 2 days. Finally, it is necessary to make a border permit in advance.

The trek on foot can be done on horseback but I find the pedestrian option more interesting because it is a simple round trip.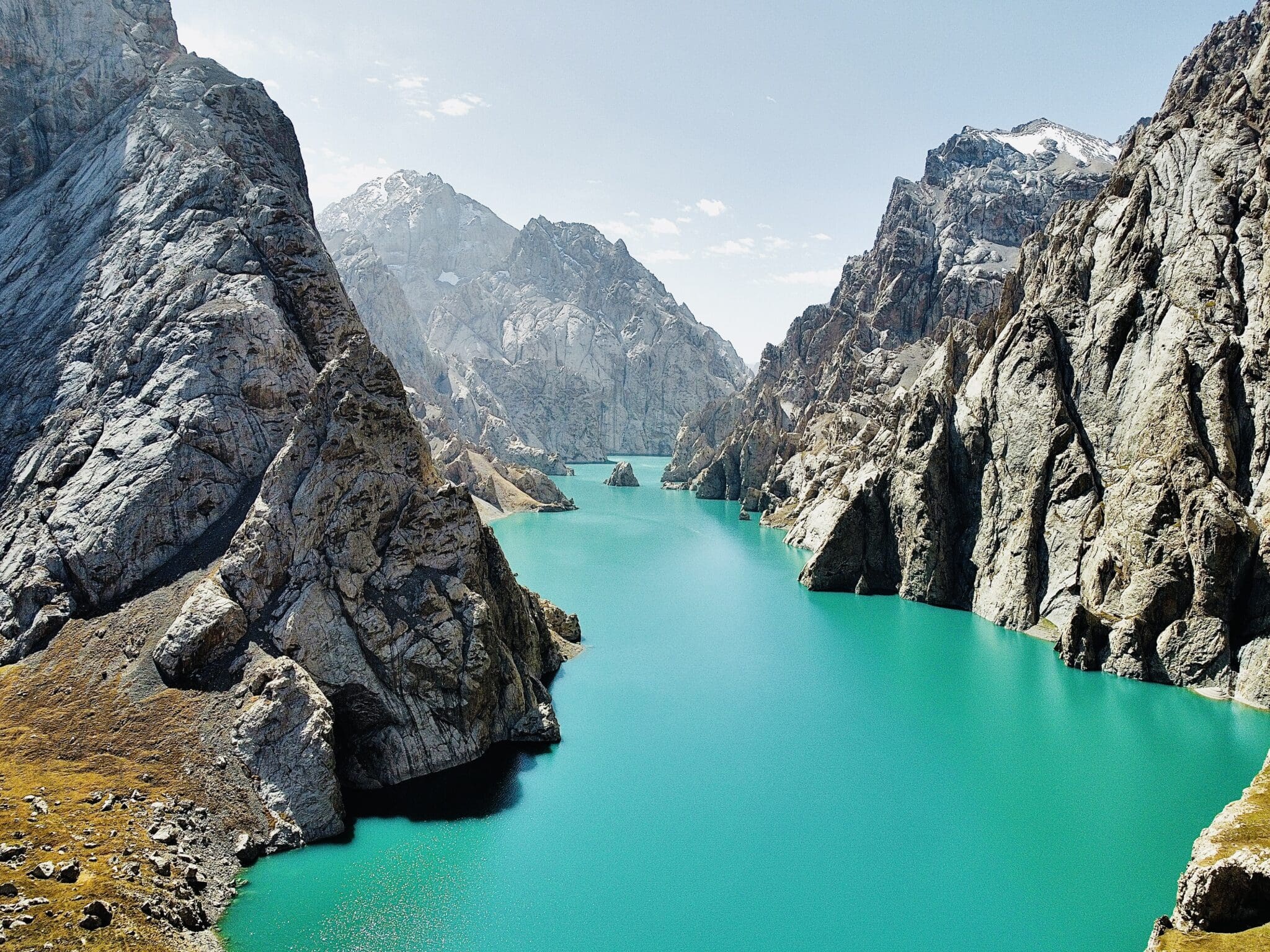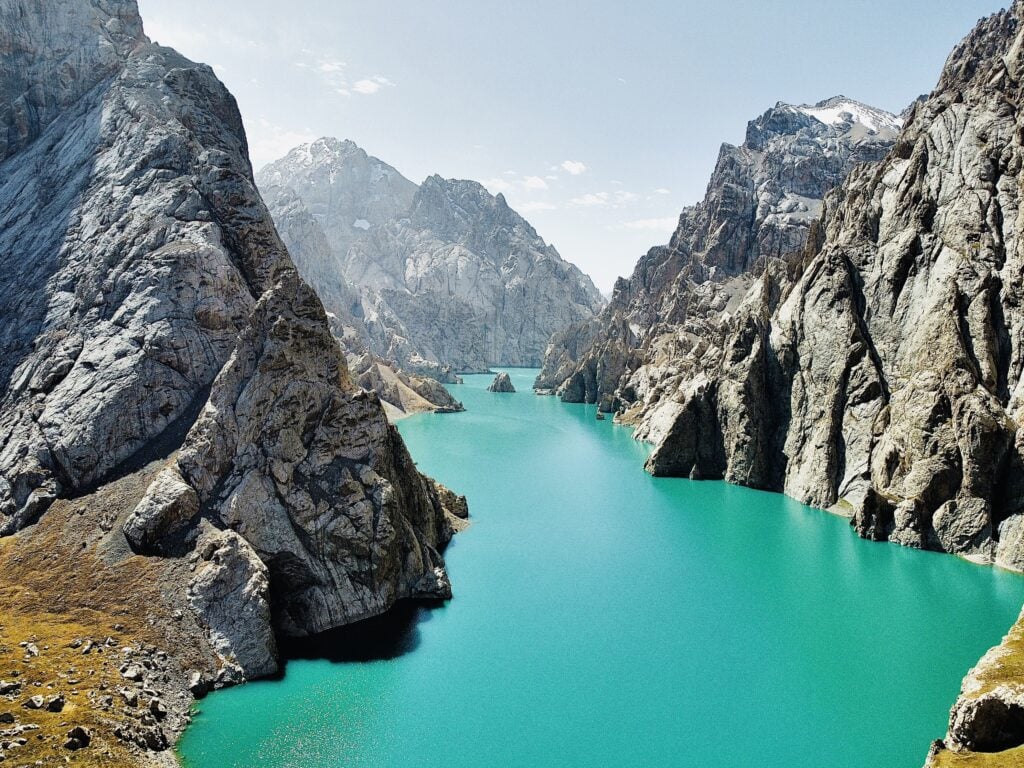 What are the characteristics of the Kol Ukok trek?
Kol Ukok is a lake located at 3000m.
Best period: mid-June to mid-September

Trek to be done on 2 days

Maximum altitude: 3200m, 

Loop from Isakeyiev

Difference in altitude: +1 100m, -1 100m,

Round trip distance: 32 km

Duration: 14 hours

Water supply to be provided:

The river along the trail is not always accessible. Think of leaving with a water bottle filled. You will be able to refuel regularly along the way.

Where to sleep: in a tent or a yurt. From June to September, there are yurt camps before the pass and around the lake.
The ascent is regular and accessible to people with little experience and a normal physical condition. The Kyrgyz consider it as a very easy trek. If you have any doubts about your level, it is a good test before venturing into more physical treks.
A guide is not necessary.
The start of the trek is a 15 minute drive from Kochkor. You will easily find a cab to take you there for 500 KGS. The trek is a 2 days round trip.

The equestrian option is not very interesting. The second day is a long descent, which is not the easiest experience for beginners.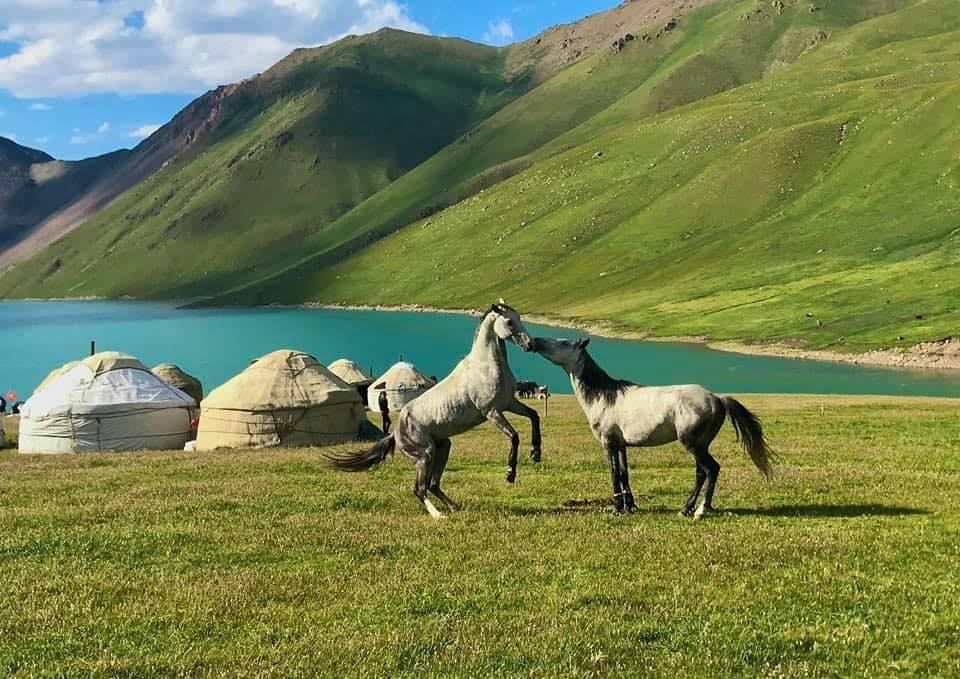 What are the characteristics of the Song Kul trek?

Song Kul is a lake located at 3000m.

Best period: June to mid-September

Trek to be done on 3 or 4 days

Maximum altitude: 3550 m, 

Circuit from Kyzart with passage to Kilemche on the way

Total Distance: 60 km 

Difference in altitude: +180m, -180m,

Duration: 18 h

Water supply to be provided:

Waterways are not always accessible, especially in the pass. Think of leaving with a water bottle filled. You will be able to refuel regularly along the way.

Where to sleep: in a tent or a yurt. From mid May to mid September there are yurt camps in Kilemche and around the lake. Off season there are some yurts for tourists next to the lake.
The distances are quite long and require a good physical condition. The first day to go to Kilemche is the least physically demanding. The ascent of the pass, at 3500m is trying.
A guide is very useful. There is no marked path, several possible routes.

The equestrian option is very interesting. Song Kul is the showcase of nomadic life and it is the ideal place for horseback riding, especially for beginners. Personally, each of my trips, I went back there on horseback and I never get tired of it.
The last day on horseback is mostly downhill. If you are not comfortable, don't hesitate to get off your horse.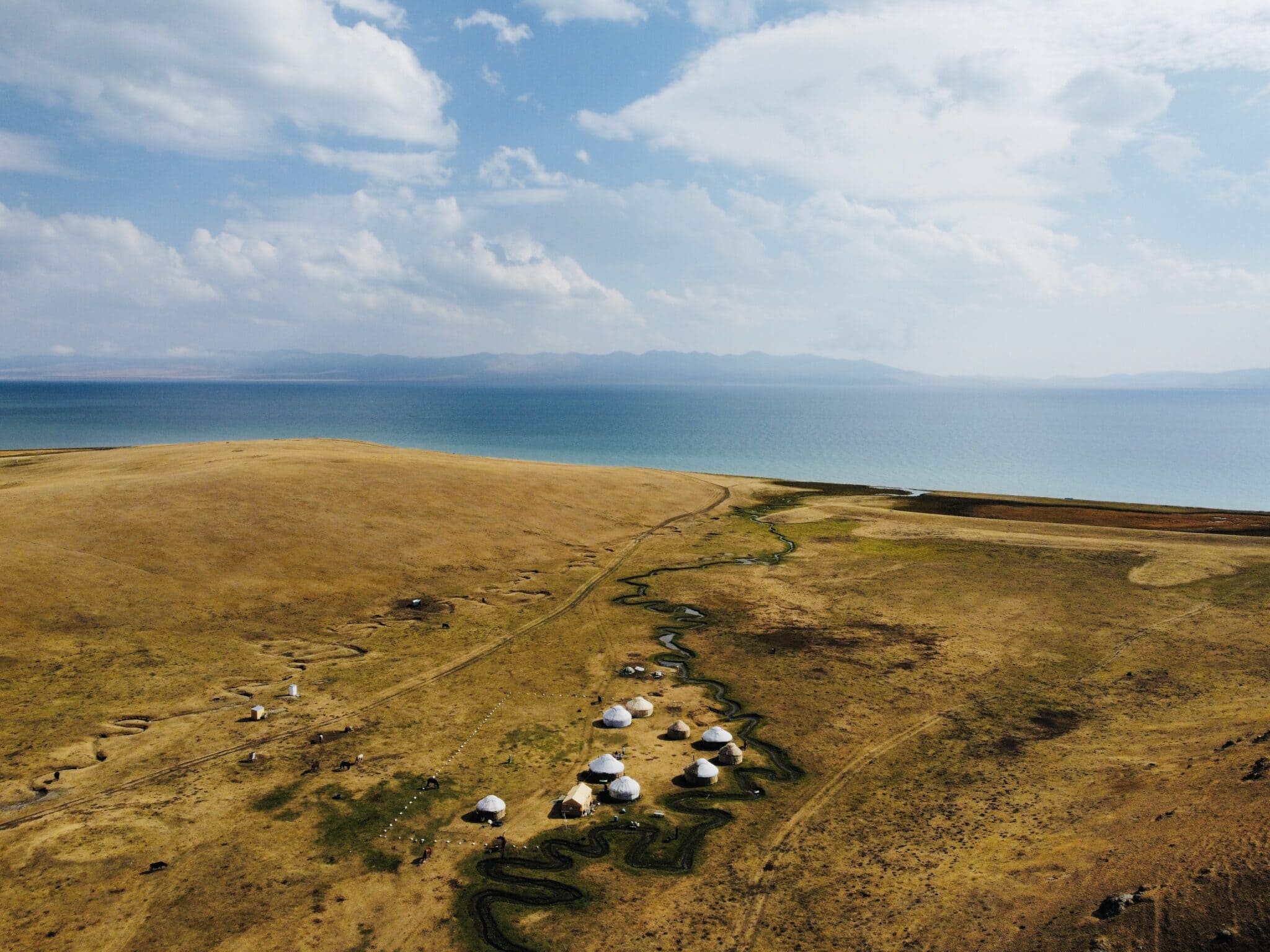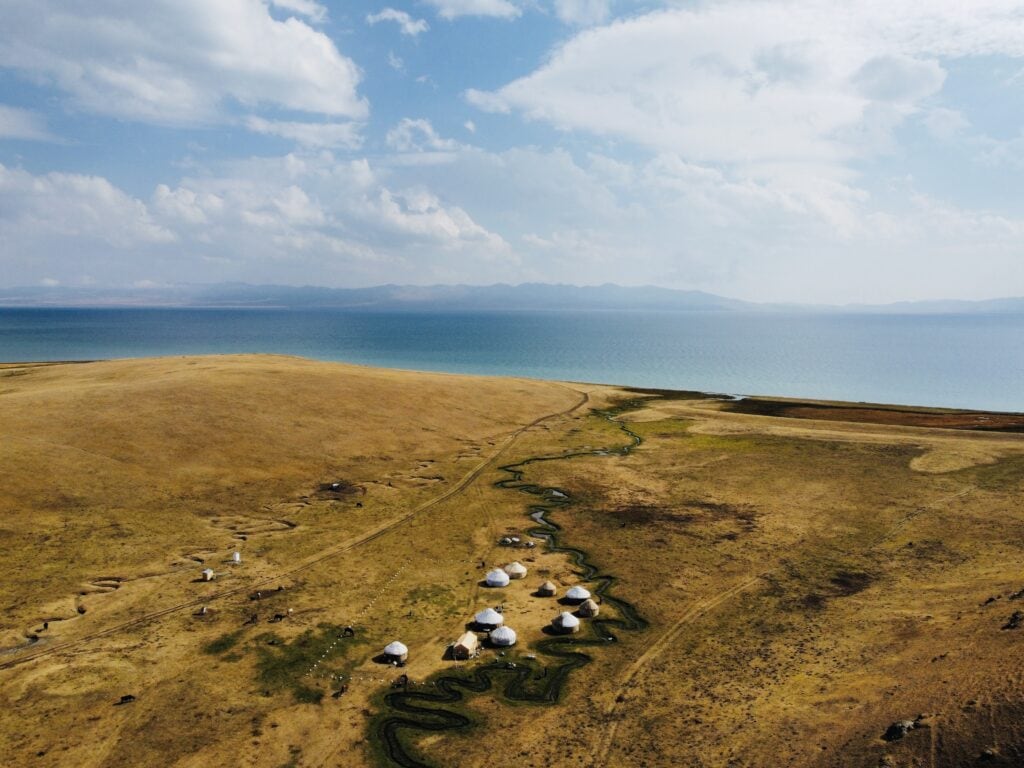 What are the characteristics of the Ala Kul trek?
Ala Kul is a lake located at 3 532 m.
The trek can be done by several routes, but here you will find only the one in 3 days which is the least committed.
Best period: end of June to mid-September

Trek to be done on 3 or 4 days

Maximum altitude : 3 900 m, 

Loop from Aksu

Total Distance: 50 km 

Difference in altitude: + 2 100 m, -2 100 m,

Duration: 25 h

Water supply to be provided:

Waterways are not always accessible. Remember to take a water bottle with you. You will then be able to refuel regularly along the way.

Where to sleep: in a tent, yurt or guesthouse. On the 3 days itinerary the nights are in Altyn Arashan where you will find guesthouses and hot springs.
This is the most physically demanding trek. Many travelers underestimate it. The second day which allows to arrive at the lake lasts approximately 10h (6h one way). The one-way trip, of this day, presents a difference in altitude of 1 400 m and counts approximately 6 hours of walking.
The final pass is very physically demanding. The soft ground, the altitude and the difference in altitude (about + 250 m on a distance of 400m) are a real final test which is not accessible to all. This makes the arrival at the top of the pass and the view on the lake even more incredible and exciting.

A guide is reassuring and motivating for people with little experienceespecially in the pass. The guide brings you his experience and knowledge in this physical and technical passage.
The equestrian option does not allow to reach the lake. Horses cannot climb the final pass. However, you can do the second day on horseback to arrive in good shape and climb the pass while your horse is waiting for you at the bottom!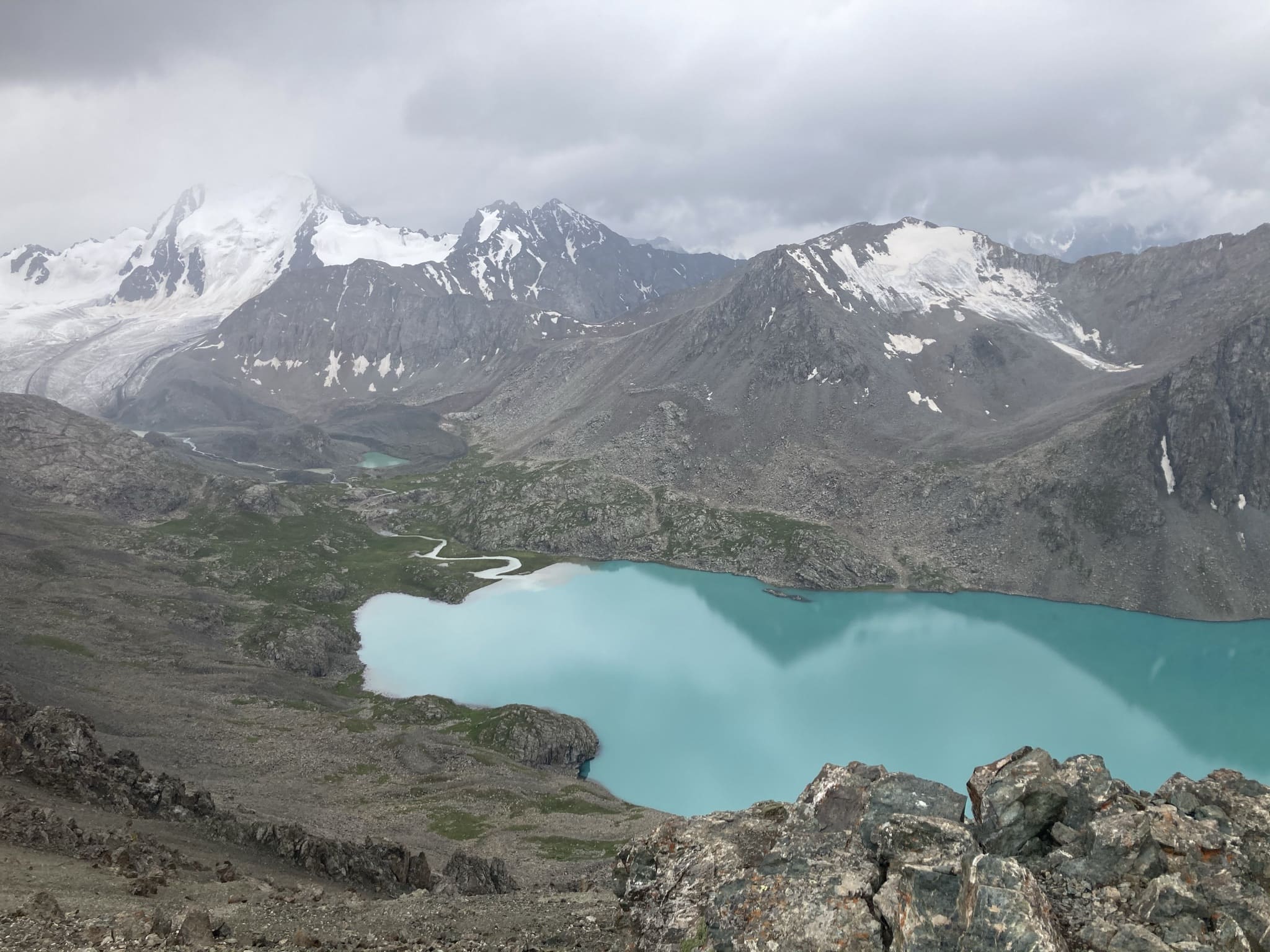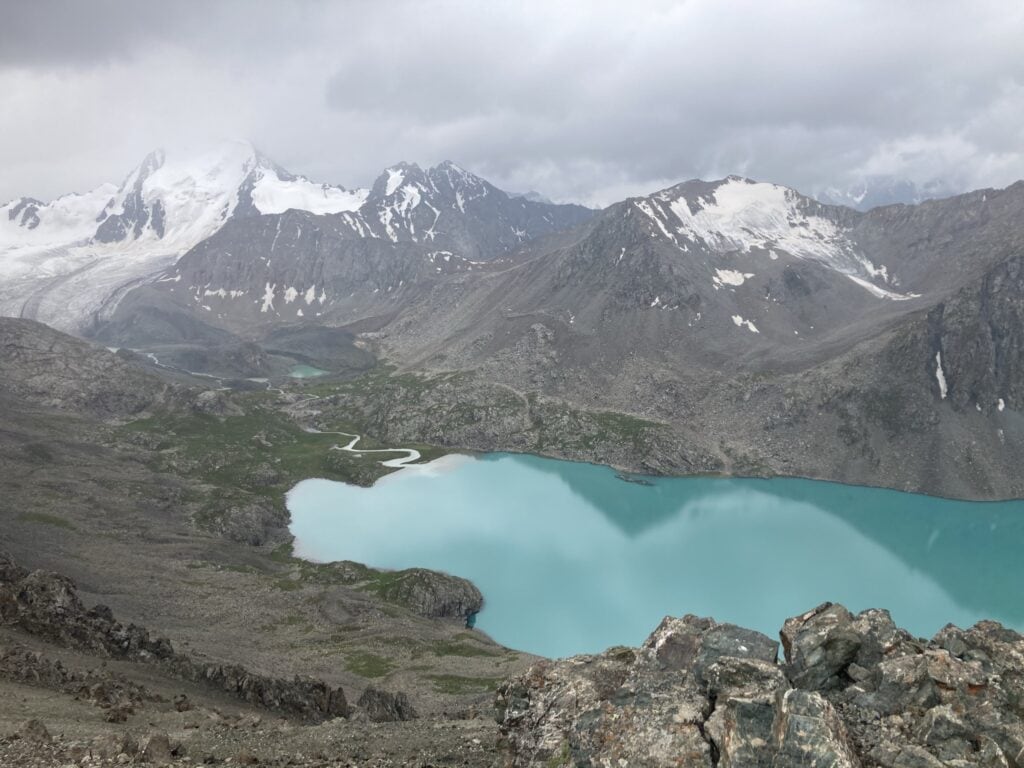 Do you know of any reliable guides for hiking and trekking?
What are the rates for tourist agencies?
When starting to prepare your trip to Kyrgyzstan, you will find a lot of information about CBT. At the beginning it was a Swiss NGO, which had offices with independent coordinators all over the Kyrgyz territory. The focus was to make locals work so that they could benefit directly of the income from tourism.
Since then, the NGO has faded away in favour of the locals and in fact, the approach has become more commercial than associative. It is a travel agency like any other (often more expensive).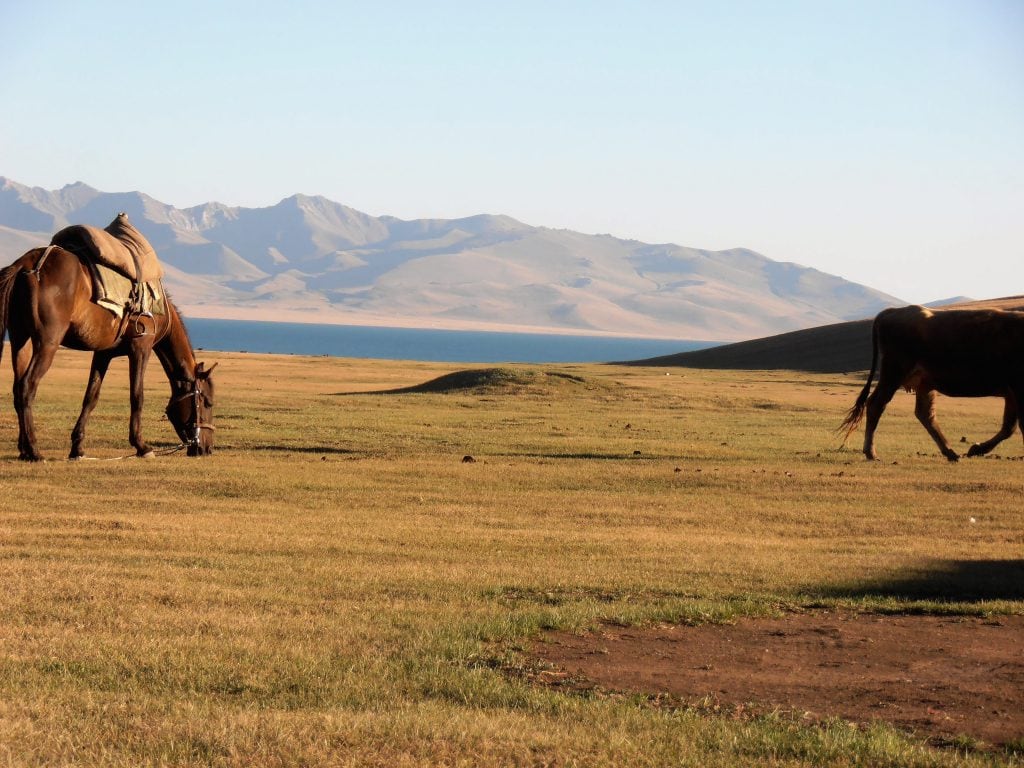 Clearly, if you want to go through a CBT, you should know that:
-Each CBT is independent. If you book a tour from the CBT in city A via the CBT in city B, the latter will take a commission. Book directly in the desired city.
Tours usually don't include transfer . In the land of the nomads, horse riding and walking tours do not leave from the cities. To move to and from a destination, they will suggest a private taxi, which is usually very expensive. If you book a trek via a CBT, always compare the price of the trip with a taxi fare or even consider hitchhiking (either way the money will go to the locals).
Since 2015, for the Song Kul lake trek, I recommend you to go through Aïgulwho proposes a very interesting service from Bishkek. I personally did this trek again with his guides in July 2019, July 2021 and September 2022.
Below you will find the standard rates of tourist agencies:
Horse rental/ day: 1000 KGS .
Groom/ day: 2500 KGS .
French speaking guide/ day: 5000 KGS minimum.
Night with breakfast in yurt: 900 KGS .
Lunch in yurt: 500 KGS .
Dinner in y urt: 500 KGS .
Good to know: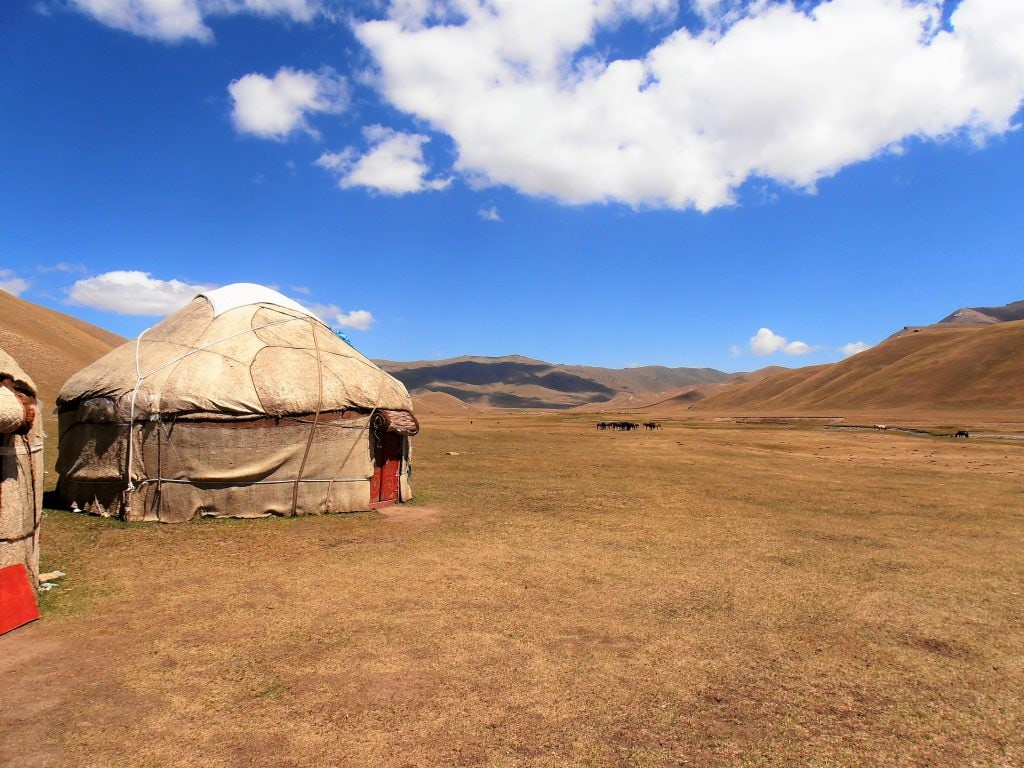 If you take a guided tour, you will have to pay for the guide's meals, accommodation and horse hire. If you are in a group, you can share these costs with your friends.
If you are on a smaller budget:
-You can take a tour without meals, to reduce costs, but you will have to bring your own food.
- For walking tours, you can simply book meals and accommodation, without taking a guide.
What should I check with my guide before I go on a trek?
Before leaving with your guide, check that the equipment is suitable and that the service is comform. It's not a question of trust, it's just normal. It will save you from unpleasant surprises once you're in the middle of nowhere.

Most travellers look at the smallest details of scratches on a rental car... However, a scratch or a dent in the bodywork is much less disabling than a tent with a hole in it on a rainy night.
In July 2021, I went on an organised horse trek, organised by my mate Azamat. Before leaving, we checked the equipment together.
He told me "I know you trust me, buddy, but we'll check the equipment together. I don't want you to be out in the wind with a tent without hooks. I've got plenty of spare ones here.
To depart serenely and make the most of your trek, here is a non-exhaustive list of things you should check:
- That the service is comform: check the number of porters, the number of horses, the equipment. You have paid for a service, it is normal that it is respected.
- That the equipment is of good quality: check the state of the tents, the quality of the sleeping bags and the cooking equipment. The nights are cold in the mountains, it is essential that you have quality equipment in order to sleep well. If the equipment is not suitable, ask for a change,
-That the food is in quantity and of quality: Make sure you have enough food for everyone, and for the duration of your trek. If you feel that you are short of supplies, it is easy to have them supplemented at the start of the trek.
Concerning horseback riding, pay attention to the condition of your horse on the first day. Make sure it is not injured, if it is, ask for another one.
I have written an article dedicated to horse riding, you can find there what you have to check on your horse before leaving.

Should I tip my guide?
This is a common practice in Kyrgyzstan. My friend Fabien advises to give 200 som per person per day. This is what I do.
Do you have any guides to recommend for a hike on Song Kul Lake?
The Song Kul lake offers an ideal setting for a horseback ride, if you want to have an authentic experience at a reasonable price, I recommend:
Aigul who proposes horseback riding for small groups of riders, beginners or not, at a very good price. All of this under the supervision of competent guides who take good care of the horses.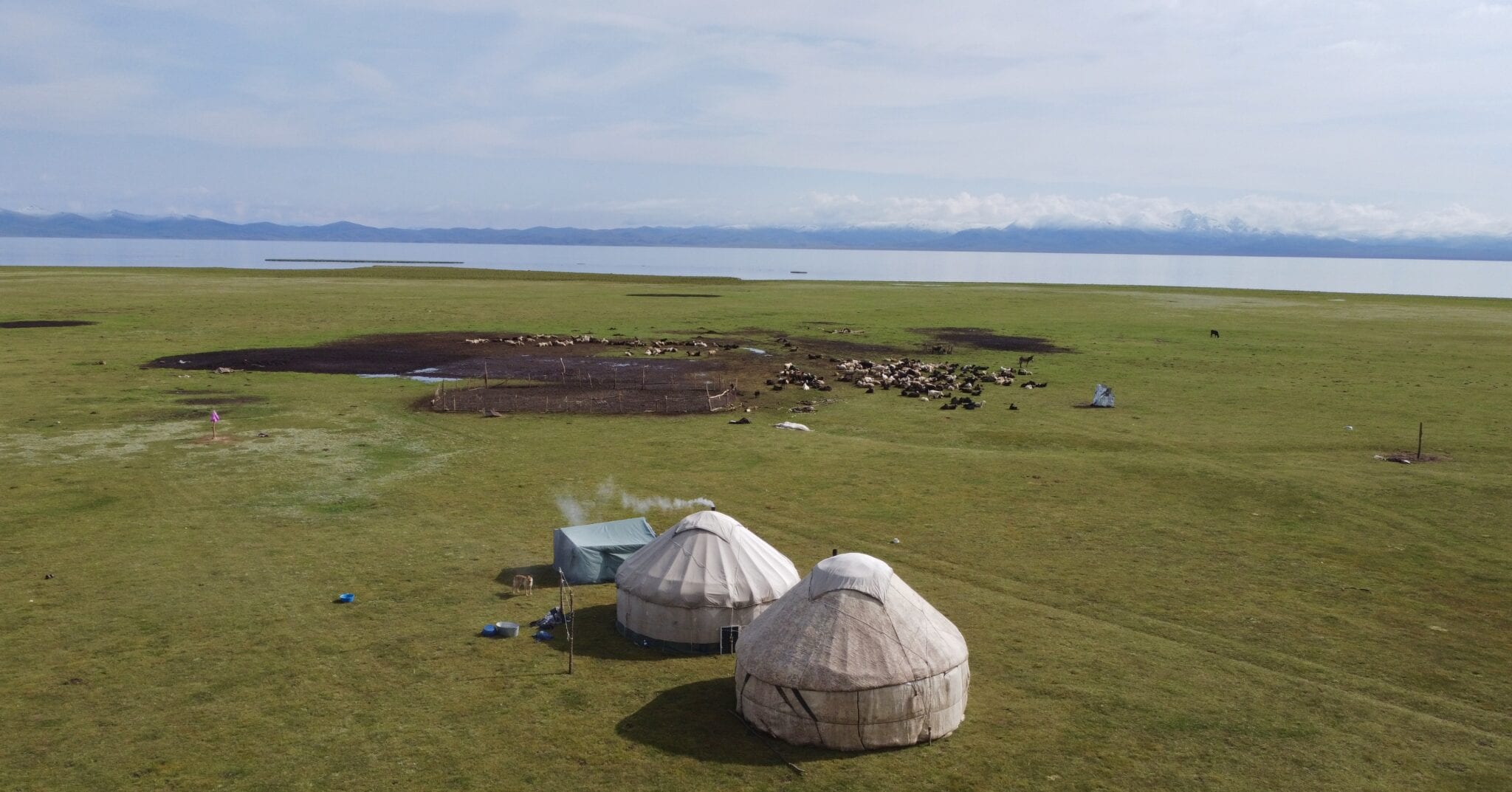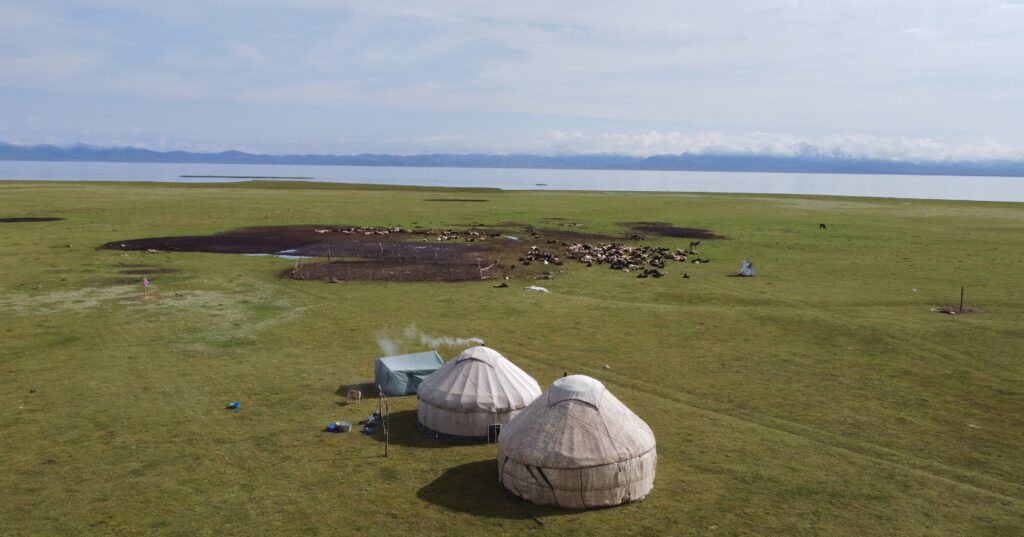 Last but not least, Aigul organizes your transfer directly from Bishkek to Kyzart (starting point of all hikes).
Most travellers go to Kochkor. Aigul saves you from spending a night in Kochkor and looking around all day through toursit agencies.
Book with her, as soon as you are sure of your plans, it will save you time and make her planning easier. I was able to do this hike with readers of the blog in July 2019:
you can find their impressions and book the hike by clicking here.
Do you have any guides to recommend for a hike in Sary Chelek?
I discovered, Sary Chelek in July 2019, my friend Aigul had told me that it was her favourite trek. She had explained to me that it is a perfectly preserved nature reserve and still very little touristy, even during the high season. I can confirm that she is absolutely right.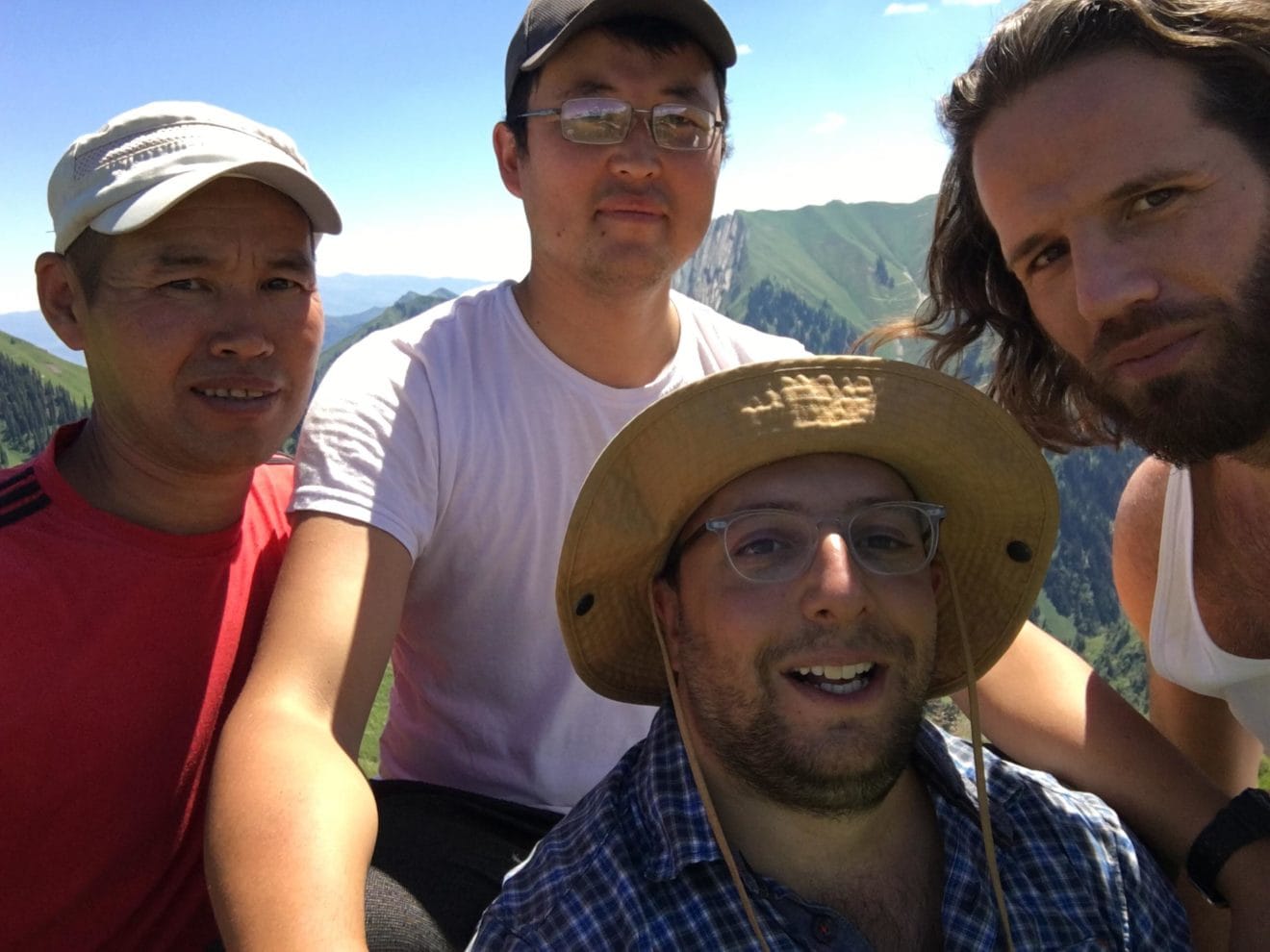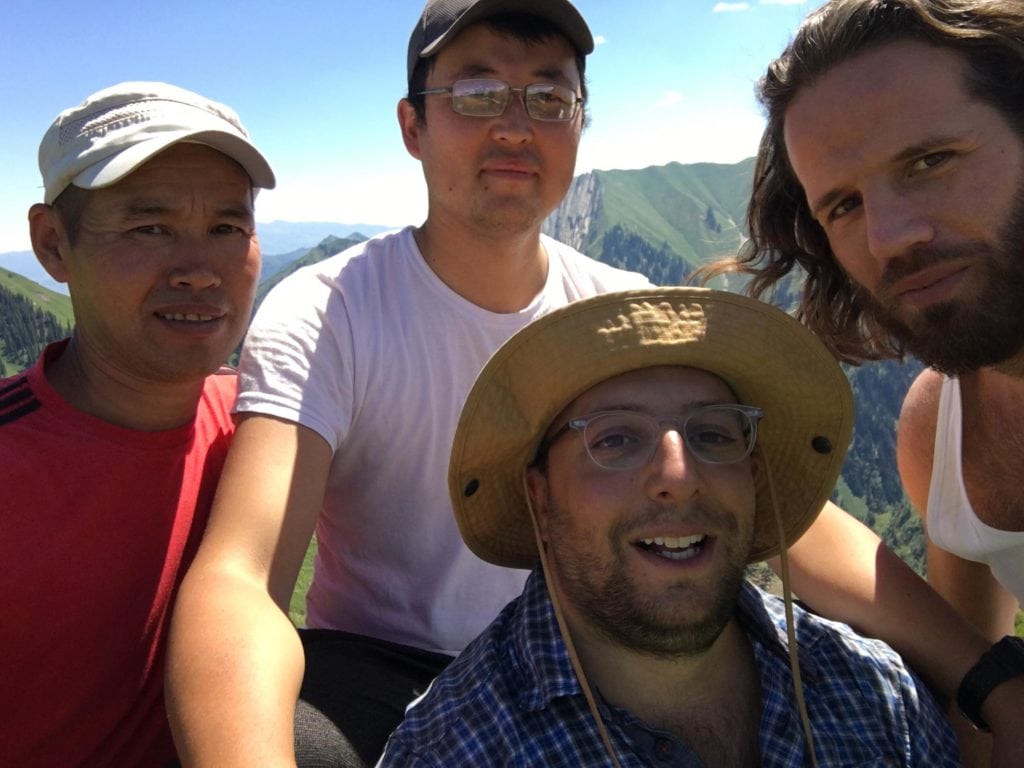 It's my favourite place, I spent 5 incredible days there, horse ridding ! I went with my friend Aurélien, our guides Misa and Nurbek with whom we roamed the reserve in wild camping, we only met 2 other travellers, in the middle of July: what a dream.
The 5 day horseback ride is quite technical, do it if you have a good level of horsemanship, it is really amazing. The 3 day trek is suitable for beginners.
As for the walking treks, it is up to you to decide according to your level and previous experience.
These two guides are really great! Misa is a real cordon bleu, and Nurbek an outstanding fisherman, their duo allows to magnificent bivouacs:
you can contact them and book your hike by clicking here
Do you have a guide to recommend for the Ala Kul trek?
Yes, I know a good agency with competent guides and good equipment to go to Ala Kul.
To help you in your choice, it's good to know you can do this trek in 3, 4 or 7 days via 3 different routes.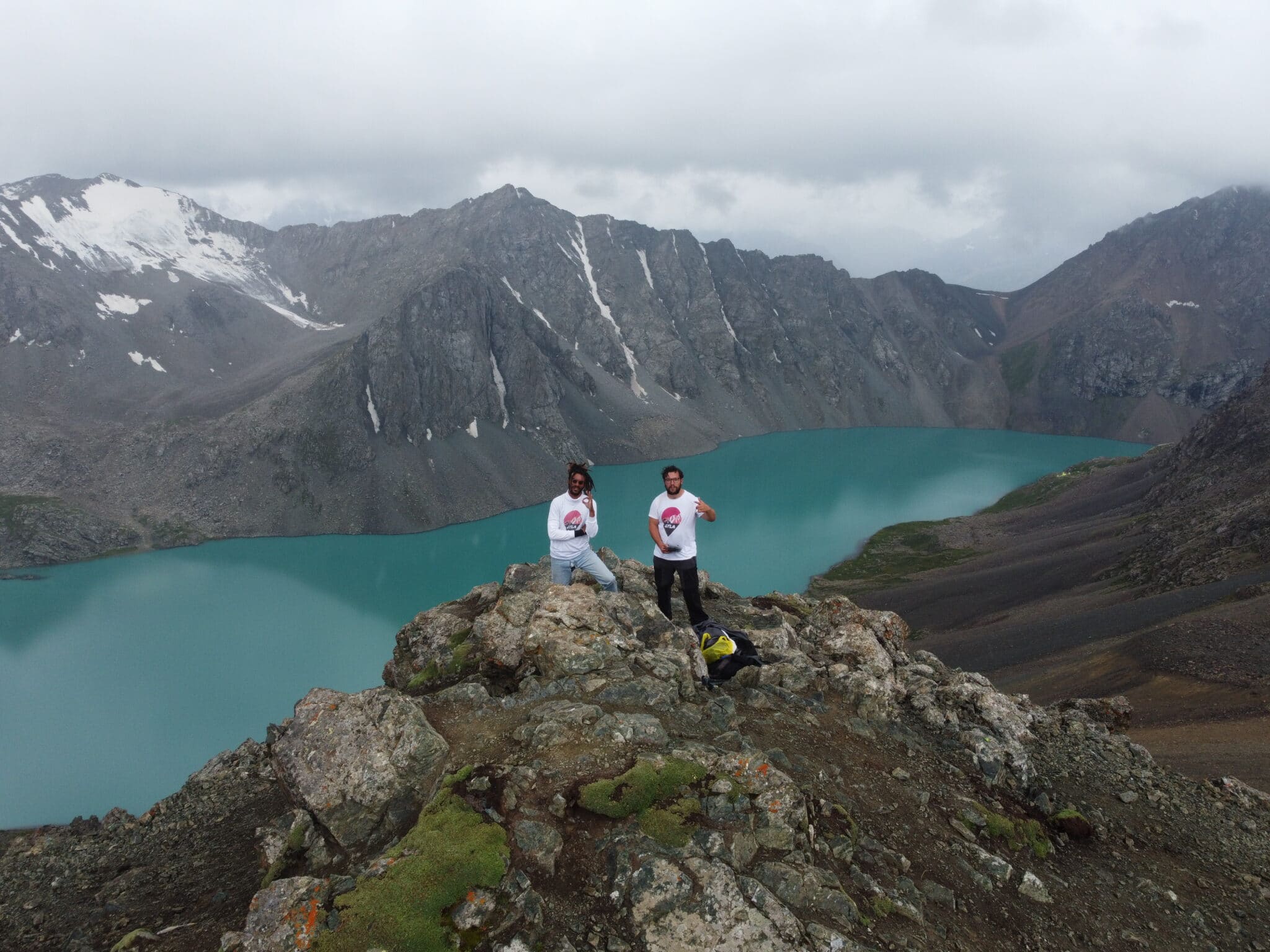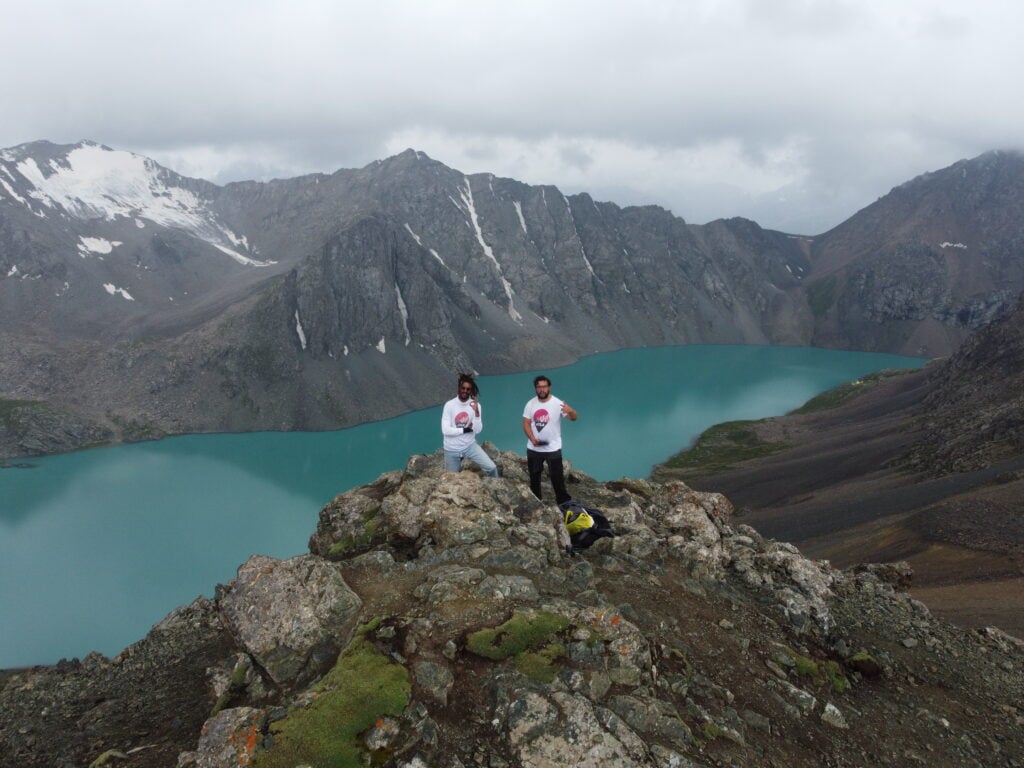 The 3-day route is accessible to beginners and you will be able to sleep in guesthouses.
The 4-day tour is more challenging, but is accessible to intermediate level and the nights are spent in tents in bivouacs.
The 3-day itinerary is as follows:
Day 1: Asku to Altyn Arashan, about 4 hours walk.
Day 2: Return to Ala Kul, about 7 to 8 hours walk.
Day 3: Return to Asku, about 4 hours walk.
The 4-day itinerary is as follows:
Day 1: from the entrance of the national park to Sirota Camp 12 km in 4 or 5 hours.
Day 2: Sirota to Keldike Gorge 10 km in 5 or 6 hours.
Day 3: Keldike Gorge to Altin Arashan 10 km in 4 hours.
Day 4: from Altyn Arashan to Asku village 15 km in 4 hours.

The 7 day trek is broken down as follows:
Day 1: Jeti Oguz to Telty Gorge. 8 km
Day 2: Telty gorge - Telty pass (3800m). 7 km
Day 3: Telty Pass - Karakol Gorge (2500m). 8 km
Day 4: Karakol Gorge - On Tor Gorge. 10 km
Day 5: On Tor Gorge - Kurgak Tor Gorge to Alakol Lake (3560 m). 7 km
Day 6: Alakol Pass (3830 m) Downhill from the pass to Keldike Gorge and to Altyn Arashan Valley. (2500 m). 17 km
Day 7: Arashan Valley - Aksuu village. 15 km
I am often asked, if a guide is needed to do this trek. I usually reply, that "if you are asking if you need a guide, then you need a guide!".
If you need a guide, my friend Aigul organises these treks.You can contact her via this page to organise your trek.
Do you have an English-speaking driver-guide to recommend when visiting Kyrgyzstan?
Yes, Azamat, who beyond being a trusted friend is the best French speaking guide I know. He is a real Swiss Army knife who can concoct the tour of your dreams and accompany you on foot, on horseback or by car.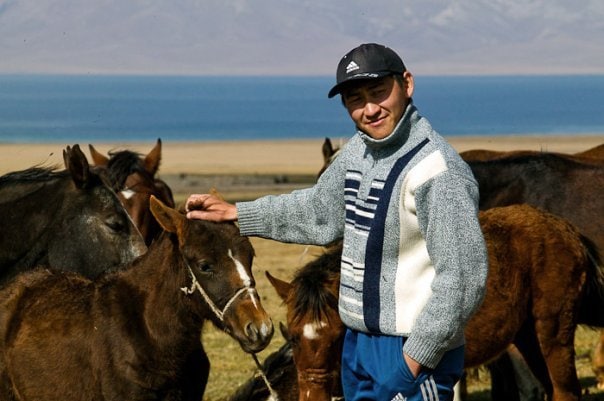 I have confidently sent several readers to him, and they have all come back delighted. You can find the testimonies of some of them on the page dedicated to him.
In January 2020, I was honoured to host him in France, for his first ever foreign trip! 
In July 2021, we got together with my friends Basile and Loïc for a brand new horse trek. Azamat had promised me that it would be an unforgettable experience.
He created a trek for us, in a unknown remote region, between Ozgorush and Kazarman.
Nurlan, the local ranger, joined our group. We were his first tourists. He pleased us with his knowledge of plants and his infectious laugh.
Azamat had excellent horses in store for us, which allowed us to travel through diverse and incredible landscapes and meet authentic isolated nomads.
My mates and I can tell you, it was truly amazing. Suzanne, a reader of the blog, and her 11 year old daughter also travelled with him in August 2021. They loved it.
If you would also like to experience a new horseback riding adventure or a more classic tour, you can contact him here
Do you have a family to recommend for a homestay?
Yes, the family of Nouriza and Nurlan. Azamat introduced me to Nurlan in 2021, during a horseback ride. We immediately became friends despite the language barrier.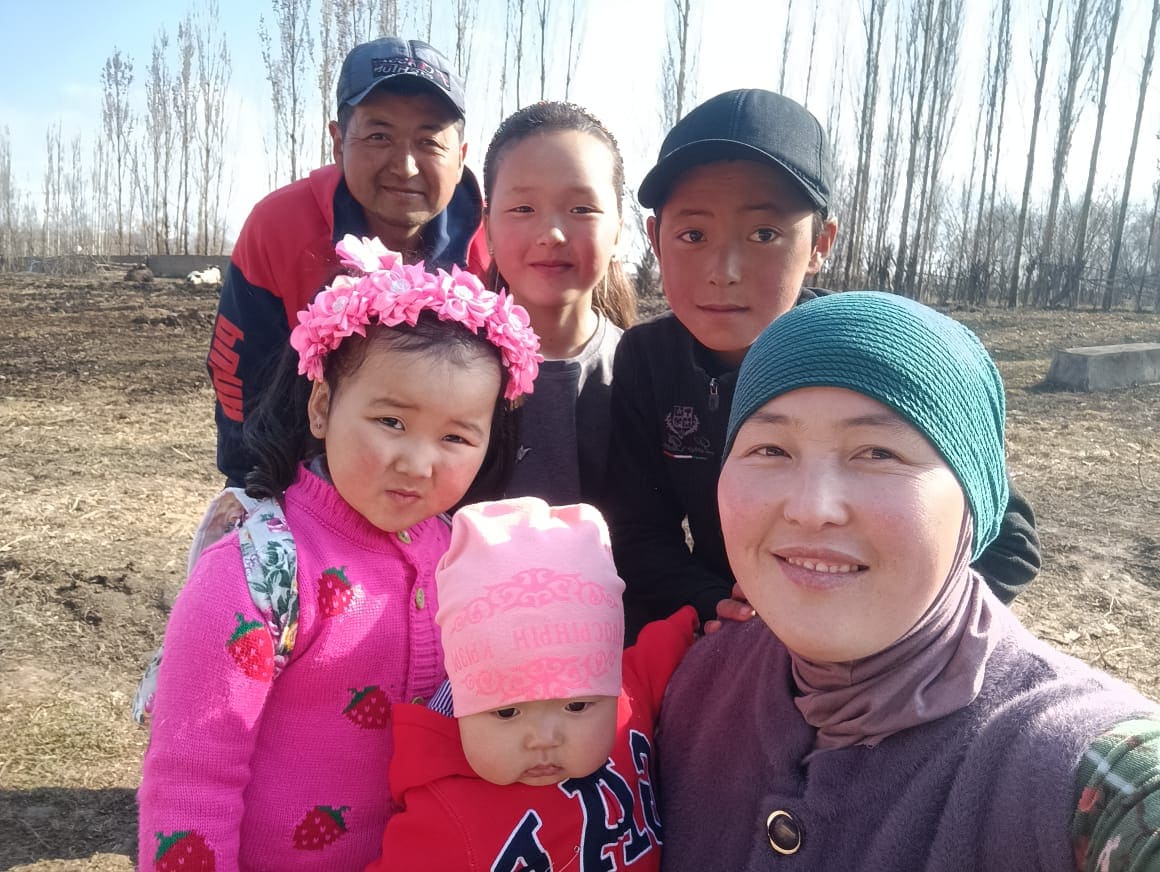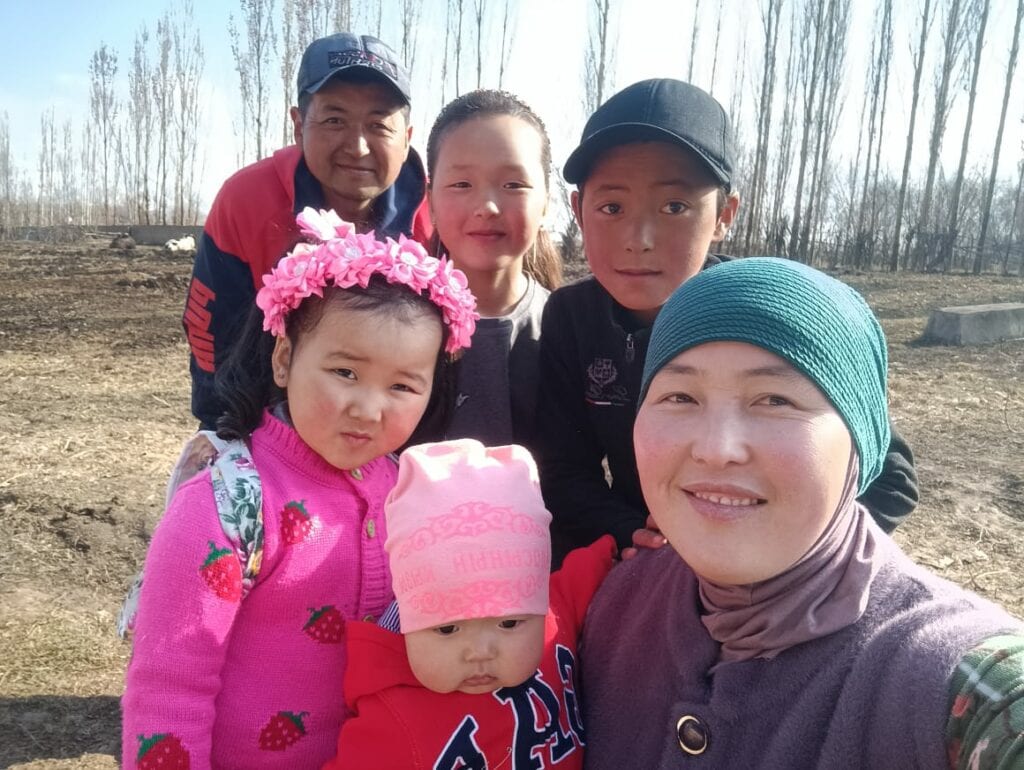 In 2022, I went back to their house for 3 days. We celebrated their daughter's 10th birthday, with my sister and a blog reader. They received 3 other readers of the blog. They loved him and his family.

They live in the central part of the country, a little visited region.
He is a field guard and speaks Kyrgyz and Russian. 
He and Nuriza have 5 children. They live in a small farm, with very basic comfort.
They have a few horses, cows, goats, and chickens.
Their lifestyle is very simple. They have a yurt in their garden to welcome travelers. This is the ideal place if you want to share the daily life of an authentic Kyrgyz family.


Nurlan will guide you on foot or on horseback to discover the flora and fauna of his region's untouched mountains. He'll teach you how to milk cows, look after animals and even take you fishing.

How to attend nomadic games and an eagle hunting show?
Nomadic games:
They take place every 2 years and the 2022 edition will be held in Turkey.
The main games are wrestling (ground or horse), archery (ground or horse), falconry and equestrian games.
The most famous game is Kok Boru:
It consists in two teams of riders competing for a goat carcass.
There are several possibilities to attend a game:
The biggest game takes place in the racecourse stadium in Bishkek, on the bank holiday on the 31st of August Once a month a big festival is also held in Talas.
If you want to see a more confidential game, my friend Azema organises a trip to Sussamyr in her home village. The locals play a game every Sunday and Tuesday there (a bit like us in France with club football)
If you are interested, you can contact her directly here
The eagle hunt:
This is an ancient Kyrgyz tradition.
In Kyrgyz the eagle is called berkuttire and the hunters, berkutchi . They were the ones who provided the villagers with food and furs during the winter.
How does one become an eagle hunter?
My friend Aigul explained to me that to begin, the hunter has to capture the eagle in the wild. He takes an egg from a nest (which is not without risk). He trains it for 4 years, after which it is ready to hunt rabbits, foxes and even wolves.
An eagle lives for about 60 years and spends ⅓ of its life with its hunter as tradition dictates that the hunter releases it when it turns 20.
The hunting season is between October and February, but you can attend demonstrations during training sessions which go on all year round.
Do you have a local agency to recommend for group tours?
Yes, if you want to join a group with a guaranteed departure, I recommend you contact my friends Samuel and Fabien who offer really nice trips.
Samuel is famous in Kyrgyzstan, he arrived from Switzerland in 2004, fell in love with the region and created his own ecotourism agency in Bishkek. Since 2014, my friend Fabien, who arrived in Kyrgyzstan as part of a mission with Médecins Sans Frontières, has also fallen in love with the local charms and has joined him in Nomad's Land.
They organise all types of ecotourist trips during the summer and winter. The main idea being meeting the local populations.
They guarantee trip departures for groups all year round, so if you want to go on transhumance with the Kyrgyz shepherds during the autumn, go skiing in winter or spend an incredible New Year's Day on the shores of Lake Song Kul, don't hesitate to contact them.
On top of that, they're offering a super 5% discount to blog readers. Just tell them they've been recommended by Georges-Michel (that's me) or Gtla (that's me too).
Don't hesitate to visit their website and say hello to them.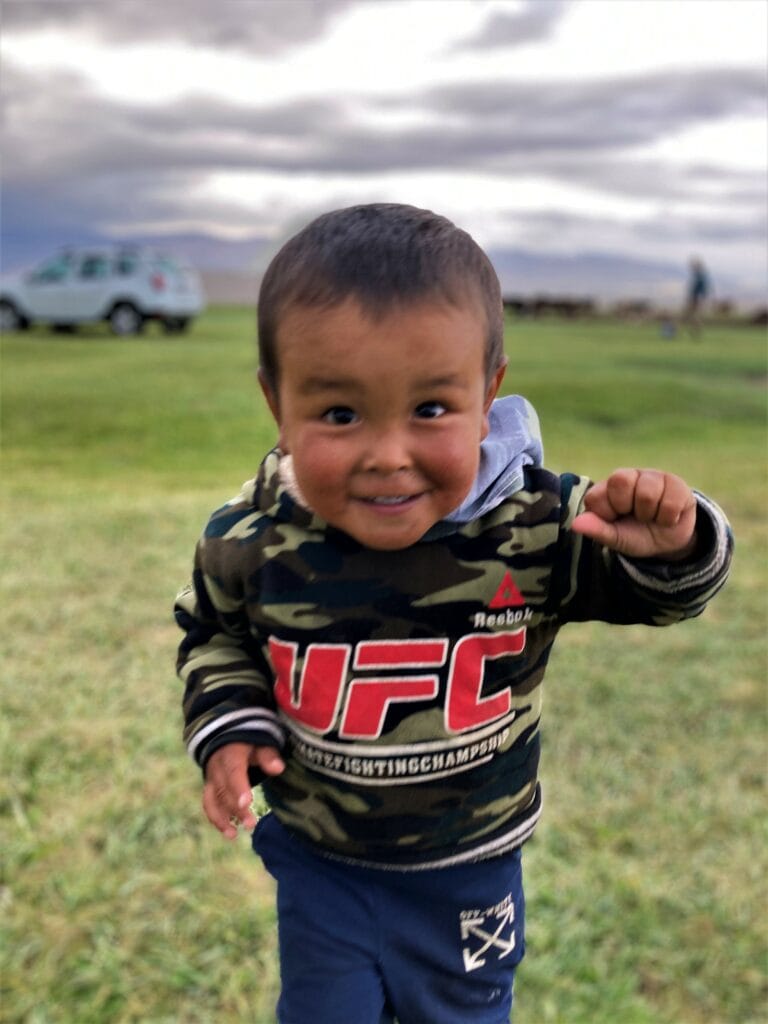 Is it necessary to hire a guide for the walks?
The guides are competent and well trained, but of course you can also travel independently. To put it simply, I am used to telling people who ask that question: "if you are wondering if you need a guide, then you need a guide".
Walking tours:
Most of the hikers I met did not have a travel guidebook. The trails are not marked, but you can easily find maps in big cities like Bishkek or Karakol.
You can travel independently and sometimes even stay in yurts pre-booked in a travel agenccy. The agency will give you the itinerary and the name of the family that will host you for the night.
If you are going alone, just check the weather forecast to be sure you are safe.
Horseback riding:
You cannot rent a horse independently from a travel agency. However, you can find a horse to rent for the day from a farmer. If you are an experienced rider, a guide is not necessary.
During my stay in Altyn Arachan, in the heights of Karakol, I rented a horse from a peasant for 1400 KGS a day. In Song Kul I met a Frenchman who rented a horse for 1000 KGS a day.
Riding a horse without a guide will make it easier for you to meet the locals. All the local riders, that I met, during my day alone with my horse, came to greet me and offer me to follow them.
If you want more information about horseback riding, I have written a new article entirely dedicated to this subject: Guide and tips for horseback riding in Kyrgyzstan.
​
What should I take with me when travelling to Kyrgyzstan?
What can I offer as a gift to the locals?
Don't bring anything! I am asked this question more and more often. My answer is very simple, don't bring anything: buy local.
I thought about it and exchanged a lot with my friends there. You will please your hosts and the people you meet by offering them products bought locally. In addition, you will be supporting the local economy. Finally, it allows you not to prejudge their needs but to adapt to them, which for me is the essence of a gift.
In July 2021, Nurlan welcomed us to his house with my friends Loïc and Basile. We noticed that his children were playing ball with a plastic bag. We went to the village shop to buy a football and gave it to the children.
The shopkeeper was happy, the children and all their friends in the village too. As a bonus, we were able to kick a little in the ball and share a good moment with the villagers.
When you go on a trek and there is no shop on the route, you can do your shopping in the village where you start.
For the children I recommend you offer simple toys that can be used in a group, such as balls, frisbees...
For adults, they will appreciate fresh fruit, fresh vegetables. Nomads are herders who have meat but no crops. Fruit and vegetables are expensive foodstuffs for them, which they will appreciate.
If you travel on foot, you will quickly be limited in volume. If you are riding or driving, don't hesitate to take a watermelon, it is a very popular fruit.
Finally, take photos of your family, friends, home and region. Nomads love to share and show you their daily lives, but they also love to see yours.
Of course don't forget my English/Kyrgyz lexicon to facilitate your exchanges 🙂
What budget to expect for a backpacker?
The country has known, as everywhere, a big inflation in 2022. During my 3 weeks trip in 2022, I spent 1495 € including flights.
Below is my budget:
Airfare: 510 €.
Meals: 122, €.
Hotels: 225 €.
Transportation: 90 €.
Excursions: 491 €.
Unlisted expenses: 51 €.
Laundry 6 €.
I didn't always go for the cheapest. You can spend less in terms of food, hotel and even airfare. For example, meals in Guest Houses are charged at 450 KGS, you can easily get away with half the price by eating out, but I always stayed with nice and welcoming families which made me want to stay and share a meal with them.
In 2014, I spent 1111€ flight included. In 2019 and 2021, I spent about 1300€ flight included on each trip. I didn't list my expenses, I've become a bit more conservative over time. I like for example less to sleep in dormitory, but the budget remains affordable!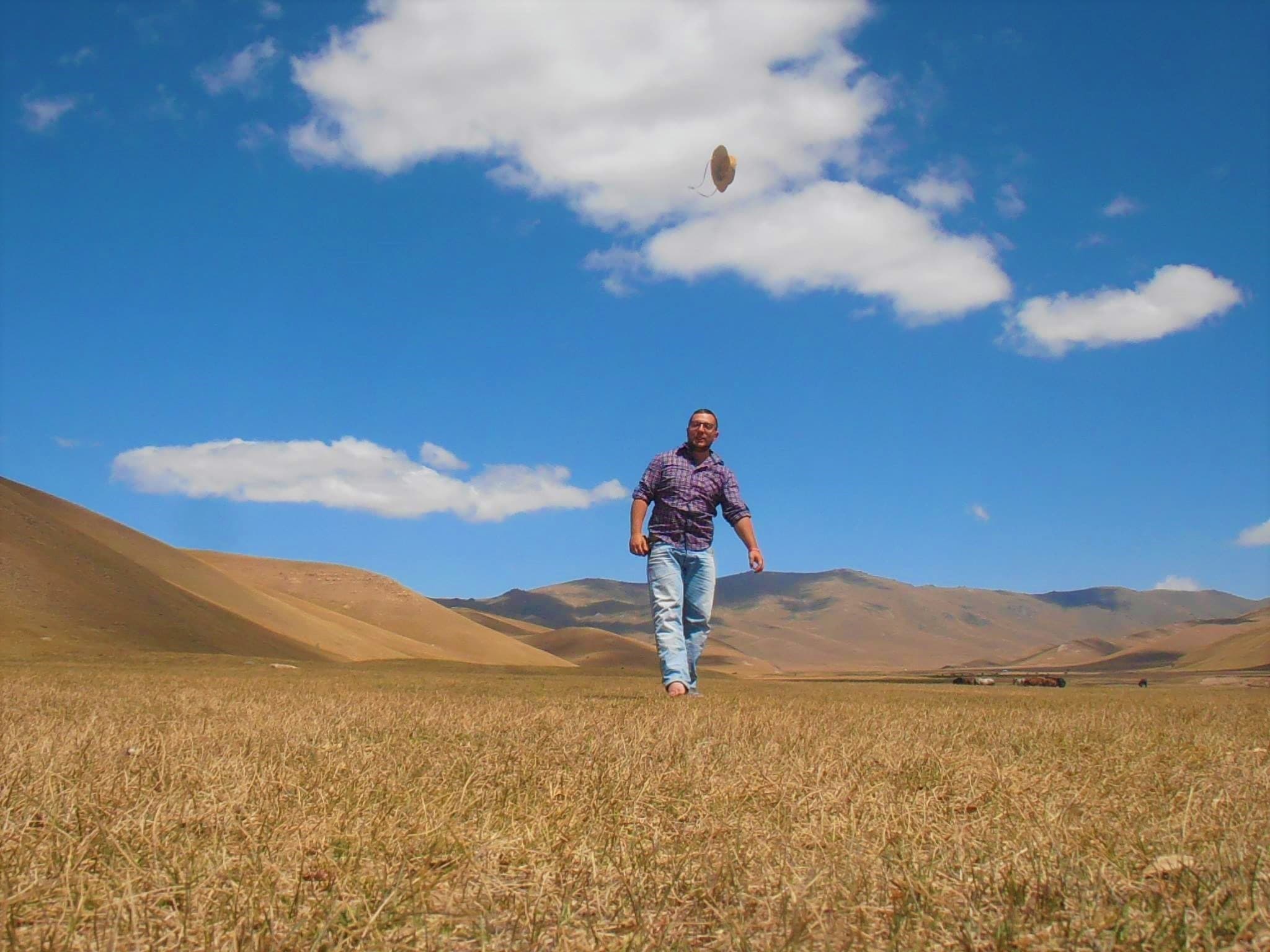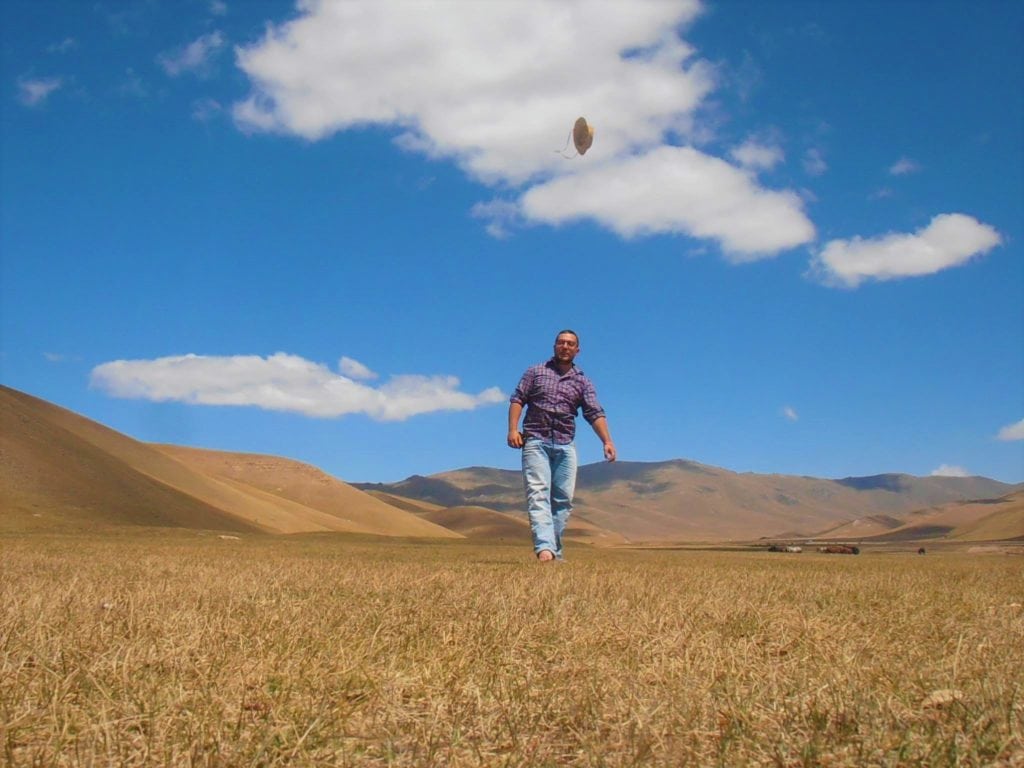 What to pack in your backpack?
As with any trip, my bag did not exceed 8kg.
Each time I manage to keep my backpack as hand luggage. This forces me to make sure that it is not too heavy. It saves me having to wait for it when I arrive at the airport and, above all, it prevents the company from losing it during stopover.
I only take 5 days worth of clothes, I think it's the ideal compromise to enjoy the trip while stopping and taking time for myself.
As anywhere else, it's easy to find laundromats. Prices vary from 100 KGS to 300 KGS per machine, depending on the place. You can also wash your clothes for free in the many rivers and streams.
Here are the contents of my bag.
Decathlon Forclaz 60 bag :
1 backpack (for the day)
riding jeans
trekking trousers
swimming shorts
5 pants
5 pairs of socks
2 decathlon shirts
2 t shirts
padlock
headlamp
hoodie
ski coat
waterproof bag
Toothbrush
toothpaste
camcorder, Go Pro, I replaced all this with my Iphone!

adapt USB current
Sun hat
Sunglasses
1 pair of spare glasses
trekking shoes
trainers
flip-flops
microfiber towel

sleeping bag

airbag
bottle
box of micropur
box of anti diarrhoea
survival blanket
travel guide
What do I need to bring to make my trip easier?
To travel in the country, the 3 essential items I had and highly recommend you to take are:
Kyrgyzstan Traveller's HandbookThis is the only travel guide dedicated exclusively to this destination. The others include all Central Asian countries and are less comprehensive.
There are very few books on this rather confidential destination. This guide will allow you to learn much more about the history and traditions.
Since 2020, I have been listed in the
guide  on Amazon
A box of micropur: 
To purify the clear water. In the mountains, yurt camps are set up in herder's territories. Waterways are full of animals and are dirty with faeces. Even if the water is clear, you must purify it to avoid getting sick. A box of micropur will also reduce your water budget. A bottle of water costs 1€, while a micropur tablet only costs 18 cents. See on Amazon
A survival blanket: This is the essential item to take with you on your trip. It takes up very little space and can protect you from heat, cold or humidity. It is even strong enough to be used as a stretcher. At less than 2 €, it would be silly to do without it. See on Amazon
You can also take along some accessories that can be very useful:
A solar shower It's a 20-litre water bag that heats up in the sun. Personally I used to wash in streams, but the water temperature is around 10° only. Most travellers did not wash during the several days of the horseback ride. If you don't like icy cold water, you can take this gadget with you and fill it with water a few hours before you arrive at camp so you can shower at the end of the day. See on Amazon
A money belt It's a normal looking belt in which you can hide up to 20 notes. It's the best way to hide your money. See on Amazon
Riding trousers: Personally, I hesitated a lot and I didn't take it because of fashion reasons. I couldn't picture myself arriving in a nomadic camp in such attire. If you are a good rider you can do without one, but if you are not used to riding, I advise you to take one. It's your choice between style and chafing pain. See on Amazon
Is there easy access to the Internet and 3g?
It is the ideal place to disconnect. First of all, it is 98% wilderness and wifi is not much available. You will always find some wifi in hostels and some restaurants but at a low speed.
It's free at the airport, they give you some, and then you can top up. "O" is the best operator for 95 soms = one week with 10GB of internet.
To call Kyrgyzstan: the code is + 996.
From Kyrgyzstan to France: the code is + 33.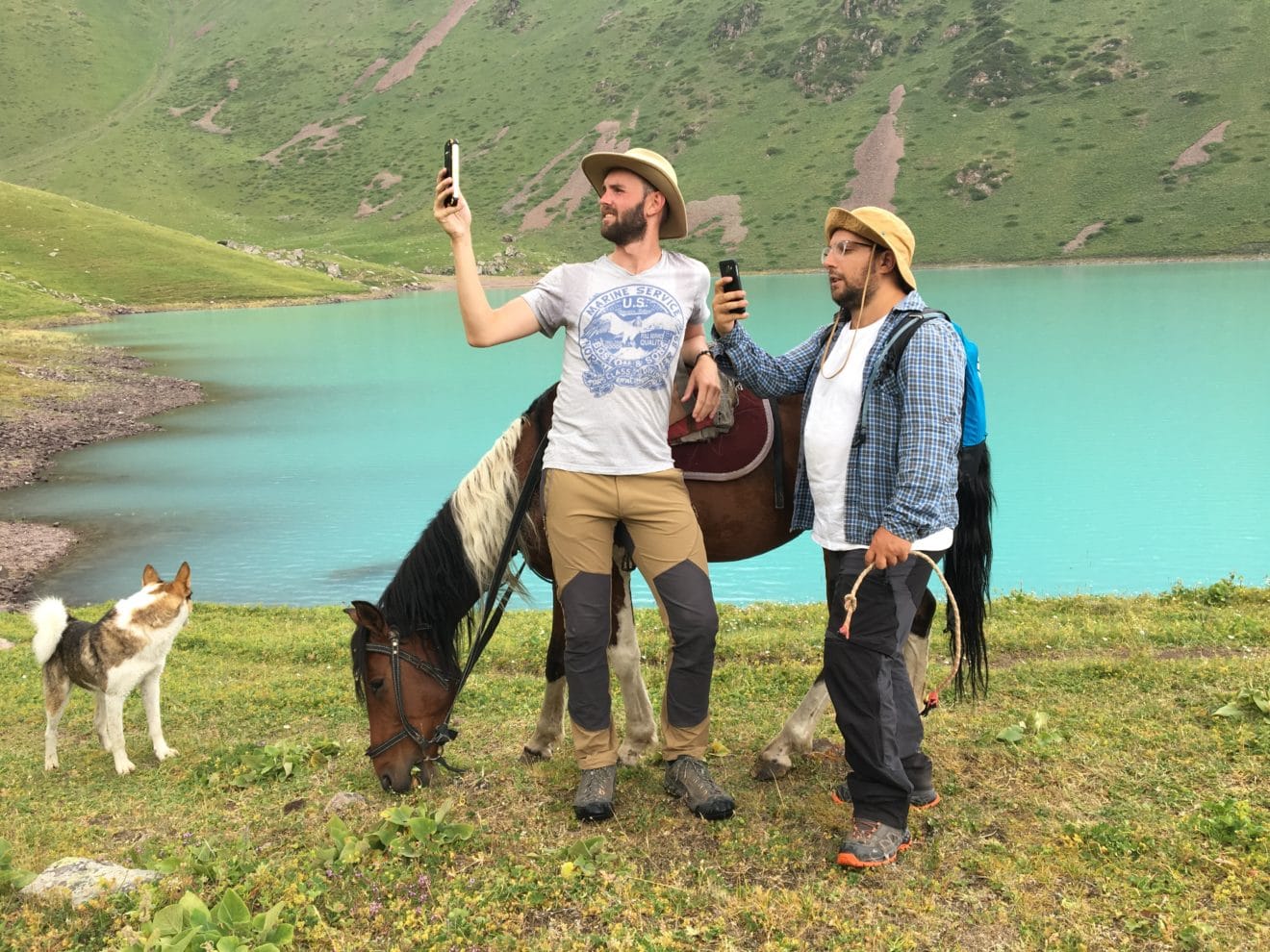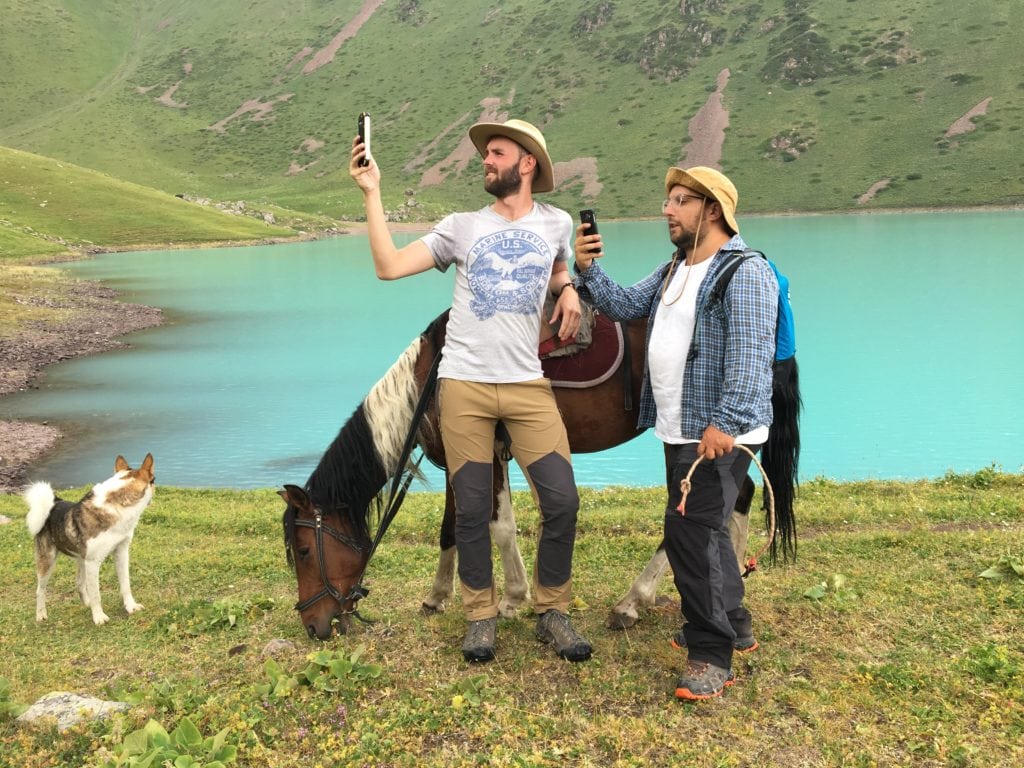 Are there any useful applications to have on your smartphone?
As the speed is quite slow, it is wiser to download the apps before leaving. Whether you use Android or an Iphone, you absolutely need :
Maps.me - My favourite offline map app, it's free. You can geolocalise yourself and follow routes while offline. There are a lot of roads and trails, it's the best GPS for travelling.
How to be a prepared and responsible traveller?
I am not an example, I have often done things without thinking, which I regretted later.
To avoid these regrets, here are some of my tips and my travelling friends feedback.
Is it necessary to take out travel insurance?
Yes, as with any trip, you should think about insurance.
Travelling without insurance is stupid and can cost you a lot of money in case of problems.
In 2018, I ruptured my knee's cruciate ligaments in Togo and thanks to my insurance, my repatriation was easy and didn't cost me a cent.
Travel insurance is cheap or even free (prime visa insurance). Don't think about it and get yourself a good cover.
My accident in Togo allowed me to "test it for you" and I can guarantee you that I was very happy to know who to turn to and that I would be taken care of without having to pay anything.
This Canadian, who was travelling without insurance and suffered a Palu attack, relied on his family and friends to raise the $68,000 needed for his repatriation.
Do you have any travel insurance to recommend?
Learn from his experience, so as not to repeat his mistake.
ACS offers insurance with very good and cheap cover. I have had nothing but positive feedback from readers.
I recommend that you read my complete file on bank card travel insurance.
What do I need to know before going on a horseback ride?
2 essential things:
Make sure your horse is in good health.
Ensure you are safe by wearing a riding helmet (bomb).
2 subjects on which I had the chance to discuss with the French ambassador in Bishkek, in July 2021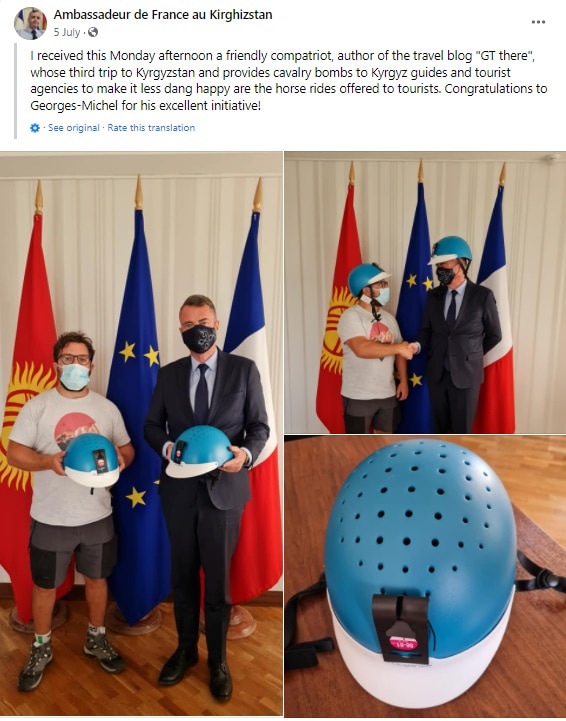 You can find all the details in my article on horseback riding.
Are there any other activities with animals that I should take precautions for?
Yes, eagle hunting and Kok Boru.
These two activities are traditional and part of Kyrgyz folklore. You can attend private demonstrations or festivals.
A classic demonstration of eagle hunting consists of an eagle chasing a live rabbit, which leads to the death of the rabbit...
A game of Kok Boru consists of two teams of riders competing for a goat carcass.
To start the game, The sacrifice of a goat is needed.

You have two options:
Attend a demonstration at a festival, with full knowledge of the facts.
Attend a private demonstration, which takes place at your request. In this case, you can easily ask for the rabbit to be replaced by a decoy and for the goat to be replaced by a fake goat carcass.
These requests are becoming more and more common from travel agencies, and it is easy to find demonstrations that do not involve the death of animals.
How to avoid acute mountain sickness?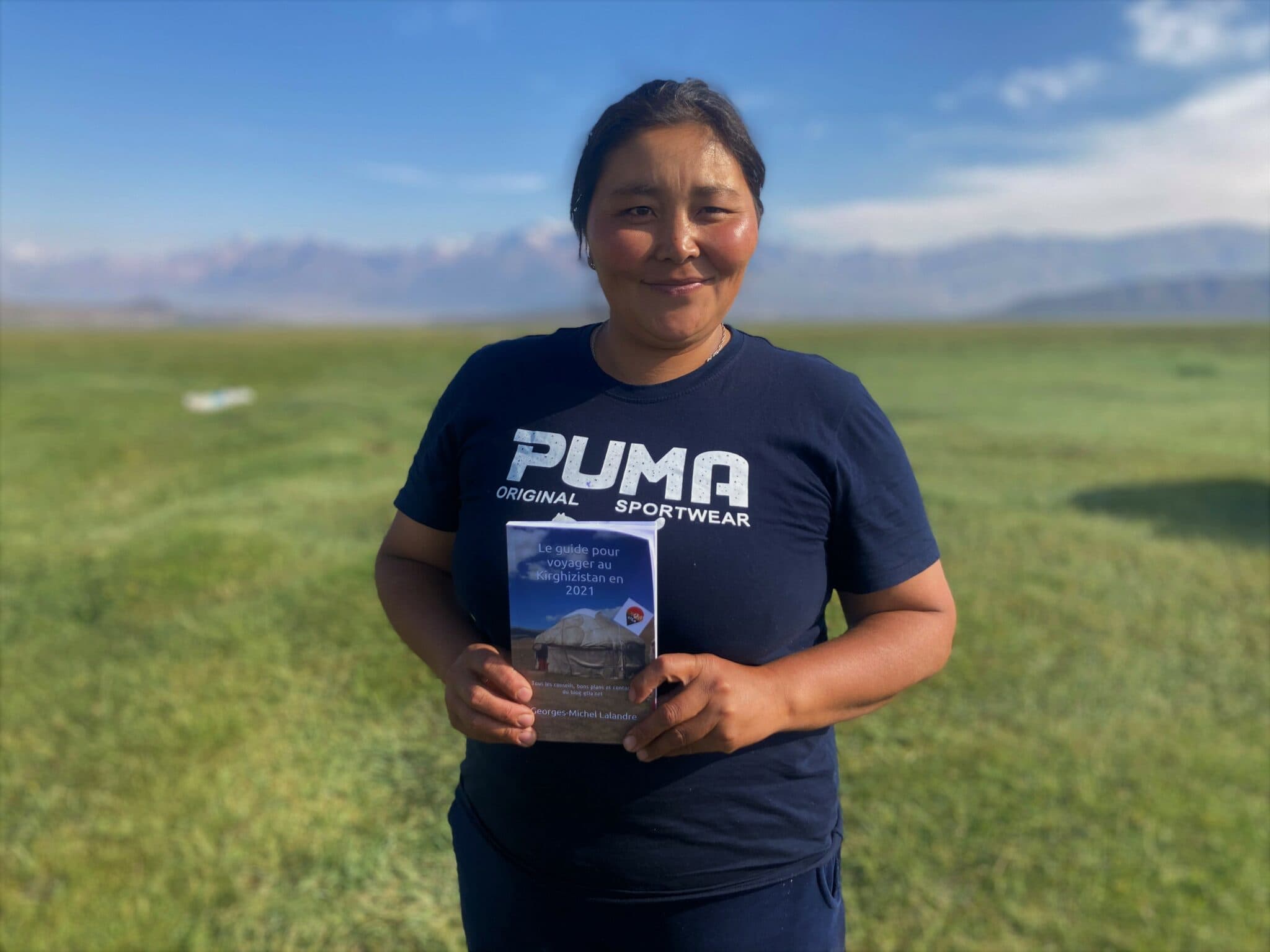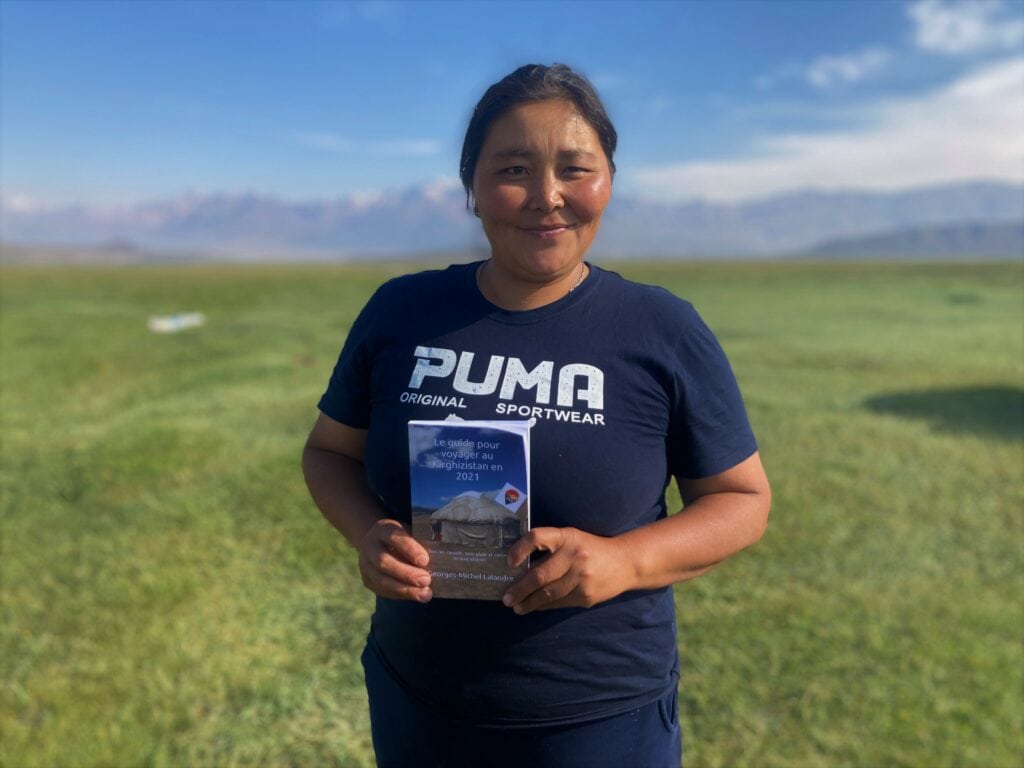 This ailment occurs for the vast majority of people above 3500m. Don't worry, in a classical tour of Kyrgyzstan, this is an altitude that you rarely reach. Song Kul is at 3000 m. You climb higher at the Ala Kul Pass (3850m) but you don't stay there long.
Thanks to Nathanaël (reader of the blog and member of an association that organises treks in Nepal) for all this information, which I recommend you double check with your doctor.

What are the rules to follow to acclimate?
Four main factors determine the occurrence of acute mountain sickness:
- Ascent speed,
- Altitude reached,
- Duration of the stay
-Personnal predisposition
Taking these criteria into account, we advise you to follow these rules:
-Don't climb too high too fast, on average 400 metres between each night above 3500m at the beginning of your stay.
- Avoid intense efforts at the beginning of your stay.
- Climb high enough to acclimatise, if you have to go to a very high altitude (over 5000).
- Drink enough water (have clear urine, be alert to signs of dehydration)
- Do not take sleeping pills, which encourage breathing pauses during sleep, which worsens hypoxia.
- Listen to your body and accept its limits.
How to recognise if you are suffering from AMS (Acute Mountain Sickness)?
AMS is manifested through different symptoms. Nathanael assigns points to them according to their severity. According to the score you can take the necessary dispositions: 
- Headaches: 1 point.
- Lack of appetite or nausea: 1 point.
- Insomnia: 1 point - Dizziness: 1 point.
- Headache resistant to 1g of paracetamol: 2 points.
- Vomiting: 2 points.
- Shortness of breath at rest: 3 points.
- Abnormal or disproportionate fatigue: 3 points.
- Decreased urination: 3 points.
What should I do according to the score?
From 1 to 3 points: AMS light, take a level 1 analgesic such as paracetamol. Respect the doses of use. Continue your progression if the symptoms disappear.
> From 4 to 6 points: AMS moderate, same recommendations as above with, in addition, 24 hours of rest at the same altitude before continuing the progression. The maximum acceptable dose of analgesic before telling you that you should probably descend (if you have not already done so): 3 g of paracetamol (1 dose / 6h)
> 6 points: AMS severe, it is imperative that you come down in order to avoid an evolution towards life-threatening complications (cerebral or pulmonary oedema).
My buddy Christophe unfortunately had this experience in Nepal. He tells you about it in a very interesting way on his blog.
How do I manage my waste when trekking?
Several readers reported that their guides burnt the waste on site during the treks.
In France, this is not normal, but in Kyrgyzstan, there is no waste treatment plant.
Explaining to the guide not to burn the rubbish there makes no sense. If it is not burnt on the mountain in front of you, it will be brought back to town and burnt somewhere else...
The best you can do is to limit the amount of waste you incinerate:
Use your backpack instead of plastic bags, and limit your use of packaged goods by choosing fresh, locally produced food.
What remains can be incinirated there: You are being more responsable in managing your waste than to letting it go to giant landfills.
To stay on the same topic, waste is not the only source of pollution, you are too 🙂
You can limit your impact:
Avoid doing your business near water streams, it is a source of pollution.
If possible, bury your poo. This way it prevents the rain from washing it away (which pollutes rivers) and when left on the ground it prevents vegetation from growing.
When washing and washing clothes, keep at least 100m (or more) away from rivers. Soap (preferably to laundry detergeant) is perfectly biodegradable BUT NOT IN WATER ! (even soap that is commercialised as biodegradable) it has to be filtered through the soil to biodegrade.
Any last words of advice?
Yes, once you're there, don't forget that travelling is cheap because the Kyrgyz income is very low (in the countryside about 150€/month or less).
Think about it, for example:
When you take a collective taxi, the cost per person is very low for you, but high for a local. You might be tempted to buy all the seats and leave immediately instead of waiting. But then you would be depriving the locals of a much needed transport solution.
Of course there are many other things you can do to be a responsible and better traveller. I've made a list of things that seem essential to me and that I've realised in the course of various exchanges with my readers, are not necessarily known to everyone. If you have other elements to contribute, don't hesitate to leave them in the comments.
What are the people like in Kyrgyzstan?
Is it dangerous to travel alone as a woman?
As you may have noticed, I am not a woman. However, I have often been asked about the possibility of travelling alone as a woman.
I asked Coralie, from the Kyrgyzstan travel group, to share her testimony following her trip in September 2018:
"I went alone for three weeks last September, I had no problems with safety. It's one of the safest places I've ever travelled to, and as a woman, no worries.
Kyrgyz people are mostly surprised to see a woman travelling alone (i.e. without her husband, how is it possible?!) but they are curious and not pushy at all.
In big cities like Osh or Bishkek, or in tourist places (Kochkor or Song Kul), people are more used to seeing women alone.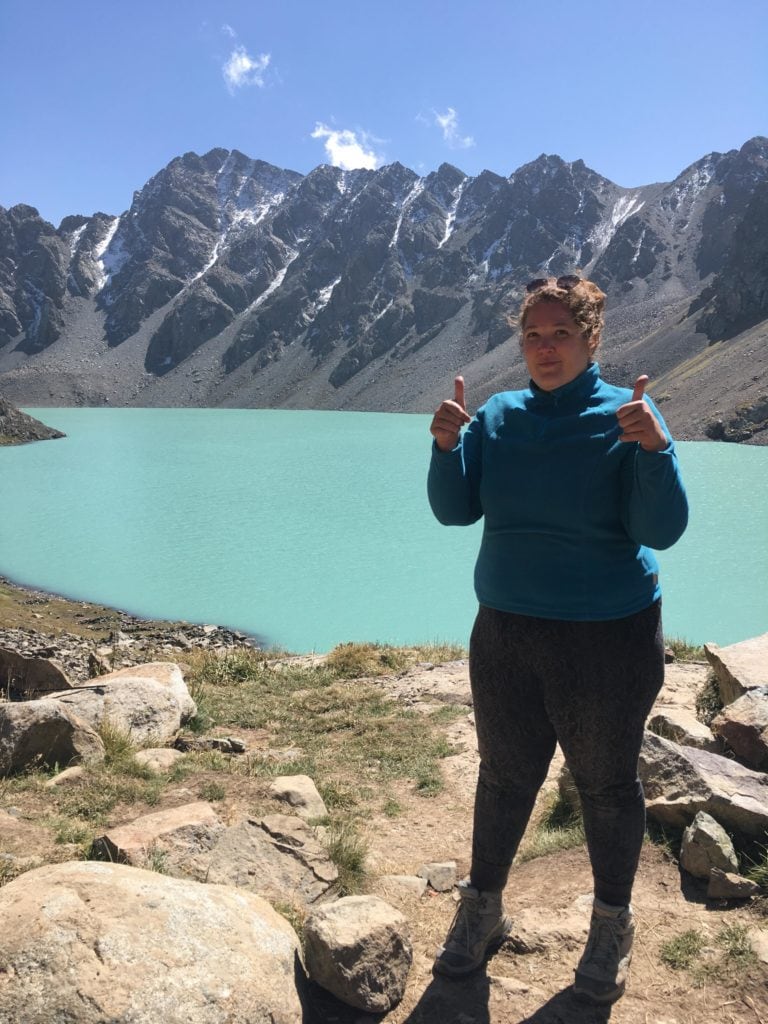 I travelled a lot by local transport (mashrutka, collective taxis), it was very easy and I never felt in danger, knowing that the drivers are always men. I travelled a lot on foot, including in the cities, and I had very few solicitations, and none insistent from the taxis. Kyrgyz people are happy to help you with information.

I also found that there was a kind of solidarity between women: if they see you alone, they will help you, ask you if you need anything.
I often wandered alone in the evening, in town, no particular worries.
I live in Paris, so something I wouldn't do in Paris, I wouldn't do in Kyrgyztan either, and if I had a bad feeling (which rarely happened), I would simply back track. Obviously, an encounter with a drunk guy is possible, there is no zero risk as anywhere. And Kyrgyz are rather "protective" of their tourists.

Concerning the outfit, apart from Arslanbob which is more traditional (trousers, top covering the buttocks and shoulders, and still...), I was clearly in comfortable travel clothes (clearly not my most elegant dress ahah). But I don't think wearing shorts if it's hot attracts any more inappropriate remarks or stares."
Who are the people I will meet?
Encounters with locals and other travellers can have a big influence on your opinion of the country.
The locals:
The Kyrgyz are a nomadic people living in a harsh mountain environment. As a traveller you will meet people who are welcoming, warm and honest. I never felt unsafe in Kyrgyzstan.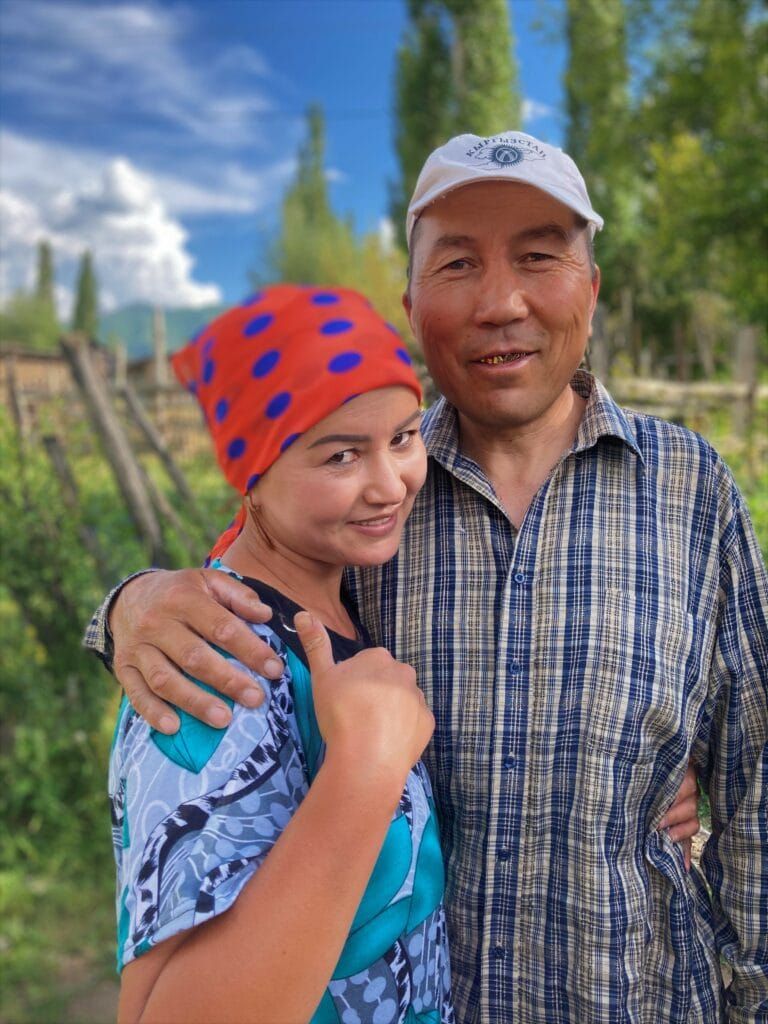 Other travellers:
If you choose this destination, it is probably because you are a lover of nature and wide open spaces and that you want to travel to a destination that is still confidential and off the beaten tracks. The travellers I met were all experienced backpackers, having had unique experiences in rather unusual destinations. I can guarantee that you will have amazing and inspiring discussions in each of your hostels.
The PDF version of the article.
Download the free PDF version (Ebook) of my guide to consult it everywhere even without wifi.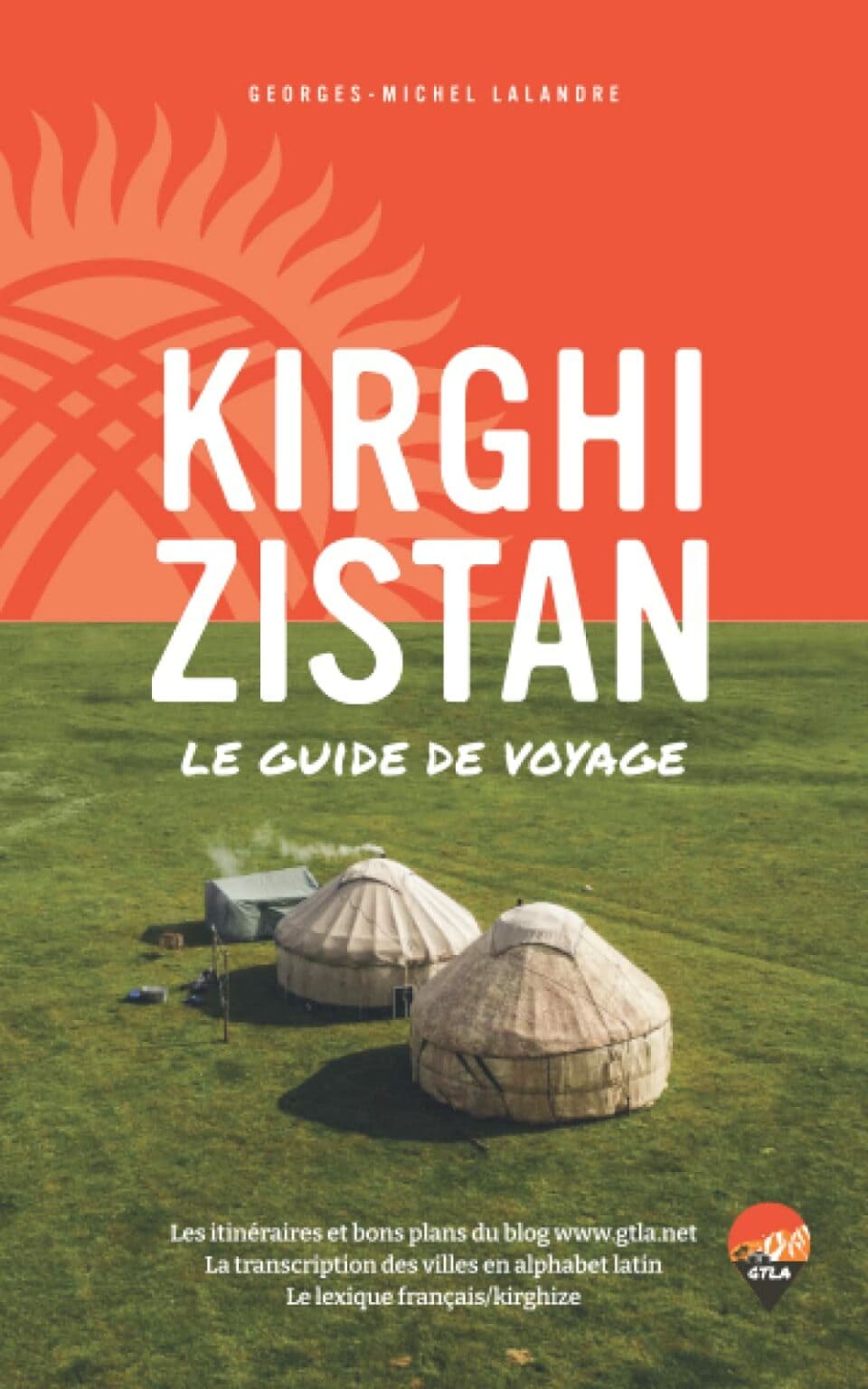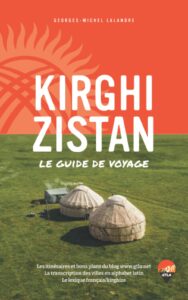 To go further:
This guide contains all the information you need to prepare your trip to Kyrgyzstan. My other articles are dedicated to more specific subjects. You can find:
My complete guide to prepare your horse trek in Kyrgyzstan. As a bonus, you will find the interview of Florent who bought a horse to travel solo.
My article dedicated to horse riding
My article dedicated to car rental in Kyrgyzstan.
Marie's bike trip and her advice.
The 10 reasons why you should travel to Kyrgyzstan.
Find more information on the facebook group, travel to Kyrgyzstan.
We also share pictures during winter to travel through our screens. Like this picture of Julien, thanks to him :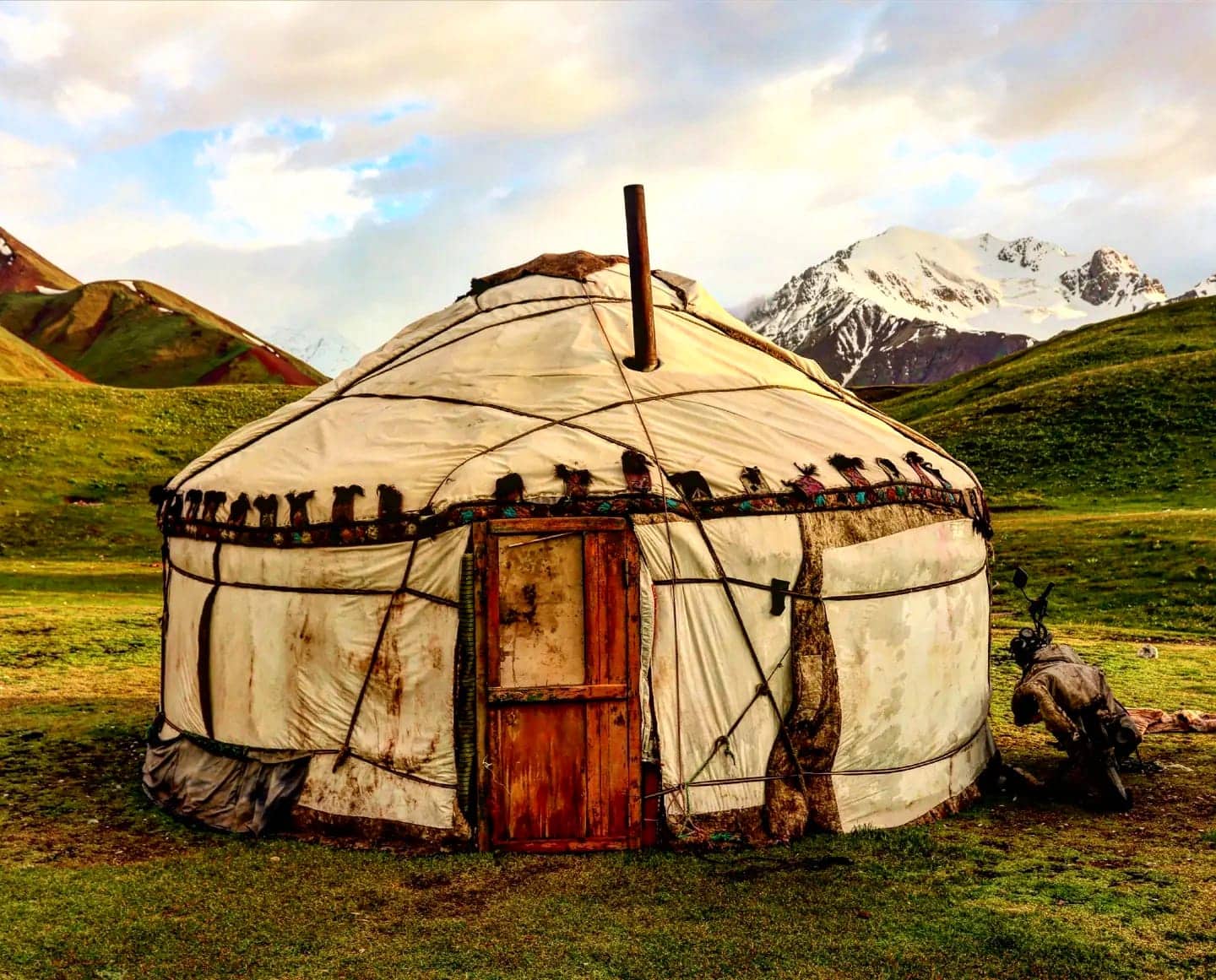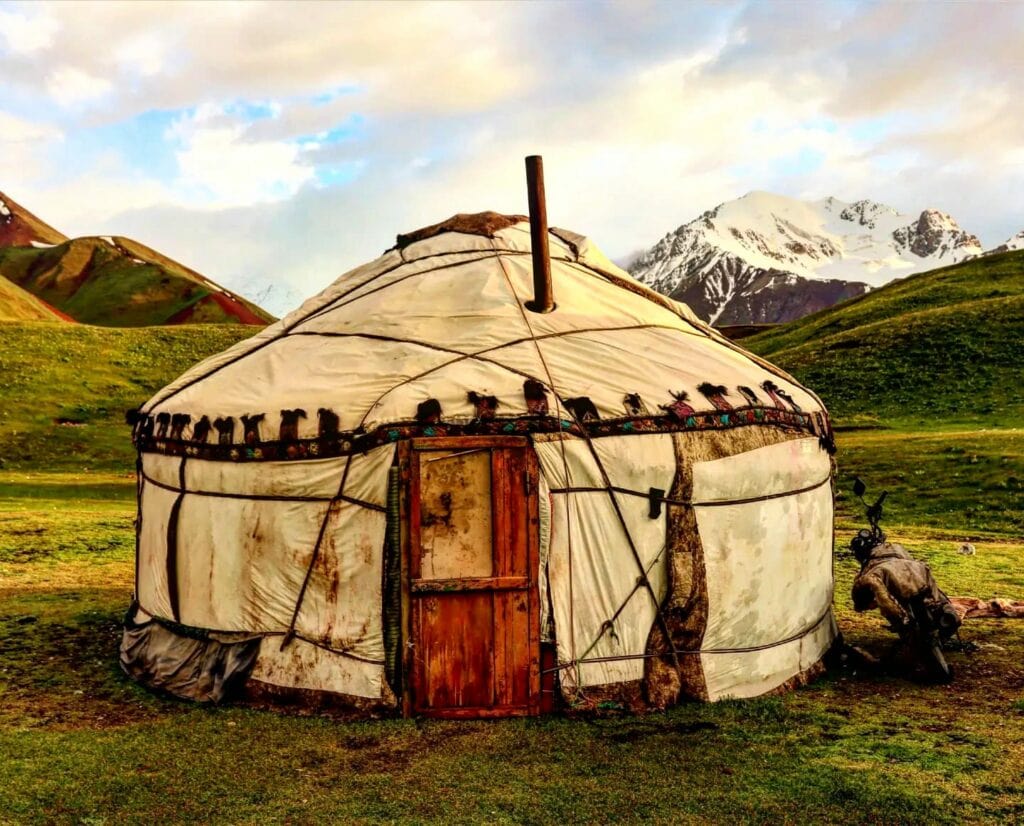 If you have any other questions, or advice, don't hesitate to leave a comment.
This article contains affiliate links: it doesn't change the price for you but I get a small commission that keeps the blog alive.
It also contains links that allow you to save money, especially on hostels, car rentals or organized trips 🙂