I am often asked about the possibility to go trekking or mountaineering with my family, especially on the Kyrgyzstan travel group. I am convinced that everyone can do it, you just have to adapt to your experience and your constraints, but this answer remains easy for me who never travelled with children. That's why I asked my friends from the Family Globe Trekker to tell you about their experience. They travel as a family with their 6 year old son and became passionate about mountaineering after Celine beat cancer.
Who is the Family Globe Trekker?
We are Mickaël 31 years old, Céline 35 years old and Aiden soon 6 years old. Our trips rhyme with nature, encounters and solidarity! The family motto: "We never give up! Our philosophy is expressed in this little phrase that guides us every day: "you only have one life, the one you choose! so I chose to..."
What is the history of the Family Globe Trekker?
The Globe Trekker Family was born after Céline's cancer in 2016. We were already adventurers who loved the great outdoors and meeting different cultures. After the illness, our desire to travel and climb became more pressing, like a need to surpass ourselves and prove that everything is still possible.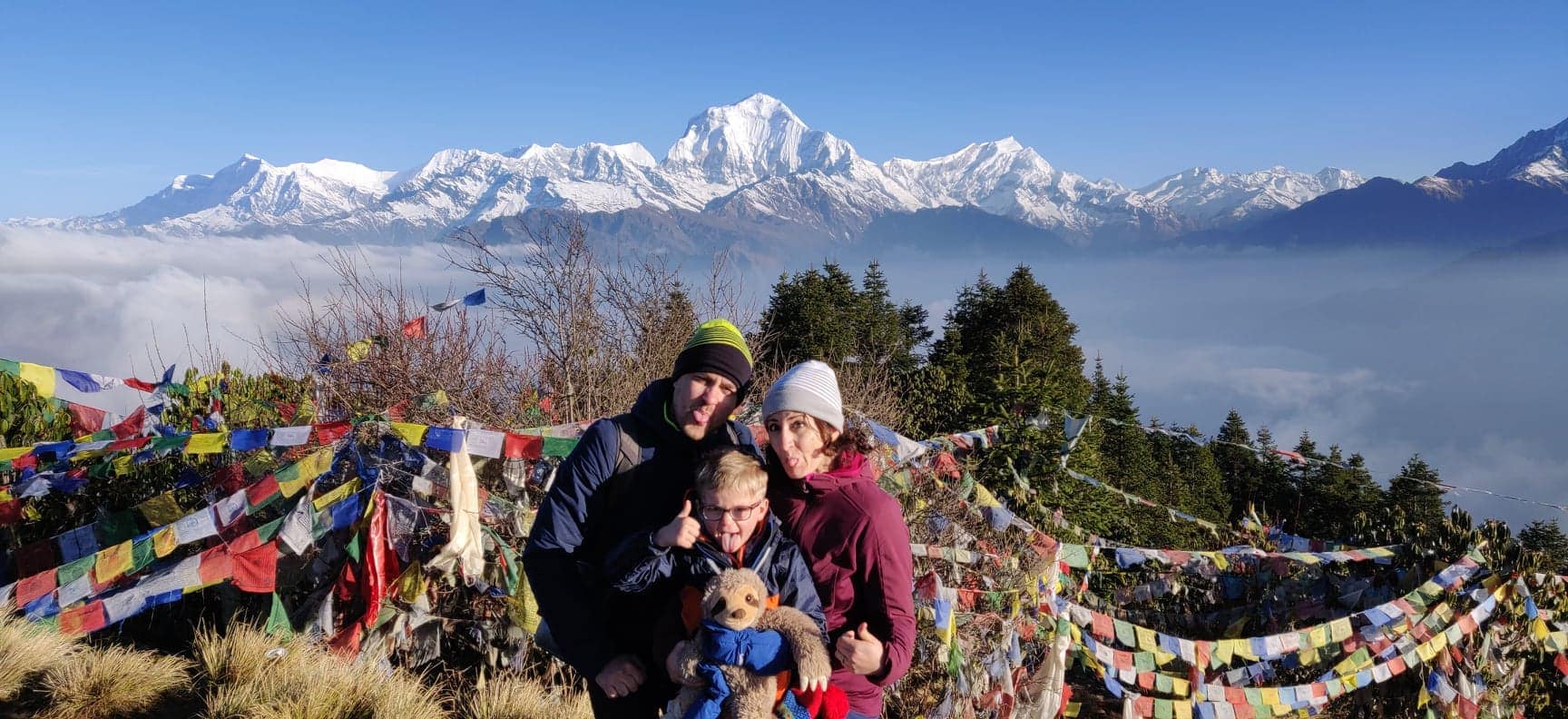 Why do you want to conquer the heights?
The first was in 2017 at the end of the heavy treatments, Mount Pico Ruivo (Madeira, Portugal) located at 1862m altitude. The climb was not easy, but it was a real boost. Once above the clouds, we have a huge feeling of accomplishment, and a need to do it again soon. And doing it as a trio with our son is a no-brainer that makes the moment even stronger. We help and motivate each other for a common goal that unites us more and more: to get to the top together!
What heights have you climbed?
In 2017: Mount Pico Ruivo 1862m in Madeira, Portugal.
2018: Mount Psiloritis 2456m in Crete.
2019: Poon Hill 3210m in Nepal and Gran Paradiso 4061m in Italy for Mickaël.
And the next one in Sri Lanka in December!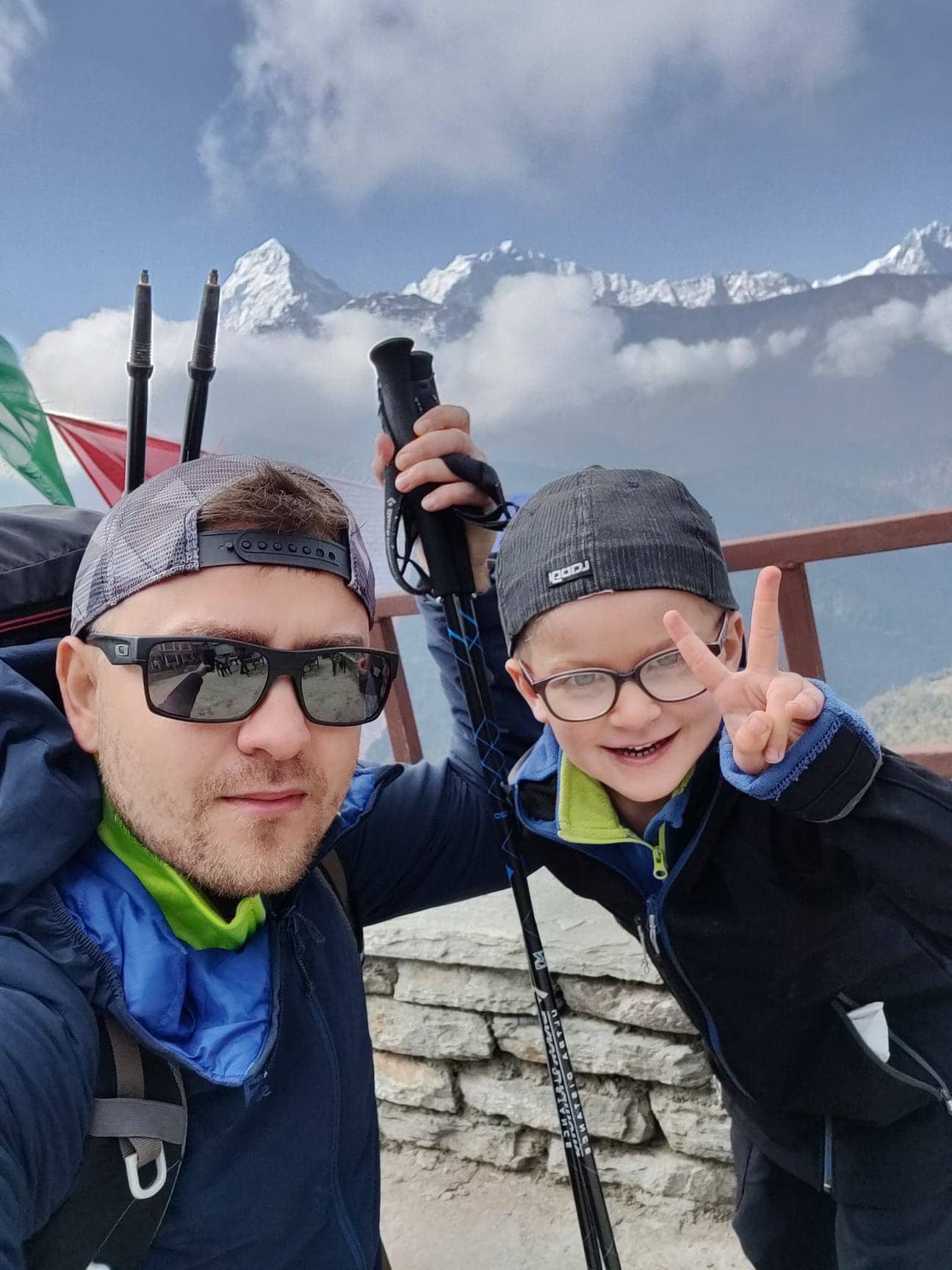 What clothes do you use?
We always travel light and only with technical clothing adapted to the local weather. To minimize the weight of the bags, we apply the rule of 3: 3 tops, 3 bottoms, 3 underwear per person. And a good pair of hiking boots adapted to the climate and terrain. Having the right clothes is essential to avoid getting hot or cold so don't hesitate to invest!
(for travel insurance, please refer to Georges-Michel's article on credit card insurance).
Is it more complicated to travel with a child, how do you organise yourself?
Complicated, no. It would probably be easier between adults, but this surpassing of oneself is a value that we want to share with our son. It requires a minimum of preparation to ensure that the paths are practicable because there is no question of making him take a risk. Once this precaution is taken, we talk about it together so that he can prepare himself mentally, we show him pictures of the place where we are going, talk to him about the culture and the country. All this helps him a lot not to be apprehensive. On the practical side, Aiden is already walking very well and we don't hesitate to take breaks. And when he doesn't want to walk any more, Mickaël carries him with an adapted bag.
What about the disease?
Today Céline is fine, she has not recovered all her form but she has enough energy and desire to climb. Illness is not part of our daily life and does not stop us from travelling. On the contrary, it makes us want to prove to ourselves that we are more alive than ever, and that even after cancer, we can continue to surpass ourselves!
Humanitarianism, yes, but how?
It was while preparing our trek in Nepal that everything made sense. We could not pass by a population still wounded by the earthquakes without taking action. Everything happened naturally. We only had a small amount of luggage, whereas the allowances on our plane tickets allowed us to take much more. We therefore decided to organise a collection of school supplies which we distributed directly to a school on the outskirts of Kathmandu. At the same time, our friends and family wanted to participate financially in our action. We therefore opened a kitty to finance the schooling of two children that we are still following. This first experience convinced us! We can all act at our own level, we just have to get involved and choose the way to do it. It doesn't necessarily take a lot of time, but it makes a real difference for others and for ourselves. It is a personal achievement that gives meaning to our lives!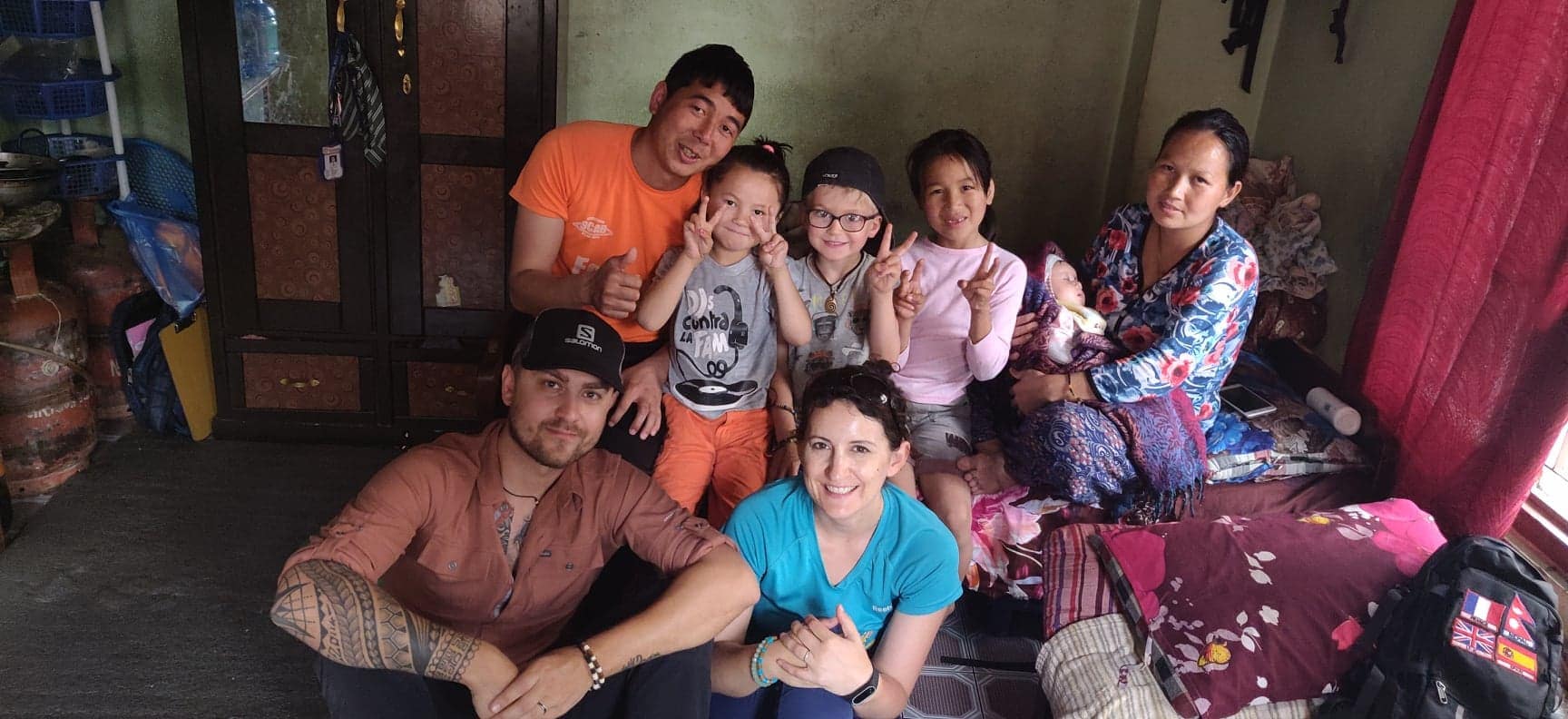 More projects to come?
We are going to Sri Lanka in December for a tuk-tuk trip. Once again we will climb a peak, 2243m with our family. For the solidarity side, we have created a partnership between our son's school and a local school. We have organised a collection of school supplies with the school in France, which we will distribute ourselves. Next, we would like to go to even more unknown lands. Kyrgyzstan is one of our favourites!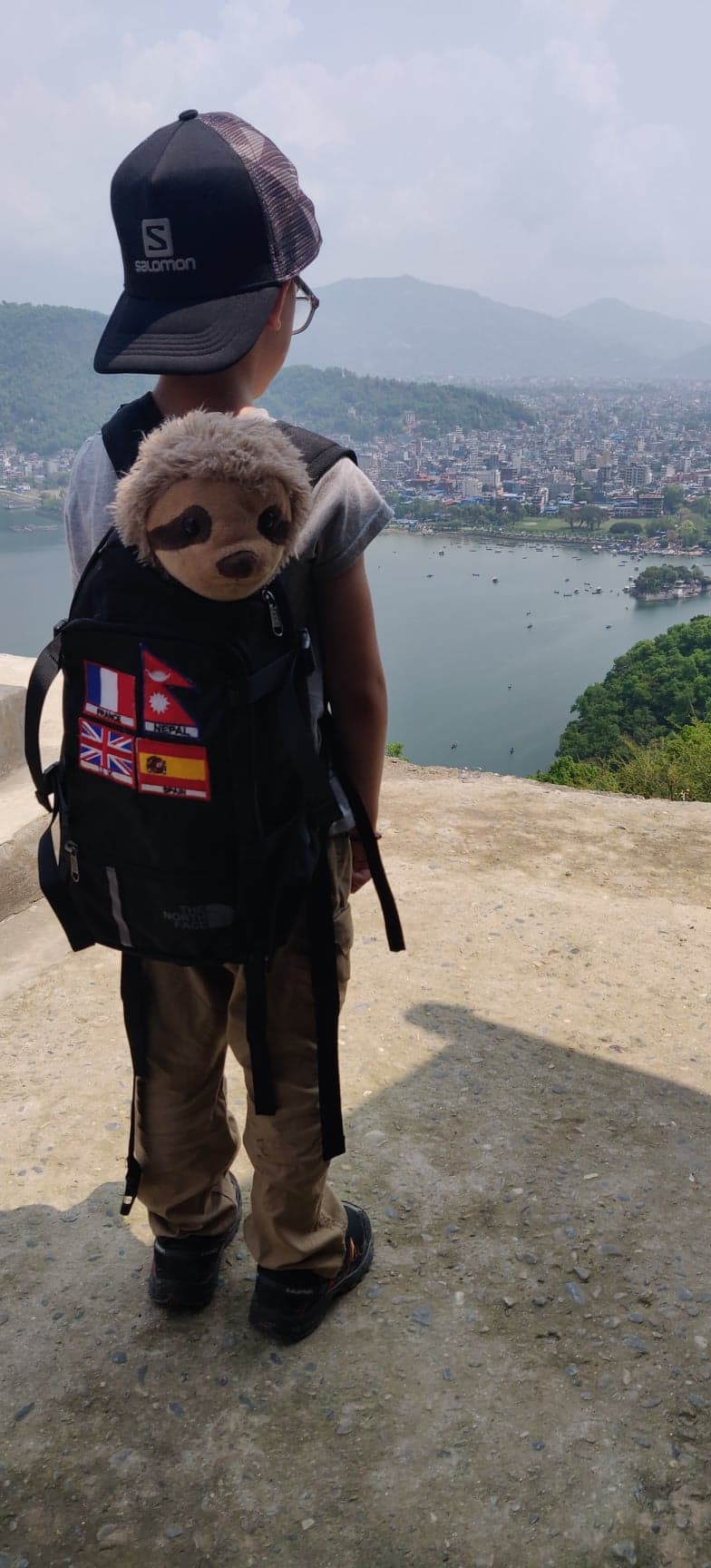 And finally, any anecdotes from your adventures to tell us?
We could talk about the improvised dance session with Nepalese women stuck in road works, or the unlikely meeting with an egg painter in Bali...but the anecdote that marked us the most happened after the climb of Mount Psilorotis in Crete. A beginner's mistake in following our gps instead of taking the path of the ascent meant that we found ourselves at the southern foot of the mountain when our car was to the west! and of course, we had no phone network and almost no battery. An exchange with a Cretan who spoke no English and only our hands to make us understand our mistake confirmed that we were lost at 1h30 by car at sunset! After several incomprehensible exchanges, he beckoned us to get into a car to drop us off at the next village and allow us to contact a taxi, knowing that this would take him out of his original route. When we arrive at the village, we are surprised because our driver does not stop and continues on the road...to our car! When we want to compensate him for this journey, he refuses categorically and thanks us. He explains to us that our meeting happened on his way to get here and that thanks to us he discovered a beautiful place. And he went off to take pictures of the view from the car park. A beautiful lesson in life and an inspiration for the continuation of our adventures!
Thanks to Aiden, Céline and Mickaël for this inspiring testimony. Have you ever climbed a mountain with your family? If you have any questions or advice, don't hesitate to leave a comment.